Thermal Energy International – A Pure Play on The Global Energy Efficiency Market
Ottawa-based Thermal Energy International is an established, high-growth product innovations and project management firm that develops energy efficiency products for the commercial, industrial and institutional markets. In addition, the company has a global direct to market sales force and, through a recent American acquisition, has an established distribution network in North America. Through its direct to market model the company sells and contracts manufacturing and installation of its products. Shares in the company trade under ticker symbol "TMGEF" and on the TSXV under "TMG".
Although clean-energy generating and storage technologies such as solar, wind and lithium battery technologies have taken the headlines over the past few years, the reality is that these technologies are still emerging and will take at least another decade before they play a meaningful role in the global energy landscape.
The more compelling economic story is one of building energy efficiency, which not only reduces energy consumption but also directly reduces carbon emissions. Energy efficiency technologies can easily and quickly be integrated into both new and existing industrial, commercial and institutional buildings. Often, these technologies have paybacks within 3 years that allow organizations to recapture their upfront investments in a short period of time. With much public and political pressure to reduce emissions anticipated in the years ahead, it is without a doubt that the energy efficiency market will continue to grow as it is the least expensive approach to energy optimization and cost savings.

Thermal Energy's Product Lineup
Thermal Energy's core product offerings are branded GEM and FLU ACE. GEM steam traps are the among the most efficient and reliable steam traps available on the market today. GEM systems allow for permanent energy savings, 10-year performance guarantees and reduced maintenance, each of which contributes to systems payback. It is estimated that up to 20% of any facility's steam is lost through steam trap systems. This allows GEM systems to show typical 10% reduction in fuel cost, which translates into a 12- to 24-month payback period.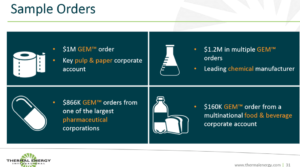 FLU ACE is a direct contact condensing heat recovery system that has the capability to recover up to 90% of wasted energy and recycle it back into a facility's process. Key product benefits include the reduction in energy consumption on boilers by 10% to 20% and fill-system payback in two to four years, with ongoing system savings over the 20-year-plus system life span. FLU ACE systems will also directly contribute to the reduction in greenhouse gases from any sites at which they are installed.
In June 2018, Thermal Energy acquired Pittsburgh based Boilerroom Equipment Inc., which engineers and manufactures HEATSPONGE brand indirect contact heat recovery units for use in both commercial and industrial steam and hot water applications, as well as RAINMAKER brand indirect hot water boil heat recovery.
In addition, the company is working to develop several other projects that are beginning to see commercial success, including Super-Efficient Cogeneration, a heat recovery system launched in July 2016, and Dry-Rex, a low-temperature biomass drying system that is still under lab development. The company is also expanding the potential applications for its core technologies to include water recovery along with the integration of renewable energy systems such as solar thermal technologies.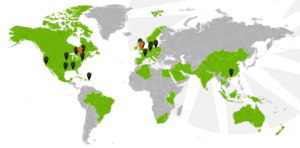 Over the past few years, the company has grown its direct sales force through incremental expansion in key markets. Today the company has locations in Ottawa, Canada and in Bristol, UK, along with representation in 28 countries via a global network of direct sales and support field staff. The 2018 acquisition of Boilerroom Equipment not only expanded the product portfolio but significantly expanded the company's distribution network, providing access for all of Thermal Energy's current offerings to over 40 independent representatives covering the USA, plus an established and direct boiler OEM sales channel.
Collectively, Thermal Energy has a mature portfolio of energy efficiency technologies with a global direct sales force and an extensive network of independent reps and OEM relationships that is expected to continue to grow through additional hires in key markets.
Financial Performance of Thermal Energy
All of this has amounted to a dramatic and consistent increase in the company's revenue over the past 4 years. In 2015, the company generated annual revenue of $6.8 million, which grew in both 2016 and 2017, ending 2018 at $17.4. In FY2018, the company maintained a gross profit of $8.3 million, representing an exceptionally strong 48% margin. In addition to its very healthy gross margin, the company reported EBITDAS of $617K in the same period.
In January 2019, the company reported First Half 2019 Fiscal results that showed encouraging results including,
Revenue increase 39% to $5.2 million for the second quarter and a 75% increase to $12 million for the first half of FY 2019,
Gross profit increase 13% to $2.1 million for the second quarter and 28% to $4.3 million for year-to-date period,
Order book of confirmed orders with revenue yet to be recognized of $10.4 million as of January 29, 2019,
The company has sufficient working capital on hand to continue the expansion of the business, eliminating the risk of shareholder dilution,
Cash and cash equivalents as of November 30, 2018 were $2.2 million while Trade and other receivables were $4.2 million.
Looking forward into the balance of CY 2019, it is clear that the company will continue to ramp up its revenue as it works through its strong order book while winning new orders for its expanded product portfolio. Despite the many successes at Thermal Energy over the past 4 years, shares in the company have struggled. I first opened my position in the Summer of 2015 at around $.04/share, which was followed by a major lift in share price to around $.20/share. Today, shares in the company can be had for only $.07/share, which has perked my interest as they may be undervalued.
Livio's Take on Thermal Energy International
Here is my current take on Thermal Energy. First, Thermal Energy is generating meaningful volume that could reach over $20 million in FY2019 and is turning a small profit with sufficient amounts of cash on hand. All things being equal, it is unlikely that the company will issue additional shares.
Second, the recently completed acquisition significantly expands the company's footprint in the American market. This should ensure that the company has a more diversified customer base, which has multiple net benefits for the sales organization.
Third, the energy efficiency business continues to grow as manufacturing moves back to North America and as companies seek new opportunities to reduce operating costs and emissions. An overall global or regional recession could have a materially negative impact on the operating business as customers look to preserve capital rather than invest into operational improvements.
Fourth, the acquisition of Boilerroom Equipment was completed for U$2.25 million. Boilerroom reported annual sales in each of the last two years of approximately U$1.8 million, implying a 1.25X revenue multiplier.
As noted above, Thermal Energy reported FY revenue of greater than $17 million and First Half 2019 revenue of $12 million. Collectively, this could give Thermal Energy an average of greater than $17 million in revenue for a two-year period. Using the same logic extracted from the Boilerroom acquisition, Thermal Energy could be valued at $17 million X 1.25 Revenue, representing a valuation of around $21.5 million with a share count of approximately 160 million or $.13/share.
However, it is my personal opinion that a valuation of 1.25X revenue is rather limited and that a high growth company with a mature and competitive product portfolio of energy efficiency technologies, coupled with a global direct sales force and distribution network, could obtain a higher valuation.
Even a modest 2X revenue multiplier would give a valuation to the company of around $.21 cents on a per share basis.
---
Author Disclosure: I wrote this article myself, and it expresses my own opinions. I am not receiving compensation for it. This article covers one or more junior stocks. Readers are cautioned about the risk associated with investing in these stocks. Content is not investment advice.
No company listed in this briefing is a client of The Deep Dive. Provided for entertainment purposes only, not to be taken as investment advice. Always consult a professional before investing in an equity.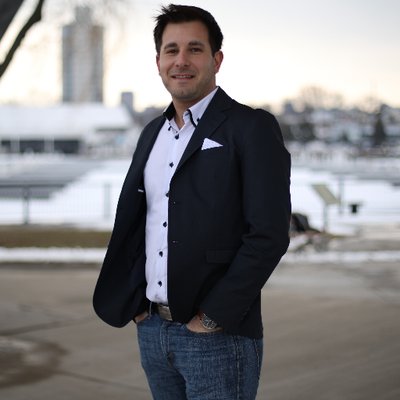 Livio Filice is a professional in the clean tech and renewable energy industries with over a decade of experience. He has spent over 6 years developing various segments of the lithium supply chain working with companies involved in lithium exploration, production, battery production, power electronics and energy storage technology integrations. He has authored nearly 200 articles focused on the lithium battery supply chain. Livio can be found on Twitter @liviofilice