TILT Holdings: Jupiter is Carrying the Show
Like a weekly episode of a network sitcom, TILT Holdings (CSE: TILT) second quarter was different enough thematically to not be called a re-hash of the last one, while keeping to the formula and structure that makes for the roots of the serial. The episodes are clearly being made in a factory by commercial creators who don't really know what else to do.
It's not that the writers are out of ideas, more like they never had any good ones in the first place, and are cursed by the concept having caught on. There is too large a core audience to cancel this series. It isn't the smash hit of its debut, but the people want to see how this turns out.
What ever happened to that one guy who starred in the pilot?
As we expected, TILT has all but written the Sante Veritas character out of the script. The lone Canadian cannabis project that got this show going hasn't been killed off, but commands only the bare minimum of real estate in this quarterly report. TILT appears to have spent no time, money or effort developing Powell River since the project's original steward, Michael Orr, resigned his directorship in April, holding $10 million in TILT paper. SEDI still lists him as a holder of 3.4 million TILT shares, and does not list a date that he ceased to be an insider.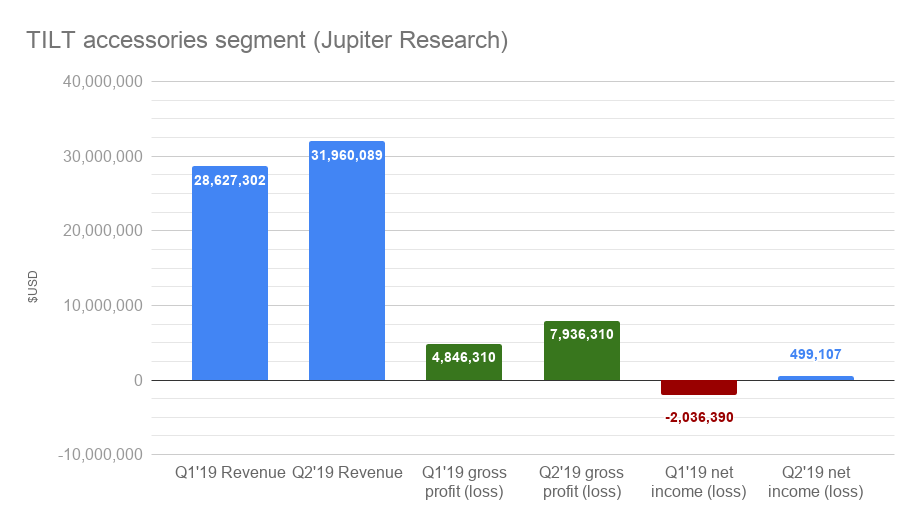 Decent performance from the new guy
The heads know that TILT has been Jupiter's show since its acquisition was announced in January. The vape company has carried TILT's rag-tag ensemble cast of businesses like an undersized parachute since before it even showed up on set in mid January. It delivered another solid performance in this, its first full quarter. So far, the scaling looks right out of a textbook. Sales grew right along with the net. This vape business' young pubco career is starting out with great promise, making us wonder what its agent was thinking getting it involved with this mess.. but only for a minute. It's always the same reason.
Tilt Chairman Mark Scatterday became interim CEO of TILT following the $200M cash and stock deal to bring Jupiter aboard. He had managed Jupiter's successful growth as a solo act, and there's no indication he wasn't a believer in the show's concept on paper. Scatterday's cash share of the Jupiter acquisition is still outstanding – and collecting interest. He signed his stock on to the terribly over-written super-double-lockup plot point that was supposed to endear the face characters to the audience in July, and has stuck to the script about a "cannabis tech" company that will become more than the sum of its parts and triumph in a climate of US cannabis expansion.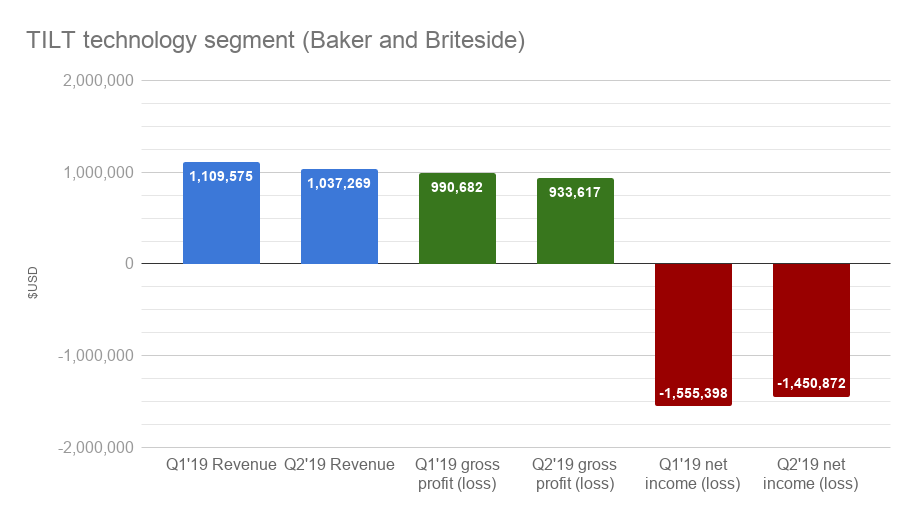 Pencil those two in for a stint in rehab
Despite this vote of confidence, Jupiter isn't getting any help from its supporting cast. TILT's "technology" segment delivered a 90% gross margin for the second quarter running but failed to scale, delivering less revenue, less top-line, and losing marginally less money.
Both components of the tech unit managed to pick up lawsuits this quarter. CRM-for-dispensaries Baker Technologies was sued in California for sending unwelcome text messages, and cast wildcard Briteside caught a $2.1 million claim in Massachusetts for money that a claimant alleges they're owed "under purchase orders relating to the sale of modular structures." If any readers are aware of Briteside's modular cannabis growing structures presently in service, please contact The Deep Dive.
Supporting lead still hasn't delivered
TILT's MD&A describes distribution unit Blackbird like it's an in-touch Nevada and California provider of delivery and inventory management services with a big-data rider. The business operated at a negative gross margin for the second quarter running while printing a nearly identical top-line loss, despite a six-fold increase in revenue that only took it to $2.4 million, 3% of TILT's total revenue.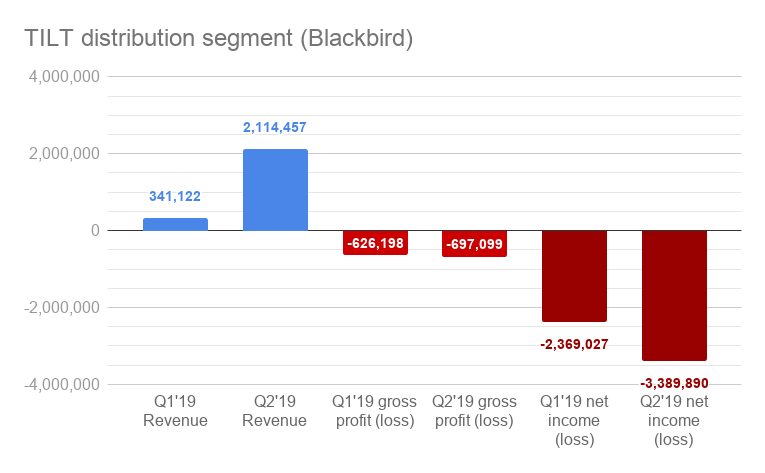 The one where the gang grows weed
Buried in the noise is a cannabis business that booked $3.7 million in sales to create $1.2 million in top-line gross, and whose profile high-point was being called "stupid," by the Chairman of the Massachusetts Cannabis Control commission in the Boston Globe, for attempting an Acreage Holdings-style agreement-based-control tactic to gain dispensary territory ahead of legalization, with a lot less subtlety or finesse in the execution.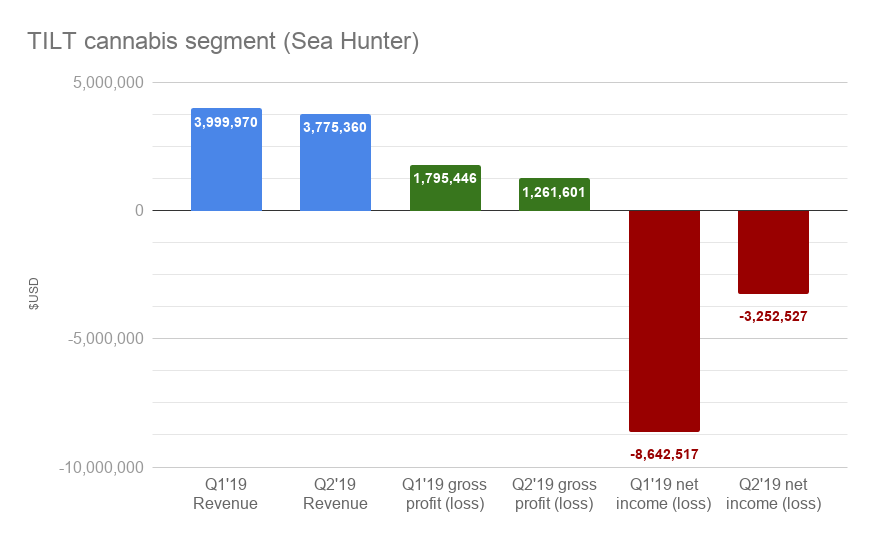 As spectacle, this is reality-show-grade material. But we're in the room to make money.
TILT's largest single expense on paper is $50M in stock-based compensation that they back out of their adjusted EBITDA. It's mostly a vesting of out-of-the-money options, so it's fair to have a look at the earnings without it, but these things are accounted for with a Black-Scholes model to keep the charges they generate consistent. Those options will surely represent a headwind if and when TILT reaches their strike price.
Ignoring the compensation expense gives TILT an adjusted EBITDA loss of only ($4 million), and casts it as a scrappy team of misfit toys who improved twofold from last quarter, when they printed an adjusted EBITDA loss of ($8 million), after deducting $59 million in stock compensation expense.
"So no one told you life was going to be this way…"
That heavy comp package was conceived around the same time that Jupiter shareholders agreed to make their organized, reasonably scaling accessory business part of this circus. It was a time when the going rate on these things was much better.
Now instead of scaling on its own merits, Jupiter is stuck waiting for the legalization event to give the rest of this show a lift with the rest of the sector, burning cash as they go. TILT showed $4 million in the bank in a quarter where payables climbed by $3 million. There has been a deal in the works since July to raise between $50 million and $125 million with senior secured convertible notes, because nothing happens in show biz without a budget and, hot market or no hot market, the stories need to keep coming, least the audience switch off the set.
Tilt Holdings is currently trading at $0.66 on the Canadian Securities Exchange.
---
Information for this commentary and analysis was found via Sedar and Tilt Holdings. The author has no securities or affiliations related to this organization. Not a recommendation to buy or sell. Always do additional research and consult a professional before purchasing a security. The author holds no licenses.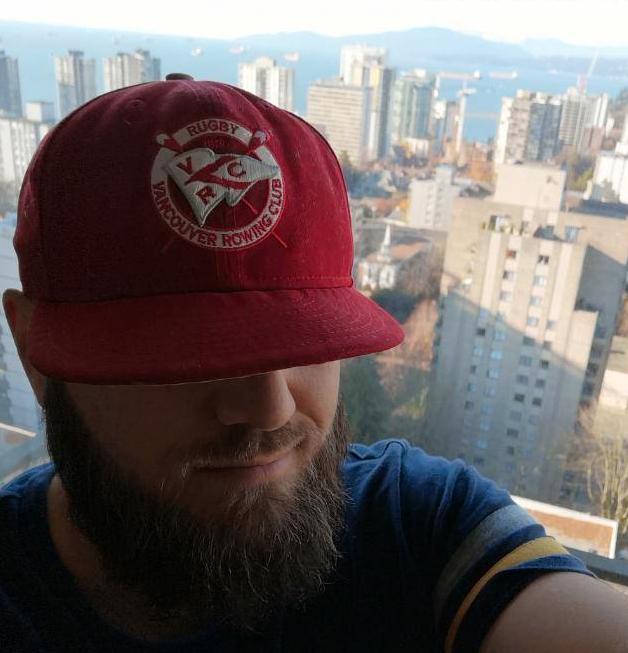 Braden Maccke is a freelance writer from Vancouver, B.C.
You can read all of his Deep Dive articles here.
He can be reached at braden@fundamentalhype.com.