TILT Holdings: Q3 Earnings, Some Promise, Mostly Same Old TILT
The tradition of TILT Holdings' (CSE:TILT) accessories segment carrying its tech, distribution and cannabis segments continued in Q3, the much-touted Blackbird distribution taking the hit for the third quarter in a row. The logistics company, vended into TILT by TILT's current COO, widened its gross loss to $808k (up from $697k last quarter) on less revenue.
Tech revenue nearly doubled, but created a nearly identical gross margin to Q2, while Jupiter's revenue and margin were flat. If Blackbird is a lost leader meant to drive growth at accessories division Jupiter Vapes, and tech divisions Baker and Briteside, we aren't seeing it pay off yet.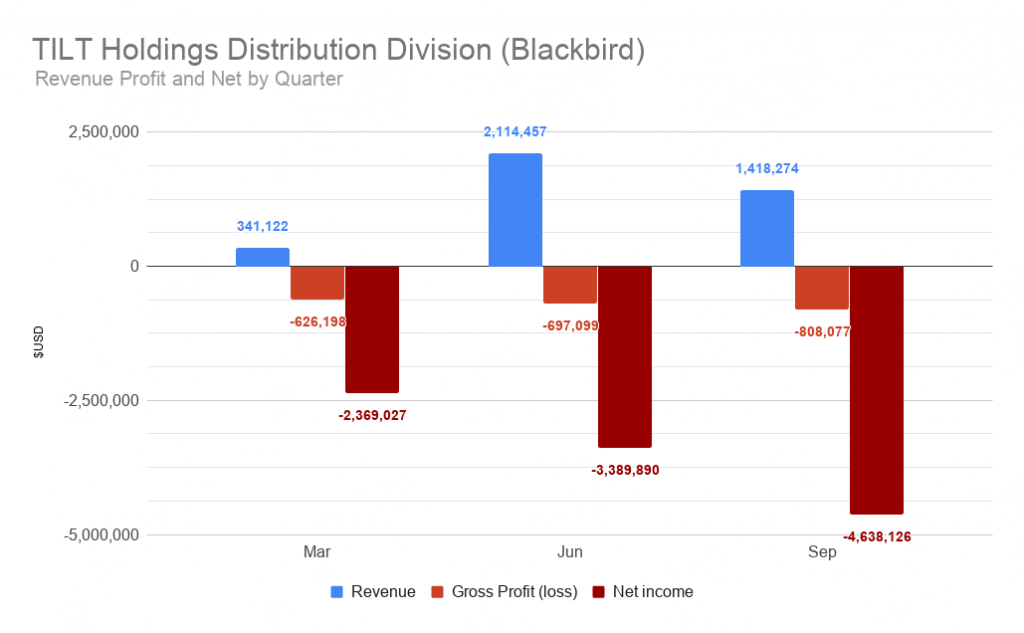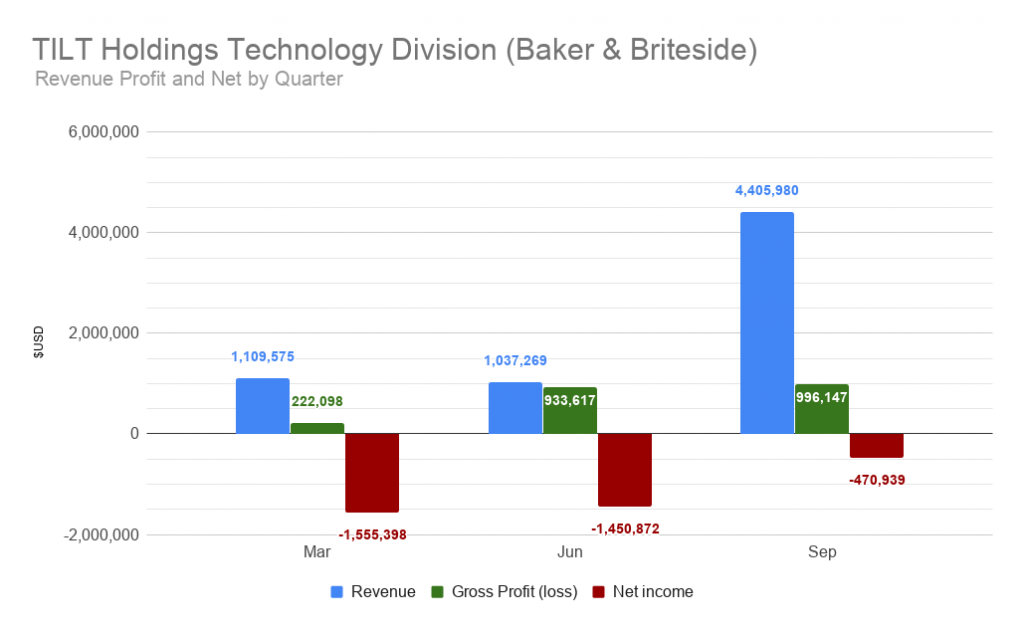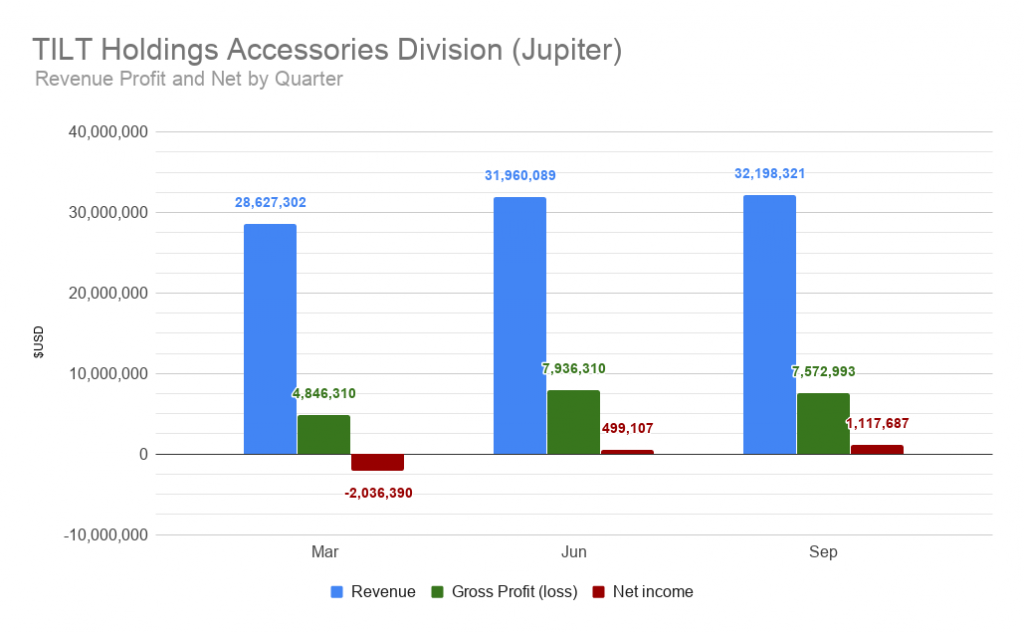 Examining TILT's cannabis operations is like valuing a bag of change. There's money here… could be a little, could be more. Finding out is an annoying hassle. Taking the large coins out, TILT ought to get credit for growing their cannabis sales revenue from $3.7 M to $7.9, but didn't put it anywhere near high enough up in the mix to have it noticed.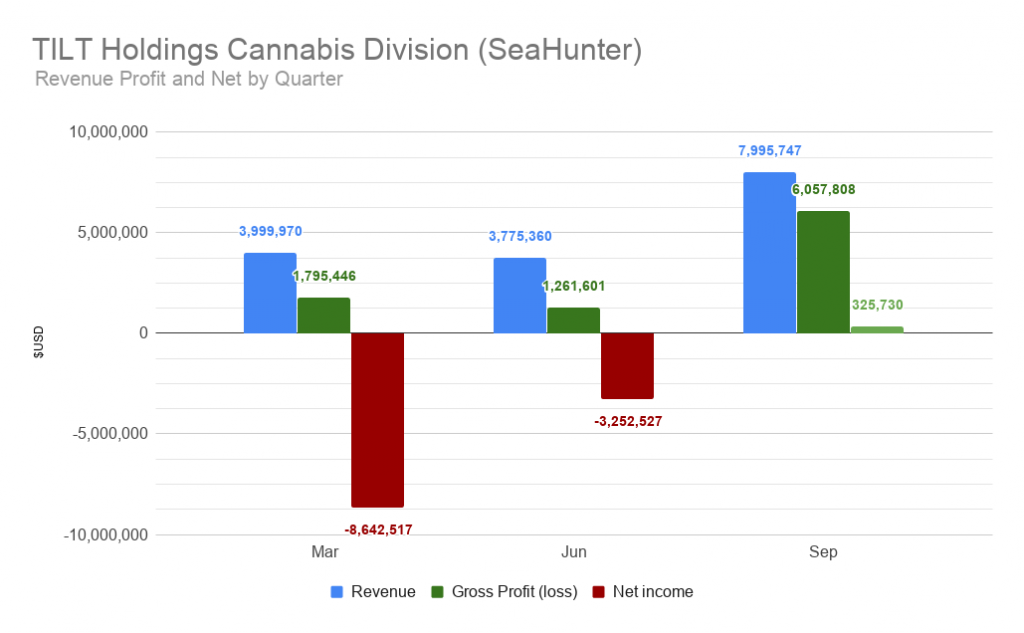 TILT doesn't provide the gross profit without plant voodoo in the segment breakout, so we had to add the net $2.4 million in adjustments in there to arrive at a conventional gross profit of $6M, and an excellent 75% gross margin on cannabis… that TILT saw fit to bury.
The earnings release instead focused on the board and management forfeiting 60 million stock options (along with their $5.25 strike price), seemingly making a stab at a turnaround narrative for the beleaguered company. The selfless "forfeit" of those options created an accounting entry that put TILT nominally in positive EBITDA, which they also found more noteworthy than their record cannabis margin, and that might have been a good strategy, because the company closed the final $10M tranche of their long awaited syndicated loan the very next day.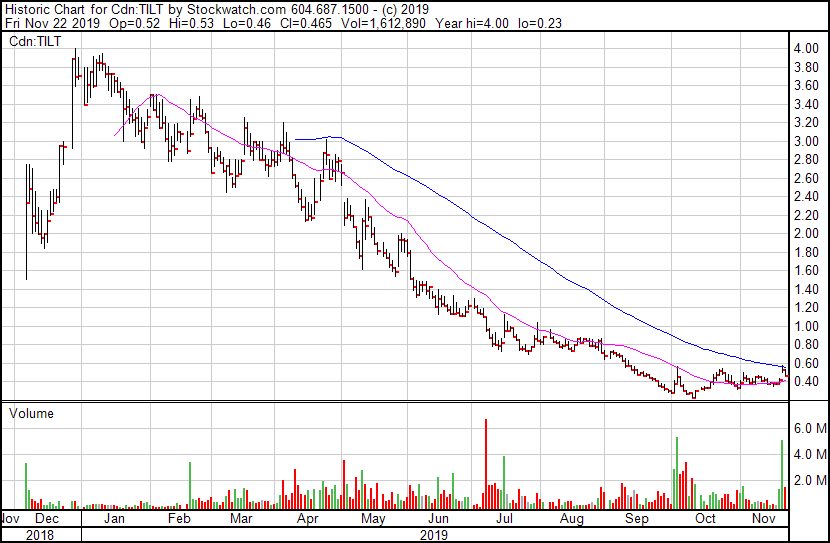 We reported back in September that the $125 million debt financing that TILT had lined up in July was to be done by a syndicate led by a bank that we could find no trace of. In its place, the company borrowed $25 million on November 4th from a syndicate whose members we can't identify (they've been redacted from the lien documents), along with the aforementioned $10 million top up. Tilt will pay 8% interest on the notes, with 45% warrant coverage, and give up two board seats and a lein on all of their assets to get it.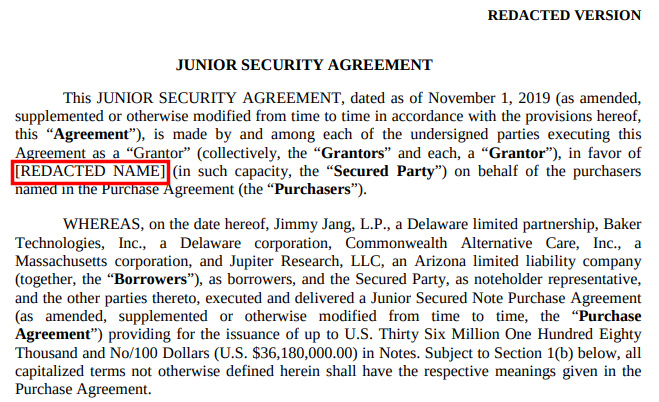 The cash will pay down the $20M bridge loan TILT got in April, and take care of some outstanding debts. A contingent restructuring of TILT debt outstatnding to the Jupiter Technologies vendors saw CEO Mark Scatterday taking an $800,000 haircut on the money TILT owes him, from $18,711,000 down to $17,909,100. Them's the breaks, I guess. The only inclination of the identity of the members of this syndicate is that some of them are TILT shareholders.
So, if you're keeping score at home, this company has spent upwards of $140M acquiring and operating businesses that once belonged to their current and former directors, had to stick the mashup together with a bridge loan for a while in the spring, but have now borrowed $35 million at 8% to continue operating these money losing businesses, now pledged to the noteholders, who also hold warrants to purchase 47 million shares at $0.33. A cynic might conclude that there's more money in financing and supplying TILT than there is in backing it in the equities market.
UPDATE
An eagle-eyed reader contacted us this morning to point out that the $20M bridge loan that TILT is paying off with this latest loan was issued with a $4M OID (Original Issue Discount). That means TILT marked down the face value of the bond, so it only cost the lenders $16 million. They ended up clearing $4 million plus 18% interest on $20 million in about eight months. Pretty juicy.
---
Information for this commentary and analysis was found via Sedar and Tilt Holdings. The author has no securities or affiliations related to this organization. Not a recommendation to buy or sell. Always do additional research and consult a professional before purchasing a security. The author holds no licenses.