Trillion Energy: Increasing Offshore Gas Production In Turkey
Trillion Energy International Inc. (CSE: TCF) is a Canadian oil and gas exploration company with assets in Turkey and Bulgaria. The company's flagship project is its 49%-owned South Akçakoca Sub-Basin (SASB) offshore natural gas field in the Black Sea off the Turkish coast..
Trillion has been actively operating in Turkey over the past 20 years and is now benefiting from a confluence of circumstances that investors could find compelling and very timely;. 
The Russian invasion of Ukraine in February 2022 has resulted in international sanctions on Russia and European constraints on imports of Russian oil and gas upon which Europe has been heavily reliant.
A sharp rise in natural gas prices over the past year to record levels that began with the global post-pandemic economic recovery and exacerbated by the supply disruptions due to the Russia-Ukraine conflict.
Near-term production from the SASB gas field
The SASB field was one of the Black Sea's first natural gas developments and the shallow water gas field comprises eight discovered fields, of which four have been placed into production. The project's extensive infrastructure includes four natural gas production platforms that are connected to a pipeline that transports the natural gas 16 kms to an onshore natural gas production plant. That plant has a 75MMcf/day production capacity that can be expanded to produce 150MMcf/day.
To date, there has been a total of $608 million in CapEx investment on the SASB Project, of which Trillion was responsible for 49% (Turkey was responsible for the 51%), with the same ratio applying to any future CapEx expenditures. The four gas pools have produced 42 BCF from eight wells since production began in 2008, generating revenues of USD$355 million.. 
In February 2022, Trillion announced that it had engaged oil and gas services giant Schlumberger to provide all well engineering design services and drilling support for the new well drilling operations at the SASB project. Starting in August 2022 and continuing throughout 2023 and into 2024, the company plans to drill over 17 wells, bringing one new well into production every 45 days. Each well is expected to cost approximately USD$8.7 million, of which Trillion is responsible for USD$4.3 million. 
The new wells will connect to extensive production infrastructure that is already in place to enable an immediate production ramp up for delivering gas to Turkey. Drilling will commence in the very near future, and barring any unforeseen difficulties, Trillion is fully funded to execute the drill program, having just raised $40.4 million earlier this year. USD$4.2 million has been spent by the Company in preparation for drilling, which is expected to commence once the drill rig arrives in August.
Turkey is part of the G-20 countries, a member of NATO, and is considered to be a pro-business jurisdiction. The economics of the SASB Project are enticing with an OPEX of less than USD$1.00/mcf, a 12.5% royalty, and a low corporate tax rate of 23%. With natural gas prices currently well above the average of USD$7/mcf over the past 10 years, and low OPEX, Trillion is well positioned to accelerate their production revenues, particularly if they can bring a new well onstream every 45 days over the next two years as they are projecting.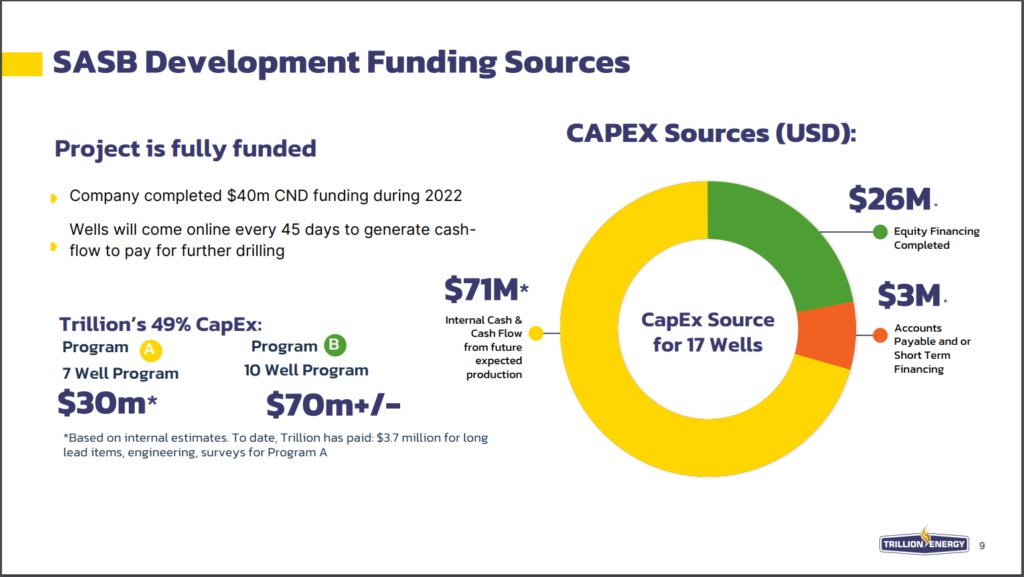 When all of the Company's wells are onstream, GLJ Inc, a consulting firm engaged by Trillion calculated that the net present value with a 10% discount of the 40.2 BCF gas reserves at SASB were valued at USD$243.3 million for 3P reserves. This estimate was made based on the average USD$6-7 price range of the past 10 years – which is a significant discount to the current price of natural gas in the region. The estimate also is said to use conservative numbers for recovery factors.
Aside from the current production strategy, Trillion has assembled 3,100 km of 2D seismic data which delineates targets for future exploration, as well data from as various geophysical exploration work that indicates there are numerous large discovery prospects for future exploration in the areas surrounding the SASB block, providing Trillion with ongoing blue-sky potential. Adding to the Trillion's blue-sky potential is the 2021 Black Sea discovery of the 19.1 TCF Tuna1 and Amasra-1 gas wells located just 100 miles from the SASB field.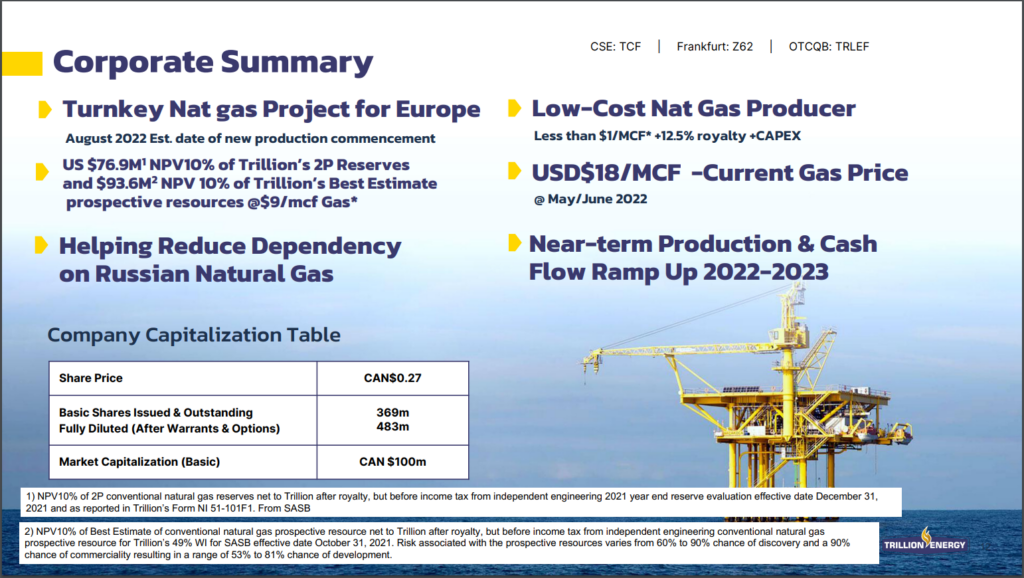 In central Turkey, Trillion currently holds a 19.6% interest in the producing Cendere oil and gas field, which has a current production rate of 115 bopd, and 1.27mm stb (stock tank barrel per cubic foot) of remaining production based on an expected reserve life to 2026. The company is considering additional exploration to extend the reserves.
The Vranino 1-11 gas project in Bulgaria meanwhile has taken on an increased level of importance due to Russia cutting off gas supplies to Bulgaria after it invaded Ukraine. Trillion is now accelerating its exploration activities by planning to drill five new wells at Vranino to capitalize on Bulgaria's high natural gas price of USD$22/mcf.
In April, Trillion announced an update of the Vranino Project and referred to having engaged Netherland Sewell & Associates to provide an assessment of the potential gas reserves at the project. The report came back with a best estimate of 1,145.5 BCF of natural gas in the undiscovered original gas in place category, and 572.8 BCF of unrisked gross (100%) prospective gas resources. The company has reportedly been in talks with the Bulgarian government to prepare the necessary environmental reports and permitting to commence drilling on the field. This could enable Bulgaria to increase its own domestic gas production to counter the supply disruptions by Russia.
Trillion Energy International Inc. represents a compelling opportunity for junior exploration investors interested in companies with pending near-term production. The post-pandemic economic recovery and Russia's invasion of Ukraine have driven natural gas prices to record highs. European countries have depended on Russia for much of their energy needs, and now with those supplies effectively eliminated, these countries are desperate to find alternate sources of oil and gas.
Turkey is in close proximity to European markets and the expansion of its offshore gas fields could help in that regard, presenting an opportunity for the company and investors alike.
---
FULL DISCLOSURE: Trillion Energy is a client of Canacom Group, the parent company of The Deep Dive. The author has been compensated to cover Trillion Energy on The Deep Dive, with The Deep Dive having full editorial control. Not a recommendation to buy or sell. We may buy or sell securities in the company at any time. Always do additional research and consult a professional before purchasing a security.