#TrumpIndictment: First US President To Face Criminal Charges, But Let's Look At The Facts
After an investigation into a hush-money transaction he allegedly struck with an adult film star in 2016, a grand jury in Manhattan formally charged former US President Donald Trump.
Although the particular accusations have not been made public, they are related to a five-year investigation led by Democratic district attorney Alvin Bragg into a payment Trump made to porn star Stormy Daniels during his 2016 presidential campaign.
Trump, who is currently making a bid for the 2024 election, would become the first US president to face criminal charges. On March 18, he wrote on social media that he's anticipating to get arrested on March 21, but the latest indictment allegedly caught the 76 year-old off guard. "Is this a shock today? Hell yes," a person close to him told CNN.
Following the indictment, the Manhattan district attorney's office reportedly asked Trump to surrender on Friday, but his lawyers refused, claiming that the Secret Service, which provides security detail for the former president, needed more time to prepare.
Trump is expected to turn himself in to the DA's office, but Joe Tacopina, lawyer for the former president, said no specific date had been arranged. The Secret Service will eventually have to discuss the terms of the surrender with court officials and the New York Police Department.
While it is unlikely that Trump will fight arrest, Florida Gov. Ron DeSantis declared on Twitter Thursday that his state would "not assist in an extradition request given the questionable circumstances at issue" with Bragg.
"The Soros-backed Manhattan District Attorney has consistently bent the law to downgrade felonies and to excuse criminal misconduct," said DeSantis, Trump's presumptive challenger for the Republican presidential nomination. "Florida will not assist in an extradition request given the questionable circumstances at issue with this Soros-backed Manhattan prosecutor and his political agenda."
Related to the highly anticipated arrest, the New York Police Department has instructed all officers to report in full uniform on Friday as a "precautionary measure."
"All uniformed members of the New York City Police Department are to show up in uniform as of 0700 hours on 03-31-2023 as a precautionary measure," a spokesperson said on Thursday night.
Trump, in a statement, called the indictment "political persecution and election interference at the highest level in history."
"The Democrats have cheated countless times over the decades, including spying on my campaign, but weaponizing our justice system to punish a political opponent, who just so happens to be a President of the United States and by far the leading Republican candidate for President, has never happened before. Ever," the former president said.
Of all the charges, it's the porn star that did him in
At the heart of the case is the hush money payment, which in itself is not a crime. To recap, Trump's then-attorney Michael Cohen paid Daniels a $130,000 hush money payment shortly before the 2016 presidential election in an attempt to purchase her silence about an alleged affair with the former president.
Trump himself admitted that the payment came from him, disputing observers who were alleging it came from the funds raised for his 2016 presidential run, which would be a campaign finance violation.
"They came from me," he said in an interview with Fox & Friends in August 2018. "And I tweeted about it. But they did not come out of the campaign," adding that he had only found out about the payments "later on".
This contradicts Cohen's prior under-oath declaration in which he stated that the president had directed him to make the payments. But this also contradicts Trump's own earlier public comments where he denied knowledge about the payment.
On August 21, 2018, Cohen surrendered to the FBI and pled guilty to criminal charges, including five counts of tax evasion, one count of making false statements to a financial institution, and one count of willfully causing an unlawful corporate contribution. But the interesting charge is one count of making an excessive campaign contribution at the request of a candidate (Trump) for the "principal purpose of influencing [the] election," which then establishes that the payments were violating campaign finance rules.
"I take full responsibility for each act that I pled guilty to: The personal ones to me and those involving the president of the United States of America," Cohen said at the sentencing, adding that Trump was "the man that caused me to choose the path of darkness" and do "dirty deeds".
Cohen, who was sentenced to three years in prison, was freed early owing to worries about COVID-19, and will serve the remainder of his term under house arrest.
Aside from Daniels, Trump is also tied to a hush money payment to Playboy Magazine model Karen McDougal but it is still unclear if this is part of the ongoing case.
Checks and Giuliani
At the crux of determining the criminality of the payment is the manner it was reported. At a day-long public testimony before the House Oversight Committee in 2019, Cohen described a scheme in which Trump promised to pay the actress to keep her quiet before the presidential election. The president then attempted to conceal the funds by returning them to Cohen gradually over time and misclassifying the reimbursements as part of a "retainer" for legal services.
"After several rounds of conversations with [Trump] about purchasing her life rights for $130,000, what I did, each and every time, is go straight into Mr. Trump's office and discuss the issue with him," Cohen told the Congress at the time.
Allen Weisselberg, the Trump Organization's senior financial officer, was also present throughout these negotiations, according to Cohen. Cohen stated that Trump asked him and Weisselberg to collaborate on a plan to pay Daniels.
Cohen testified before the House Committee that he initially urged Weisselberg to utilize his money for the transaction, but Weisselberg declined. Instead, the Trump employee suggested Cohen find a buddy who wanted to join one of Trump's clubs or golf courses and use their membership fees to pay the actress, but Cohen said he didn't know anyone to approach.
"It got to the point where it was down to the wire, it was either somebody wire the funds and purchase the life rights to the story from [Daniels] or it was going to end up being sold to television, and that would have embarrassed the President, and it would have interfered with the election," Cohen said.
Cohen said, at that point, he agreed to use a home equity line of credit he had taken out and make the payment personally, sending the money to a newly formed shell business he named Essential Consultants and then instructing the company to pay Daniels' attorney. Cohen delivered the Essential Consultants bank statement to Trump Organization employees in January 2017, as Trump was ready to enter office, and sought reimbursement, according to his charging paperwork.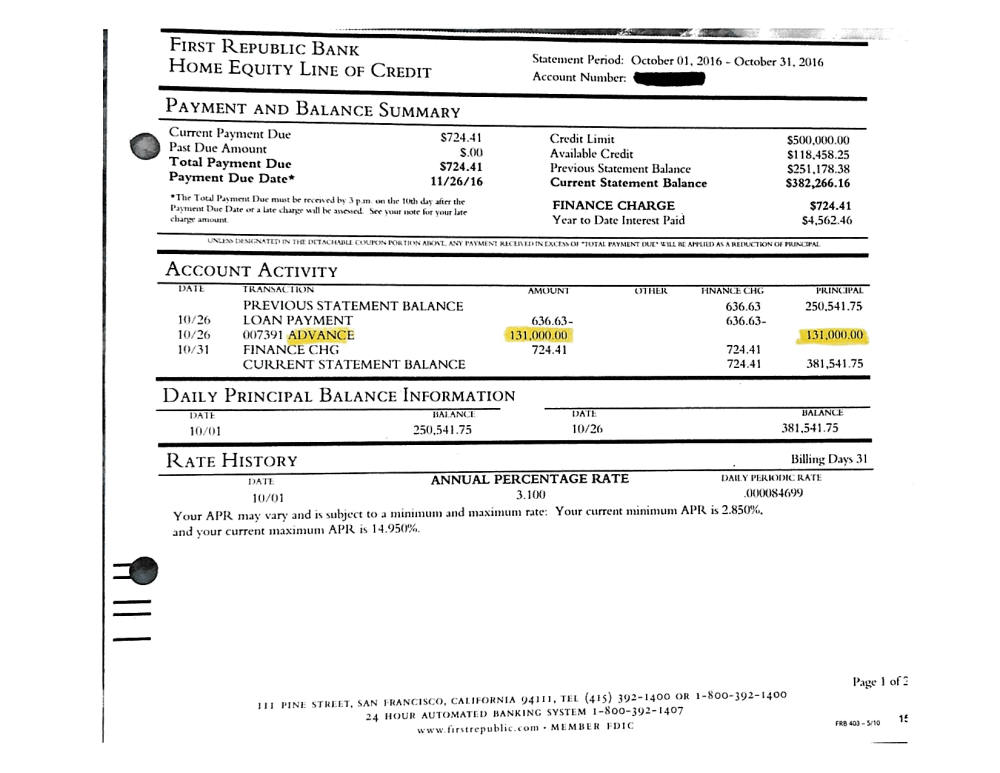 The reimbursement allegation got solid footing when a picture appeared of the now infamous check payment made by Trump to Cohen.
Trump's company executives decided to pay Cohen $420,000 for his trouble, a sum meant to recompense him not just for the Daniels payment, but also for additional tax payments and a $60,000 bonus on top.
Cohen testified that he would have preferred to get the money all at once but Weisselberg ordered that the payments be made over the course of a year.
"In order to be able to put it onto the books, Allen Weisselberg made the decision that it should be paid over the 12 months, so that it would look like a retainer," Cohen testified.
Because these payments were made during the campaign, prosecutors during Cohen's sentencing claimed that they were made "with the intent to influence the 2016 presidential election" and should have been subject to campaign finance limits. At the time of the campaign, the legal limit for making a donation was $2,700.
Trump's camp, who initially denied knowledge of the payments, then distanced the issue from a potential campaign finance violation and admitted that the payments came directly from the former president himself.
Even Trump's lawyer, Rudy Giuliani, inadvertently admitted the payments came from Trump while also admitting to the scheme with Cohen in a 2018 Fox interview.
"The money that was paid by his lawyer… and the president reimbursed that for over several months," Giuliani said.
He also added that the prosecutors wouldn't find a campaign finance violation and that they "cannot indict" Trump.
Trump's reimbursement payments to Cohen are crucial not only in terms of campaign finance, but also in terms of government ethics. Trump should have disclosed his debt to Cohen to the Office of Government Ethics (OGE) from the start. He didn't.
Trump did not include the money he owed Cohen in his 2017 statement, but stated in a footnote in his 2018 disclosure that he had "fully reimbursed" Cohen for expenditures incurred without specifics. As a result, the OGE informed Deputy Attorney General Rod Rosenstein of the omission in a letter issued to the Department of Justice in May of last year. In August, the Project on Government Oversight urged the OGE to investigate if that footnote was correct, because it stated Trump had paid Cohen up to $250,000 but prosecutors disclosed Cohen had collected $420,000.
In a December sentencing memo, federal prosecutors in the Southern District of New York stated that Cohen sent monthly invoices to Trump's company "falsely indicating" that the invoices were part of a retainer agreement, and that the Trump Organization falsely accounted for the payments as legal expenses.
Prosecutors also stated in Cohen's prosecution paperwork that no retainer agreement existed and that the invoices were not submitted in conjunction with any legal services Cohen supplied in 2017.
In New York, falsifying company documents is a misdemeanor, but it can be upgraded to a felony if the records are created to cover up or commit another crime. The underlying crime in this instance could be concealing the genuine nature of a campaign donation in a presidential election.
Yet, the political donation was made during a federal campaign, which may complicate the issue. Trump may possibly claim that he made the payment to protect his family rather than to influence the election. (Cohen testified that one of his objectives was to protect Melania Trump.) Trump might also point out that he was acting at the request of his lawyer, Cohen, who he felt would not counsel him to breach the law.
Cohen has regularly met with the district attorney's office, appeared before a grand jury, and delivered a statement this week stating that he stands by his story that the payment to Daniels was made at Trump's direction and to benefit him. Daniels also confirmed that she had sex with Trump once.
Trump has denied having a sexual encounter with Daniels, has said Cohen is lying, and has accused Bragg of leading a politically motivated witch hunt.
"He's seething," Cohen said in a CNN interview when asked what Trump would be doing now following the indictment. "To the world, he wants to appear to have this thick skin. He's not thick skin… This is his biggest fear that he would be mugshot and that he's going to now have a felony next to his name."
Trump the felon?
Trump is anticipated to go through the standard processes of felony arrest processing in New York if he surrenders on Tuesday. The arrest of a former commander in chief, on the other hand, will be anything but normal.
First, he may not be necessarily be put behind bars or in a detention cell. Accommodations may be made for Trump like a holding area, given his status.
While handcuffing individuals arrested on felony charges is common procedure, it is unclear whether an exception will be made for a former president. The majority of defendants have their hands shackled behind their backs, but some white-collar defendants deemed less dangerous have their wrists cuffed in front of them.
Complicating the procedure is the fact that Trump is still being protected by the Secret Service who are mandated to protect the safety of the former president from all threats. Being handcuffed can be considered making Trump a vulnerable target.
Trump's actual appearance in court might take several days before it happens. The indictment will remain sealed until his arraignment on Tuesday, when the charges will be formally announced. The former president requested an expedited arraignment which could possibly lead to him being released on his own recognizance because the indictment will likely contain only nonviolent felony charges.
As part of the process, Trump is expected to be fingerprinted and photographed.
Cohen himself said that he does not want Trump to be "paraded" in his arrest, given that he is still a former president of the country.
"Personally, I don't want to see him paraded that way. Because he's a former president of the United States. Because I actually care more about the office of the presidency of the United States than he does," Cohen said. "The more that we keep this 'classy', the better it is for our position in the world."
"Communist level s***"
As expected, reactions to the indictment have been emotionally charged. Trump's namesake son, Donald Trump Jr., called the move "communist level sh*t."
"This is stuff that would make [former Chinese Communist Party Chairman Mao Zedong], [former Russian dictator Joseph Stalin], [former Cambodian dictator Pol Pot]… blush," he said in a video message.
Eric Trump also commented on the indictment, calling the people behind the move "evil".
Meanwhile, Senate Majority Leader Chuck Schumer called for calm among supporters and protestors, asking them to "let the process proceed peacefully and according to the law."
"Mr. Trump is subject to the same laws as every American. He will be able to avail himself of the legal system and a jury, not politics, to determine his fate according to the facts and the law. There should be no outside political influence, intimidation or interference in the case," the Democrat senator said.
The House had a different tune, with Republican House Speaker Kevin McCarthy saying the indictment "irreparably damaged" the country, vows his chamber will hold New York district attorney "and his unprecedented abuse of power to account."
Former Arkansas Governor Asa Hutchinson said in a statement that "it is a dark day for America when a former President is indicted on criminal charges," adding that while there are credible facts that made the grand jury issue an indictment, "it is important that the presumption of innocence follows Mr. Trump."
"It is essential that the decision on America's next President be made at the ballot box and not in the court system. Donald Trump should not be the next President, but that should be decided by the voters," said Hutchinson, whose ineligibility for a third term forced him to step down this year and was replaced by current governor Sarah Huckabee Sanders–Trump's former White House press secretary.
Grocery list of legal issues
The indictment in New York will not prevent federal and state prosecutors in other places from filing their own charges, but a backlog of cases — criminal or civil — will make it more difficult to resolve them all as quickly as Trump's opponents would want.
The most litigious of all is the alleged role Trump played in the infamous Jan. 6 insurrection on the US Capitol. The former president was sued by 12 Democratic lawmakers accusing him of sparking the attack. Other Capitol police officers have filed lawsuits against Trump for physical injuries and racist abuse sustained that day. Trump is attempting to get the cases dismissed through appeals; a federal judge in Washington rejected Trump's position that he was immune from suit because he was a sitting president at the time.
The Justice Department currently has lodged two federal criminal investigations: the first into Trump and his associates' efforts to undermine the results of the 2020 presidential election, and the second into whether Trump or others mishandled sensitive information after leaving the White House or attempted to hinder the government's investigation.
The Atlanta District Attorney's office is also investigating whether Trump broke the law in his attempts to alter the results of the 2020 presidential vote in Georgia. Trump ordered Georgia Secretary of State Brad Raffensperger to "find" him 11,780 votes, one more than US President Joe Biden's margin of victory in the state.
A group of Michigan voters has also filed a lawsuit against Trump, his 2020 reelection campaign, and the Republican National Committee, alleging widespread voting suppression, particularly among Black voters.
There is also a civil suit filed by the New York attorney general Letitia James against Trump and three of his children for allegedly misrepresenting the worth of his real estate company's assets, which is possibly the most serious danger to the former president's riches and image as a successful businessman. She has already obtained a court order appointing an independent monitor to supervise the Trump Organization, a move that could expose the former president's finances to unprecedented scrutiny.
During a weeks-long trial, two units of the Trump family firm, the Trump Organization, were found guilty of a 13-year tax-evasion conspiracy on December 6. A $1.6 million fine was imposed on the two companies.
Trump, his company, and his three oldest children are also facing a class-action lawsuit filed in 2018 by four investors who claimed they were duped into paying thousands of dollars to become independent sellers with ACN Opportunity LLC, which sold a doomed videophone device that Trump touted as the next big thing.
Trump–or his lawyers, for that matter–is also scheduled to appear in a trial on April 25 in a case filed by New York advice columnist E. Jean Carroll, who accused him of raping her in a department store dressing room in the 1990s and sued him for battery and defamation.
---
Information for this briefing was found via the Politico, The Hill, BBC, The Washington Post, Vox, The New York Times, Bloomberg, and the sources mentioned. The author has no securities or affiliations related to the organizations discussed. Not a recommendation to buy or sell. Always do additional research and consult a professional before purchasing a security. The author holds no licenses.