Twitter Vs. Employees: How Elon Musk's HR-Style Has Been So Far
AOC thanked laid off Twitter employees and Musk replied "you're welcome"–bizarrely blurring the line on how the new chief Twit takes management seriously.
From laying off more than half of the workforce to installing an "extremely hardcore" working environment for those that remain, Elon Musk's Twitter is rapidly unfolding the direction (or the lack thereof, depends on where you're looking at) he plans to take the social media platform to.
All under the guise of "maximizing potential," Musk is making major changes to the social media platform's business model, including key products and features. But most of the companys overhaul is felt within the now-hallowed halls of the firm's offices as employees are either being fired or resigning.
READ: Aside From $8 Blue Checks, Here's How Elon Musk Is Ruining Twitter
Twitter offices closed for the weekend
The platform told its remaining employees on Thursday in a message seen by BBC that the office buildings will be temporarily closed and expected to reopen on Monday.
"Effective immediately, we are temporarily closing our office buildings and all badge access will be suspended. Offices will reopen on Monday, November 21st," said the message undersigned simply by "Twitter."
"Thank you for your flexibility. Please continue to comply with company policy by refraining from discussing confidential company information on social media, with the press or elsewhere," the message further read.
This follows the onslaught of hundreds of employees voluntarily leaving Twitter following Musk's ultimatum of pushing the company to be "extremely hardcore," supposedly in order to survive the increasingly competitive environment.
"This will mean working long hours at high intensity. Only exceptional performance will constitute a passing grade," the memo read.
READ: What's Next For Musk's Twitter: New CEO, Longer Tweets, "Extremely Hardcore" Management
Reuters investigated public tweets by over 110 Twitter employees resigning from at least four continents, although each resignation could not be independently verified. About 15 employees, many of whom worked in ad sales, announced their decision to stay with the company.
Over 500 employees penned farewell messages via Twitter's internal chat tool on Thursday, according to a source familiar with the notes.
According to a poll on the workplace app Blind, which validates employees using their work email addresses and allows them to exchange information anonymously, 42% of 180 respondents chose "Taking exit option, I'm free!" On the other hand, a quarter stated that they chose to stay "reluctantly," while only 7% stated that they "clicked yes to stay, I'm hardcore."
Amid the flush of resignations, Musk tweeted that he's "not super worried" as the "best people are staying."
But, Musk reportedly talked with some top staff on Thursday in an attempt to persuade them to stay, according to one present employee and a recently departed employee in contact with Twitter colleagues.
In a bizarre public conversation, Twitter user Alex Cohen–who claims to be "mostly a parody account"–posted an unconfirmed story of him being fired from the platform where he was in "charge of managing badge access to Twitter offices."
"Elon just called me and asked if I could come back to help them regain access to HQ as they shut off all badges and accidentally locked themselves out," the tweet read.
While most are on their way to charging the story as another parody attempt, Musk replied to the tweet thanking Cohen, saying he's "a lifesaver"–adding a level of legitimacy to the narrative. Cohen then replied to Musk: "No problem! Glad I could let all the hardcore engineers back in the building."
Musk, a voracious tweeter himself even before purchasing the platform, has been embroiled in multiple legal kerfuffles with regulators for publicly tweeting company ongoings and taking some business decisions to a poll. Not so long ago, the Tesla CEO had to agree to a deal with SEC to refrain himself from tweeting information and internal matters related to the electric vehicle firm.
Whether Musk replied to Cohen as a joke or the situation was real but he wasn't aware who specifically was the employee that let them in, it must be understandable that this speaks volumes on how serious the billionaire is in running the platform. Maybe, back when he was just a private Twitter user, these quips would be treated as content; now he's running the platform, there's expectedly more weight in everything he would say about Twitter on Twitter.
Modern protestors
While the offices are closed, the building is alive–at least in San Francisco headquarters–thanks to a so-called projection activist.
On Thursday, words were projected on the side of Twitter's office building castigating Elon Musk. Some of the degrading labels include: bankruptcy baby, mediocre manchild, megalomaniac, worthless billionaire, and space Karen.
Musk has reportedly fired employees who were found to have made fun of him or made critical comments privately on the company's Slack channels or publicly on Twitter, according to The New York Times and NBC News, citing information from current and former Twitter employees.
READ: Free Speech Absolutist Elon Musk Fires Employees For Publicly And Privately Criticizing Him
New York Rep. Alexandria Ocasio-Cortez tweeted a message to laid off Twitter employees, saying "millions of people appreciate the space [they] built and the hard work that went into it."
To which, Musk simply replied, "you're welcome."
As soon as Musk took over, the platform has been in a rapid and unprecedented workforce shuffle–from firing top executives including former CEO Parag Agrawal, to laying off around 3,700 employees in one of the tech world's largest tech job cuts. He was also reportedly asking employees to a meeting with one-hour notice, rumored to be warning them that if they don't show up, their resignations will be accepted instead.
READ: Elon Musk's Massive 3,700-Job Layoffs To Face Lawsuit From Fired Twitter Employees
#RIPTwitter trending on Twitter
Many developers responsible for addressing issues and preventing service failures have reportedly left Twitter, raising concerns about the platform's reliability in the face of employee losses.
According to one source familiar with the situation, the version of the Twitter app used by staff began slowing down on Thursday evening, and the public version was at risk of shutting down over the night.
According to the website Downdetector, which records website and app outages, complaints of Twitter outages increased dramatically from less than 50 to around 350 on Thursday evening.
On Friday, #RIPTwitter trended on Twitter in the United States along with "Elon" and "Mastodon"–the latter is touted to be a decentralized social media app that could offer an alternative to beleaguered platform.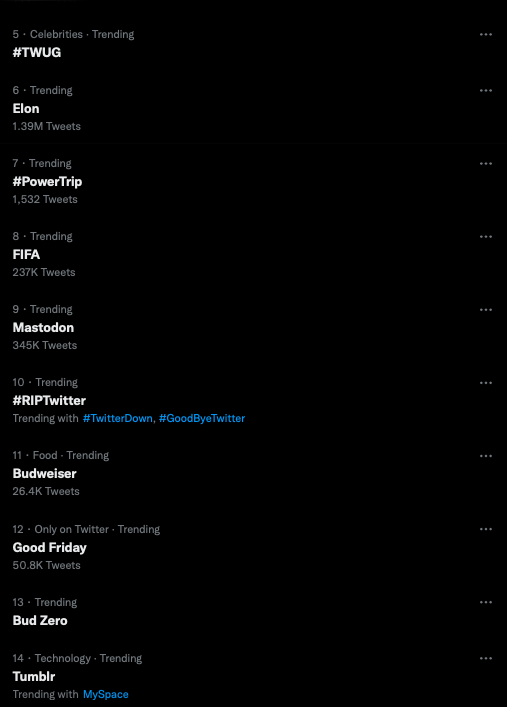 But all the talk about "death of Twitter" again seems not to bother Musk, agreeing with British journalist Piers Morgan's viewpoint that all those users "whining" about the platform's decline should just leave the platform–essentially nodding to a sizable loss in users on Twitter.
On the flip side, it also seems like Musk is chiding into these narratives because it apparently drives platform activity–which the billionaire claims is an at all-time high.
And if indeed Twitter is dying, Musk believes there's a chance to keep the platform alive.
The billionaire is ramping up revenue streams for Twitter after his acquisition of the platform, for which he has said more than once that he overpaid. Most recently, Musk had to sell 19.5 million Tesla shares over the three market days, generating cumulative gross proceeds of $3.9 billion.
In financing the $44-billion takeover, Musk placed slightly more than $27 billion of his own cash in the acquisition.
Around $5.2 billion comes from bank loans including from Morgan Stanley, Bank of America, Japanese banks Mitsubishi UFJ Financial Group and Mizuho, Barclays and the French banks Societe Generale and BNP Paribas. Morgan Stanley alone has contributed $3.5 billion.
These loans are guaranteed by Twitter, and it is the firm, not Musk himself, which will carry the financial burden to pay them back.
But the other part of the financing involves $5.2 billion from investment organizations and other significant entities, including $1 billion from Larry Ellison, co-founder of software company Oracle.
Other members of this consortium include foreign investors like Prince Alwaleed bin Talal of Saudi Arabia, Chinese native-run Binance Holdings Ltd., and Qatar's sovereign wealth fund. The presence of these non-American investors is causing a stir in the White House for fear of foreign intervention and surveillance.
READ: Foreign Investors In Elon Musk's Twitter Buyout Can Potentially Access User Data
---
Information for this briefing was found via CBC, BBC, and the sources mentioned. The author has no securities or affiliations related to this organization. Not a recommendation to buy or sell. Always do additional research and consult a professional before purchasing a security. The author holds no licenses.