Understanding Diamonds: The Importance Of Caustic Fusion
Most minerals and metals tend to have their own unique or specific methods and techniques for mineralization identification, optimum ore extraction, and the processing and recovery of desired minerals. Methodologies have evolved over time, as new technologies and tools have enabled more efficient and cost-effective exploration, often greatly enhancing the chances for success. Diamonds are no different. 
Indicator Minerals and Kimberlite
Before diamonds were discovered in the Northwest Territories in the 1990s, geologists would seek to find diamond indicator minerals that were known to identify potential proximity to kimberlites. Kimberlites are a host material created through ancient volcanic activity that commonly host diamonds, and often appear to resemble pipes. 
Kimberlites are cylindrical structures through which magma erupted during volcanic activity, carrying a variety of minerals to the Earth's surface. These minerals cooled, and were subsequently dispersed by glacial captivity. Diamond indicator minerals include garnet, ilmenite and chromite, which are abundant in NWT. The key for geologists is to find the indicator mineral source rocks, with the hope that they are diamond-bearing.
Fipke, His Insight, and Discovery
Chuck Fipke, along with his fellow geologist, Stewart Blusson, spent almost a decade traversing Canada's far north in search of indicator diamondiferous rocks before making a diamond discovery at Lac de Gras, NWT. These indicator minerals were displaced and scattered well beyond their original source locations by glacial activity spanning many millions of years – phrased differently, it was a painstaking effort to trace these minerals back to their original source. 
Mr. Fipke learned his craft early in his career, working in southern Africa's rich diamond fields. His understanding was that the geology of NWT was similar to the geology of southern Africa. Therefore, Fipke believed that NWT would host diamonds, which, until his discovery, had never been found in North America. 
He also understood that kimberlites tend to appear in scattered clusters where the indicator minerals are found. When Fipke and Blusson finally found the source of the indicator minerals, they also found diamond-bearing rock and the kimberlite fields that host the prolific Ekati and Diavik diamond mines.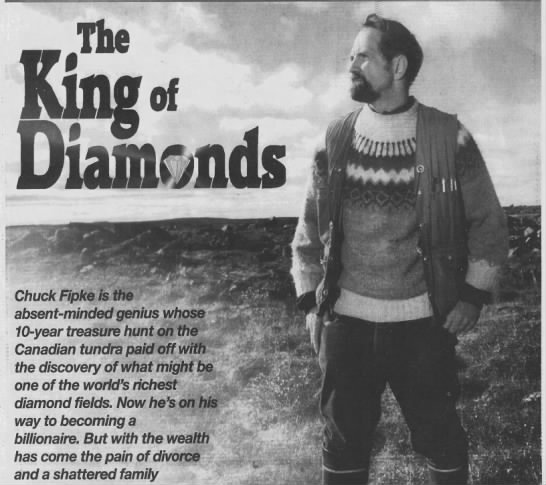 A Diamond Distribution Curve
It's important to note when talking about kimberlites: Although they are commonly associated with hosting diamonds, not all kimberlites contain diamonds. 
Recently developed technologies, such as V-Tem airborne geophysical surveys, can identify the exact location of a kimberlite pipe, and thus provide geologists with predefined drill targets. However, the kimberlite discovery is just the first step in determining a project's potential. One must build a database by conducting diamond size frequency distribution analysis, in which every recovered diamond of all sizes is plotted on a spreadsheet – referred to as a 'diamond distribution curve.'
Caustic Fusion
Diamond geologists determine the potential volume of diamonds that might be found in a kimberlite pipe by conducting sampling programs of the kimberlite and sending the samples to a lab for analysis. The lab uses a chemical process called 'caustic dissolution' to dissolve the kimberlite ore to recover any diamonds from the samples. This process is more commonly referred to as 'caustic fusion', and is especially useful for microdiamond recoveries, ensuring that 100% of diamonds in any sample can be recovered.
Prior to the development of caustic fusion in the 1990s, diamonds were extracted through the use of a multi-stage crushing process, which involved crushing the kimberlite ore, washing away waste material, and leaving only the diamonds. Often good sized diamonds would get destroyed and the process was not overly suitable for recovering diamonds below a certain size. Due to the water-resistant nature of diamonds, South Africans began using grease tables around the turn of the 20th century. Diamonds would be captured as wet crushed waste rock would flow over the grease table and the diamonds adhered to the grease. These methods are still in use but have been refined over time.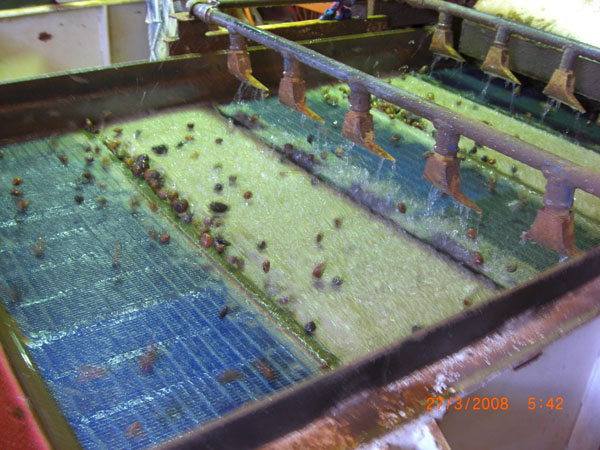 In the caustic fusion process, kimberlite rocks are dumped into large steel pots. Caustic soda is then poured into the pots, which are then placed into temperature-controlled kilns until the diamondiferous rock material is completely dissolved, and all that remains are diamonds and residue. Once the residue has cooled, it is poured through a series of wire, sieve-like meshes, leaving only diamonds.
Each of the diamonds is examined under a microscope, and recorded by size and weight. Labs utilize rigorous chain of custody protocols to maximize quality control and ensure confidentiality.
The recovered diamonds are recorded and a diamond distribution curve is created. As the exploration programs continue, additional results are added to the database, therefore enabling a more accurate forecasting of a project's potential diamond volume and the type and size of diamonds the property may contain. Conducting larger sampling programs will enable a more accurate and reliable database, which is critical to building a Pre-Feasibility Study (PFS) on the project's potential economic viability.
2021 Caustic Fusion of Arctic Star's Sequoia Kimberlite Complex
A recent example of the process is the 2021 discovery of the Sequoia Kimberlite Complex in the Lac de Gras area of NWT by Arctic Star Exploration Corp. (TSXV: ADD). The company analyzed a 1000 carat sample using caustic fusion. Below is an excerpt from its September 15, 2021 press release that illustrates the caustic fusion process that was used to analyze the sample:
Samples are placed in a kiln and heated to 5080C with caustic soda for 24 hours. The hot residue is poured through a 0.075mm sieve. The residue is then further chemically treated, if required, until just the refractory minerals remain, including diamonds. The residue is sized by sieving, and then the diamonds are selected by a mineralogist. Larger diamonds (>0.5mm) are described and weighed. 
The resulting data is then compiled and arranged based on sizing of the diamonds found within the sample, which forms the basis for the diamond distribution curve that will be created.
| | | | | | | | | | | | |
| --- | --- | --- | --- | --- | --- | --- | --- | --- | --- | --- | --- |
| Drill hole | 0.10 mm | 0.15mm | 0.212mm | 0.3mm | 0.425mm | 0.6mm | 0.85mm | 1.18mm | Weight Kg | Total stones | Stones/100kg |
| Sequoia 1st half | 146 | 54 | 11 | 7 | 4 | 2 | 0 | 0 | 292.6 | 224 | 76 |
| Sequoia 2nd half | 136 | 63 | 28 | 16 | 6 | 4 | 1 | 1 | 212.7 | 255 | 120 |
| Sequoia Total | 282 | 117 | 39 | 23 | 10 | 6 | 1 | 1 | 505.3 | 479 | 95 |
Caustic Fusion for Arctic Star's Spring 2022 Program
Having recently completed its Spring 2022 drill program, Arctic Star's drill core was sent to the SRC (Saskatchewan Research Council) diamond laboratory for caustic fusion analysis, results of which the company expects in the near future. 
When the results are returned from the lab, they will be added to the company's existing distribution frequency curve. This will provide Arctic Star a clearer picture of Sequoia's potential. 
In order to determine the diamond population and the average price per carat, a much larger sampling size is required. Therefore, once ice formation enables drilling to resume, they plan to conduct a large 3000 ton bulk sample of over 1500 carats, which they will do by drilling cores of up to one-metre in diameter. 
The Use of X-rays
Another recent development in the diamond recovery process is the use of X-rays at the beginning of the material crushing stage. In the past, many larger diamonds, which are the most valuable, were often degraded or ruined by the crushers used to break down mineral bearing ores. Now, X-ray diamond sorting equipment is used at the front-end of the ore crushing recovery process because diamonds tend to fluoresce when exposed to X-rays. 
When mineraled materials are being processed and exposed to X-rays, the diamonds within the material fluoresce. The equipment converts the light into an electrical signal, which is transmitted to an automated separator that removes the diamonds from the rest of the material. It is believed that X-rays can recover over 98% of diamonds from the raw material, while maintaining the integrity of the diamonds. This in turn improves the efficiency and economics of a diamond project.
An Understanding Key to Investors
It is important for junior exploration investors to understand the life cycle and property development process that exploration companies go through to enhance the value of their projects. Each type of metal or mineral can have its own unique methods, and having that specific knowledge can greatly reduce the anxiety investors often feel when it seems like things are taking forever to develop.
Understanding the importance that caustic fusion plays in assessing and advancing a diamond project is critical in formulating one's expectations about their investment. And while they dream big, a diamond exploration company can generate cash flow by selling some of the recovered diamonds. Like any junior mining sector, it can take a number of years of work to advance an exploration project to where it may become attractive to a potential suitor and provide shareholders with a lucrative exit.
---
FULL DISCLOSURE: Arctic Star Exploration is a client of Canacom Group, the parent company of The Deep Dive. The author has been compensated to cover Arctic Star Exploration on The Deep Dive, with The Deep Dive having full editorial control. Not a recommendation to buy or sell. Always do additional research and consult a professional before purchasing a security.