US and COVID-19: Under Control or Ticking Time Bomb?
Before reading this, I would like to qualify this article with sincere hope the US contains and defeats the spread of the virus. As a capital markets blogger, I keep reading "we have bottomed," thus I wanted to compile a blog roll investigating where the world's largest economy sits with the virus from a risk standpoint.
It's less than a month after New York reported their first case of the coronavirus, the Dow is rocking, the Fed continues to print money like Jean Ralphio, and the US government is introducing a Stimulus Package so large it will even make goldbugs nervous. Everything is honky dory right? I don't view it that way. Stimulus and printing are a red herring. In the words of John Hempton, this is a virus crisis and requires a virology solution. Until we have a sense of the overall depth of this problem, I'm not prepared to declare a bottom.
Trump, A Disaster From Day One
As the panic started to build on COVID-19, Trump demonstrated early neglect comparing COVID-19 to the common flu. With no vaccine, a high mortality rate, and frightening images from China and Italy, it was clear from the onset, Trump didn't see this the way the rest of the world did.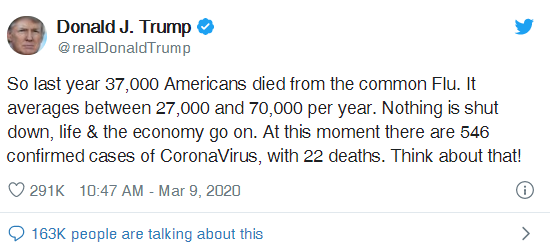 Two days later, he addressed the nation saying, "No nation is more prepared and more resilient than the United States." That day, the US issued a travel ban from Europe, the NBA suspended their season, and it was clear the seriousness of the virus had sunk into the Trump Administration and most of America.
Fast forward two weeks, Trump is now talking about getting people back to work ASAP, willing to trade off lives for the economy. Something NY Governor Andrew Cuomo has slammed him for, "My mother is not expendable. And your mother is not expendable.. And our brothers and sisters are not expendable. We're not going to accept a premise that human life is disposable. We're not going to put a dollar figure on human life."
Regardless, here's what I am willing to bet, the US numbers will get much worse from here, which will more than likely lead to a new market bottom.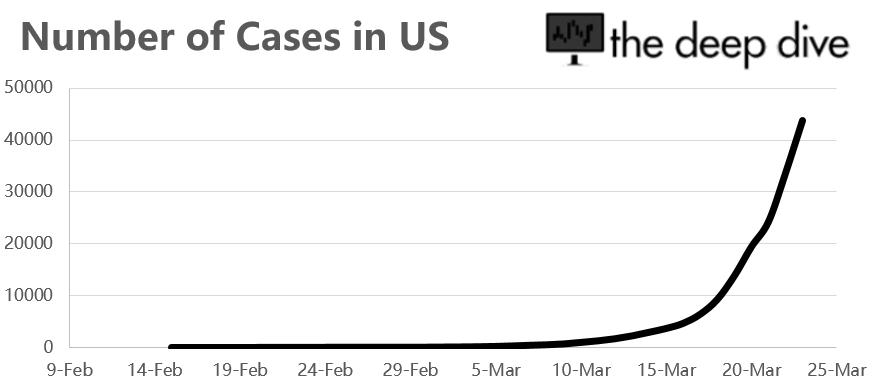 To date, the hardest hit state with the pandemic has been New York representing over half the country's reported cases: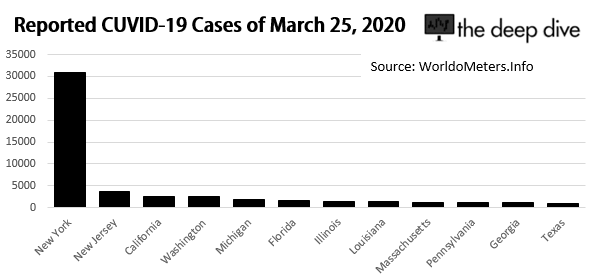 New York: Ground Zero for COVID-19 Breakouts
The first state to see a massive jump in Coronavirus statistics is New York. New York officials have been racing to essentially double their hospital capacity to 110,000 beds with Cuomo saying there could be a peak need of 140,000 beds. Rumblings on social media have already began worrying New York could face a scarcity scenario like Italy, where they have to choose who gets ventilators; effectively choosing who gets to live and die.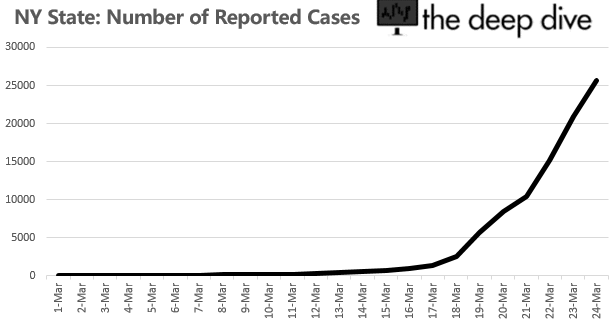 A quick breakdown of the timeline in New York shows us how quickly things can turn. From a single reported case, to calling a state of emergency less than a week later:

New York is unquestionably demonstrating terrifying numbers for onlookers. It wasn't even a month ago when New York reported their first case. Now it's an all hands on deck situation, where New York is showing a virus growth rate not unlike Italy and we're all left wondering: is New York a template for the rest of the US or an anomaly? It's difficult to answer that, thankfully large parts of the country are now acting with caution. However, from scouring the online headlines, certain states may have waited too late.
No one is going to want to tone down anything when you see what is going on in a place like New York City,"

NY Governor, Andrew Cuomo
Louisiana: Growth Rates Worse than Italy
According to analysis by the University of Louisiana at Lafayette, COVID-19 cases in Louisiana have spread faster in the first two weeks of the state's outbreak than they have in other states and countries across the world. Two weeks after reporting their first case, the state is already third in the US based on 'cases per capita' behind New York and Washington.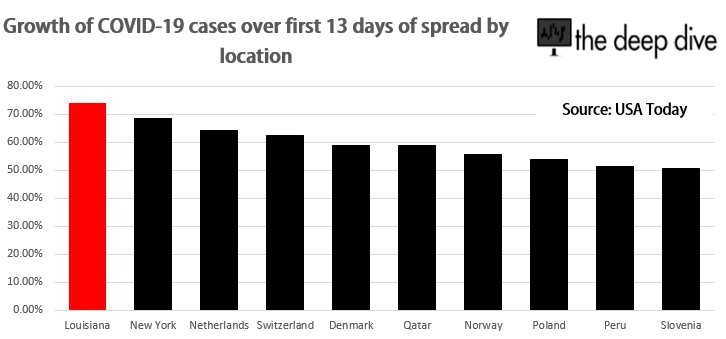 In New Orleans, bars and nightclubs have been shutdown and Mayor LaToya Cantrell ordered the basketball hoops be taken down from city owned courts. According to Vice, doctors are sending home patients who should be in the hospital. The health care infrastructure in the city is sized to meet the population of 393,000 people and according to Vice was already overwhelmed with the poorest and sickest people in the nation.
A nurse told Vice, "People aren't self-quarantining because they can't.. [You often see] a big group of people living in a small [space]—usually a grandmother with a child and grandkid… We may fail if we keep going on the current course and if the numbers keep climbing like they do."
Worse for the rest of America, Mardi Gras which kicked off in mid February saw people from around the US visit for one giant party. As Govenor John Bell Edwards put it, "I will share a theory… The first case confirmed 13 days after Fat Tuesday and happened in New Orleans. I happen to think a fair amount of it was seeded (during Mardi Gras) if that's the word."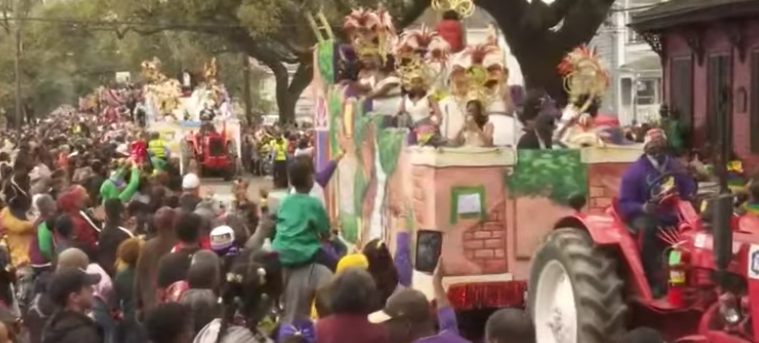 Washington: The First US Case
The first confirmed case of COVID-19 in the United States was announced in the state of Washington on January 21. Before New York had even announced their first case, Washington already had reported their third death from the virus.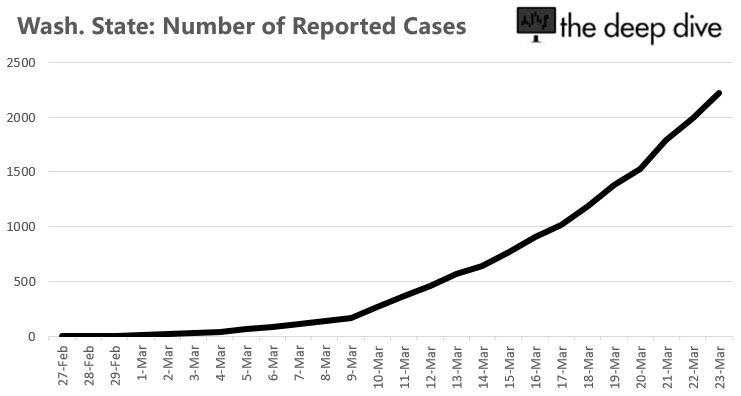 ---
Washington has had 2,469 confirmed cases and 123 related deaths at the time of publishing. The state has not seen the spread of the virus grow as fast as New York or Louisiana, but remains in the top three in terms of 'cases per capita.' In my estimate, Washington will be noteworthy to keep an eye on.

Florida: Spring Break, Slow Reaction, Testing Starting to Ramp
On March 1, Governor DeSantis declared a public health emergency after two cases were confirmed in Manatee and Hillsborough County. Twenty-four days later, that number has grown to 1,682 reported cases.
On March 17, the Governor ordered all bars and nightclubs to be closed for 30 days, school closures to April 15, and cancelled state-mandated school testing. He gave each local government the decision making power over beach and restaurant closings, a decision many have been critical over.
The state of Florida has received social media shaming from across the globe. Leading candidate for the democratic party, Joe Biden has taken Governor Ron DeSantis to task in a statement earlier today, "While other large states continue to take strong, urgent, and sweeping action to stop the spread of COVID-19, Florida has not…. I urge Governor DeSantis to let the experts speak to the public and explain why this is the case." 
In case you don't have access to MTV, Florida is a Spring Break destination that saw mass gatherings as late last week. And as many presumed, we are now seeing stories emerge of spring breakers contracting the virus after returning from their trips.

The Governor remains consistent the state is taking the necessary measures to control the virus:
There's certain parts of the state where you have more sporadic cases, and to order someone not to be able to earn a paycheck, when them going to work is not going to have any effect on what we're doing with the virus, that is something that I think is inappropriate

Gov. Ron DeSanitis, News Conference, March 25, 2020
And then there is Brady Sluder, everyone's favourite Spring Breaker: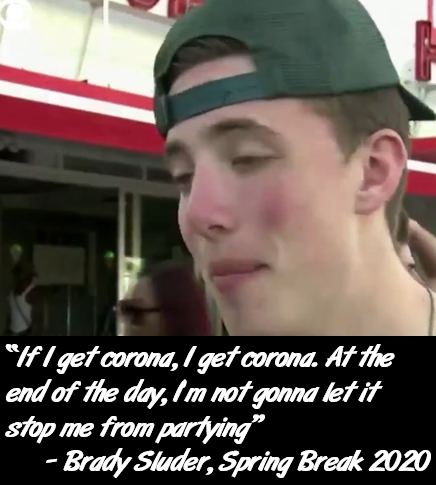 And just yesterday the Cincinnati, Ohio resident went to Instagram to apologize: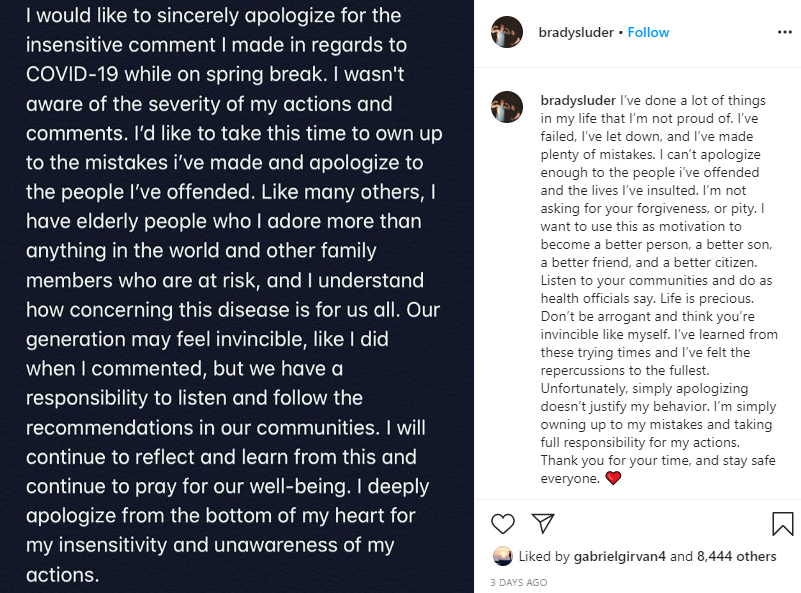 Florida has acted with some seriousness having tested over 18,000 people for the virus. Just today they have opened another large scale testing center capable of testing up to 250 people per day in the Orlando area, with similar testing sites already open in Tampa, Jacksonville and Miami. Using COVIDtracking.com as of Wednesday, the state has seen approximately 10% of the tests reporting positive results of the virus. In stark contrast to New York, where over 100,000 people have been tested with approximately 30% of positive cases.
The scary part for the state of Florida is the age of the population. Based on the readily available data, it is safe to suggest a strong positive correlation between age and mortality rate with positive tests. Florida has one of the highest and largest elderly populations in the country.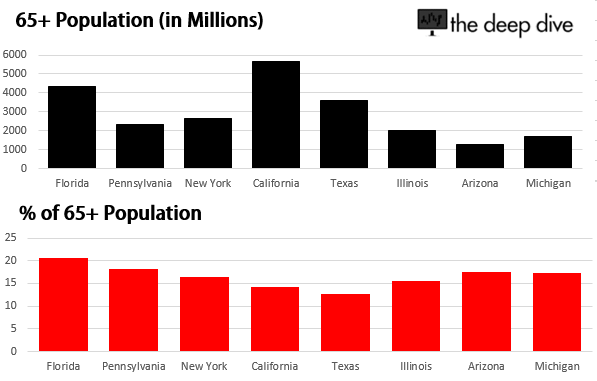 What a Thermometer Company is Telling Us
In an article from Business Insider, Kinsa Inc's CEO Inder Singh says his temperature tracking tool collects approximately 150,000 readings from homes across the US each day. The data looks for hotspots of illness at a county level.
The level of illness we're seeing in Florida is [two times] what we would have expected. That's very high, and it appears that it continues to grow. So, presumably, that's COVID 19. Presumably."

Kinsa's CEO and Founder, Inder Singh to Business Insider
A useful tool if you want to track the data can be found here, and it's clear Florida stands out with a high percentage of atypical results: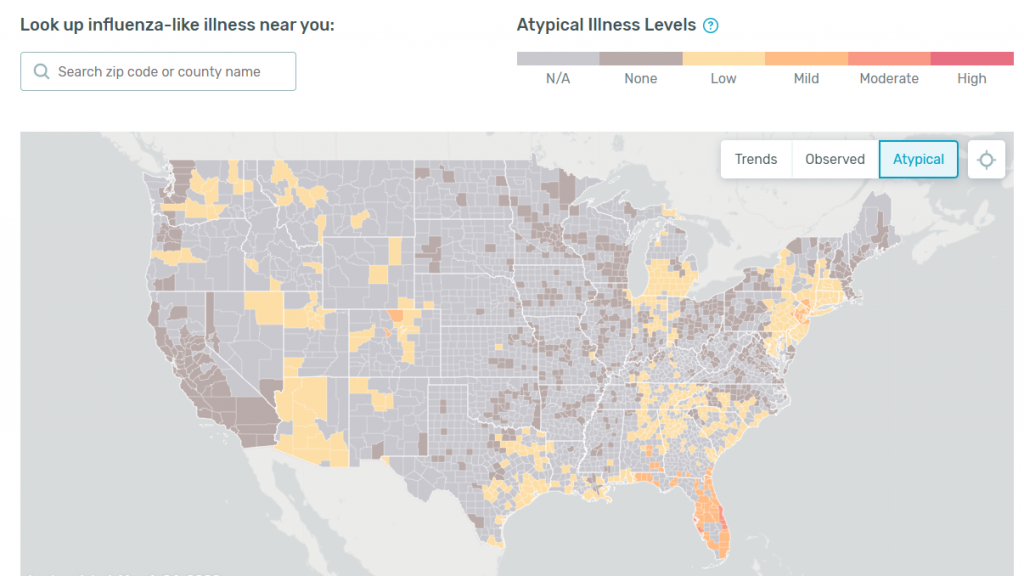 Overall Thoughts
There is a great deal of issue with data we are working with. Currently every state has testing issues, so the growth rates aren't necessarily absolute data points to make a case around. My goal in sitting down to write this is from a capital markets perspective to ask, have we reached the bottom or is the pandemic much worse than the market has already priced in?
We are getting real time data every hour and it's constantly changing. It's hard to formulate any concrete thoughts, other than, we all need to stay home until we sort this out. However, we can conclude the numbers coming out of New York are terrifying, and if any of the other large states see a similar spread, I would argue the only way we haven't bottomed out is if the Federal Reserve Bank has become a $10 trillion hedge fund buying anything they can with a simple journal entry; a likely scenario.
---
Information for this briefing was found via the links provided within the article. Not a recommendation to buy or sell any securities. Always do additional research and consult a professional before purchasing a security. The author holds no licenses.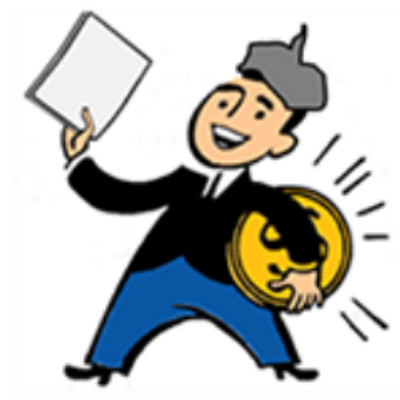 SmallCapSteve started blogging in the Winter of 2009. During that time, he was able to spot many take over candidates and pick a variety of stocks that generated returns in excess of 200%. Today he consults with microcap companies helping them with capital markets strategy and focuses on industries including cannabis, tech, and junior mining.