US Cannabis, Momentum, With Lots of Hurdles
The US Cannabis market has been a confusing ride for investors to comprehend. We have a huge market, that isn't quite legal and isn't quite illegal. There are banking issues, single state issues, anti-trust issues, capital raising issues, tax issues, black market issues, international trade issues, the list goes on.
The market is more than likely going to be gigantic with Colorado currently selling over $1.5B a year in cannabis; multiply that proportionality into the full population and you can quickly see a potential market north of $85B in the US alone.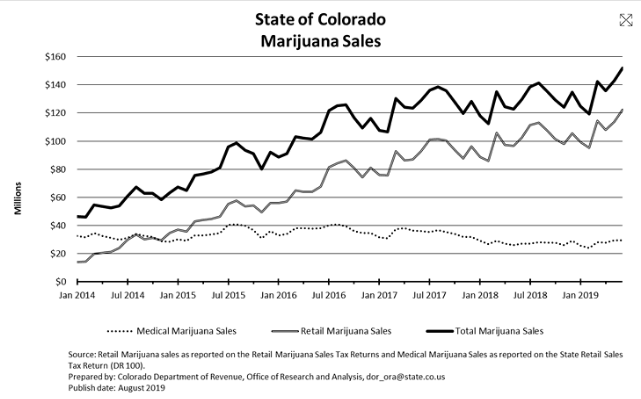 The Effect of 280e
For anyone who has looked at a US operator, they probably are familiar with tax code 280e. This code makes it so that a business engaging in the trafficking of a Schedule I or II controlled substance can effectively only write off Cost of Goods Sold.
What does this mean for operators? Simply put, they pay more taxes than a standard business.
Let's take a look at Trulieve's most recent quarter. They generated U$57.9M in top line revenue and have a provision for income taxes of U$27.7M.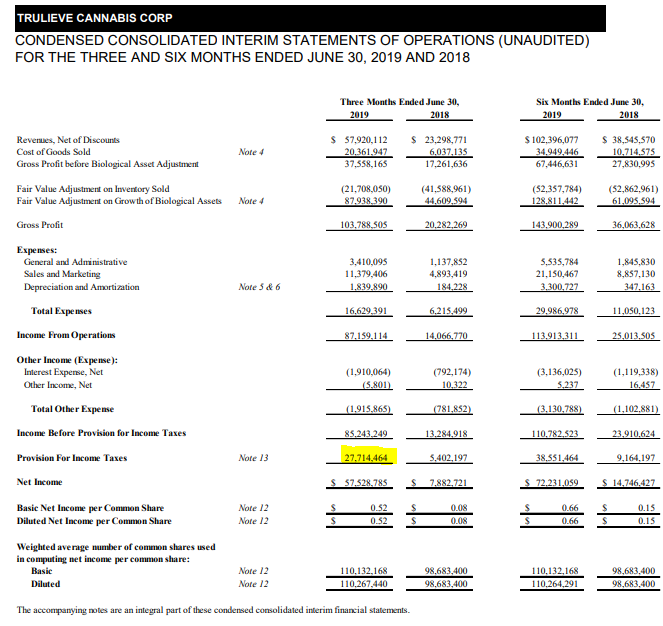 Tax accounting is complicated and that number is part current, part deferred. But we can see from Note 13, Trulieve pays A LOT in taxes relative to the revenue and earnings they generate.

What's The Temperature Towards Change?
The US population clearly supports some form of legalization, with most polls showing over 60% of Americans want full legalization and over 90% support medical legalization. Last week, Rob Nichols the head of the American Banking Association (ABA) was on the Engage Podcast with Andy Busch and predicted that the House of Representatives will pass the SAFE banking act in October.
About the SAFE Banking Act

If passed, the SAFE Banking Act would protect banks from federal prosecution as long as the cannabis businesses they work with comply with the laws in the states where they operate. Although currently not positioned to eliminate 280e from the equation, the SAFE Banking act has numerous potential catalysts for US cannabis operators. It could potentially open up securities laws for US cannabis operators to start listing their equities on US Exchanges, a gigantic catalyst for the space, but at this point it would be a challenge for the rational investor to assess the likelihood of this outcome. At the very least, it removes the banking risk and perhaps attracts more institutional investors on side. The elimination of 280e would likely require the passing of either the STATES Act or the MORE Act.
The Path Towards Change
With the Democrats currently controlling the US House of Representatives, the path for a cannabis bill to become a law from the house's perspective is explained here by house.gov:
---
Laws begin as ideas. First, a representative sponsors a bill. The bill is then assigned to a committee for study. If released by the committee, the bill is put on a calendar to be voted on, debated or amended. If the bill passes by simple majority (218 of 435), the bill moves to the Senate. In the Senate, the bill is assigned to another committee and, if released, debated and voted on. Again, a simple majority (51 of 100) passes the bill. Finally, a conference committee made of House and Senate members works out any differences between the House and Senate versions of the bill. The resulting bill returns to the House and Senate for final approval. The Government Printing Office prints the revised bill in a process called enrolling. The President has 10 days to sign or veto the enrolled bill.
---
On March 28, 2019, the Financial Services Committee voted 45 to 15 to advance the bill to the full House. And as of September 2019, the cannabis bill has 206 cosponsors in the House and 31 cosponsors in the Senate. In order to get the bill to the floor for a full Senate vote, it must first pass the House, and then be reviewed by a Senate committee, which is where we have three problems.
The required support needs to get past these big Republicans: Senators Mike Crapo (ID), Lindsey Graham (SC), and Majority Leader Mitch McConnell (KY).
Senator Crapo is chairman of the Senate Banking Committee and in order a bill to move forward involving Banking, he needs to let his committee see it. Here's the issue, he comes from Idaho, one of the few states that have yet to legalize any form of cannabis. It's not exactly in his political interest to move the bill forward, even though it serves the country's popular interest.
I'd say the key players right now are the citizens of Idaho — Crapo's constituents.. Ultimately it's up to the chairman and committee leadership to get it to the floor if that's what they want.

Sen. Kevin Cramer (R-ND), source Rolling Stone Magzine
Should the bill get past the Banking Committee, we then need to get through the Senate Judiciary Committee. Any cannabis bill, not just the banking bill, needs to be passed through the Department of Justice, because it involves the Controlled Substances Act. And again, we have another Senator who has shown a history of disagreement against cannabis reform. Senator Graham, Chair of the Senate Judiciary Committee, has said in the past he is against recreational marijuana. He is also from South Carolina, a state yet to pass any meaningful cannabis reform. It's not exactly a priority in his home state to pass this legislation either.
Now, let's assume the bill were to get through both Crapo and Graham, it next has to get through Senate Majority Leader Mitch McConnell, who gets to personally choose which bills get brought to the floor. McConnell led Hemp reform with the passing of the Hemp Farming Act in December 2019. McConnell's home state is Kentucky. The Blue Grass State. They have key economic interests in Hemp farming. In the past, McConnell has said things like "I do not have any plans to endorse the legalization of marijuana."
And Now We Have the MORE Act
With the STATES Act seemingly stalling, in July 2019, House Judiciary Chair Jerry Nadler (D-N.Y.) introduced the MORE Act. Intended to end federal prohibition, expunge past marijuana convictions and establish grant programs designed to make sure members of minority communities are able to share in the potential financial benefits of legal markets.
---
Finally, if by the time new congress arrives in January of 2021, none of this legislation has passed, the whole process of introducing bills, committee hearings, House votes, Senate votes, etc. will have to start the process anew.
In a recent Politco article, author Paul Demko comments that whether it be the STATES Act, SAFE Act, or MORE Act, all the fight about how much change needs to happen, causes roadblocks to any change.
---
But Democrats are fighting Democrats over whether to focus on social justice issues or industry priorities like banking. Marijuana advocates are divided among themselves over whether to push for full legalization or settle for less far-reaching legislation. And many Republicans — some of whom are seeing the benefits of cannabis legalization in their home states — are still decidedly against any legalization on the national level, even for medicinal uses.
---
And Then We Have the Anti Trust Reviews
Bloomberg did a piece over the weekend speaking about six acquisitions waiting on antitrust reviews from the Department of Justice. These acquisitions have attracted scrutiny from the DOJ examining whether the planned M&A could damage competition in the cannabis sector.
The good news is that earlier this week Medmen announced that their review period with the DOJ had expired, paving a way to closing the acquisition by year end. A big win for all the MSOs who are largely focused on M&A.

The following deals are currently being held back due to anti-trust lawsuits:
| | |
| --- | --- |
| Acquirer | Target |
| Cresco Labs | Origin House |
| Harvest | Verano Holdings |
| CuraLeaf | Select |
| CuraLeaf | Grassroots |
| Green Growth Brands | Moxie |
Hadley Ford, CEO of iAnthus told Bloomberg, "If you came in with a plastics deal they've probably got bios and databases on every plastics company in the history of mankind; you come in with cannabis and they would have no idea how big a company is or what they do…. I can't imagine any of them get denied ultimately but I think it will be a grinding process while the DOJ gets up the curve at everyone's expense."
It's Still the Early Innings, But Starting to See Some Giants in the Making
The US Operators have all had a rough year, we can see that most of them are down year to date.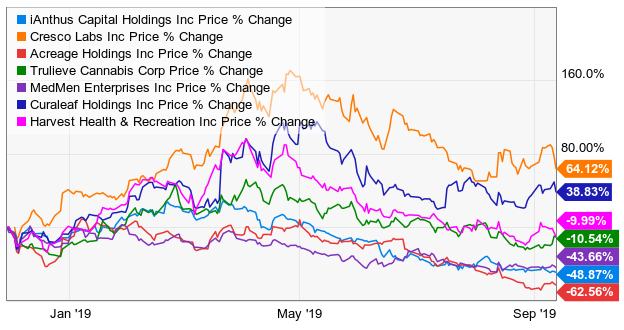 The Revenue Is Undeniable
The US Multi State Operators (MSOs) are starting to generate some meaningful revenue despite dealing with all the regulatory friction from cannabis remaining a schedule 1 drug on a federal level. Based on the most recent quarter, many of these MSOs are already on a $200M+ annual run rate: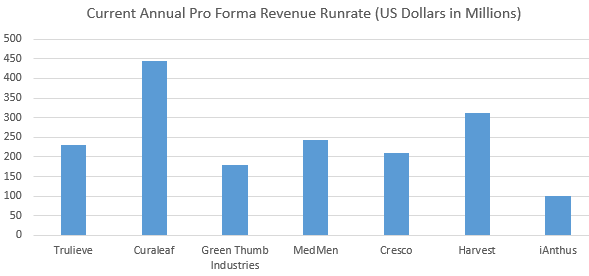 The Cash Flow Needs Will Be Hard to Assess
We can see from looking at Operating Cash Flows from the most recent quarter, US Operators are somewhat all over the map in terms of operating cash burn. In what will eventually become a cashflow generating space, we still have a piece to go until businesses are sufficient to grow with internal capital.
Right now the focus is clearly on M&A, ramping, and raising capital. The challenge is, both assessing capital requirements and how much internal cash flow a company can generate through operations. A risk, we feel is a full time job, not meant for the everyday retail investor.
How Do the Analysts Feel?
According to FactSet, analysts forecasts lineup against valuations as follows: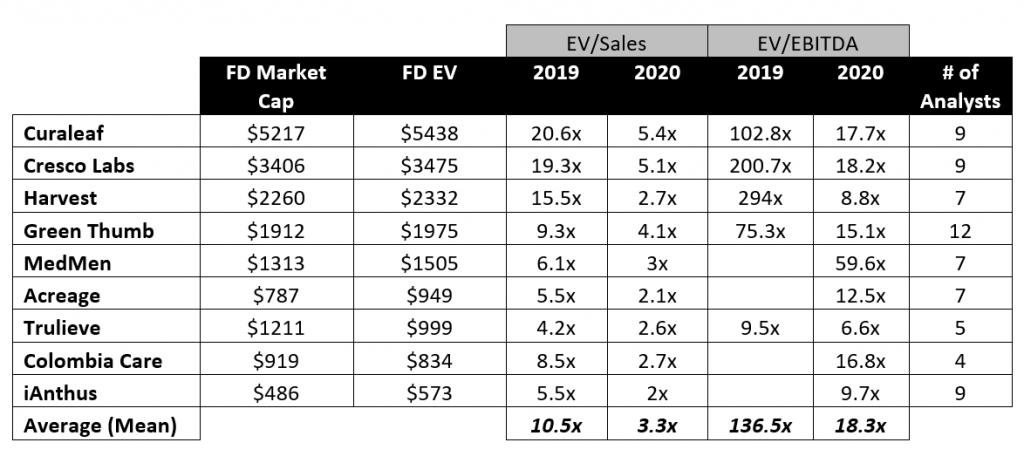 From the same data set, if we look at the largest LPs in Canada vs. the largest MSOs, analysts predict approximately the same level of revenue: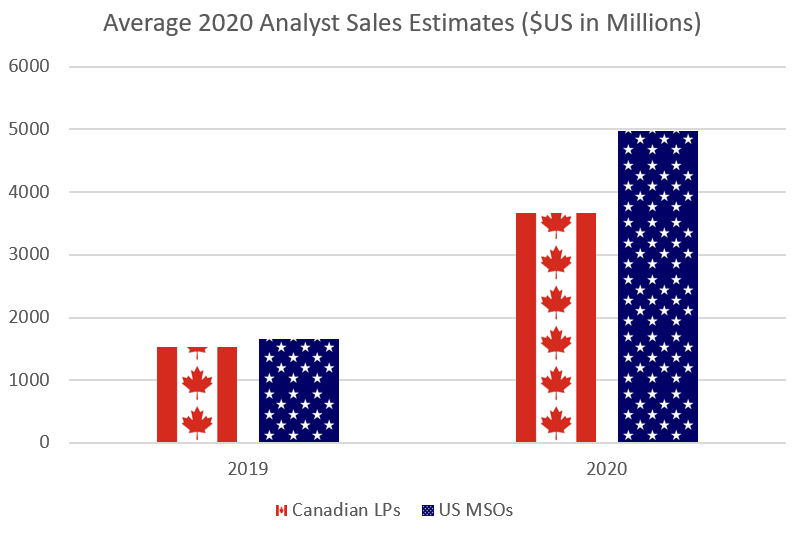 We have multi-state operators with addressable populations much larger than Canada, yet the projected sales of the largest players aren't that far off. And in some of these states you have less than a dozen operators, where as in Canada we have 223 licensed producers, granted, some LPs hold multiple licenses. There are also different levels of legalization in each state. The common argument for the Canadian LPs to match the MSOs, is that they have access to Europe, which to date hasn't been huge, but sell side analysts are happy to argue the opportunity is gigantic.
SmallCapSteve's US Outlook
In my opinion, the most challenging risks to assess are capital appetite from the investment community and what those capital needs will look like. With the exception of Trulieve, every MSO is burning cash at alarming rates. Building out individual operations in each state is capital intensive; couple that with 280e and it is clear the MSOs will need to find more sugar daddy's to keep this whole thing going. The reason the SAFE Banking Act is so important, is it removes another hurdle from US institutions jumping into the mix, banking risk.
If we look to sell-side reports, some of them are starting to look foolish. Make no mistake, when an investment bank misses by a large margin in a short period of time, it makes it much more challenging for everyone to raise money. For example, when Cannacord shows up at a New York Fund's office, projecting TILT Holdings will earn U$149M in 2019 EBITDA, and then the company posts a U$107M EBITDA loss in the first half of 2019, it hurts the whole sector.
Serious investors need to see fundamentals that catch up with valuations OR federal changes that make them feel better about the financing risk. Either way, there is clearly a great opportunity in the US that remains largely untapped. This is a rare opportunity where we know large institutions will flood the bid, but we don't know when. Which means if you are too early and with the wrong issuer, you could be subject to a super dilution event. That being said, I continue to believe that picking the right timing and right individual horses to bet on will create massive returns for the prudent investor. For now I am on the sidelines.
---
Information for this commentary and analysis was found via Sedar and the linked sources in the article. The author has no securities or affiliations related to this organization. Not a recommendation to buy or sell. Always do additional research and consult a professional before purchasing a security. The author holds no licenses.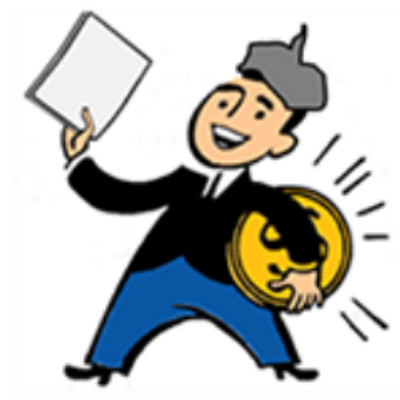 SmallCapSteve started blogging in the Winter of 2009. During that time, he was able to spot many take over candidates and pick a variety of stocks that generated returns in excess of 200%. Today he consults with microcap companies helping them with capital markets strategy and focuses on industries including cannabis, tech, and junior mining.