US-ranium: The Exodus From Russian Uranium
The Czech Republic's electricity utility struck a deal with US energy behemoth Westinghouse Electric Co. on Wednesday to supply nuclear fuel for the Dukovany nuclear reactor, ending the country's reliance on Russia for such fuel.
CEZ, the state-owned power company, announced that Westinghouse, based in Pennsylvania, will begin delivering fuel to Dukovany next year. TVEL, a subsidiary of the Russian energy conglomerate Rosatom, was originally the sole provider of fuel for the Soviet-era reactor.
"After the war in Ukraine broke out last year, CEZ immediately started talks to find a new fuel supplier for security reasons," CEZ spokesman Ladislav Kriz said in a statement.
CEZ CEO Daniel Benes described the agreement as a substantial improvement to energy security. According to the power provider, it has adequate fuel for the next three years.
"We are proud to be the first Western alternative with a proven fuel design for this type of units," Tarik Choho, president of Westinghouse Nuclear Fuel, said.
CEZ chose Westinghouse and France's Framatome to supply fuel for the Czech Republic's other nuclear station, Temelin, last year. Over a third of the country's total electricity needs are met by the country's six nuclear reactors.
Unlike its western neighbors Austria and Germany, the Czech Republic is doubling down on nuclear power alongside renewable energy sources after resolving to phase out coal as an energy source by 2033.
Shunning Russian uranium
Czech Republic's move is one of the few that stem from wanting to remove dependence on nuclear power on Moscow. In February, the European Parliament called on EU members to impose a tenth package of sanctions against Russia as soon as possible, as well as to prohibit European firms from importing uranium from Moscow.
But when the EU announced the set of sanctions, regulations on Russian uranium imports were notably absent.
Further west, the US is more adamant in banning Russian uranium in global trade–or at least, at home. Earlier in February, the US Congress pushed forward a bill entitled "H.R.1042 – To prohibit the importation into the United States of unirradiated low-enriched uranium that is produced in the Russian Federation, and for other purposes."
"I think eventually [banning Russian uranium] will go into effect," said Former US Energy Secretary Ernest Moniz in a Bloomberg interview. "But to be honest… this is one of the cases today where we simply need to import some of the enrichment services that Russia performs."
Russia currently supplies 28% of enriched uranium consumed by the United States, and 31% of the enriched uranium consumed by the European Union.
Earlier this March, environmental NGO Greenpeace raised alarms on Russia continuously delivering enriched uranium to France, calling the act "scandalous" following the EU's stance on the Ukraine invasion.
According to Greenpeace, the delivery underlined France's reliance on Russia's nuclear industry, which is not covered by sanctions imposed on the Kremlin.
"This is a new illustration that the French nuclear industry continues to trade uranium with Rosatom, the Russian state nuclear giant," said Greenpeace campaigner Pauline Boyer.
Greenpeace added that this is the seventh cargo of uranium from Russia to France since Moscow's invasion of Ukraine began. The Baltiyskiy 202, a Russian cargo ship, arrived this March from St. Petersburg and unloaded "25 cylinders containing Russian enriched uranium."
"Despite the beginning of the war in Ukraine more than a year ago, France did not stop its nuclear trade with Russia, quite the contrary. Beyond natural uranium, France has almost tripled its imports of Russian enriched uranium," the organization said.
The French government denied this, saying: "Our country does not depend in any way on Russia for the operation of its nuclear power plants" and "has been able to diversify its sources of supply."
Greenpeace is asking the French government to "cut all contracts with Rosatom" and to "stop opposing European sanctions against Rosatom."
Russia-China-uranium
But while the world is moving away from Russian uranium, one country is standing by its trade with Moscow. The Defense Department earlier this month highlighted how Rosatom is providing highly enriched uranium for Chinese fast breeder reactors, as relayed by John Plumb, assistant secretary of defense for space policy at a hearing on the House Armed Services Subcommittee on Strategic Forces.
"It's very troubling to see Russia and China cooperating on this," Plumb said. "They may have talking points around it, but there's no getting around the fact that breeder reactors are plutonium, and plutonium is for weapons. So I think the [Defense] Department is concerned."
According to him, China and Russia have prioritized nuclear weapons, space warfare, and long-range strikes in their efforts to attack the United States and its allies and partners.
"China is engaged in a significant and fast-paced expansion and diversification of its nuclear forces," he said, adding that both Russia and China saw space as a warfighting zone.
Nuclear war?
But talks of uranium go beyond energy sources. In the ongoing Russia-Ukraine war, the United Kingdom decided it will be providing Kiev with depleted uranium ammunition. The move raised concerns, mostly about the health implications on Ukrainians, as well as the geopolitical tension this might bring on the global stage.
The UK Defense Ministry, however, defends the move, saying depleted uranium will have low health risks for people in Donbass.
In a privileged speech, former Italian Prime Minister Giuseppe Conte called for his country to distance from UK.
"You are dragging us head-on into the war in the hope of achieving victory over Russia, painfully reacting to the fact that in the conflict provoked by a nuclear power where the outcome can be catastrophic, there are no winners–there are only losers and total destruction," he said in Italian.
Expectedly, Russian President Vladimir Putin sees the UK's act as a starting point of using weapons with nuclear components. At a press conference during Putin's meet with Chinese President Xi Jinping, the strongman warned that Moscow will have to "react to this."
"Many of the provisions of the peace plan put forward by China are in tune with Russian approaches and can be taken as a basis for a peaceful settlement when the West and Kiev are ready for it," Putin said in Russian. But following UK's move, he noted that "it seems that the West has really decided to fight Russia to the last Ukrainian."
"I would like to note that if all these happen, Russia will have to react accordingly, bearing in mind that the collective West is already beginning to use weapons with nuclear component."
Belarusian President Alexander Lukashenko said that if the UK pushed through with deploying depleted uranium in Ukraine, Russia will be using actual uranium in response.
"Russia will supply us with ammunition, with real uranium," Lukashenko said in a chance interview, translated to English. "As soon as this ammunition explodes on the positions of the Russian troops, you will see the answer will be terrible. It will be a lesson for the whole planet."
White House National Security Spokesman John Kirby also reacted to Putin's threat, saying if "Russia is afraid of depleted uranium projectiles, they can withdraw their tanks from Ukraine."
State of uranium
Russia currently sits as the 6th biggest uranium exporter in the world, following Kazakhstan, Canada, Australia, Namibia, and Uzbekistan. However, Moscow's real value in the uranium industry stems from its uranium enrichment capabilities, a process which creates nuclear fuel from mined uranium by increasing the percentage of Uranium-235. Russia has more than half the world's enrichment supply and is responsible for 38% of the world's uranium conversion capacity.
The raw material for most of Russia's uranium exports comes from Kazakhstan. Should sanctions on Russian uranium exports be put in place, this would include a ban on processed uranium from Moscow.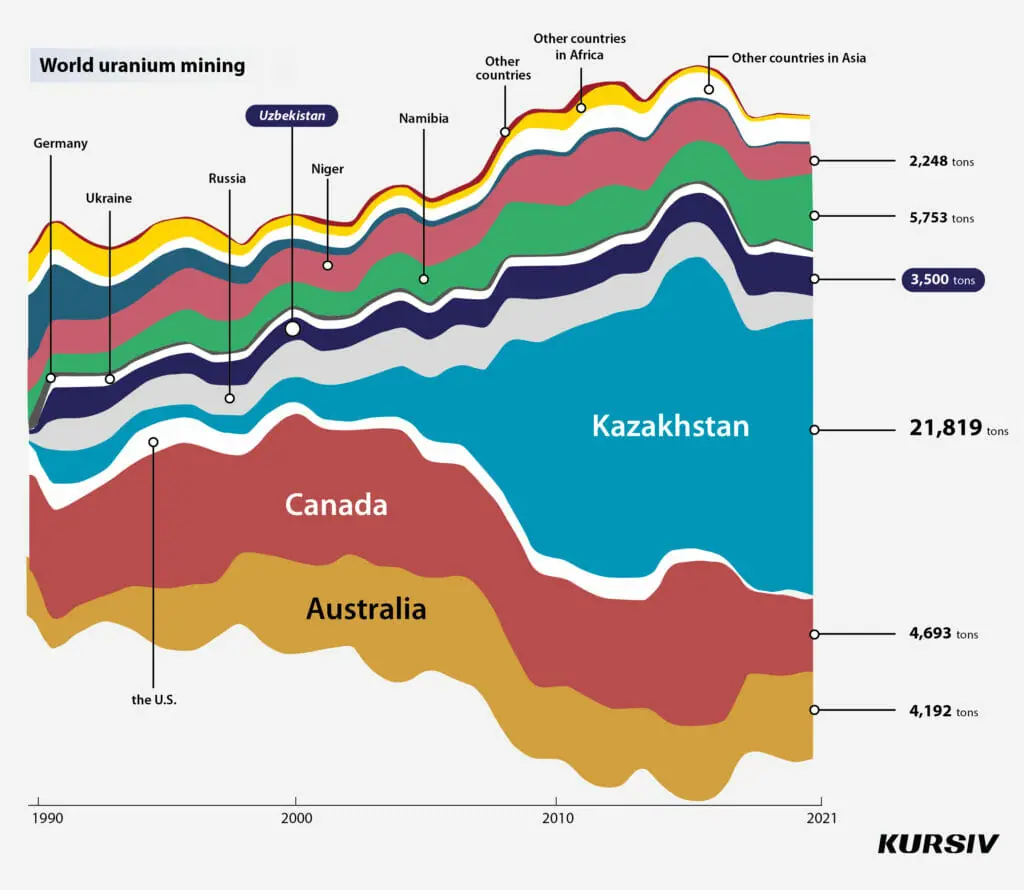 While sanctions on Russian uranium provides feeble threat to its exports, there are strong customers in the east for Moscow. China, India, and Turkey have purchased a record 2.35 million barrels per day as of November, upending traditional trade flows and giving new purpose to oil tankers that were otherwise slated for the scrapyard.
---
Information for this briefing was found via The Washington Post, The Moscow Times, Bloomberg, and the sources mentioned. The author has no securities or affiliations related to this organization. Not a recommendation to buy or sell. Always do additional research and consult a professional before purchasing a security. The author holds no licenses.