Is It Wise To Sanction Russia's Uranium?
As the Russia-Ukraine war approaches its first anniversary, the European Parliament has called on EU members to impose a tenth package of sanctions against Russia as soon as possible, as well as to prohibit European firms from importing uranium from Moscow.
Russian enterprises that are still present in the European market, such as Lukoil and Rosatom, would be added to the sanctions list. The European Parliament also asks for a comprehensive and immediate ban on Russian imports of fossil fuels such as oil and uranium.
Among other things, the parliament also recommended in the fresh sanction package that "Nord Stream 1 and 2 pipelines in the Baltic Sea be completely abandoned," and people engaging in a wide range of illegal operations, like forced deportations and holding of fraudulent referendums in occupied Ukrainian territory, should face sanctions as well.
This comes as the US resurrected efforts to put US sanctions on Rosatom. The Biden administration and a bipartisan group of senators want any prohibition on Russian supplies to be accompanied by assistance for domestic nuclear fuel supply. Given the Republican-controlled House of Representatives, the US Department of Energy is considering transferring some of the $6 billion in cash for faltering US reactors to the domestic nuclear fuel project.
The renewed sanction talks follow a Washington Post report saying Rosatom has been working to supply Russia's military with missile components, technology, and raw materials. The supplies were shipped to armament manufacturers who sell to Russia's military, and some of those missiles are likely to have been used in Russia's war against Ukraine.
State of uranium
Any sanctions that the US or the EU would impose due to Rosatom's actions would have a much smaller effect on Russia's economy than previous natural gas and oil penalties, and therefore would be more symbolic than impactful. Per Princeton University's Frank von Hippel, Rosatom realizes about US$1.0 billion per year from uranium sales to the US and Europe. 
Russia currently sits as the 6th biggest uranium exporter in the world, following Kazakhstan, Canada, Australia, Namibia, and Uzbekistan. However, Moscow's real value in the uranium industry stems from its uranium enrichment capabilities, a process which creates nuclear fuel from mined uranium by increasing the percentage of Uranium-235. Russia has more than half the world's enrichment supply and is responsible for 38% of the world's uranium conversion capacity.
The raw material for most of Russia's uranium exports comes from Kazakhstan. Should sanctions on Russian uranium exports be put in place, this would include a ban on processed uranium from Moscow.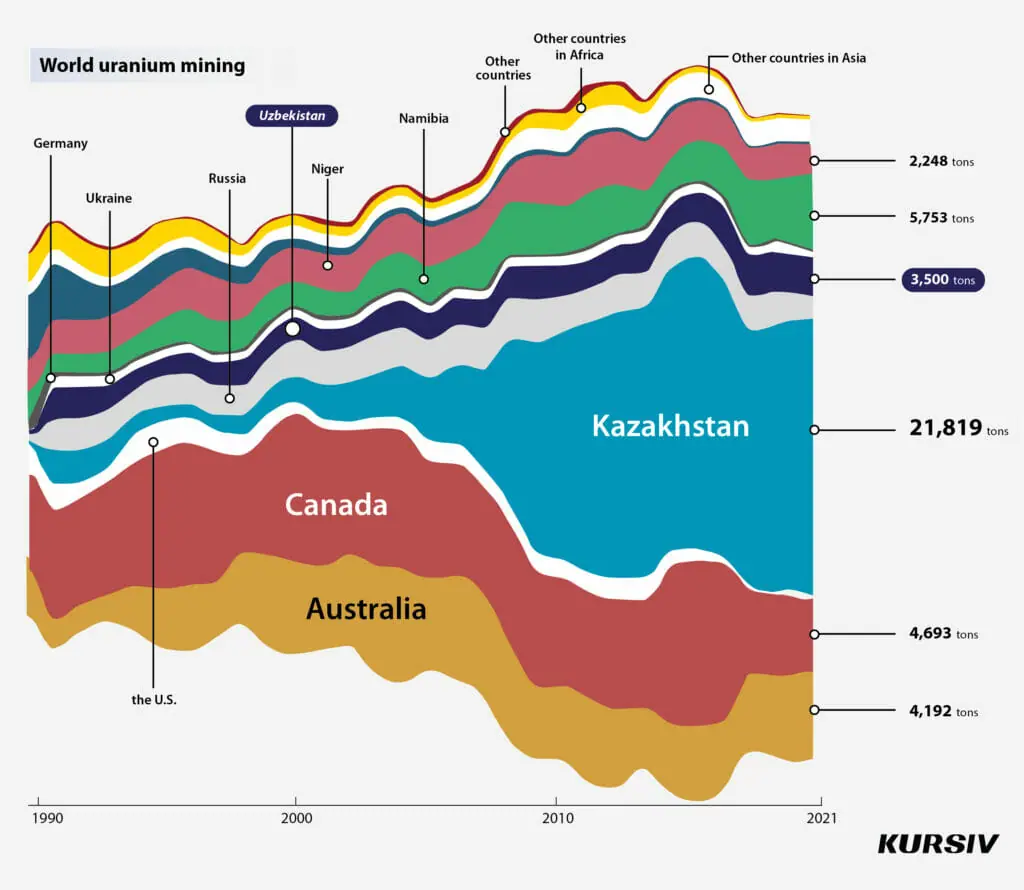 In 2021, Russia was the third biggest supplier of uranium to the US, accounting for 14% of the latter's imports. The United States, which gets 18.9% of its country's power from nuclear, relies heavily on uranium imports to power its nuclear facilities as domestic production has seen a declining trend.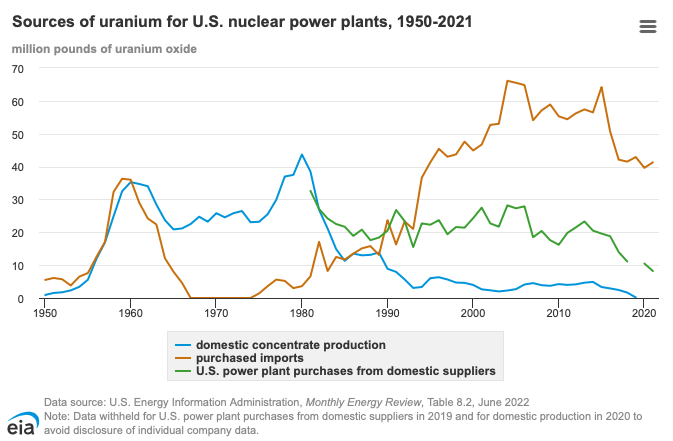 In the EU, the potential uranium import hole to be filled is bigger as Russia accounts for nearly 20% of the region's uranium needs. While nuclear power generates around one-quarter of all electricity in the EU as a whole, it accounts for more than 40% in Slovakia, Hungary, and Bulgaria, and more than 70% in France.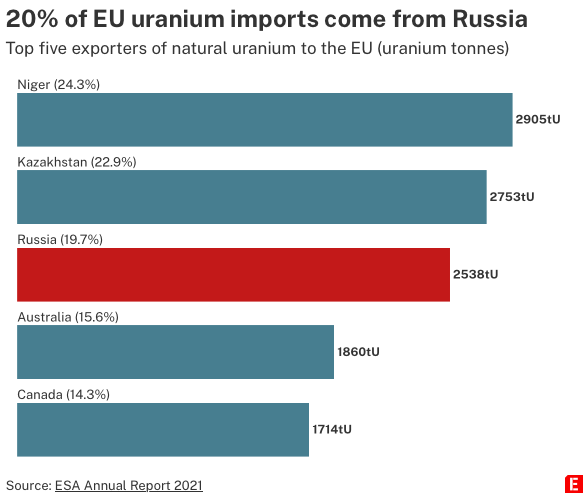 For these reasons, the US and EU, despite launching a tight sanctions war against Russia after it invaded Ukraine, have not imposed sanctions directly on Rosatom nor its uranium exports yet.
At the time when the EU announced a ban on Russian crude oil imports by December and diesel imports by February, European energy clients scrambled to fill up their storage tanks to come up with around 500 to 600 thousand barrels per day of a hole that the Russian import ban will leave.
Meanwhile, the EU's sanctions on Russian diesel and crude imports were expected not to deter other countries from taking advantage of the displaced shipments. China, India, and Turkey have purchased a record 2.35 million barrels per day as of November 18, upending traditional trade flows and giving new purpose to oil tankers that were otherwise slated for the scrapyard.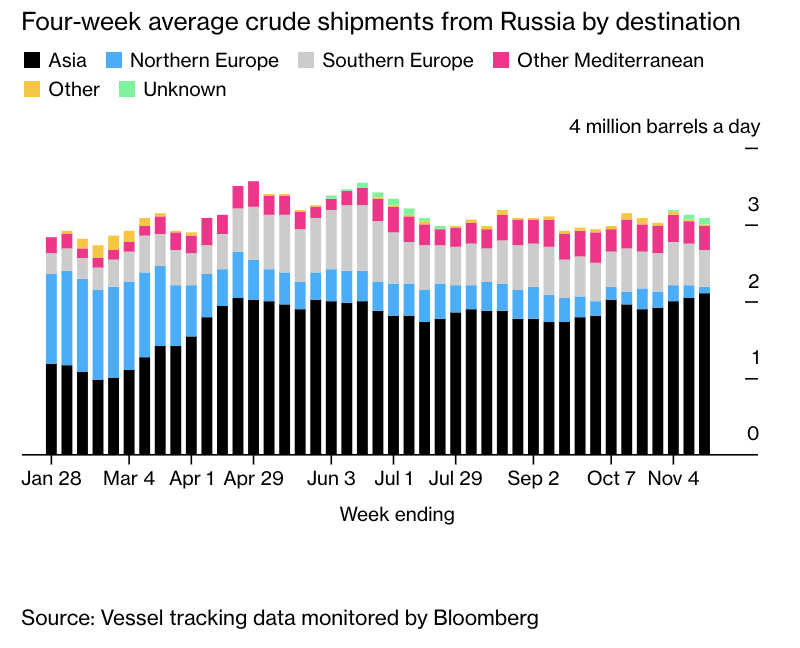 READ: Europe Scrambles to Fill Storage Tanks with Russian Diesel Before EU Sanctions Take Effect
Hungary is one of the EU members who plan to veto any European Union sanctions against Russia affecting nuclear energy.
"We will not allow the plan to include nuclear energy into the sanctions be implemented," Hungarian Prime Minister Viktor Orban said. "This is out of the question."
Budapest has often criticized EU sanctions against Russia for its invasion of neighboring Ukraine, claiming that they have failed to effectively punish Russia while endangering the European economy.
Paks nuclear power facility in Hungary features four modest Russian-built VVER 440 reactors with a total capacity of around 2,000 megawatts that began operation between 1982 and 1987. It generates roughly half of the country's power, and the plant receives its nuclear fuel from Russia with plans to develop two Russian-made VVER reactors with 1.2 gigawatts of capacity each, according to a 2014 agreement.
EU-Ukraine
Earlier in January 2023, Ukraine Prime Minister Denys Shmyhal had already called for the EU to include Rosatom in its next round of sanctions on Russia following the country's invasion, saying he was then expecting that "the 10th package (of EU sanctions) will contain restrictions against Russia's nuclear industry, in particular Rosatom."
Russia has controlled the Zaporizhzia nuclear power facility in southern Ukraine since March, and President Vladimir Putin issued a decree in October transferring ownership of the project from Ukrainian nuclear energy corporation Energoatom to a Rosatom subsidiary.
"We are actively working with our European partners on providing support in four areas: demilitarisation of the Zaporizhzhia NPP, supply of electrical equipment, opportunities to import electricity from the EU, and sanctions against Russia," Shmyhal wrote on the Telegram messaging app.
The move to sanction uranium, adopted by a resolution, came in before the EU-Ukraine summit on Friday. The embattled European country has a standing request for its accession to the EU made formally back in February 2022.
The request is seeing light as EU members reaffirmed their commitment of seeing the application through and working on "the opening of accession negotiations and support a roadmap that defines the next steps to allow Ukraine's accession to the EU's single market."
Members of the European Parliament, however, emphasized that membership is a merit-based process involving conformity with appropriate procedures, reforms, and admission criteria. They asked Ukrainian authorities to implement significant reforms as quickly as feasible in order to meet EU admission criteria.
Uranium futures slightly jumped past $50 per pound this month, the highest in two months, although it had been trading in that price range previously for over eight months–far from its peak after the Russian invasion of Ukraine.
On a relative basis, spot uranium has dramatically outperformed the competing fuels natural gas and oil over that period. Natural gas is down about two-thirds since September, and oil prices have been cut nearly in half since June.
---
Information for this briefing was found via Reuters, Energy Intelligence, News.am, and the sources and companies mentioned. The author has no securities or affiliations related to this organization. Not a recommendation to buy or sell. Always do additional research and consult a professional before purchasing a security. The author holds no licenses.