Visualizing the Aurora Cannabis Rollback
It's times like this that The Dive's West Coast office is thankful or the under-rated reporting of our very own Deep Dive Jay. Our Founder and Editor in Chief had a summary of the Aurora Cannabis (TSX: ACB) (NYSE: ACB) rollback news up Monday minutes after the official release. It was everything we needed, nothing we didn't, complete with relevant context, and the arithmetic already done. BNN Bloomberg tweeted that it was "BREAKING!" and ran the Canadian Press wire story.
"We've been moving pretty quickly, and I think we ought to roll things back a bit…"
Meanwhile, #potstocks social media seemed thoroughly confused by the news that Aurora Cannabis would be rolling the stock back 12:1. A legion of shareholders are still holding a candle for the former juggernaut, betraying themselves by having become emotionally involved with the trade. We aren't here to judge, but falling in love with a stock is generally considered unwise.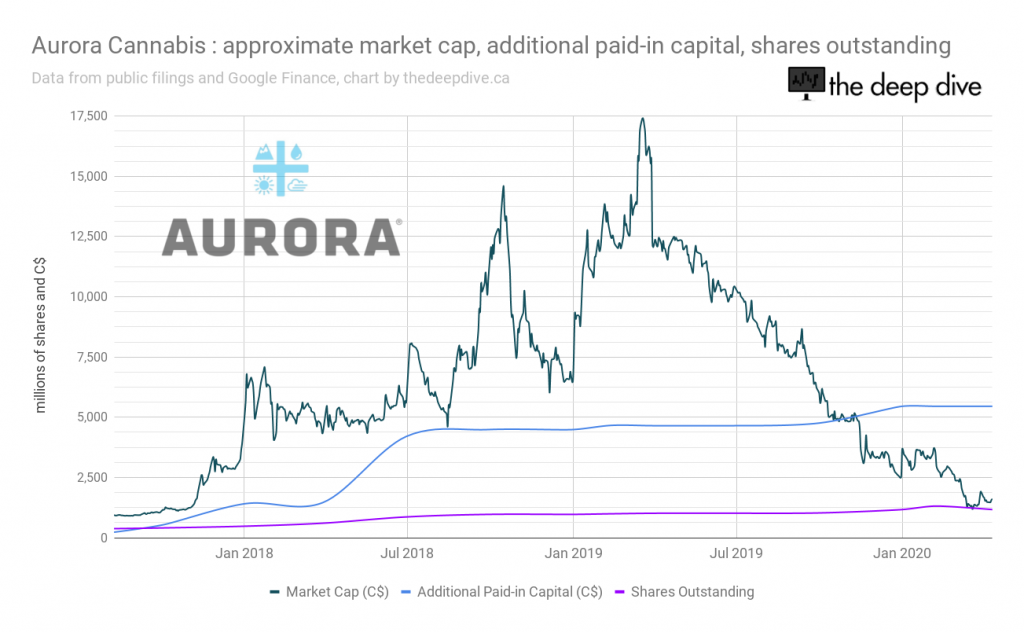 Looking back, this moment has been in the making since October / November of 2019 when Aurora's market cap fell below its paid-in capital. Prior to that, capital raises weren't doing much to hurt the stock price. Implicitly, the market believed in Aurora's ability to outpace its spend with its revenue on a reasonable investment horizon. The myth of $7B – $12B / year in total Canadian cannabis sales held on in the popular hive-mind a lot longer than it should have but, in retrospect, it's a wonder it ever caught on in the first place.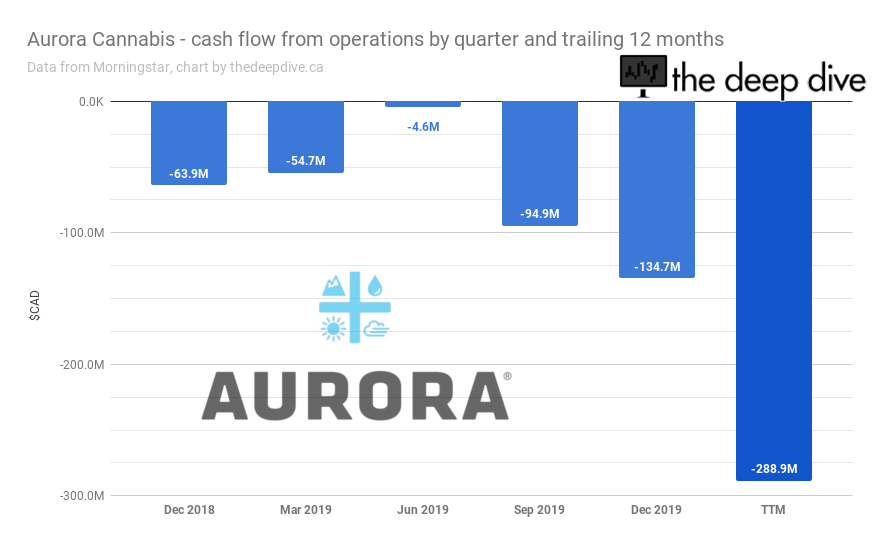 It might have only been the sharps who made Aurora for a lost cause in the fall when its market cap fell below its contributed capital, but the mass departure this past February should have sent the message home for everyone else. The austerity measures were meant to cut spending weight, and with very little on the asset side of the balance sheet worth metabolizing, the money had to come from somewhere.
"A reverse split? What does it mean?"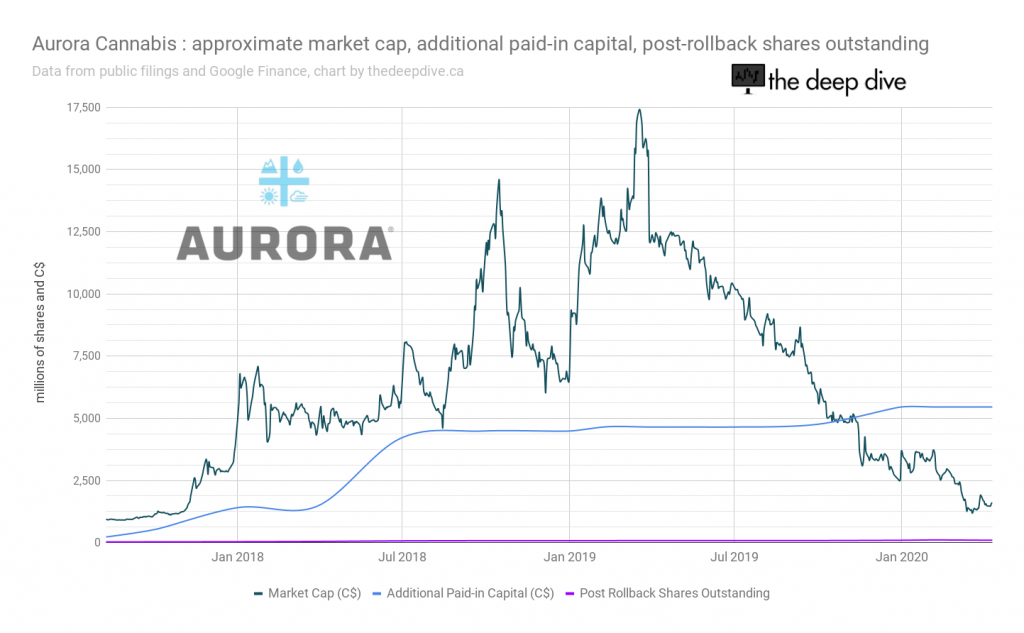 If we add the post-rollback shares to the capital graph, all it does is move the line down. What's the big deal, right? All shareholders have their unit count reduced by the same proportion, it gets the price up, keeps the NYSE listing in order… why the outrage?
The mod on an investor's Facebook group making assurances about the company cap table says a lot about how we got here in the first place, but the more interesting question is why this shill felt the need to run rollback interference in the first place.
The retail investor's visceral hate for rollbacks comes from an evolutionary memory of the financing that invariably follows them. Aurora tipped its hand in the release with language about renewing their at the market rolling prospectus in order to foster "balance sheet strength."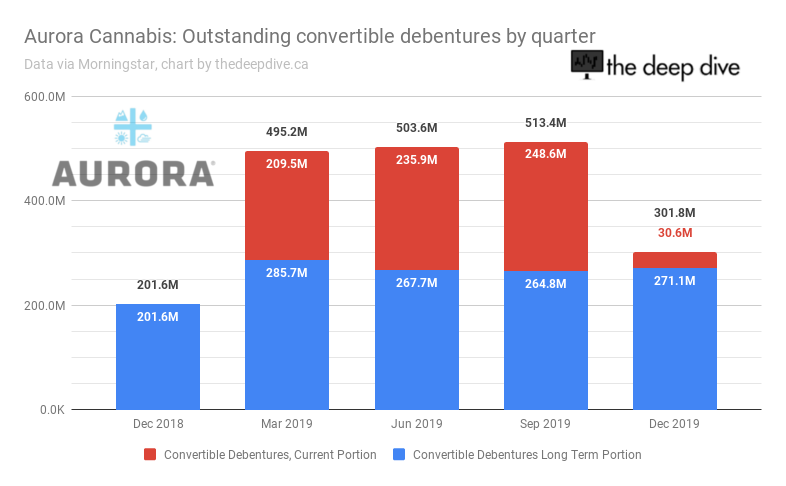 The convertible debentures that raised much of the operational cash Aurora bled out over the past two years will make a fine example here. Aurora made an early conversion deal in December to put $227 million worth of 5% convertible debentures, originally set to convert at $13.05 / share, to bed at $3.28. The adjusted convertible price on the remaining $301 million worth of convertibles ($86.76 / share assuming 1 rolled-back share is worth $12) is an unlikely hurdle, and an early conversion at $1.06 would add 300 million shares to the 1.3 billion shares already outstanding. It just isn't feasible, because this story is low on potential energy.
But if, say, Aurora were to talk the convertible note holders into early conversion at $12/share. That would create 25 million shares to make the outstanding total 125 million shares, 1/5 of which would belong to the former debt holders, who would likely rather have that stock today, and the interest in cash, than a $301M IOU.
It isn't likely that the stock created by an early-conversion deal would represent 1/5 of the company for very long. A great many more manageable chunks are going to have to be issued, each of them diluting the position of everyone in that Facebook group with ruthless efficiency. Let's say that Aurora wakes up tomorrow and figures they'd better use that ATM facility to raise some money to make that $57.7 million payment due on their other debt facility in December, Then they wake up the next day, and decide that the cannabis business is expensive and the markets are volatile… they need $100 million for some walking around money. Hell, it's only 8.3 million shares at $12…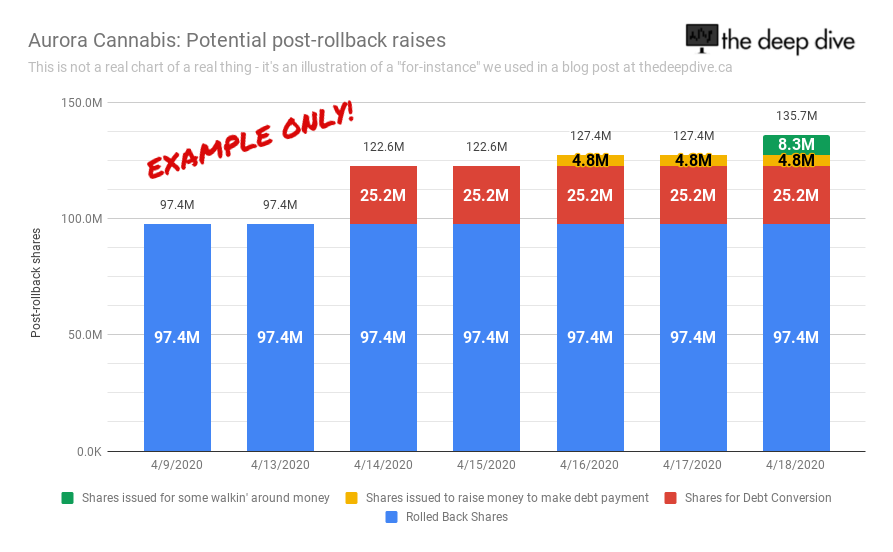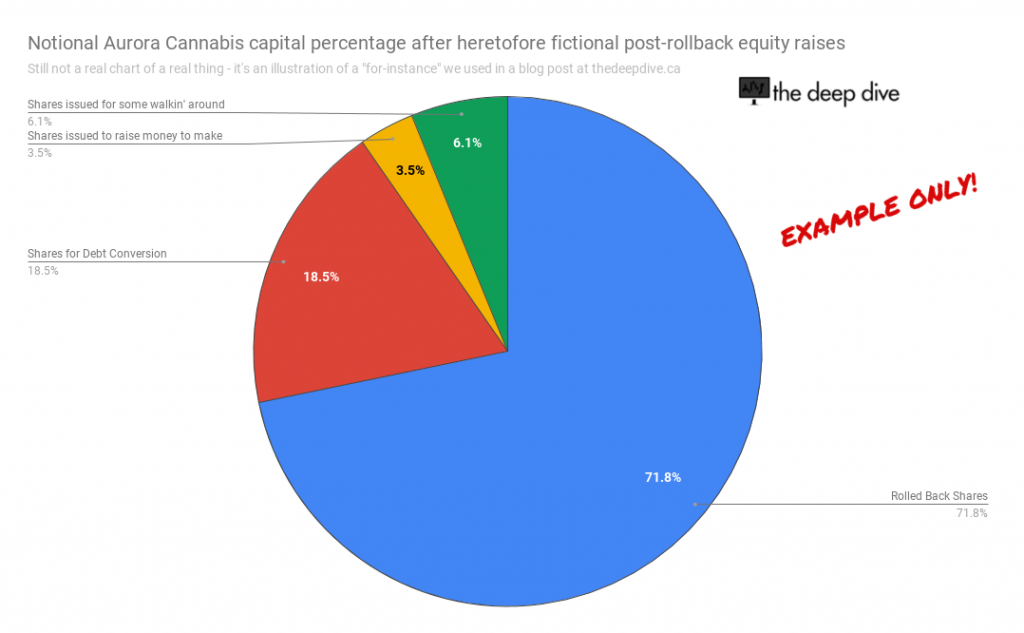 Those original shareholders are getting thinned out in a hurry, and this thing still hasn't figured out how to make what it built make money.
These people spent two years trading and cheerleading the future of cannabis through $5 billion worth of capital raised and $12 billion in market cap. Now Aurora is giving up 1/3 of the company for a lousy $460 million? Most of it already spent!?
Prospects for original true-believer ACB shareholders who don't have the capital to keep pace with dilution don't look good. The stock closed at $1.05 Tuesday on 17 million shares of volume. Our examples generously assume that the stock will be trading for $1 at rollback time in May, and end up at $12. It could still get a lot worse.
---
Information for this briefing was found via Sedar and Aurora Cannabis. The author has no securities or affiliations related to this organization. Not a recommendation to buy or sell. Always do additional research and consult a professional before purchasing a security. The author holds no licenses.