Voltage Metals Completes RTO With Mansa Exploration, Resumes Trading On CSE
Voltage Metals Corp. (CSE:VOLT), formerly Mansa Exploration, is an early stage mineral exploration company that is exploring for "battery Minerals" in central Newfoundland, one of Canada's current exploration hotspots. The primary focus is on nickel, cobalt, chromium and other minerals being utilized in the production of batteries for the rapidly growing electric vehicle (EV) industry. 
The growth of the EV and renewable energy industries is being driven by global initiatives to cut greenhouse gas and carbon emissions, and as a result many countries have mandated that gasoline-powered vehicles will be gradually phased out. EVs and the technology to run them require copious quantities of metals such as copper, cobalt, nickel, lithium, palladium, tin, tantalum and other minerals that are in short supply due to existing mines being depleted, while new mines are not coming on stream fast enough to produce adequate supplies of these much-needed raw materials. This has resulted in a global exploration boom as mining companies move quickly to meet the rapidly rising demand for these metals. This could bode well for a potential long and upward swing in commodity prices over the next decade or so. 
On Friday, Mansa announced that it had completed its Reverse Takeover (RTO) of Voltage Metals Inc. and changed the company's name to Voltage Metals Corp. Concurrently, trading has resumed under the new symbol "VOLT" after having been halted pending the completion of the RTO transaction. Voltage Metals is an exploration company that is developing its 4,170 hectare St. Laurent Project located in St. Laurent Township in Northern Ontario, 160 kms northeast of Timmins. The property is 50 kilometres south of the Kirkland Lake Gold (TSX: KL) Detour Lake Mine, and 20 kilometres southwest of the Hecla Mining (NYSE: HL) Casa Berardi Mine.
Previous shallow drilling at the polymetallic St Laurent Project identified disseminated multi-element sulphide mineralization across notable widths trending towards a large gabbro-hosted magnetic feature, as well as showing a strong electromagnetic anomaly 600 metres in length. The nickel-copper-cobalt-gold-platinum-palladium zone is open along strike and at depth. Along with the St Laurent Project, Mansa also acquired Voltage Metals' portfolio of early-stage exploration projects in the Montcalm Greenstone Belt, located approximately 65 kilometres northwest of Timmins. These are the Montcalm, Nova, and the Gambler Projects.  
Elsewhere, during the summer of 2021 Mansa conducted a helicopter-borne 726 line-km VTEM geophysical survey on its 100% owned, 19,012 hectare, Wheeler nickel-copper-PGE (platinum group elements) property located in southwestern Newfoundland. The survey was flown on northeast-southwest oriented lines spaced 200 metres apart, targeting nickel-copper-cobalt-PGE mineralization hosted within a large mafic/ultramafic complex located at tidewater.
The survey collected both magnetic and time-domain electromagnetic data across the property and specifically targeted potential zones of massive sulphide mineralization associated with anomalous conductivity and magnetic susceptibility. Voltage is using data from the geophysical survey to plan its follow-up strategy for mapping, soil sampling, rock sampling, trenching, and drilling programs.
The Wheeler Property consists of nine mineral claims located near the southern portion of the Bay of Islands Ophiolite Complex and covers layered mafic to ultramafic intrusions which are prospective for nickel, copper, cobalt, chromium and other PGE sulphide mineralization. These were first discovered in the 1930s, and in 1962 a mapping program conducted by the Geological Survey of Canada found additional layered magmatic sulphide occurrences and multiple chromite-rich lenses near the southern part of the Wheeler Property boundary.
In 2010 the property was evaluated by Altius Resources and Cliffs Natural Resources for nickel-alloy mineralization. Strong nickel, copper, cobalt and chromium values were returned in the northeastern portion of the property, but further exploration was halted after encountering high sulfur values. Voltage agrees that sulfur reduces the likelihood of awaruite forming but underscores excellent potential for the presence of magmatic nickel-sulphide mineralization. A separate Newfoundland and Labrador National Geochemical Reconnaissance Survey includes the locations of extremely anomalous lake-sediment samples and showed the four highest nickel values in the province with values of 4,980, 4,750, 4,390 and 4,230 ppm Nickel, respectively.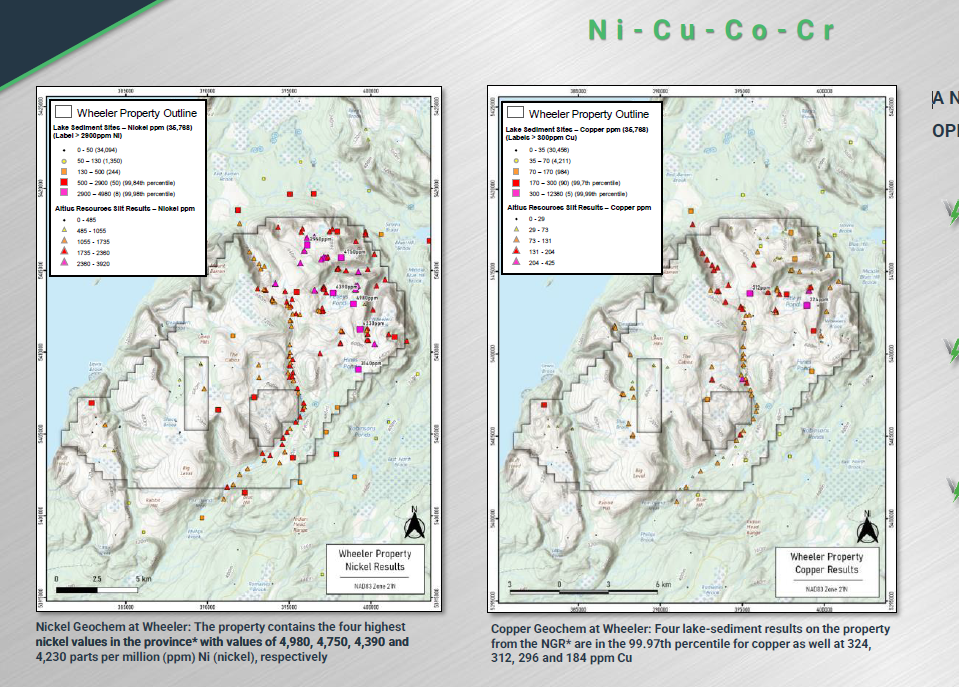 Recently, this area of Newfoundland received significant market attention due to the drilling success of York Harbour Metals Inc. (TSX-V: YORK) on its VMS copper-zinc project, which is directly adjacent to VOLT's Wheeler Property. Recent drill results from York included 25 metres of 2.7% copper, 9.0% zinc, 17.78 g/t silver and 164 g/t cobalt. The results also confirmed that shallow drilling of the VMS mineralization contains long intervals with very high grades. Although Voltage's primary focus is on nickel, York's results have compelled Voltage Metals to expedite its exploration permitting process at Wheeler.  
Newfoundland is a very mining-friendly jurisdiction with a long history of mining, particularly base metals such as iron ore etc., and has become a hotbed for exploration following New Found Gold's (TSX-V: NFG) gold discovery in the Gander Gold District. The infrastructure in central Newfoundland is excellent, with well-maintained roads, a strong power grid, and skilled labour force.
Voltage Metals Corp. as a combined entity now has 82.7 million shares outstanding, a small market capitalization of $12.4 million, a tight share float, and appears to be a relatively low risk play in the battery metals sector. The company is well funded, following a December financing to the tune of $1.95 million at a price of $0.15 per unit, with each unit consisting of one common share and one-half Warrant. The company also issued 4,395,000 flow-through shares at an issue price of $0.20 per share as part of this private placement. Proceeds from the financing will be used for the company's 2022 exploration programs and shareholders can likely expect a steady stream of news as VOLT executes its exploration programs.
---
FULL DISCLOSURE: Mansa Exploration is a client of Canacom Group, the parent company of The Deep Dive. The author has been compensated to cover Mansa Exploration on The Deep Dive, with The Deep Dive having full editorial control. Not a recommendation to buy or sell. Always do additional research and consult a professional before purchasing a security.