WeedMD: The Strathroy Facility Tour
Last week, the Deep Dive team had the fortunate opportunity to tour the WeedMD (TSXV: WMD) facility in Strathroy, Ontario. The facility, which is the company's second, is currently in the process of a substantial expansion that will greatly increase production on site.
Currently licensed to grow in a 110,000 square foot section of the hybrid greenhouse facility, the WeedMD site was bustling with activity. WeedMD's contractors were busy at work to expand a portion of the facility upon our arrival, while inside employees were at work pruning plants, scrubbing recently harvested rooms, and trimming dried bud.
Upon our arrival, the first challenge was parking – the lot was entirely filled with vehicles from the ongoing operations and the large construction crew. We were met by Keith Merker, CEO of WeedMD, Nichola Thompson, CFO, and James Williams, Director of Capital Markets & Business Development. From here, we entered the facility and began our tour.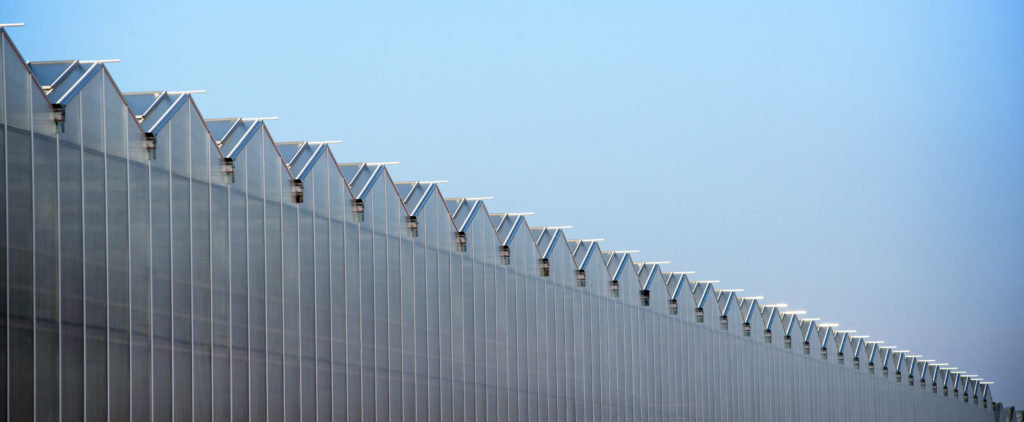 WeedMD Strathroy: The Tour
Upon our entrance, we did the mandatory security check in, collected our temporary access cards, went through a wind tunnel-esque chamber to remove any potential foreign particles, and donned our lab suits.
We then entered what we frequently refer to as Willy Wonka's factory.
Inside the core of the facility, was a corridor which provided access to the rooms where the magic happens. There were a total of ten rooms designated for live plants. Two of which, 5,000 square feet in size each, are used as the nursery, where mother plants are grown and clones given their chance at life.
WeedMD's Operationally Excellent Nurseries
While WeedMD commercially produces eight different strains of cannabis for consumers, they currently had upwards of twenty five different strains undergoing growth within these rooms. The firm has some of the best genetics in the industry, however they have currently selected eight cultivars for commercial purposes to ensure continuous supply is available at retailers.
For those that are curious, here's the strains that are currently available from WeedMD for medical patients:
Blueberry Seagal
Cold Creek Kush
Ghost Train Haze
Greek Cush
Mango Haze
Shishkaberry
White Shark
These two rooms are where the WeedMD operational excellence processes really take root (pun intended). After a semi-private conversation with one of the growers, we learned that WeedMD is heavily focused on limiting genetic drift among its cultivars.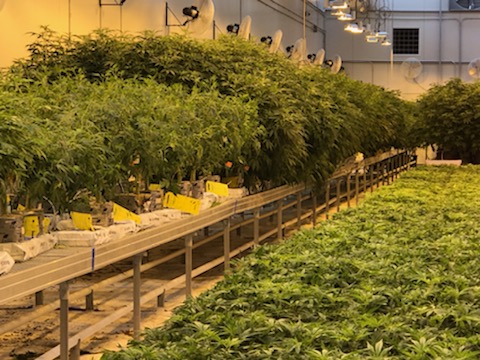 To do this, two rooms are used for its mother plants which enables them to have two sets of mothers. The first mother is the master plant, which has the ideal genetics for WeedMD's products. The second room will have mother plants that were cloned from the first mother, and are then used to create the clones for a number of grows before ultimately being culled.
Upon these plants being culled, they then go back to the original mother, collect a round of clones, and then turn those clones into mothers. This allows all of their product to only be two generations removed from the original cultivar – thereby limiting genetic drift and providing a more pure product.
Standard procedure at most other licensed producers (as well as numerous other plant based operations, such as wineries) is to continuously create mothers from the latest generation of clones. This however results in phenotype plasticity, which is more commonly known as 'genetic drift' (even if technically incorrect) among growers. Essentially, it means that properties of the plant change as a result of cloning over time, due to changes in environment and other factors.
If you want to read more on phenotype plasticity, or 'genetic drift', here's a great article on the topic from Sativa Magazine.
The Growth Rooms
Right next door to the nurseries is the first of the eight grow rooms currently in use. Ten thousand square feet in size each, each room is expected to yield roughly 250 KG of dried cannabis flower per harvest, with each room seeing 4.5 cycles of growth per year. Plants are grown using hydroponic methods, rooted in rockwool cubes.
This is where the bulk of our time was spent during the tour, as we went in each room to see the various stages of growth that plants were in. The most memorable part of the entire tour, hands down, was the different aromas that were present from one room to the next. This was entirely unexpected – upon each door opening, we we're blasted with an aroma unlike the previous. Scents of mango's and oranges, blueberries, and fresh growth were deliciously overwhelming as we examined the numerous varieties in production.
After touring the grow rooms, we were able to see dried bud currently undergoing the drying and trimming processes, as well as the end result of the endeavour which was ready to be shipped out to Aylmer for final packaging and sale. This final step will be moved to the Strathroy site upon the facility expansion being completed.
This concluded our tour of the operational portion of the Strathroy facility. We then headed outside of the building to don our hardhats and enter the expanded facility via a different entrance. Although connected to the operational portion, a separate entrance is required as per Health Canada regulations until such time that the expansion is granted the required licensing.
WeedMD's Strathroy Facility Expansion
The expansion itself is set to come online in a series of phases, which includes the 27 acres slated for outdoor growing this year pending Health Canada approval. Following this approval by Health Canada, the company intends to submit for site expansion approvals with the regulator shortly thereafter for the next portion of the facility.
To be clear, although a portion of the expansion has been substantially completed, WeedMD has not submitted documentation with Health Canada. This was done to prevent the regulating body from overlooking its outdoor grow submittals and focusing on its indoor application.
Whereas the currently licensed facility was quite large in size, the expansion felt absolutely massive. This portion of the WeedMD facility was broken down into two parts. The first of which, is a hybrid greenhouse identical to the currently licensed portion. Ten rooms, again 10,000 square feet in size each, were situated in this area that are patiently waiting on Health Canada's process.
Left side of the hallway, one of the 150,000 sq ft greenhouses

Hallway for part two of the expansion – simply endless

Right side of the hallway – shades being installed
The other portion of the expansion is more of a classical greenhouse format, with a vast expanse of space broken into two large rooms – one on either side of the hallway. These two rooms, approximately 150,000 square feet in size each, will be used primarily for cannabis grown for extraction purposes, with extraction set to take place at the Aylmer location which is roughly 45 minutes away. Although more of the classical style of greenhouse, full shades are to be installed in these areas as well as supplemental lighting.
WeedMD's Outdoor Expansion
While we failed to take photos of the area designated for outdoor growth, we did get further details on it from Keith and the WeedMD crew while we were there. Fencing is up as per Health Canada regulations, and the licensing should come any week now as the regulator is rolling out outdoor licenses.
WeedMD has planned for 20,000 clones to be planted in the ground for outdoor growth, which will feature full irrigation. As seen in photos, the growers have prepared over 25,000 clones for use outdoors to ensure a full crop can be planted. The company is currently in the process of installing irrigation in anticipation of licensing, so as to have everything prepped for the planting of the clones.
Fresh clones for outdoor planting

Healthy roots from the coconut coir medium
The company plans to grow a handful of strains outdoor, with a small portion set aside for research and development of a select few strains to determine outdoor viability. A small count of strains will be grown in mass quantities outdoors.
Final harvest of the outdoor crop, pending Health Canada approval, is slated to occur roughly in October.
Conclusion
Overall, our team was extremely impressed with the operation – we weren't expecting it to be nearly as busy, nor as large, as it was. Keith and his team were very open and receptive to our questions, and showed us the entire facility from start to finish. It was evident that a team atmosphere was in place at the facility, and that spirits were high.
And with that, is the conclusion of our tour of the WeedMD Strathroy facility.
---
FULL DISCLOSURE: WeedMD is a client of Canacom Group, the parent company of The Deep Dive. The author has been compensated to cover WeedMD on The Deep Dive, with The Deep Dive having full editorial control. Not a recommendation to buy or sell. Always do additional research and consult a professional before purchasing a security.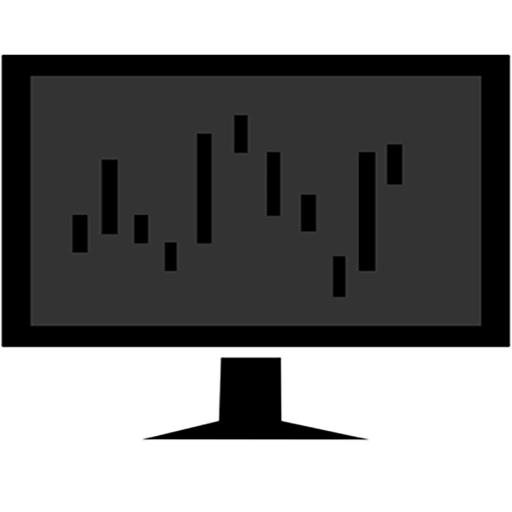 As the founder of The Deep Dive, Jay is focused on all aspects of the firm. This includes operations, as well as acting as the primary writer for The Deep Dive's stock analysis. In addition to The Deep Dive, Jay performs freelance writing for a number of firms and has been published on Stockhouse.com and CannaInvestor Magazine among others.