The WeedMD – Starseed Deal Is Confusing This Market With Its Simplicity
The author formerly known as Matthew Cox writes for The Deep Dive under a contract that preserves his creative control over his work. The Deep Dive's editorial staff has the option to decline to publish his submissions, but not to make any material alterations. Cox has elected to cover Deep Dive client company WeedMD of his own volition. His opinions are his own. He does not own shares in any of the cannabis companies mentioned.
No market veteran expects investors to act rationally. Sharper observers expect them to be fickle, which is the only sure bet. That's pretty useless, but the fun of it is that you never know which way fickle is going to break.
Cannabis sector investors rode mega ventures to over-valuations on the notion that vertical integration would give large commercial growers volume and margin advantages that made them relevant. None of the largest growers have been able to buck the year-long right-sizing of their collective valuations, in part because none has successfully demonstrated that vertical integration has given them any appreciable advantage.
Frequent Deep Dive punching bag T.I.L.T. Holdings is known for abusing the term as a description of the basket of mis-matched parts that they continue to insist are a working unit, but they aren't the only one. As investors stare down 2020, vertical integration has become such a punchline that they've forgotten what it's supposed to look like.
WeedMD (TSX.V:WMD)'s deal to merge with Starseed Holdings (Private) pairs a talented, low-cost operator with an established, steady and growing market. It's the first real stab at vertical integration that this market has seen in its more mature phase, and at first glance the street hated it. WMD sold of 21% Friday on 2.9 million shares, a sharp rejection of the unfamiliar foreign object that is this well-constructed deal.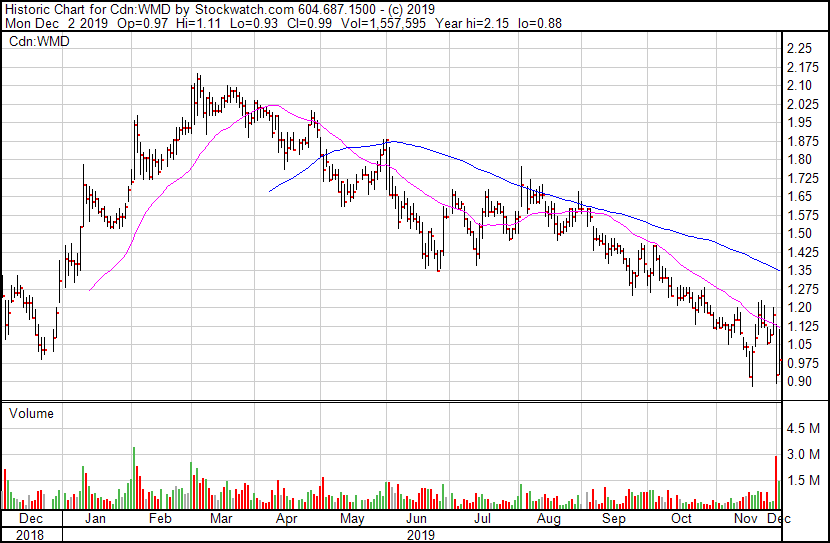 Starseed Holdings is one of the oldest cannabis licenses in Canada. It was issued in 2013, two weeks before Canopy Growth Corp. (TSX:WEED)(NYSE:CGC) precursor Tweed Inc.'s license. The only two older licenses, Cannimed (two months older) and Peace Naturals (one day older) have been absorbed by Aurora Inc. (TSX:ACB) (NASDAQ:ACB) and Cronos (TSX:CRON) (NASDAQ:CRON) respectively. The private company has never been marketed as an investment, so we have no data about its throughput, revenue, margins, etc. Starseed is a component of a modern concept cooked up by its core backer, the Labourers' Pension Fund of Central and Eastern Canada; a benefits fund administered by the Canadian arm of The Laborers International Union of North America (LiUNA), and funded by the contributions of its members.
LiUNA is tasked with negotiating healthcare benefits for its 120,000 Canadian members, and is interested in a future in which more of their members are able to receive cannabis as part of the healthcare plan that comes with their collectively bargained contracts. LiUNA has been securing medical cannabis into their members' healthcare benefits since at least 2017, when LiUNA local 625 made it part of their benefits package (the CBC billed it as the local offering their members an alternative to opioids).
LiUNA's benefit fund's investment in Starseed exposes their members' savings to the potential in cannabis' growing role in healthcare. Adding WeedMD pulls in a growing low-cost supply base that fits nicely with Starseed's pre-made and growing distribution base of the LiUNA members whose healthcare plans cover cannabis, for both members and their dependents. Since those members' healthcare plans are administered by their individual employers, cannabis coverage as part of the plan does not come at a cost to the members, or the union, and isn't provided at a discount by the producer. It's a bold move by the pension fund, but one based on a solid thesis.

The pension fund clearly took their time to consider and carefully select the right cultivator to fold into their cannabis investment, before eventually deciding that WeedMD was the most sensible choice. WMD has sold about as much cannabis by volume as Cronos over the past 2 quarters, and have 1/8 the enterprise value (before the merger).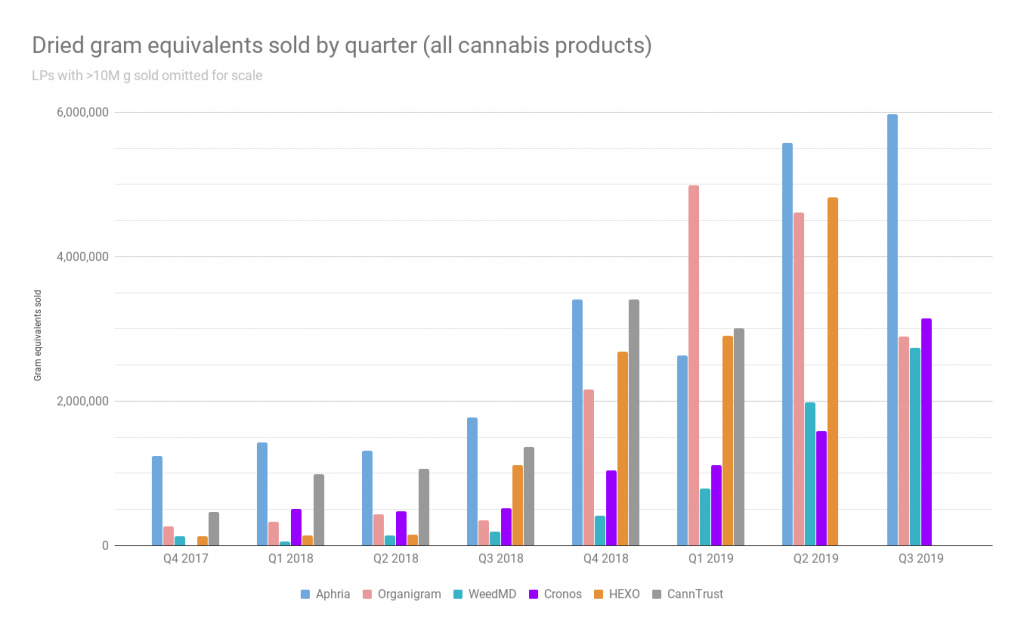 It's still a developing venture, and LiUNA has every reason to believe their development plan is worth the risk. WeedMD has shown growth in sales volume over the past five quarters, demonstrating an ability to produce quality product. WeedMD's glaring fundamental weak spot is the 24% margin that they averaged over the past four quarters. The Starseed deal may address that by directing cannabis previously sold to the bulk market into the much more lucrative medical market, where the volume weighted revenue is consistently higher than the adult use market.
On the strength of an open letter to shareholders and a deal deck that provides color and detail on this transaction, WMD recovered $0.06 of the $0.24 it lost Friday to close at $0.99 on 1.5 million shares of volume. To those of us who rolled our eyes at the pitch decks of 2018 that peddled "funded capacity," and used vertical integration as a buzzword, this clear, detailed outline of an attractive growth profile is refreshing.
Obviously, the market doesn't yet know how it feels about pragmatism in the cannabis space. LiUNA's pension fund and various other sharps are making a bet at these prices that sentiment will eventually come around.
---
FULL DISCLOSURE: WeedMD is a client of Canacom Group, the parent company of The Deep Dive. The author has been compensated to cover WeedMD on The Deep Dive, with The Deep Dive having full editorial control. Not a recommendation to buy or sell. Always do additional research and consult a professional before purchasing a security.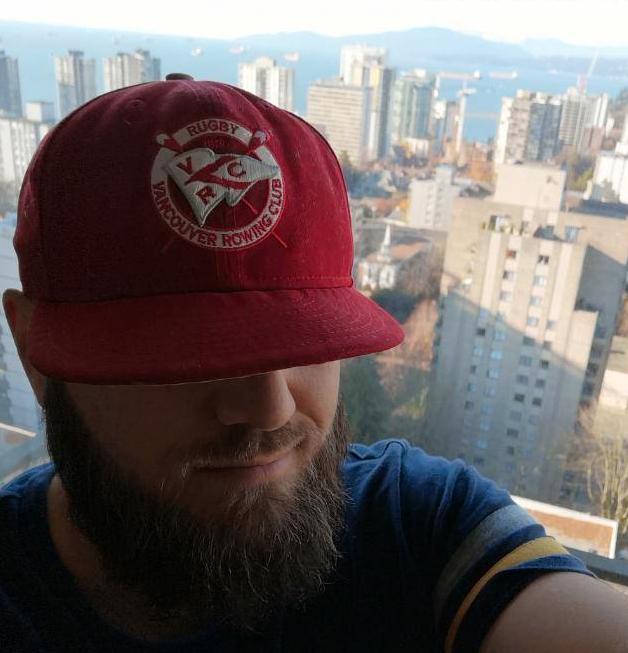 Braden Maccke is a freelance writer from Vancouver, B.C.
You can read all of his Deep Dive articles here.
He can be reached at braden@fundamentalhype.com.