Why The Debt Ceiling Drama Could Actually Be A Real Problem This Time
Analysts are warning investors to brace themselves for the 118th Congress' impending debt ceiling drama. It could actually be real this time, if the dysfunctional election of House Speaker Kevin McCarthy is any indication.
"The debt limit is going to be a problem," Goldman Sachs told clients in a report on Monday. "Fiscal deadlines will pose a greater risk this year than they have for a decade."
The debt limit, or the debt ceiling, is the maximum amount that the federal government can borrow by issuing bonds to pay off its financial obligations. Borrowing money — and lots of it — is how the US, which runs budget deficits, pays for its bills. Raising the debt ceiling does not mean it will be allowed to increase or make any new spending, all it does is allow the federal government to finance the debts it already has.
A failure on the part of the government to raise the ceiling on time would mean that the US would default on its debt. So, like some Washington ritual, raising the debt ceiling has time and again been used, usually between the White House and Congress, as leverage to push budgetary agenda.
But, the US has never defaulted on its debt. The government came close to it in 2011 when House Republicans and then-President Barack Obama engaged in a standoff. It was close, but it was resolved just in time to steer clear of the ceiling. And yet, it sent markets reeling, and S&P downgraded the country's long-term credit rating from a perfect AAA — its rating for seven decades — to AA+. And it took about half a year for the markets to recover.
The US has never defaulted on its debt because neither side has ever really wanted to risk default. So much so that the markets have grown to ignore the periodic Washington drama. Until now maybe, with the House's volatile majority, and with the many concessions Speaker McCarthy has had to give to take his turn with the gavel.
"We appreciate that the market has become numb to warnings of debt ceiling defaults because both parties have crept up to the brink without a material default," Cowen Washington Research Group's Jaret Seiberg wrote in a note to clients on Monday. "This time is different. In prior fights, neither side wanted to default."
Cowen urged investors to be on alert, pointing out that some members of the Freedom Caucus appear to perceive that defaulting on the debt would force the US to cut on its spending — remember that all raising the ceiling does is allow the federal government to pay for already existing debt.
While defaulting is not inevitable, Cowen wrote that they "believe this needs to be on the market's radar now before there is a crisis."
What Happens If The US Defaults?
With today's already fragile economy, risking a default, as the government should have already learned from 2011, could lead to far more brutal results, analysts warn.
Democratic think tank Third Way, in a report published last month, estimated six key consequences:
The United States could shed as many as 3 million jobs
A typical worker near retirement with 401(k) savings could lose $20,000
The average new 30-year mortgage would cost an additional $130,000
It would become harder to borrow for everything from small business loans to student loans
American consumers will see higher price tags for everyday items
The national debt would increase by $850 billion
Moody's Analytics warned in a September 2021 report, before the most recent increase in December 2021, that the impact of a default could be as bad as the Great Recession. They projected a 4% decline in the gross domestic product and twice as many job losses as Third Way's estimate.
The Countdown Begins
The US debt hit $31 trillion for the first time in October 2022, and the debt ceiling, which was last raised in December 2021, is at $31.4 trillion.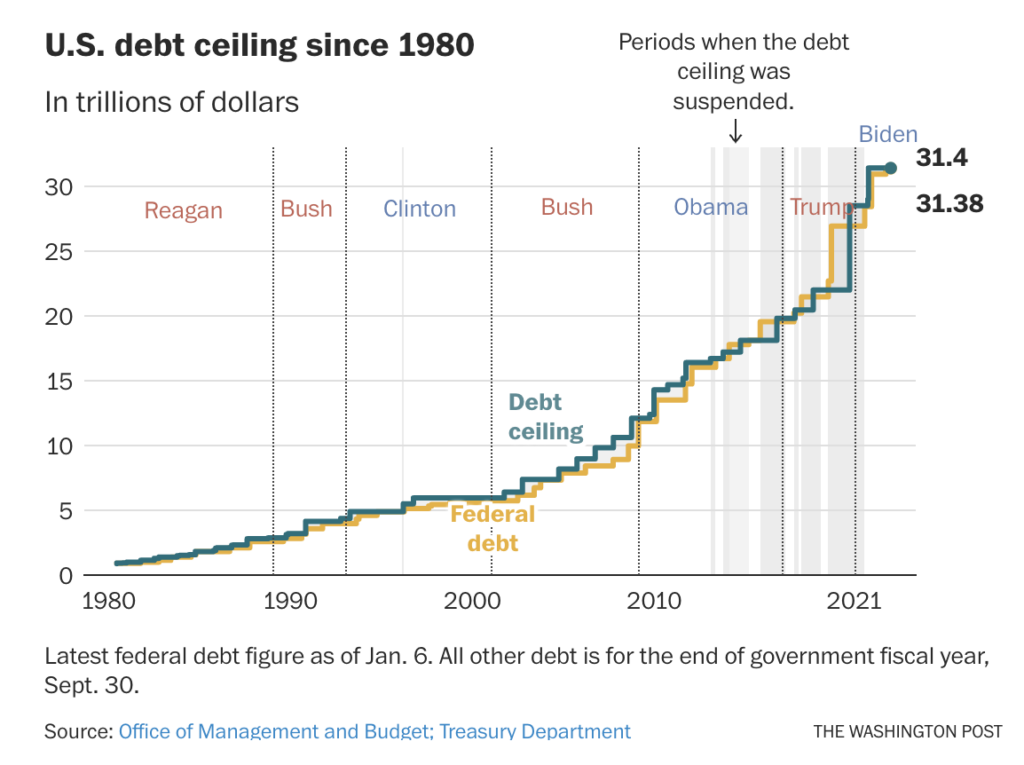 US Treasury Secretary Janet L. Yellen said on Friday that the US will hit its debt limit on Thursday, and after that, she will begin "taking certain extraordinary measures to prevent the United States from defaulting on its obligations."
Yellen warned that she will only be able to delay a default, using these "extraordinary measures," until early June, much earlier the Goldman Sachs' estimate of August at the earliest up to October at the latest.
As part of the extraordinary measures, Yellen said that new investments in the Civil Service Retirement and Disability Fund and the Postal Service Retiree Health Benefits Fund will be suspended, as well as reinvestment of the Government Securities Investment Fund of the Federal Employees Retirement System Thrift Savings Plan this month.
McCarthy has discussed previously that Republicans will only allow a debt limit increase if it came with massive spending cuts to the federal budget.
The House Republicans are currently drafting an emergency plan for breaching the debt limit, according to a report by the Washington Post. The plan was part of a private deal made during the House Speaker election standoff between the Freedom Caucus and McCarthy.
They are expected to focus on a payment prioritization plan, which would mean paying only the most critical payments to avoid a breach. But this approach has long been considered wildly controversial, as it entails choosing between the most critical federal expenditures.
"Prioritization doesn't work. We had this discussion a decade ago," said Neil Bradley, executive vice president of the U.S. Chamber of Commerce.
"If the U.S. government skips its payments to America's seniors or skips its payments to bondholders, both of those things call into question the full faith and credit of the United States government and our commitment to paying our bills. And both of them have pretty catastrophic economic consequences."
McCarthy has yet to comment on Yellen's letter or to give updates on the Republican's plans, but on Thursday, he said that House Republicans, "don't want to put any fiscal problems through our economy, and we won't."
---
Information for this story was found via Reuters, The New York Times, CNN, CNBC, and the sources and the companies mentioned. The author has no securities or affiliations related to this organization. Views expressed within are solely that of the author. Not a recommendation to buy or sell. Always do additional research and consult a professional before purchasing a security. The author holds no licenses.