Zenabis Global: By The Numbers
Incoming!
The Deep Dive was under heavy fire this past Friday as our treatment of Zenabis Global's (TSX:ZENA) third quarter quarterly financial filings upset a particularly righteous class of ZENA Warrior Princesses.
It's been our habit to evaluate the revenue and earnings performance of growing cannabis companies on a quarter over quarter basis – in other words, comparing each quarter to the one that immediately preceded it. It's a new sector, full of businesses that are still growing, or had better be. Indoor cannabis isn't seasonal and the extent to which sales are seasonal hasn't been determined, so we've continued doing it the way we have since the very beginning, and are likely to continue until these businesses start showing some maturity.
Hot House Flowers
Our new friends on team Z who suddenly showed up on twitter and in The Dive's comments section, consider our treatment of Zenabis' Q3 through a QoQ lens a stacking of the deck. The company's legacy vegetable and plant cultivation operation, a mature business embedded within the company, is well understood and very seasonal. It does most of its business in Q2 so, to the faithful, putting Q2 up against Q3 sandbags the cannabis growth numbers. The complaint has merit, but also raises new questions like: "Why not break out the cannabis revenue?" and "What kind of business is this, anyhow?"
The company does break out cannabis revenue in its earnings release, and in its MD&A, just not in the financial statements. It isn't an intentional end-run around our straight-to-the-numbers reporting process, but it works the same way.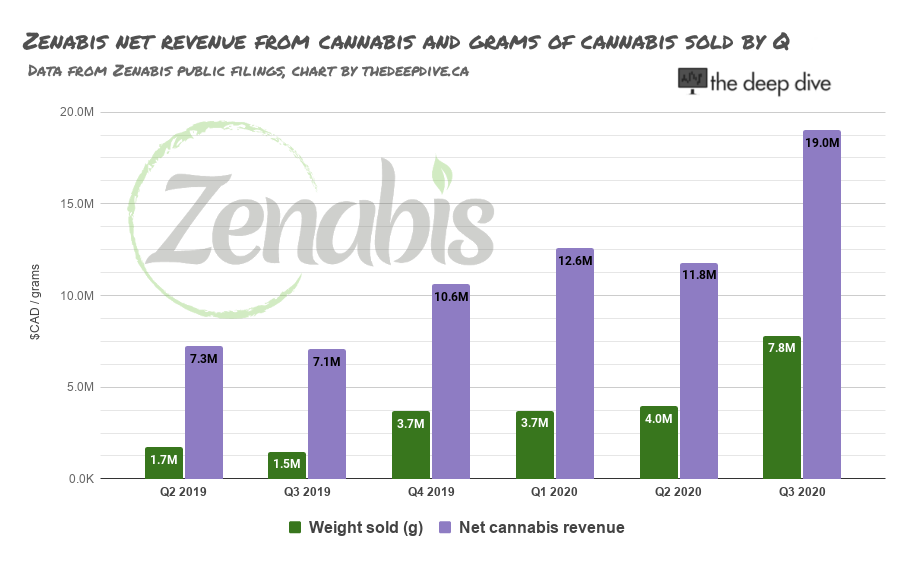 Regrettably, Zenabis does not break out its hot house propagation business in the same way, so the only way to compare the segments is by the much-loathed IFRS gross margin line, which includes adjustments for the fair value of biological assets, and nobody likes or uses.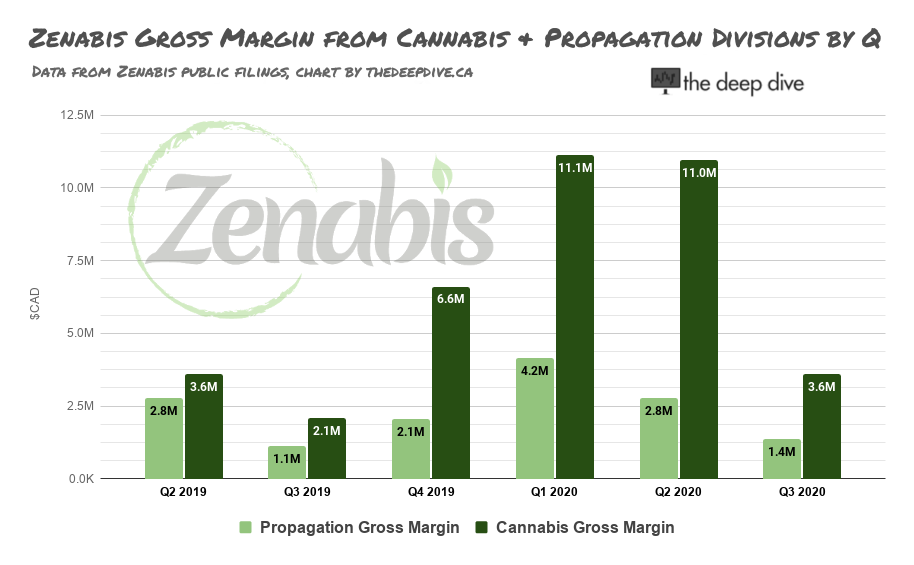 Zenabis' reporting forces the evaluation of its cannabis and propagation businesses as a unit, so that's the look we're giving it. On an operational cash flow basis, it's a look that's improving.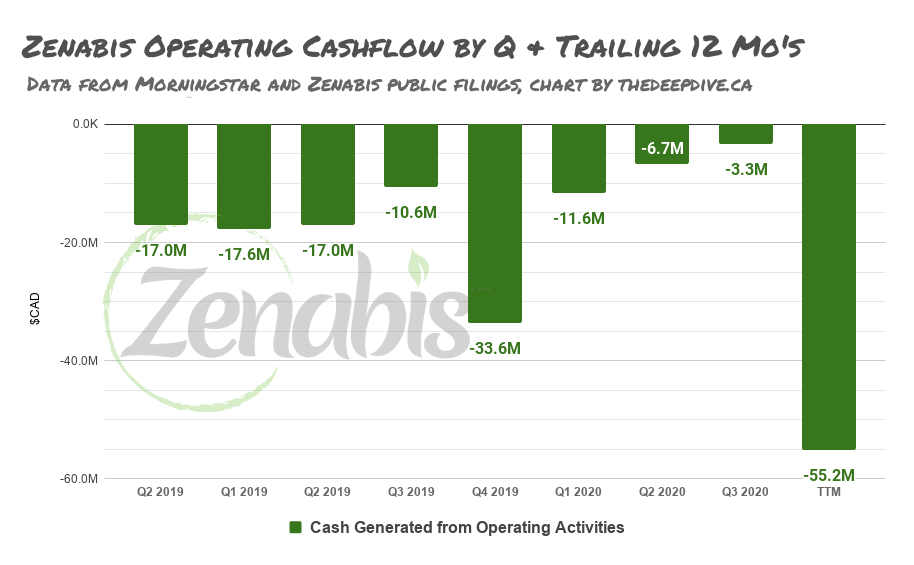 But a cash-negative business has to get its money from somewhere…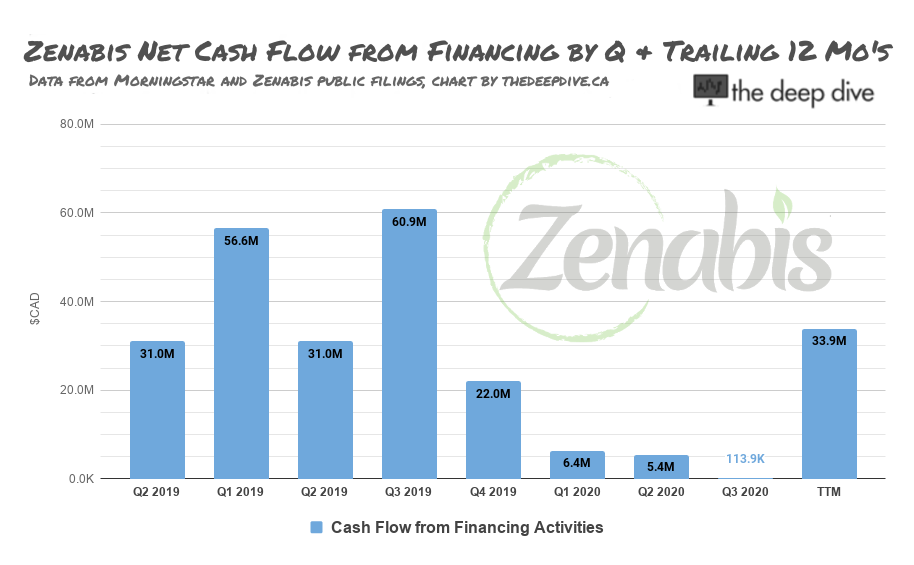 ..and that puts the real action over on the balance sheet.
The cash flow from financing dried up as Zenabis paid down some of its secured debt with a financing which, at these prices, takes a real bite out of the cap table.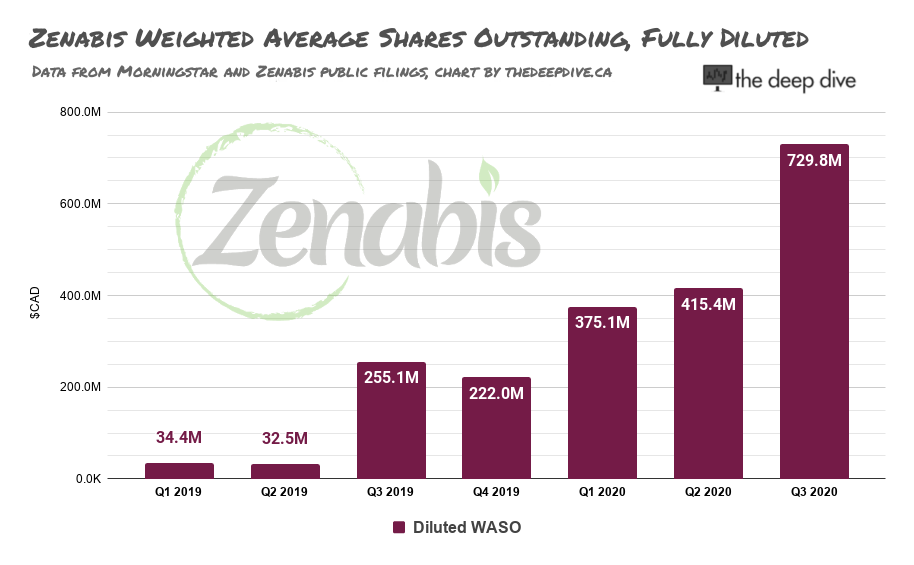 Which, in turn, ends up affecting the value of the equity.
Me? I jus' wan' what is coming to me…
The struggle is real for this fledgling cannabis producer, which financed for Tony Montana revenue, only to have to pay it back on a Saul Silver earnings profile. After several re-negotiations and re-financings, the debt load stood at $113 million at the end of September. In order to push the maturity of the bulk of the debt out 2 – 5 years, Zenabis gave up 71.2 million warrants at $0.07, and a royalty on its cannabis sales, which we don't see broken out on the income statement, so we'll assume that it's buried in the finance expenses…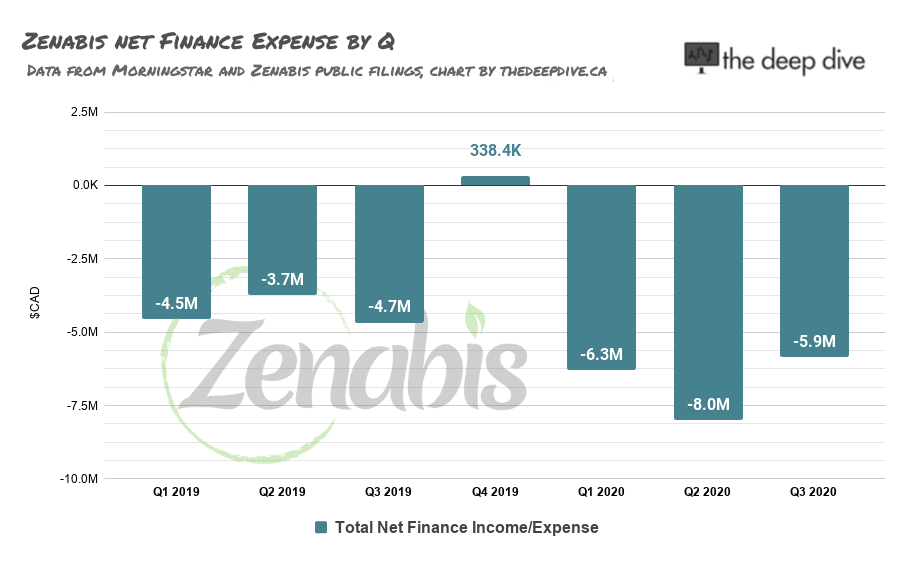 …which amount to 13% of revenue after excise tax in the trailing twelve months, because money isn't free.
In October, the company worked out deals to convert the remaining convertible debt at an equivalent of $0.04794, to create another 32 million shares and 16 million warrants at $0.06768, and a further deal to extend the maturity date of outstanding unsecured debt, in exchange for another set of 15 cent warrants. The company showed $4.8 million in cash at the end of September, and was trying to sell some real estate to free up cash.
Boiled down to its core, Zenabis is no different than its Canadian cannabis peers: a way for the financial sector to get theirs off the top while offloading the risk onto whichever retail sucker wants to press their luck and dare to dream.
---
Information for this briefing was found via Sedar and the companies mentioned. The author has no securities or affiliations related to this organization. Not a recommendation to buy or sell. Always do additional research and consult a professional before purchasing a security. The author holds no licenses.