Trulieve: A League Of Their Own
Trulieve Cannabis Corp (CSE: TRUL) leads US multi-state operators and the sector as a whole in revenue, gross profit and gross margin. They are the only legal marijuana company that consistently makes money.
The company is in a runaway sales lead in the state of Florida. Since the state began allowing sales of smokeable marijuana this past July, Trulieve has sold more bud than every other company operating in Florida combined.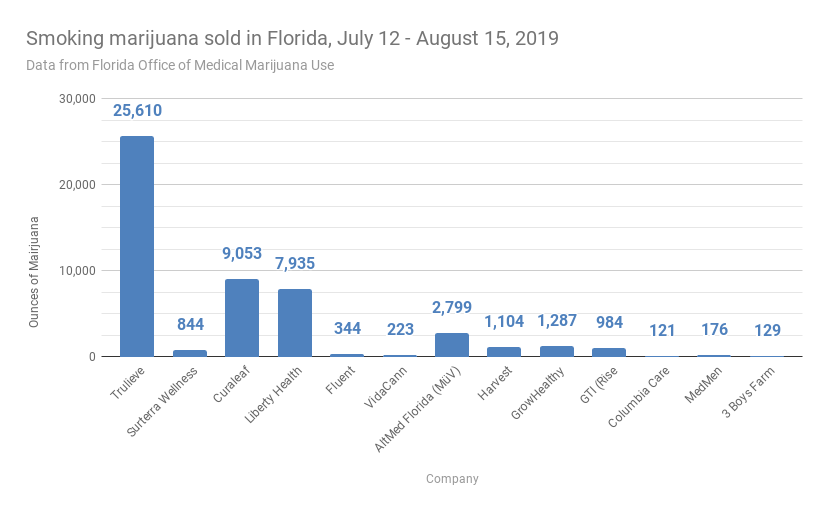 One might surmise that it's because they have the most dispensaries, and they do, but not by much.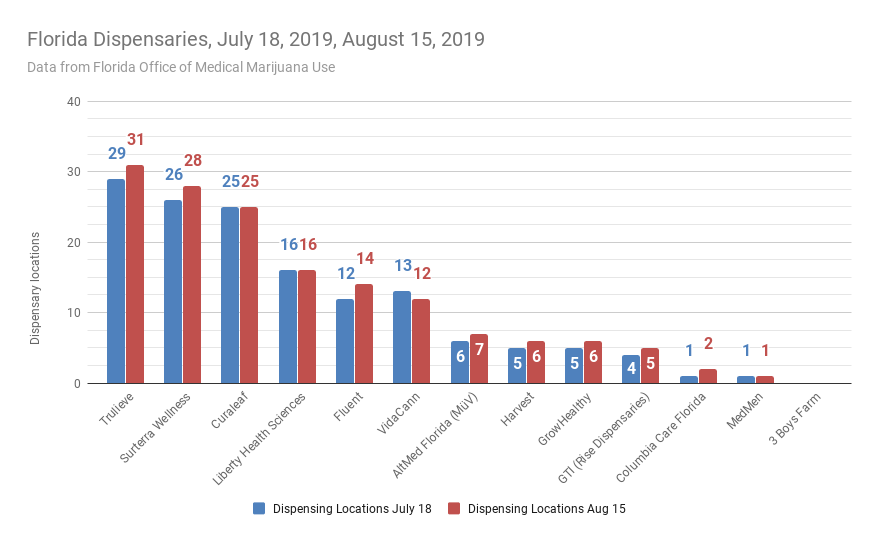 Trulieve just gets the most out of what they have. Here is the dispensary data set plotted with the flower sales, shown in tens of kilograms for scale.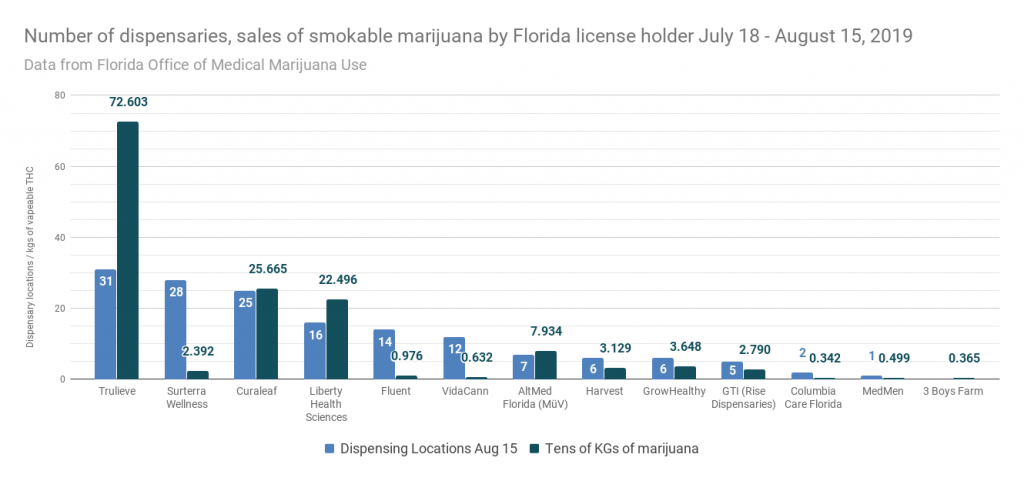 Before the law changed, Floridians were allowed to buy vape pods at these dispensaries, and they're still selling. Plotting just the smokeable flower makes some of the other companies who are still working through the vape stock look like slackers, so we'll graph the vapeable products as well. Trulieve out-sold their peers in the vape category, too.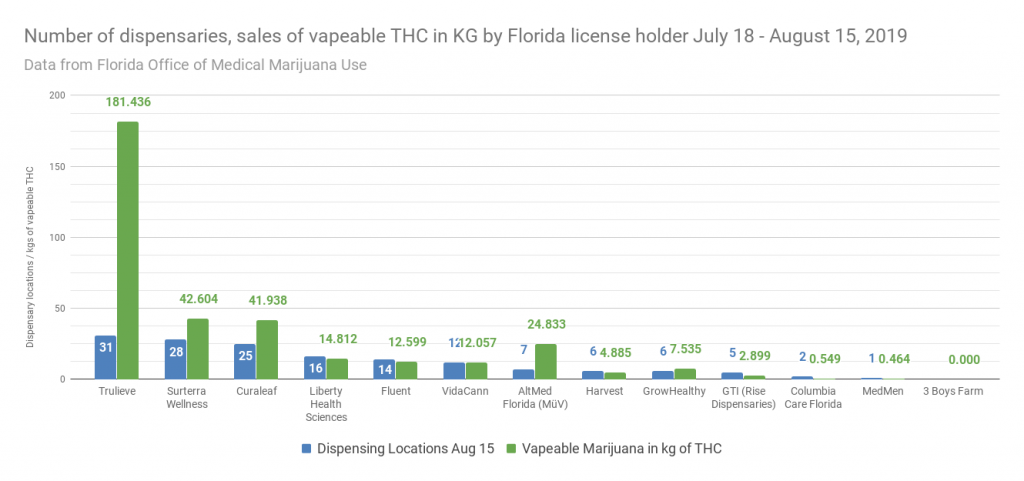 The company should be proud of the excellent job they have done using those sales to create a report to shareholders. Trulieve is out-classing its competition in every category that matters, and all of the ones that don't.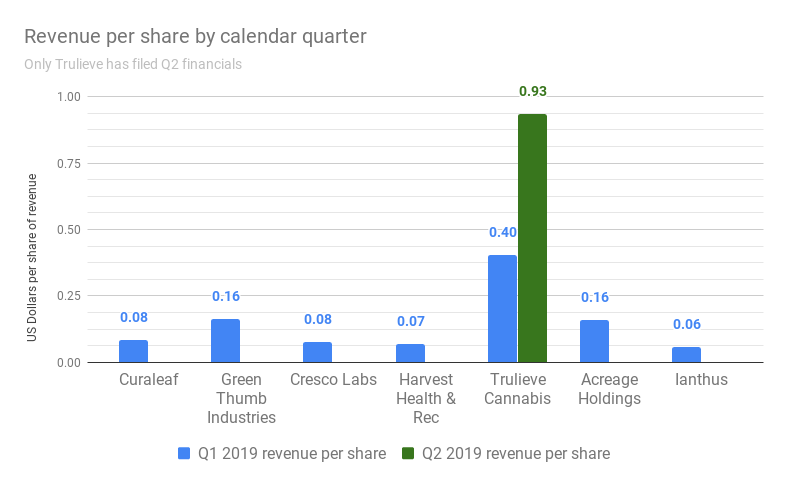 As we mentioned, it's the only public US marijuana company that makes money.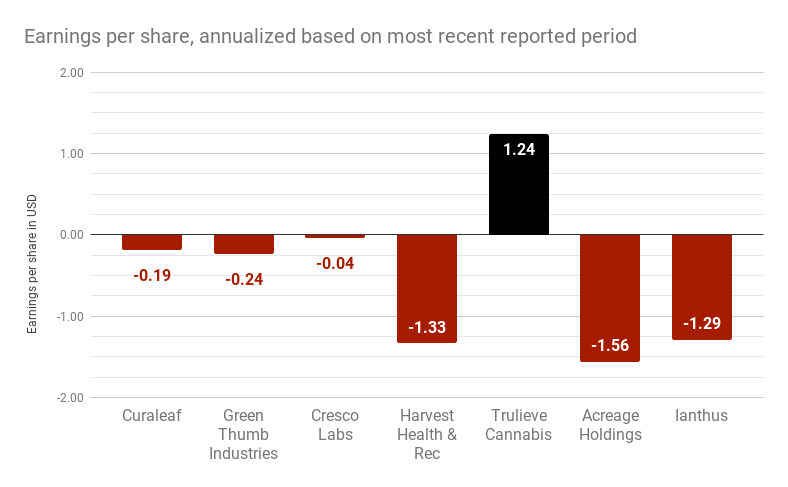 On a currency adjusted basis, Trulieve pulled more revenue in Florida during Q2 than Canopy Growth Corp. pulled out of all of Canada.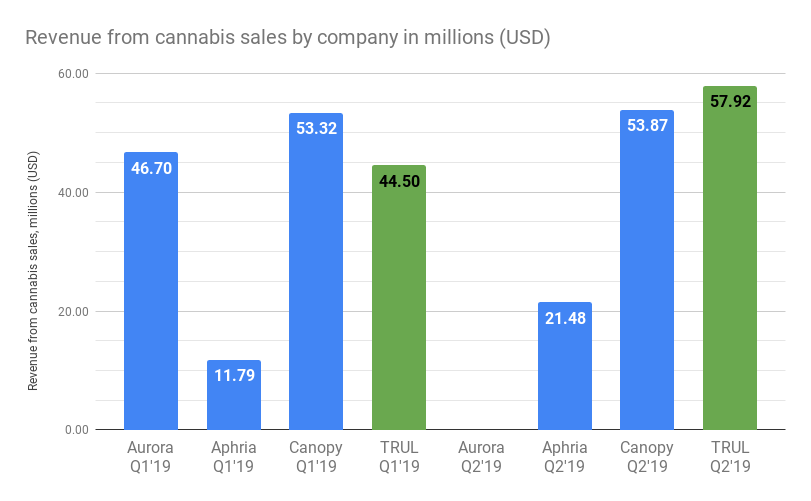 Trulieve has such a wide operational lead that they can't be caught…. So why can't the stock get any traction?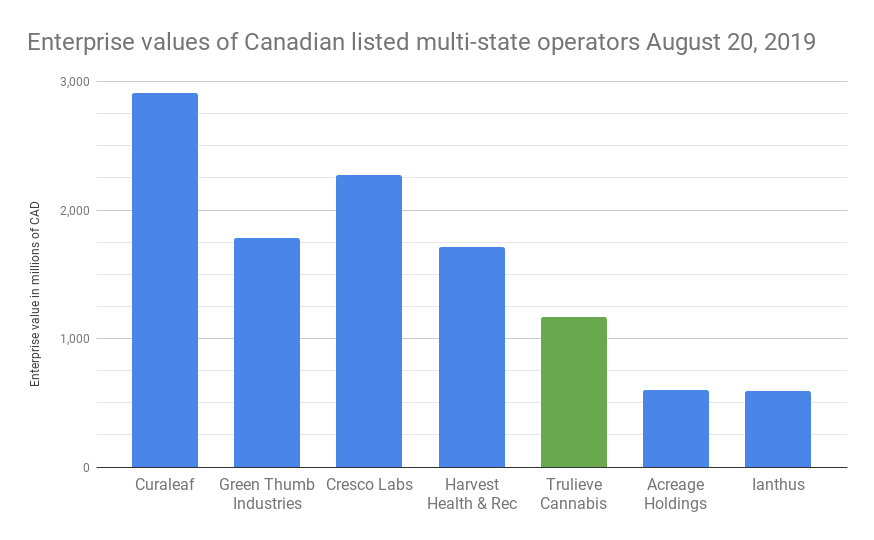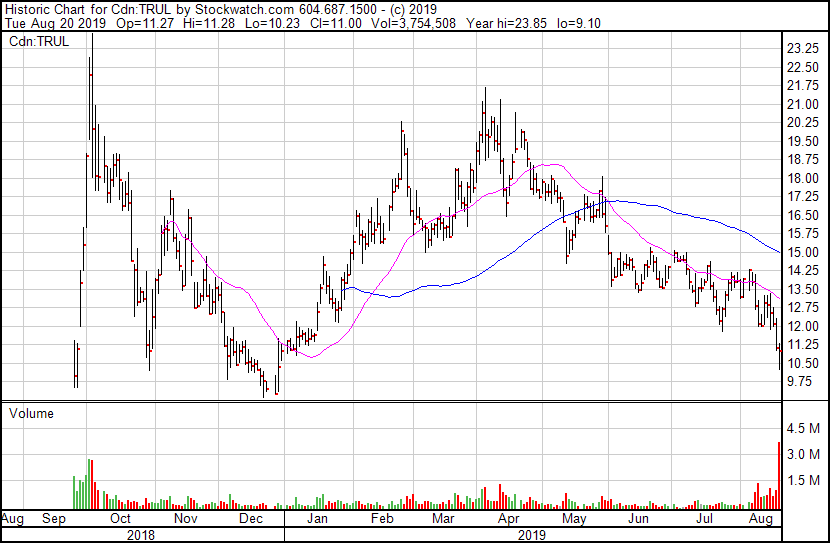 The steady slide in Trulieve's share price since the company's August 19th Q2 earnings report – the type of earnings that would make Warren Buffett sit up and take notice – has given fundamental investors their very own existential crisis. The company is off 14.5% since then, and all they ever did to deserve it was print their fifth consecutive quarter of revenue growth and earnings growth. Those of us scratching our heads are suffering from a misunderstanding of the popular sentiment, or at least its weighting when it comes to this peculiar market for marijuana companies.
WHY!?
Generally, when a company's best-in-class earnings take its stock price on a ride, the market participants are taking their cues form those earnings, and what they mean for the company's future growth. In a classic model, earnings beats – especially consistent earning's beats – drive stock prices by getting the attention of a wider, more risk adverse base of investors. But these aren't normal circumstances.
Caught in a dysfunctional ecosystem
The securities of Trulieve and the other US cannabis operators exist in an odd sort of capital purgatory. As long as the marijuana business remains federally illegal in the United States, US citizens or US institutions can't beneficially own the stock in the way they would any other stock. The US domiciled founders and early institutional backers own their shares by virtue of legal structures that condense their voting rights into multi-voting and super-voting shares that become the common, tradeable kind of shares available to the retail public when the holders convert them.
US institutions who would generally clear the decks for a company that consistently shows ~20% QoQ revenue growth and a fat bottom line can't touch Trulieve, and Canadian institutions know better than to get involved before the US market has access. That effectively limits the capital that can expose itself to Trulieve to the retail crowd; a peculiar heard of Buffalo whose irregular foraging habits have everything to do with their dwindling numbers and falling weights. Trulieve's gimmick-free approach isn't getting their attention, and the herd's predictable patterns have made them vulnerable to predators.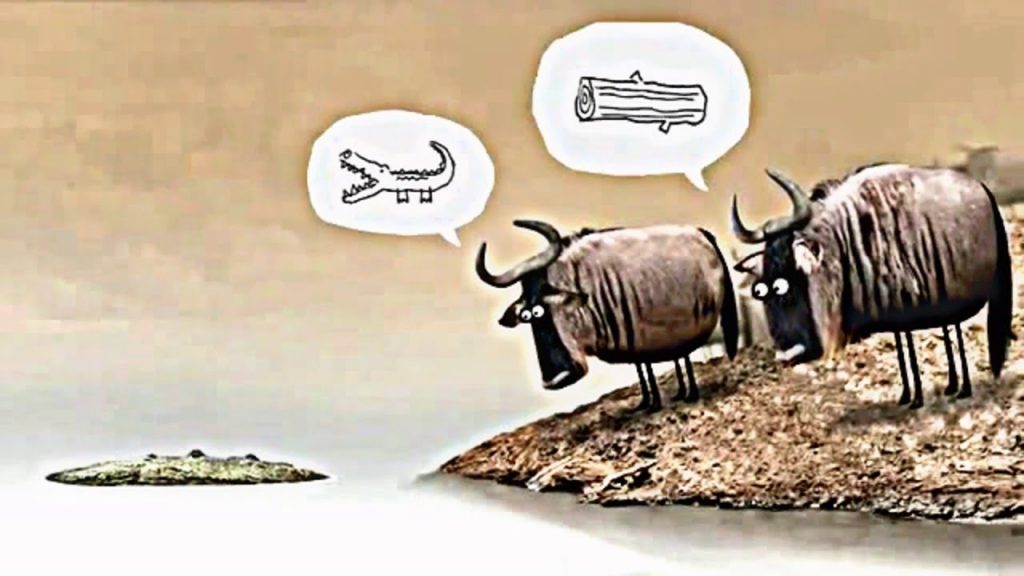 The pool of capital that Trulieve needs to convert to put a bid under this equity is managed of the class of investors who backed Namaste Technologies (TSX.V:N) and TILT Holdings (CSE:TILT). They're the investors who followed @JonathanGolds into C21 Investments (CSE:CXXI). That isn't to say that it's an investor archetype that is gullible, necessarily, just that it's one that values momentum and high visibility flash over operational execution.
When a company puts out a release about their quarterly earnings with their revenue in boldface at the very top, and fails to discuss or even identify their top-line profit, cost of sales, growth or recession of ops cost, as both CXXI and Acreage Holdings (CSE:ACRG.u) did this month, this collective consciousness doesn't discount the fact that the company left those vital figures out for a reason. The financials aren't due out until late August and if, when they all file right at the deadline, some wiseguy blogger wants to point out that revenue actually went DOWN on a per-share basis, and that narrative starts to gain traction, well… they'll adjust to it then. For now, revenue is up. This retail base isn't handicapping on that sort of timeline.
"Just call me when they get to the good part."
A market in a down-trend with the attention span of a gnat can't find a reason to buy or even hold Trulieve as long as it remains unclear just how far ahead of its time the company is. A change in law that allows for US institutions to get involved in US marijuana equities would surely cause this spectator-heavy market to get involved in a hurry, but the retail crowd is more interested in the near term. Presently, Trulieve has been saddled with a narrative about a lockup period for the founder's stock that expired July 25th, and it's become something of a self-fulfilling prophecy. Trulieve is the only CSE-listed MSO TDD Research is aware of whose lockup agreement explicitly prohibits the loan or pledging of the locked-up shares. Having been prevented from engaging in back-door gypsy swaps facilitated by pledging agreements that put the locked up stock into effective circulation before the drop date on the label, it's all hitting the market at the same time, and without the benefit of the market-making and narrative management/amplification that the early sale of founder's stock typically buys.
I'll tell ya why! The PATRIARCHY, that's why!
As those shares are sold into a declining trend, the market continues to wonder about an ongoing FBI probe of the activities of former Tallahassee City manager Scott Maddox. Maddox and a co-conspirator recently pleaded guilty to influence peddling, but charges are still pending against Florida Real Estate developer J.T. Burnette, husband of Trulieve CEO Kim Rivers.
The FBI alleges that Burnette helped to facilitate payoffs to Maddox from undercover FBI agents posing as businessmen looking to get some favors from the City of Tallahassee the old fashioned way. It isn't clear what kind of penalty Burnette could face if he's found guilty of helping FBI agents bribe a city official, and even less clear what it could have to do with the marijuana company his wife runs.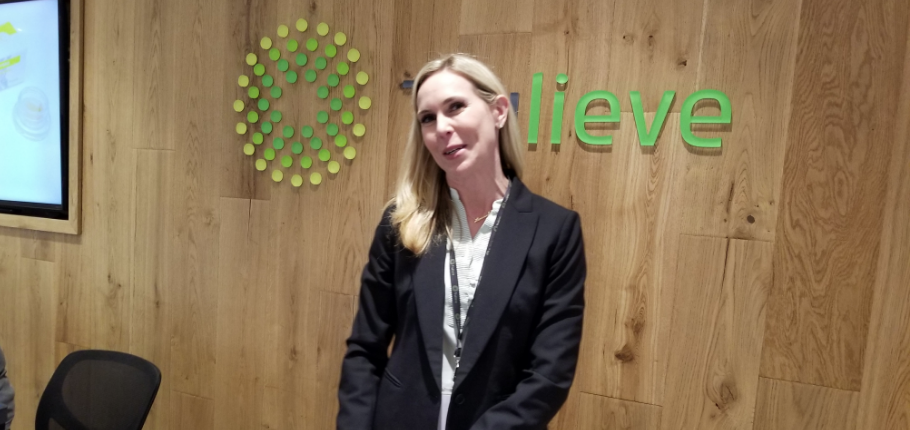 Trulieve says that the FBI served Rivers with a grand jury subpoena, with which she complied, and that neither her nor Trulieve have anything to do with the scheme being alleged. This is borne out by the fact that the companies identified as buyers of influence in the charges filed against Maddox included Uber and various waste management and construction companies, but not Trulieve.
Nonetheless, the market is having trouble swallowing the idea that this accomplished corporate lawyer and businesswoman could possibly be running this business on her own, unassisted by her husband. Burnette's attorney has maintained his client's innocence ahead of a trial scheduled for November.
MVP talent riding the bus in the sticks
Painfully, Trulieve remains the ultimate buy-and-hold story. Its 8.9 price to earnings ratio isn't just the best in the sector, it's the only in the sector. They're the only company with earnings.
Trulieve is the best pitcher in the Siberian Baseball League, fresh off of five consecutive no-hitters. The manager just sat them down to explain that attendance is dropping like a rock, and it's going to keep going that way if they don't do something exciting.
"Show some personality up there! Some pizzazz! Quit spending all of your time working out and studying film. Go on a bender once in a while, show the press you're bad ass!"
There's no telling when this certified ace is going to get a visa that allows him to play in the big leagues, but nobody is denying his talent or work ethic.
---
Information for this briefing was found via Sedar and Trulieve. The author is currently long the equity. Not a recommendation to buy or sell. Always do additional research and consult a professional before purchasing a security. The author holds no licenses.