Activist Investor To Meta: "Limit The Metaverse"
"Time to get fit"–this is how the chief of one of Meta Platforms Inc (Nasdaq: META) investors called out the tech platform in its letter to the company board, addressed to CEO Mark Zuckerberg himself.
Brad Gerstner, Founder and CEO of Altimeter Capital, wrote to the firms leadership, calling out the company's "lack of focus and fitness." While Gerstner and his company "have been supporters of the company's strategy" as long-term shareholders, they have written the letter to recover the "lost confidence of investors."
"So, its [sic] with some hesitation, but significant conviction, I am sharing an open letter strongly encouraging Meta to streamline and focus its path forward. Like many other companies in a zero rate world — Meta has drifted into the land of excess — too many people, too many ideas, too little urgency," Gerstner started.
The investor further cited press and investors saying the core business hit a brick wall last October. Instead, he pointed out that the team's response was to refocus the company on the metaverse, including a surprise renaming to Meta. This suspicion appeared to be confirmed by an almost immediate and significant miss in financial results, as well as continuous underperformance through 2022.
"The facts are startling. In the last 18 months, Meta stock is down 55% (compared to an average of 19% for its big-tech peers). Your P/E ratio has fallen from 23x to 12x and now trades at less than half the average P/E of your peers," Gerstner wrote.
The tech firm reported its first-ever year-on-year revenue decline in Q2 2022. The tech giant recorded US$28.82 billion in quarterly revenue, down from Q2 2021's US$29.08 billion and also missed the consensus estimate of US$28.93 billion.
READ: Meta Declares Q2 2022 Financials And The Only Thing That Increased Is Expenses
Meta's shares have fallen 62% over the year, with its sharpest decline in February 2022 after announcing its Q4 2021 financials.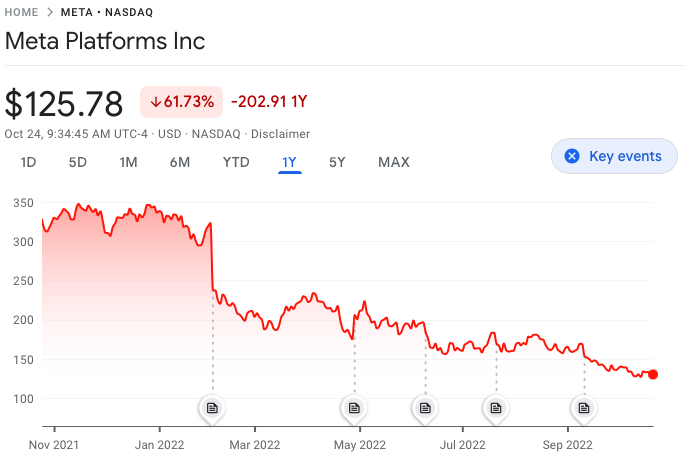 "The silver lining is that unlike many companies, this popular narrative obscures the truth. Meta's core business is one of the largest and most profitable in the world with over $45 B in operating profits last year alone," the investor argued further.
In a bid to order Meta to "get its mojo back," Gerstner outlined a three-point plan that "will double [free cash flow] to $40 billion per year."
The suggestion includes capping Meta's "metaverse investments to no more than $5B per year with more discrete targets and measures of success."
"While the increased AI investment was clearly well timed, Meta's investment in the metaverse, while smaller than the AI investment, has gotten the most attention and has led to much confusion. Perhaps it was the re-naming of the company to Meta that caused the world to conclude that you were spending 100% of your time on Reality Labs instead of AI or the core business," Gerstner told Zuckerberg in the letter.
He added that if "the company were investing $1–2B per year into this project, then that confusion might not even be a problem," but the company announced "investments of $10–15B per year into a metaverse project… that it may take 10 years to yield results."
"An estimated $100B+ investment in an unknown future is super-sized and terrifying, even by Silicon Valley standards," he added.
Meta's total operating costs for Q2 2022 ended at US$20.46 billion, up from last year's US$16.71 billion. This also led the firm to record a lower operating income at US$8.36 billion compared to the previous year's US$12.37 billion. Hugely dragging the income down is the net operating loss coming from the Reality Labs segment, amounting to US$2.81 billion.
Meta's metaverse moves have been gaining a lot of attention as Zuckerberg seems to be intent on focusing his actions on the said platform. Earlier this year, the Meta chief has floated several initiatives to breath life to Reality Labs, including integrating a virtual currency.
The plan also included reducing "annual capex by at least $5B from $30B to $25B," adding that "even excluding its large metaverse investment, Meta has gone from $15B in annual capex in 2018, 2019, and 2020 to $30B in annual capex in 2022."
"To put that in perspective, excluding your large metaverse investment, Meta is investing more in capex than Apple, Tesla, Twitter, Snap, and Uber combined!" the investor explained.
The final point is suggesting reducing "headcount expense by at least 20%."
"Why 20%? To put that in perspective, it merely takes the company back to mid-2021 levels of employee expense — and I don't think anybody would argue that Meta wasn't sufficiently staffed in 2021 to tackle a business that looks similar to how it looks today," explained Gerstner.
In July, Meta was reportedly slashing down 30% of its hiring plans this year, according to Zuckerberg, as he expects an imminent economic downturn.
The projected US$20 billion increase in free cash flow would come from people-related expense reduction (US$10 billion), capex reduction (US$5 billion), and reduced metaverse spend (US$5 billion).
Aside from the three-point plan, Gerstner is saying they "have no demands" and just want "to further engage and continue sharing our thoughts as an interested shareholder."
"We believe in this team. We know Meta has more reach, more relevance, and more incredible opportunities for growth than almost any platform on the planet. And we are confident that your long-term investments in AI and the next generation of communications will continue to drive us all forward," Gerstner ended.
At the Meta Connect 2022 event last week, Zuckerberg introduced new features to Meta Horizon Workrooms, the platform's virtual reality space "for teams to connect and collaborate." One of which is bringing avatars into video chats where Zuckerberg said, "you can still express yourself and react, but you're not on camera, so it's kind of like a better camera-off mode."
The solution is said to address proximity bias in the workplace and it sounds about as baffling as investing $10 billion in building the metaverse.
Meta last traded at $125.36 on the Nasdaq.
---
Information for this briefing was found via the sources and companies mentioned. The author has no securities or affiliations related to the organizations discussed. Not a recommendation to buy or sell. Always do additional research and consult a professional before purchasing a security. The author holds no licenses.