And So The Trail of Confusion Begins! Billions of Dollars in SMB Loans Were Issued Fraudulently
When one is suddenly faced with a catastrophic calamity such as a global pandemic at their door, the swift corrective measures that quickly ensue are sure going to come riddled with a few wrinkles here and there.
Well, that is exactly what happened when the Fed unveiled the $659 billion Paycheck Protection Program back in April, when it aimed to alleviate some of the financial hardships that many small businesses across the US were facing. Up until the program's end on August 8, the PPP granted over 5.2 million forgivable loans to a variety of businesses, and according to the Trump administration, the program has allegedly saved more than 51 million jobs.
Albeit such high job-saving numbers would certainly be chicken soup for the soul for the Fed and the Trump administration, it actually turns out that the number of jobs supposedly saved is much, much lower in reality. According to an analysis by S&P Global, the number of jobs that were actually recouped via the PPP hover around 14 million – a rookie contrast to the alleged 51 million. In fact, back in the beginning of August, Financial Times analyzed whether or not the program even gave taxpayers value for their money, which surprise – you guessed it – it did not.
The apparent generosity of the PPP and lack of scrutiny by its administrators has lead to rampant fraud that is now finally becoming evident. Given that the US economy was crumbling with every second that passed since the onset of the pandemic, the Fed and the government scrambled to push the program out the door as quickly as possible, with the motto of "hand out as much as possible and as quickly as possible and ask questions later." Indeed, now the questions are finally pouring in, and the Fed is faced with a lot more scrutiny than they had hoped for.
Back in July, the Small Business Administration (SBA) released a database consisting of almost 700,000 loans, each in excess of $150,000, after being pressured by lawmakers. Upon further analysis, it turned out there were over thousands of records that were either incomplete or contained problematic data that does not align with the program's rules. In fact, over hundreds of thousands of loans were issued to businesses that in return failed to provide any sort of information regarding the resulting worker retention.
Indeed, the data certainly does not add up. Some companies were issued excessively large loans, but only saved a handful of positions. Over thousands of loans were issued that amounted to $100,000 per each worker retained, with almost 200 of those loans in excess of $1 million per position. Even more puzzling was a loan that was issued to a financial advisory boutique located in a one-room condo in the Miami waterfront; according to the database records, the company supposedly received one of the largest PPP loans to be issued – which of course turned out to be misleading. When a Financial Times reporter followed up with the owner of the company, he verified that he had in fact received a loan from the PPP, but it was nowhere near the amount listed in SBA's database.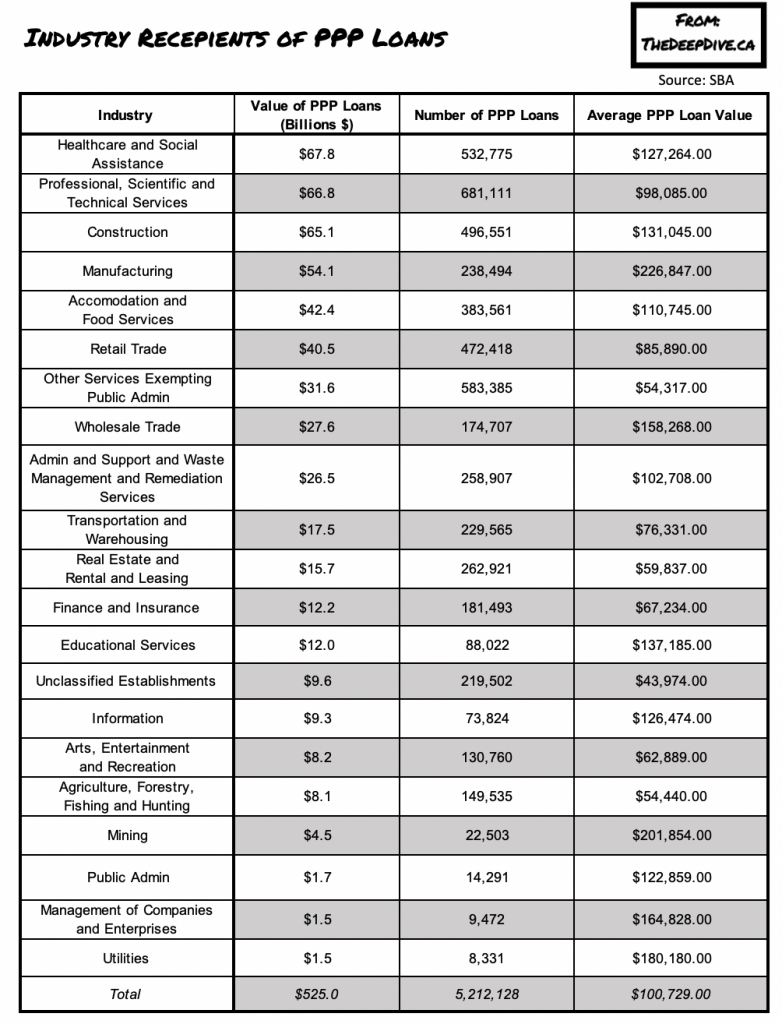 But, the puzzling trail of errors does not stop there. The variety of inaccuracies in the data released by the SBA makes it significantly more difficult for law enforcement to determine who has and who hasn't defrauded the program. Banks have flagged more than 5,000 suspicious applicants since the program's unveiling. However, the mystery into the allocation of loans only gets more troublesome; soon after the SBA published the database, an assortment of firms came forward, stating that they had never receiving funding from the PPP, even though they were listed as such.
Although the PPP has now been phased out, its surrounding controversies are now coming to light, suggesting that what seemed as minor wrinkles in the delivery of the forgivable loans, are turning out to be significantly more problematic. The House of Representatives Select Subcommittee on the Coronavirus Crisis has recently admitted that over tens of thousands of loans exceeding billions of dollars were most likely fraudulent.
The congressional panel revealed that more than 600 loans were issued to firms that should not have received any sort of funding in the first place, while another 350 loans were granted to companies that had a bad track record of performance. Moreover, almost $3 billion of tax-payer's money was allocated to businesses that were previously flagged by the government as dubious, and more than $1 billion went to firms that had already collected other loans – something that was strictly forbidden as per PPP rules.
Nonetheless, what was made to appear as a lifeline for many struggling small and medium-sized businesses, is now going to be subject to intense scrutiny. But one question does remain: did taxpayers get value for their money? Well, the "wrinkles" that have riddled the program since its beginning suggest otherwise.
Information for this briefing was found via Reuters, SBA, and Financial Times. The author has no securities or affiliations related to this organization. Not a recommendation to buy or sell. Always do additional research and consult a professional before purchasing a security. The author holds no licenses.