Andrew Tate Arrested in Romania After Feud with Greta Thunberg
This afternoon a report from Romanian outlet Libertatea has circulated around social media that Andrew Tate's home in Pipera has been raided by Romanian police in relation to the abduction of two girls. Now, Tate and his brother have both been taken into custody.
Reports have surfaced that the feud between Greta Thunberg and Andrew Tate earlier this week led to Tate tipping off Romanian authorities of his presence in Romania. After Tate posted a lame comeback video that included a Jerry's Pizza box, it is now being assumed by many on social media that the unintended product placement was the lead Romanian authorities needed.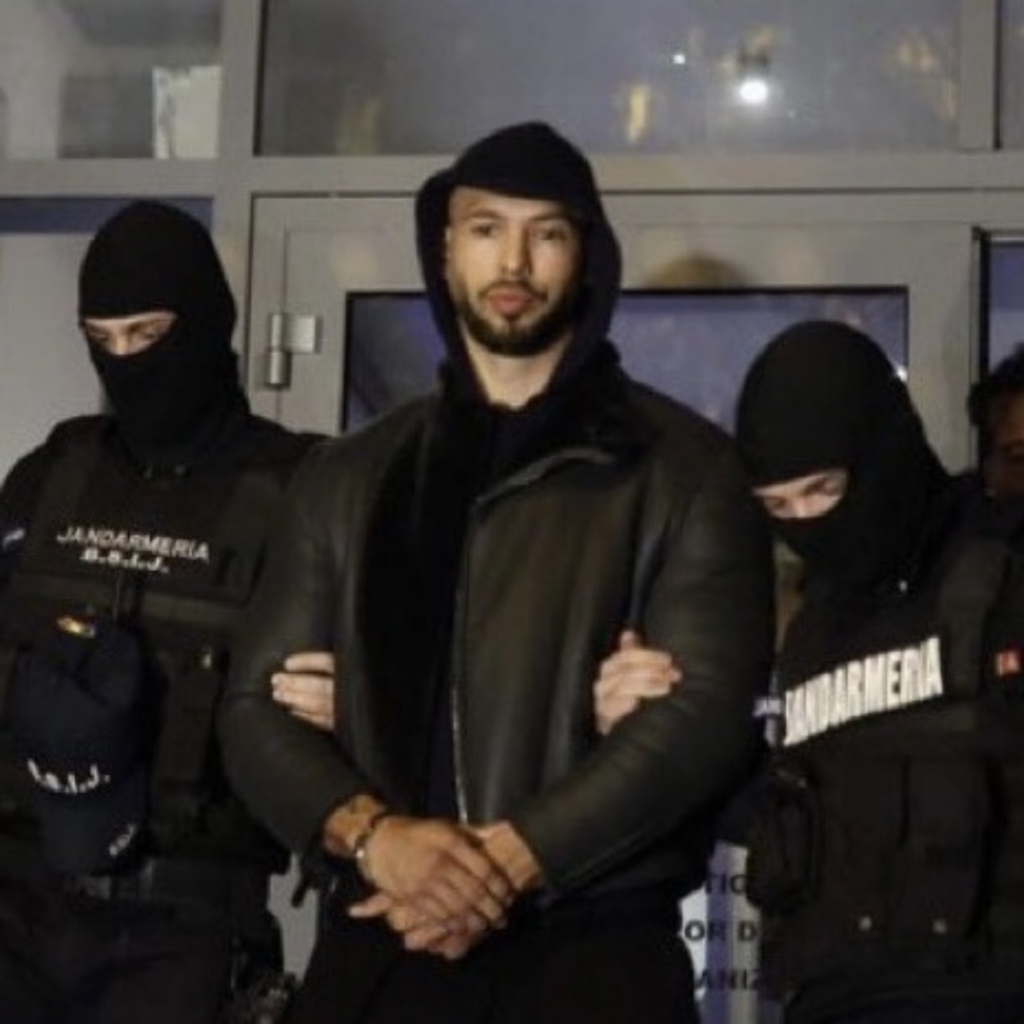 How The Whole Thing Started
On Wednesday, Andrew Tate was out looking for some attention, perhaps wanting to remind everyone that he's back on Twitter after five years of being banned for misogyny and promoting violence against women. The problematic British-American personality decided to pick on the 19-year-old climate activist Greta Thunberg, and in return received a humiliating takedown that might have left him gasping for air.
Tate attempted to taunt the young activist by bragging about his 33 cars and their "enormous emissions," and then proceeded to ask for her email so he could send her the "complete list." Thunberg, unimpressed, shut him down with a swift response.
The former kickboxer appeared to be taken aback and unprepared with a clap back. All he was able to muster at first was a feeble "How dare you?" which he later (like, hours later) followed up with a sad attempt at turning the tables on the climate activist.
The incident has since gotten Tate what he came out for, by Thursday he was trending on Twitter. People are likely back googling "who is Andrew Tate?" like they were in July when his name had more Google searches than Donald Trump or Kim Kardashian.
Tate runs a members-only online "academy" where he teaches paying "students" how to make a passive income from a number of online industries. One of the "lessons" he teaches is that attracting comments and controversy is the key to success: "what you ideally want is a mix of 60-70% fans and 40-30% haters. You want arguments, you want war."
He was, in one way or another, going to look for attention. People online are taking the satisfaction they can get from Thunberg's takedown.
Greta's tweet has already made the top 20 list of most-liked tweets of all time.
Tate had been banned on Facebook, Instagram, and TikTok for his blatant misogyny. In his online content, he would share opinions like women should "shut the f**k up, have kids, sit at home, be quiet and make coffee," or that 18-year-old women are "more attractive than 25-year-olds because they've been through less d***." He has also said that he dates women 18- to 19-year-olds because he can "make an imprint" on them.
Prior to today, Tate was under investigation for abuse allegations in the UK, which he claims partly prompted his decision to move to Romania.
"I'm not a rapist, but I like the idea of just being able to do what I want. I like being free," he explained.
Tate Gets Dunked On
Of course, social media has wasted no time to begin dunking on Tate.
---
Information for this story was found via Twitter, The Guardian, The Independent, The Hill, and the sources and the companies mentioned. The author has no securities or affiliations related to this organization. Views expressed within are solely that of the author. Not a recommendation to buy or sell. Always do additional research and consult a professional before purchasing a security. The author holds no licenses.