Romanian Court Denies Andrew Tate's Appeal for Release, Authorities Announce New Raids
On Tuesday, a court in Romania's capital Bucharest rejected Andrew Tate's appeal against his detention, ruling that the influencer must remain in custody for the full 30 days as authorities continue to investigate. On Thursday, Romanian authorities announced fresh raids related to the investigation.
Tate, along with his brother Tristan and two female Romanian nationals, were arrested on December 29 on charges of human trafficking, rape, and forming an organized crime group to exploit women.
The brothers, who have denied the accusations, attempted to appeal an earlier decision by a judge to extend their preventive detention from 24 hours to 30 days.
Since the Bucharest appeals court upheld the initial extension, prosecutors can now seek to further extend detention to up to 180 days.
Romanian anti-organized crime agency DIICOT announced that seven properties in Bucharest, Ilfov counties and Prahova were searched Thursday morning in connection to the investigation.
Prosecutors said that the suspects had been operating a human trafficking network since 2019, and the brothers lured the victims by using the "loverboy" technique where they feign feelings for the victim and initiate a romantic relationship before mentally and physically coercing them into prostitution and producing pornographic content for social media sites, from which the suspects generated large profits.
DIICOT spokesperson Ramona Bolla said that they found 16 phones and various computer equipment "intended for video chat activities" in the properties searched on Thursday.
Bolla also said that they have seized 15 luxury cars, of which at least seven belong to the brothers (i.e. the cars with "enormous emissions" he was bragging to 19-year-old environmentalist Greta Thunberg about). Also seized were over 10 properties owned by the companies registered to them.
If prosecutors prove that the Tates financially benefited from human trafficking (note: see video above), the cars and properties will be permanently seized by the state to "cover the expenses of the investigation and damages to the victims."
DIICOT, which launched the investigation after one of the Tates allegedly raped one of the trafficking victims in March, has identified six victims so far.
'I Love Raping You'
On Wednesday, Vice World News released a series of text and voice messages that Tate sent to a woman who accused him of rape in 2013.
"I love raping you," Tate said in one of the messages. "Monsters are monsters. When ur under my control, I do whatever I please."
The woman, who was not named to protect her from Tate's supporters, filed a sexual assault complaint against the suspected rapist in 2015 using his text and voice messages as evidence. He was arrested but UK authorities declined to prosecute.
She was also not the only one who came forward with sexual assault allegations against Tate that year. The suspected rapist once claimed that these allegations partly prompted his decision to move to Romania.
"I'm not a rapist, but I like the idea of just being able to do what I want. I like being free," he explained.
The Matrix, and Tate's Loyal Followers
Even while remanded in custody, Tate's online accounts, including his recently reinstated Twitter Blue-subscribed account, have continued to post content, including his usual "motivational," "alpha-male" broetry. His online accounts have also taken to alluding to his arrest using themes from The Matrix films.
Days after he was put in custody, this poll was tweeted to his 4.4 million followers. It was also blasted in his newsletter. Close to one million Twitter users responded to the poll.
The Matrix references are all over his online presence. In referencing the 1999 sci-fi film about waking up from a simulation, the suspected sex trafficker is suggesting that he, a "freethinker" who's allegedly woken up to reality has become a target of "agents of the Matrix," which he suggests are the authorities, the media, and the institutions that want to make him accountable for his alleged crimes, his tendency for violent misogyny, and his troubling grip on the minds of his young followers.
Tate's legions of supporters — mostly made up of young men from his members-only online "academy" The Real World (TRW), formerly known as Hustler's University — appear to be standing by their "alpha-male" leader.
According to a report from BuzzFeed News, two websites offering signups to TRW have been taken down. An announcement on his Telegram account implied that the takedown was part of the crackdown on his activities.
The announcement said: "The Matrix wants you weak, poor, and alone," and then links to access a new signup site that uses The Matrix's blue pill/red pill symbolism.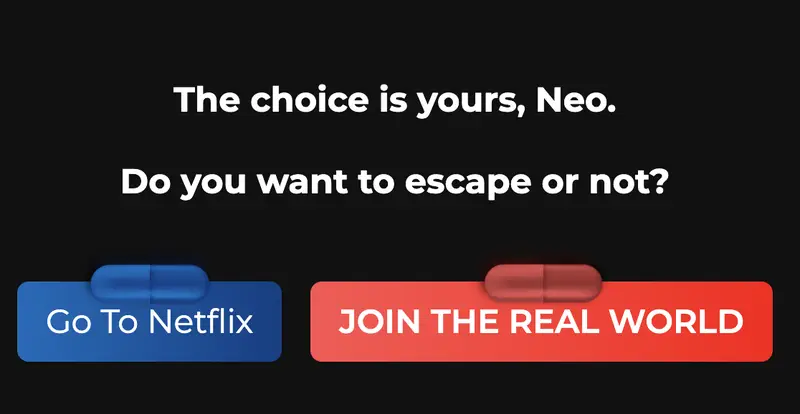 The blue pill would take you to Netflix, while the red pill would ask for your credit card details to "join the real world" for $49.99 a month.
What Happens Next?
The brothers will be represented by British lawyer Andrew Ford, who claims on LinkedIn that he specializes in representing celebrities and "high net worth clients," and Eugene Vidineac, who had previously argued that there was "no evidence" to support the charges against his clients.
The four suspects will remain in custody until the end of the month. But as mentioned earlier, prosecutors will now be able to request to extend pre-trial detention for up to 180 days.
---
Information for this story was found via Twitter, The Guardian, The Independent, the Associated Press, BBC News, Insider, Vice, BuzzFeed News, and the sources and the companies mentioned. The author has no securities or affiliations related to this organization. Views expressed within are solely that of the author. Not a recommendation to buy or sell. Always do additional research and consult a professional before purchasing a security. The author holds no licenses.