Are Binance.US Assets Commingled With Binance's?
The FTX implosion essentially came down to its seemingly reckless way of mixing its assets (read: customer deposits) with sister trading firm Alameda Research, which the latter used to placed risky bets that led to its liquidity crunches.
However, recent activity of its rival Binance is raising some doubts if the world's largest crypto exchange is also commingling its funds with its US counterpart.
In a piece written by Dirty Bubble Media–whose report on FTX and Alameda was instrumental in exposing the crypto firms–the platform has shifted its focus on Binance, claiming that the exchange is freely exchanging assets with Binance.US in an attempt to skirt the American regulatory laws.
"We can now report that based on blockchain transfers, market data, and company disclosures, it appears that there is no meaningful separation between the two firms. In fact, we show that Binance.US both transfers customer deposits to Binance and pays customer withdrawals using transfers back from the offshore exchange's wallets," the report said.
The piece cited Twitter user @jconorgrogan who has been monitoring the Binance.US transactions since the platform halted withdrawals of the Tether stablecoin (USDT). During this time, the USDT balance in the primary Binance.US wallet fell to its lowest level ever ($197,000).
Recently, it was observed that withdrawals resumed after Binance.US received a single $10 million USDT transfer from an undisclosed address. Those funds were then transferred from two well-known Binance exchange wallets.
"However, Binance.US apparently had to pull money from the main Binance exchange to pay back customer withdrawals. In other words, Binance.US customers were paid back using funds transferred from the offshore Binance exchange!" Dirty Bubble Media claimed.
Digging deeper, the report disclosed that "since the creation of [Binance.US] wallet in July of 2020, it has moved over $1.4 billion in Ether, USDT, USDC, and MATIC tokens from Binance exchange wallets to Binance.US."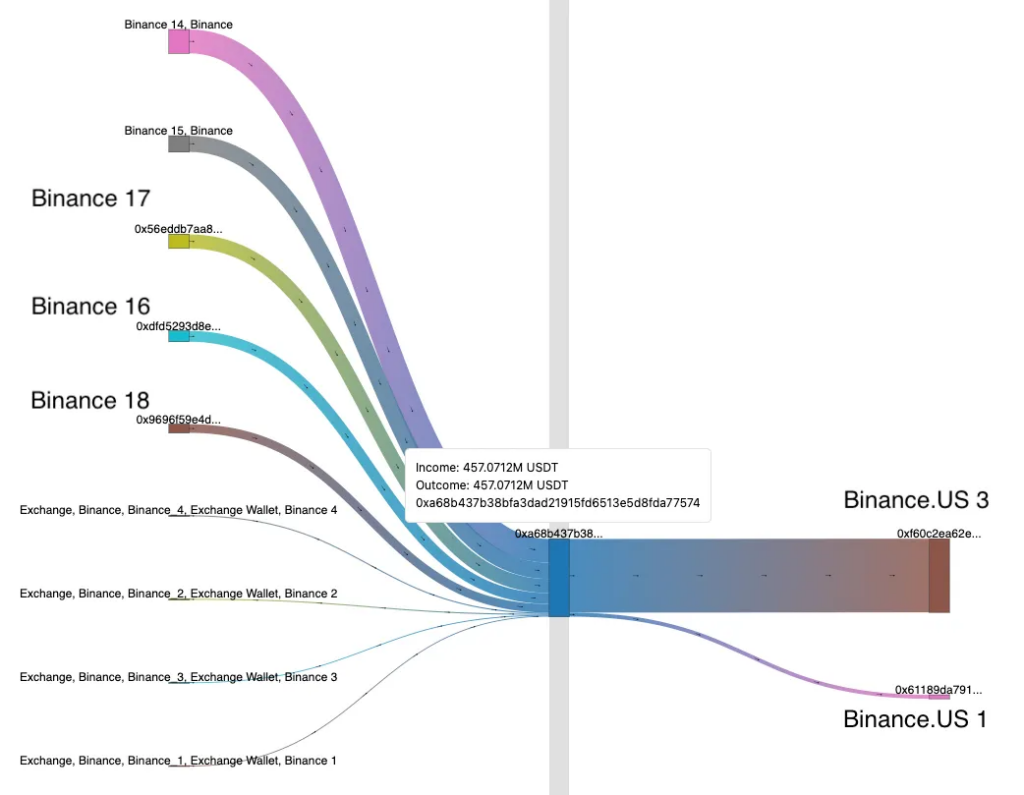 A second wallet is observed to be exclusively handling "transfers from Binance.US addresses to Binance exchange wallets."
"While this address has only been active since August 2021, it has handled over $1.9 BILLION in transfers from Binance.US to Binance," the report added.

The report also said that "this revelation may explains the disconnect between Binance.US wallet holdings and the reported daily trading volumes on this exchange."
Dirty Bubble Media said the total 24 hour trading volume for Binance.US was $146 million, or approximately twice the exchange balance of around $70 million, according to market aggregator CoinGecko. The main Binance exchange ecorded $7.3 billion in total volume over the last 24 hours and have a total exchange balance of about $57 billion. This means that the much larger and more popular Binance exchange had volumes that accounted for approximately 13% of their whole exchange balance.
"In other words, the reported ratio of (volume:exchange balance) on Binance.US was 15 times higher than that ratio on the main Binance exchange," the report concluded. "We hypothesize this discrepancy is due to Binance.US holding large amounts of customer deposits on Binance and executing most, or all, customer trades directly on Binance's exchange."
Binance was banned in the United States in 2019 due to regulatory concerns as some lawmakers believe the crypto assets that the trading platform offers were essentially securities. Binance and other investors responded by launching Binance.US, a separate exchange meant to comply with all applicable US federal regulations, but which is nonetheless prohibited in six states: Hawaii, Idaho, Louisiana, New York, Texas, and Vermont.
In many instances, Binance has maintained that the US counterpart shares the name and license for the brand, but is essentially managed independently of the global parent firm.
Dirty Bubble Media cited a 2020 Forbes report that outlined a leaked document known as "Tai Chai". According to this report, the Binance US exchange was a ruse designed to mislead US regulators into focusing on the compliant local exchange, while the parent exchange was free to operate as usual. Binance replied by filing a defamation lawsuit against Forbes, only to dismiss the complaint a few months later. It then took a different approach in February of this year, investing $200 million in Forbes' parent business.
This early reporting by Forbes, however, was confirmed by a much more extensive article by Reuters in October 2022. With more sources and records at its disposal, Reuters uncovered basically what the Forbes piece three years earlier suggested: Binance US was meant to deceive authorities and U.S. customers.
"In public, Zhao said the new U.S. exchange – called Binance.US – was a "fully independent entity." In reality, Zhao controlled Binance.US, directing its management from abroad, according to regulatory filings from 2020, company messages and interviews with former team members. An adviser, in a message to Binance executives, described the U.S. exchange as a "de facto subsidiary."," Dirty Bubble Media quoted the piece.
After the media outfit tweeted its piece, Dirty Bubble Media was blocked by Binance CEO Changpeng Zhao on Twitter. This contrasts to when Zhao liked the outfit's tweet on its FTX-Alameda expose.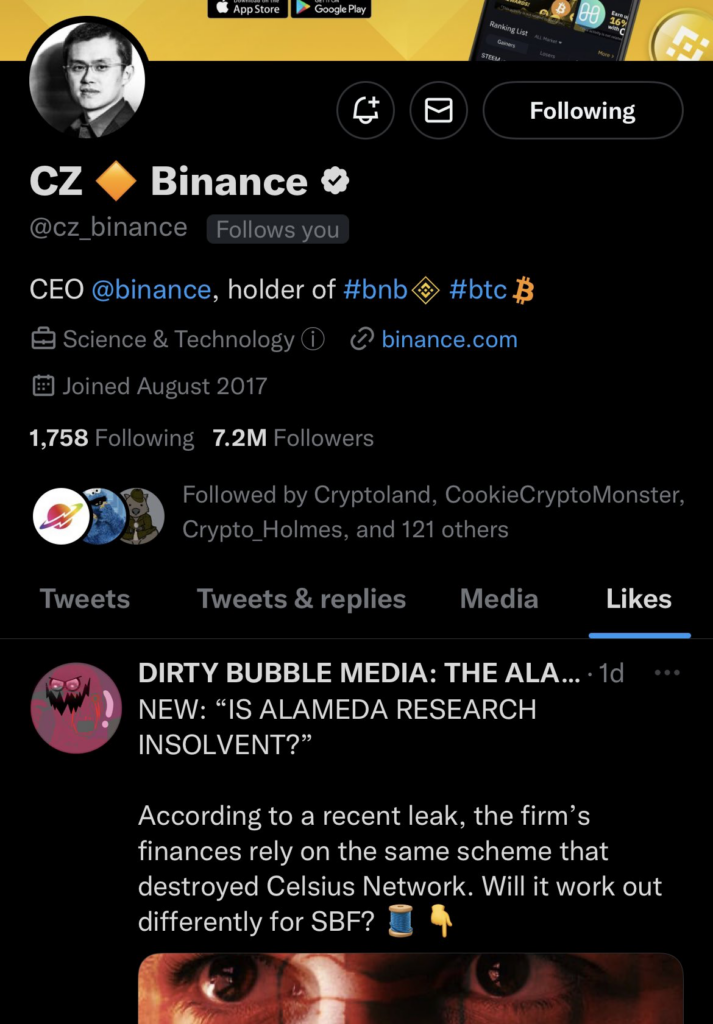 Recently, rumors surfaced that Zhao has been meeting with investors in Abu Dhabi, seeking investment for the exchange's plan of building a crypto recovery fund. The Binance chief outright disputed the reports, saying this was false.
"CZ's meetings in Abu Dhabi were all focused on general global regulatory matters – specifically how Middle Eastern regulators could lead the globe by exploring more aggressive proof of custody requirements for crypto exchanges," a Binance spokesperson told CoinDesk.
READ: Binance's Zhao Aims To Raise $1 Billion For Recovery Fund, Seeks Middle East Cash
Voyager Digital announced on Monday they will be acquired by Binance.US, who reportedly came in with the highest bid for Voyager's assets. The decision comes after a review of strategic options with the core objective of maximizing the value returned to customers and other creditors on an expedited timeframe.
READ: Binance.US to Purchase the Remains of Voyager Digital
The latest move seems to have been touted to dispel rumors that Binance is struggling financially. However, the issue on the Chinese wall between Binance and its US counterpart still lingers.
---
Information for this briefing was found via Dirty Bubble Media, CoinDesk, and the sources provided. The author has no securities or affiliations related to this organization. Not a recommendation to buy or sell. Always do additional research and consult a professional before purchasing a security. The author holds no licenses.