Augmented Reality Stocks: High Growth Software Layer Or Manufactured Illusion?
We're unsure what, exactly, brought on this contemporary rush toward augmented reality businesses. It could be COVID-era necessity as the mother of invention, or popular sentiment souring on actual reality. Either way, there was high-traffic in CSE-traded shares of AR companies last week, and The Dive is here to give you the lo-down.
Augmented Reality is traditionally a term used for the blending of virtual reality and the user's lived environment. The touchstone example is the world's brief 2016 obsession with Pokemon Go, which added cartoon Pokemons (Pokemon?) to live digital images from device cameras. The companies caught in this updraft are both purveyors of SaaS products that allow for clients to create AR products of their own for marketing purposes, to be used as part of virtual conferences, and other various applications, some of which have yet to be dreamed up.
NexTech AR
NexTech AR Solutions Corp. (CSE: NTAR) had a strong week, printing a +43% price climb (+2.51) to close at $8.35 Friday. The volume started to pick up on this one at the end of June. NTAR has traded more than 1 million shares of CSE volume in six of the past 11 days. Prior to that, it had only traded more than 1 million shares in three of the trailing 12 months' sessions.
The modern incarnation of this company formed in 2019 when NexTech bought "AR E-Commerce LLC" for 2 milion shares at a demed value of $1.23. The present day NexTech is representing that it has completed the acquisition and R&D phases, have come up with a commercial product – Inferno AR – which invites companies to "gasify" their video experiences and other live events into one simple interface. It boasts bolt-on capabilities to Zoom, Google Meet and Webex.
The messaging is that of a company that has exited the development phase and is in a position to devote its resources to sales growth, just in time for COVID-era on-line trade shows, which somehow sound more annoying than off-line trade shows. NTAR did $2 million sales in Q1 (ending Mar 31, 2020) to generate $1.3 million in gross profit. Scaling that top line and sustaining the growth would certainly get the attention of larger buyers. Its website displays the distinct friendly aggression of a software sales environment leading edge, always trying to funnel the user into a demo.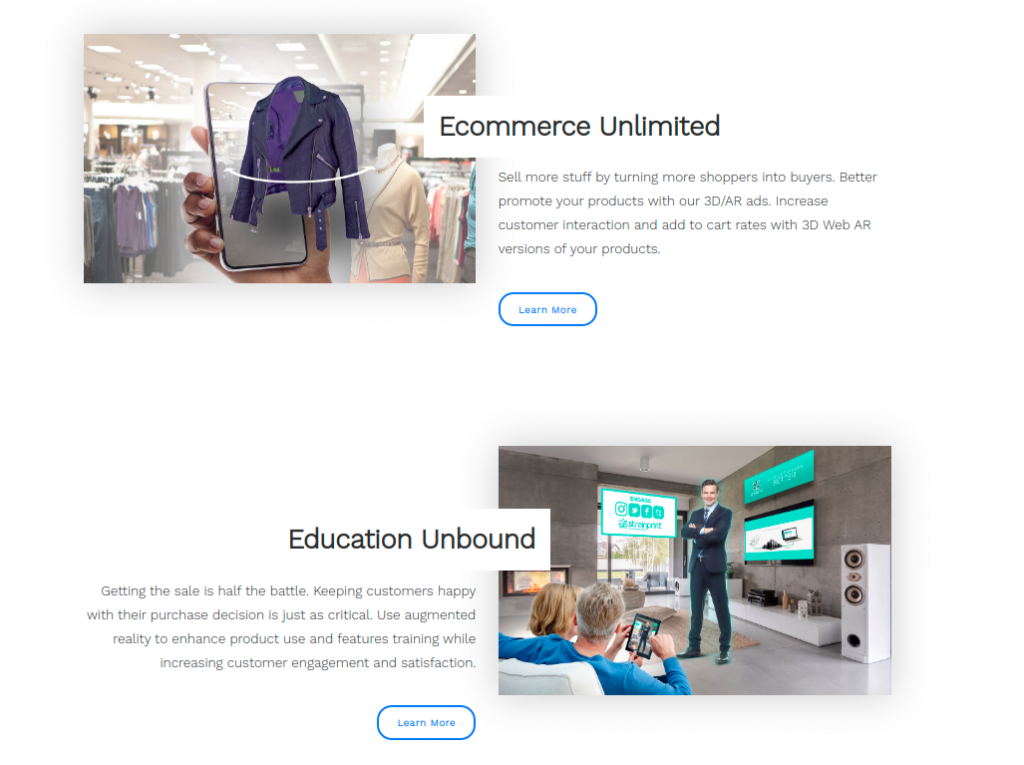 Assuming this is a software that proves useful, its potential for success will come down to marketing spend. NTAR spent $1.5 million on marketing in Q1. Since this is a fairly new area, we aren't sure if that's a lot or a little, but there's money available for an ongoing push. NexTech had $2.3 million in cash at the end of March, and did a 1.5 million unit private placement at $2.10 in June, with a 1/2 warrant at $3. The company is creditworthy, having secured a $600,000 line of credit from RBC at prime plus 2%.
A $530 million market cap for a company with $2 million in sales last quarter indicates that the market is clearly expecting a great deal of growth out of NexTech in the coming year, but there's more going on here; namely a drum tight float. There are only 66 million shares outstanding, and the equity table doesn't show any readily apparent big blocks of cheap stock.
Should NTAR produce the type of growth the market is forecasting for it, it would look out of place slumming it on the CSE so, to show they're serious, the company has applied to move on up to the NASDAQ.
ImagineAR Inc.
Similarly swept up in the sudden appetite for AR names on the CSE, ImagineAR Inc. (CSE: IP) has seen investor attention beyond what it could have ever dreamed of as the developmental company bounced along the bottom for the better part of the last year with little direction or leadership.
The former Imagination Park closed at a 52 week high of $0.40 Friday, showing a +550% price appreciation over the past month, with nearly as much volume as it's done in the other trailing 11 months put together. The company issued an IIROC-prompted boilerplate press release June 24th to tell us that it has no idea why the stock is on a run.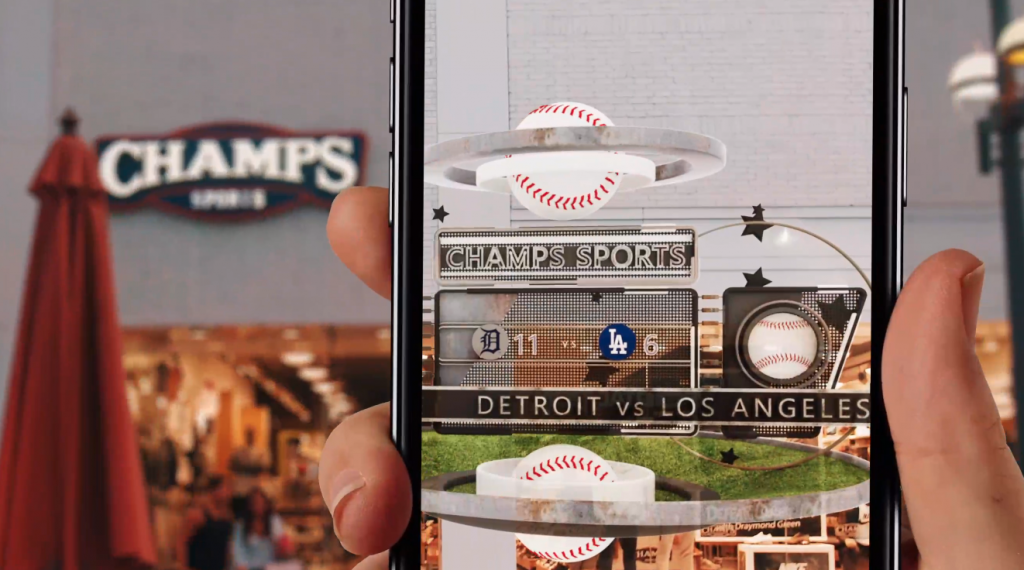 ImagineAR's website features an auto-roll video demonstrating a POV video of an AR-enabled phone showing its user a baseball score when pointed at a sporting goods store and superimposing the fact that it's Taco Tuesday over a taco shop. The MD&A is less clear about what the company actually does. The buzzword-heavy Company Objective section tells us that, "The company's core business is to deliver engaging and interactive content to users through a cloud-based enterprise Augmented Reality platform: ImagineAR!"
It also tells us that the product is "fully commercialized starting September 2019," but you wouldn't know it to look at the income statement, which shows the company clearing $27,023 in service revenue in the three month period, $47,177 in the six month period. The single largest line item in both periods is "consulting, director and management fees," more than twice "software costs," which is the only thing that looks anything like R&D.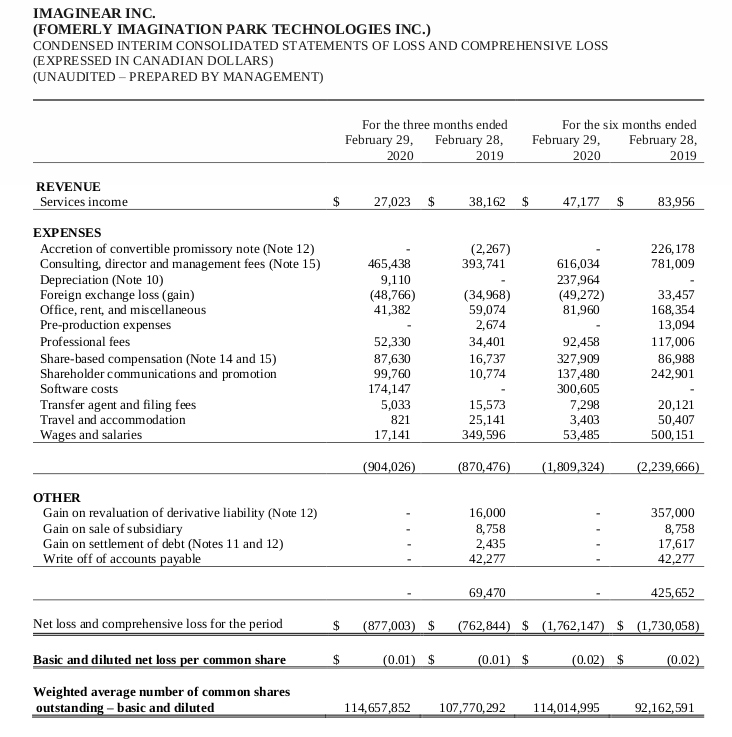 IP informed shareholders via a July 8th press release that it had supplemented its $500,000 cash balance at the end of February with $1.5 million in warrant exercises, while failing to detail the strike price of the warrants exercised or the number of warrants outstanding, but we've got you covered, because the ballooning cap table is most of the story here.
At the end of February, ImagineAR had warrants outstanding to purchase 27 million shares, 23 million of them at $0.25, and 1.7 million of them between $0.05 and $0.10, but the real dead weight is in the options schedule.
Depending on whether we use the count in the financial statements or the one in the MD&A, Imagination Park either has 10.3 million or 11.1 million outstanding options, 7.3 million of which are deep in the money at the current price. It seems that the share based compensation expense line consisted largely of $0.05 and $0.10 options. The subsequent events section of the financial statements details options to purchase a further 2.7 million shares having been issued since February 29th, 2020 to "consultants."
All told, assuming the price holds, the 116 million share cap table of February, fully diluted, will add up to more than 153 million IP shares when IP files its May financials. Those financials are due by the end of July, which gives it a notional market cap in the $60 million dollar range, and that doesn't seem unreasonable until it gets put in the context of what this company actually does.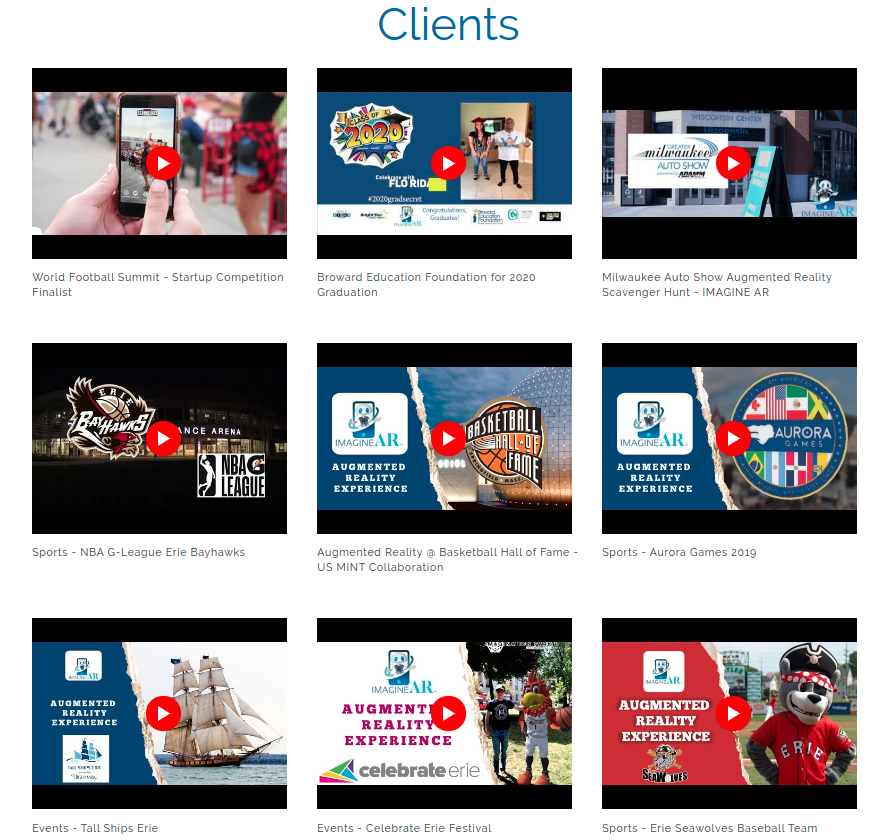 The clients page is chock full of sports teams and various other events like auto shows and conventions which have seen sharp contractions given recent, ongoing global conditions. There is no evidence of the type of active sales funnel that we identified in NexTech, so it's tough to forecast a significant amount of revenue from this software offering.
Should the company book somewhere on the order of the $30,000 in service revenue that they booked in fiscal Q2, expect the headline to be a tripling of the $10,000 it booked in Q3, 2019, and the compensation committee to OK a fresh round of performance options.
---
Information for this briefing was found via Sedar, Nextech AR and ImagineAR Inc. The author has no securities or affiliations related to this organization. Not a recommendation to buy or sell. Always do additional research and consult a professional before purchasing a security. The author holds no licenses.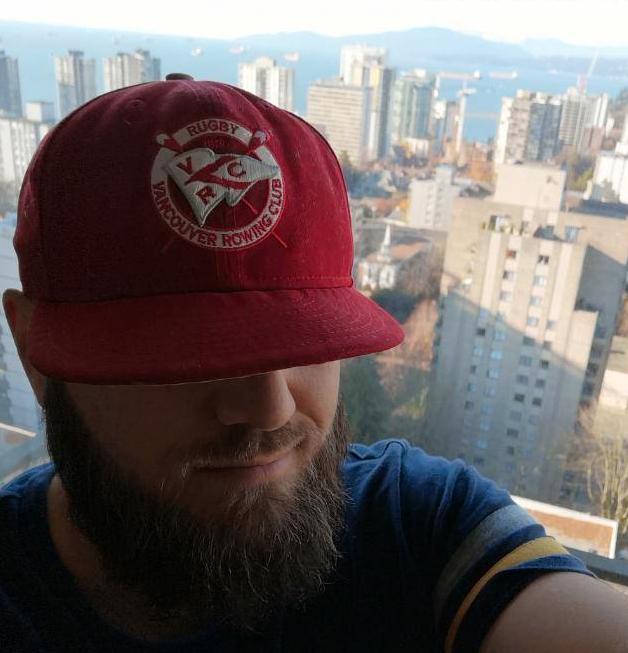 Braden Maccke is a freelance writer from Vancouver, B.C.
You can read all of his Deep Dive articles here.
He can be reached at braden@fundamentalhype.com.