Battle For Cattle: US Herd Inventory Hits 8-Year Low, Prices Hit 8-Year High
First, they came for the eggs. Now, they're coming for the steaks.
Cattle-based products, like steaks and hamburgers, will certainly become more expensive in the next years, as the US cow herd has shrunk to its lowest level since 2014.
According to a US Department of Agriculture (USDA) cattle inventory report released Tuesday, there were over 89.3 million cattle as of January 1, down 3% from 92.1 million cattle in the previous year.
The USDA forecasted 2023 US beef output at 26.445 billion pounds in its January supply-demand update, down 6.5% or 1.85 billion pounds from the previous year at 27.94 billion pounds.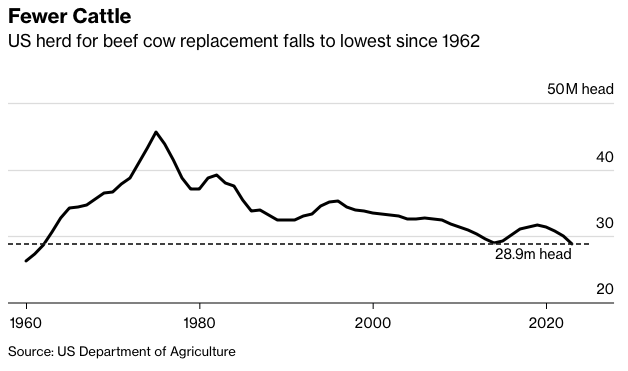 Drought in the US plains has wilted pastures and reduced feed sources, including hay and grain. As a result, ranchers have liquidated some animals to save money, reducing breeding.
Oklahoma had the highest total inventory reduction among top cattle states, at 11%. Oklahoma also saw a 7% drop in beef cow inventory, which, together with Kansas, is the highest percentage drop in cow herds.
"As January turns to February, thoughts will turn to springtime and a warm up. Many cattle owners in the north are not anxious to move cattle that have been distressed by weather of the past two weeks," the AG Center said of the recent cattle report.
Cattle prices reacted to the supply constraint, surging a hairline below the $160 per pound mark–its highest level in nearly eight years.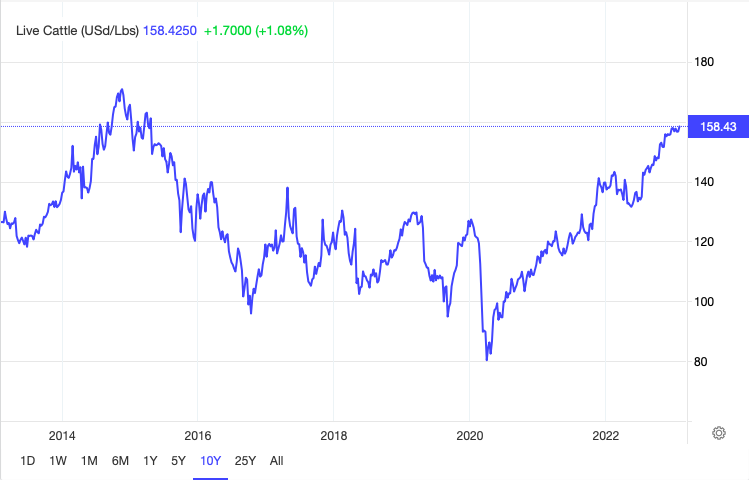 Livestock owners are pricing cattle to take advantage of the late-week increase in cash prices. Weekly standoffs are becoming more typical, with packers already comfortable that steady prices will not be met this week.
This week's price change in boxes has also resulted in a narrowing of the choice/select spread. The arrival of yearlings placed last fall, which historically and seasonally bring the choice/select spread to its narrowest point of the year, has resulted in improved grading across the country. This will also eliminate a significant percentage of the premiums received by northern cattle during periods of huge spreads. As household budgets are stretched, there is some evidence that customers are turning away from prime cuts.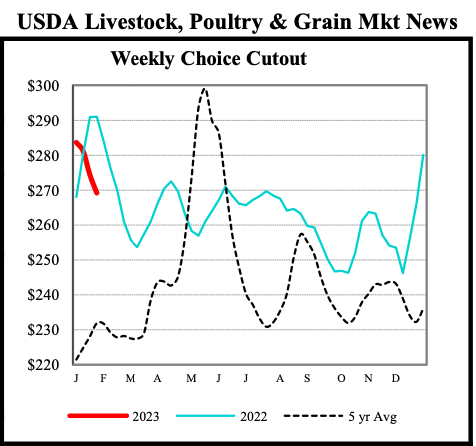 The surge in beef products follows volatile egg prices seeing its highest levels in history. The average price of eggs in the United States soared 49.1% in November, compared to the same period in 2021. It's taken the top spot for the annual percentage increase among all common grocery items on the consumer price index, and it sits well above the "food at home" category which was at +12%, and, interestingly, poultry at 13.1%.
Analysts are saying it's not just inflationary pressure that's pushing egg prices up. They point out something more sinister: the outbreak of highly pathogenic avian influenza (HPAI). The 2022 outbreak, which has been called the deadliest outbreak in the history of the country, has killed as many as 52.7 million birds.
READ: Egg Prices Keep Soaring — But It's Not Just About Inflation
Statistics Canada has not yet released its livestock inventory report for January 1, 2023, although the previous year's report revealed 11.2 million heads on Canadian farms as of January 1, 2022, down 1% from the previous year and more than 25% below the peak set in 2005.
Retailers are crucial in reflecting these price surges once the effect hits the shelves. Canadian supermarket chain Loblaws implemented a price freeze on No Name Products for 3.5 months after boosting food costs in Canada for 2.5 years since the pandemic began.
However, further scrutiny will show that the price freeze already comes on the heels of the company generating a compounded annual growth rate of 31.7% on net income since 2019.
In a rare admission, Loblaws also approached the Canada Competition Bureau in 2017 to inform them that, from late 2001 to March 2015, Loblaw's bakeries conspired with other supermarket retailers to fix retail and wholesale bread pricing in Canada.
READ: From Loyalty Points To Virtual Healthcare: How Loblaw And Galen Weston Pass The Burden To Customers
---
Information for this briefing was found via the Bloomberg, The AG Center, Drovers, Syngenta, and the sources mentioned. The author has no securities or affiliations related to this organization. Not a recommendation to buy or sell. Always do additional research and consult a professional before purchasing a security. The author holds no licenses.