Canaccord Raises Coinbase Price Target Following Strong Earnings Growth
On August 10, Coinbase Global (NASDAQ: COIN) reported its second-quarter financial statements. For non-GAAP items, the company grew its trading volume to $462 billion while monthly transacting users (MTUs) grew to 8.8 million. Due to the volatility in numerous crypto assets, its assets on the platform dropped from $223 billion to $180 billion. The companies revenue grew to $2.23 billion while its net income more than doubled to $1.6 billion.
A number of analysts raised their 12-month price target, bringing the average consensus to $388.76, up from $381.73 from last month. The company has 20 analysts covering the stock, with 5 having strong buy ratings, while 10 have buy ratings, 4 have hold ratings and 1 analyst has a sell rating on Coinbase.
Canaccord Genuity was one of the firms to raise their price target. They raised it to $325 from $285 and reiterated their buy rating on the stock, saying, "Strong sequential growth despite down Bitcoin trading volume underscore resiliency in the business." With Bitcoin trading volume down, Ethereum trading volume actually surpassed Bitcoin trading volume for the first time this quarter.
Coinbase, as shown above, experienced a strong quarter, with MTUs up 44% sequentially, while volumes grew 38%. Revenue grew 1,100% year over year, primarily due to transaction revenue growing 25% sequentially. Coinbase's other large segment, subscriptions and services, increased 82% due to the company now having over 9,000 institutions and 160,000 ecosystem partners on its platform. Canaccord says, "With every passing quarter Coinbase is further solidifying its leading position relative to crypto and the emerging blockchain opportunity."
Canaccord believes that Coinbase's product innovation is driving adoption, with the company's blockchain rewards growing 300% sequentially. Staking Etheruem saw the greatest adoption, while Coinbase is onboarding more people to use their Coinbase Card which allows users to convert and spend crypto at merchants accepting Visa debit.
Below you can see Canaccord's updated full-year estimates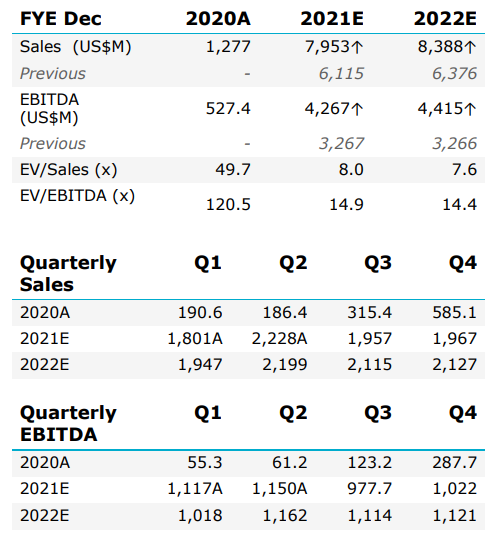 ---
Information for this briefing was found via Sedar and Refinitiv. The author has no securities or affiliations related to this organization. Not a recommendation to buy or sell. Always do additional research and consult a professional before purchasing a security. The author holds no licenses.