Canada-Germany Hydrogen Alliance: Dead at Inception?
Over the summer, Germany desperately succumbed itself to the mercy of Canadian Prime Minister Justin Trudeau, begging the former drama teacher to expedite the construction of new LNG terminals for shipping natural gas to Europe, and ultimately cut the continent's dependence on Russian energy.
Despite Germany's most senior business and political leaders creating a lucrative opportunity for Canada's incumbent leader to finally make a hero of himself, Trudeau shot down the LNG export plan, instead professing there isn't a compelling business case. But, Trudeau did agre to a bizarrely comical deal to create a Canada-Germany Hydrogen Alliance. The headline in itself sounds like something out of The Jetsons, and certainly not something that is even remotely feasible given the almost unimaginable complexity such an idea would entail.
Although the technical details of such a hydrogen alliance remain unknown to the public, the politicians proposed an elaborate four-stage plan, beginning with the construction of a massive wind farm along Canada's west coast. As Canada's natural resources minister Jonathan Wilkinson explains, the first step entails erecting onshore and offshore wind farms in Newfoundland and Labrador and Nova Scotia, with the federal government currently working out the regulatory aspect with the provinces in question.
"The target is to be in a position to start to ship hydrogen to Germany by as early as 2025," Wilkinson optimistically explained during a senate debate on December 14. "Hydrogen is an enormous opportunity also for Western Canada, but it will more likely be hydrogen derived from natural gas, with appropriate carbon capture. It is one of those things that Canada can actually do to help energy security around the world." The plan Wilkinson outlines relies on capturing energy from strong Atlantic winds, thanks to the jet stream that passes overtop the provinces.
That part, at least, is somewhat attainable. The second part of the Canadian-German plan would transmit the generated electricity to centralized infrastructure, which has yet to be constructed. Then, using the electrolysis process, Canada would start producing hydrogen on a much larger scale, thanks to technological advancements provided by Germany. However, the fourth step is when things get considerably more complicated, teetering on the edge of impossible.
As @Doomberg points out in a lengthly twitter post, the toughest conundrum facing the German-Canadian hydrogen alliance is how, exactly, the molecule will be transported from Newfoundland to Europe on a commercially-viable scale. Indeed, shipping hydrogen is nowhere near as easy as transporting LNG via ocean vessels, thanks to several fundamental differences:
With such transportation technology still years away before becoming feasible, green energy enthusiasts are looking to transform the hydrogen molecules derived from Canada's (currently nonexistent) wind energy infrastructure into ammonia, and ship that to Europe instead. But, as per Doomberg's observation, such a plan is preposterous— especially since Germany already has the infrastructure to transform hydrogen into ammonia!
Indeed, if Scholz and Vice-Chancellor Robert Habeck are serious about Germany becoming a global leader in the environmentally-friendly production of ammonia, then all Europe's powerhouse economy has to do is look to its own nuclear power facilities! Ammonia is a highly sought-after chemical in the industrial and agricultural sector, often created by combining nitrogen and hydrogen, with the latter produced by burning coal or natural gas— both not very environmentally conscious as per green proponents' standards.
There are currently three nuclear power plants still running in Germany, including several reactors that have recently gone offline. At the same time, the country is also home to several ammonia production facilities, which are no longer economically viable due to the surging price of natural gas. If Germany's intention is to derive ammonia from carbon-free sources, all the government needs to do is turn on the existing nuclear power plants and devote them to ammonia production.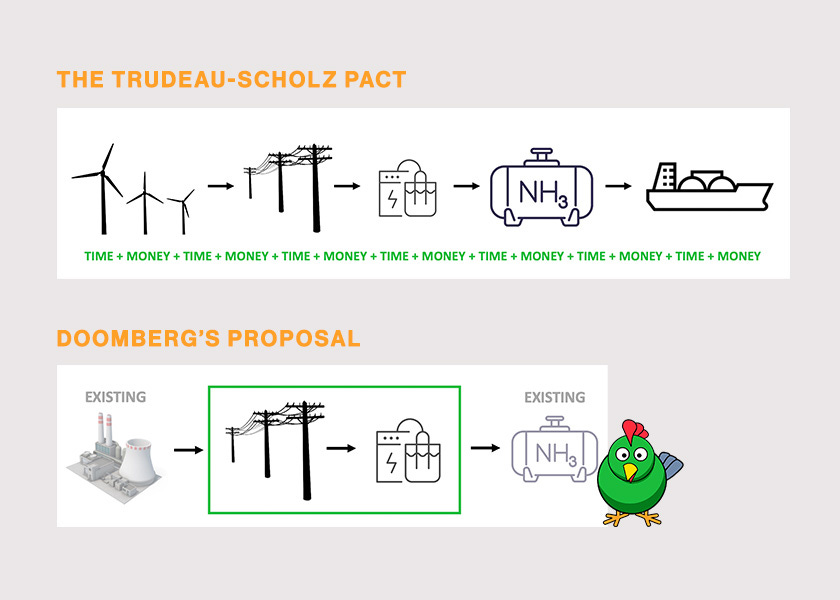 Rather than spend billions of dollars constructing a wind farm and transmission lines in Canada, new hydrogen facilities, and new ammonia plants, and then shipping the finished product across the ocean, Germany just needs to build its own transmission lines and hydrogen infrastructure. Moreover, with global demand for fertilizer growing, Doomberg's proposed move would create a lucrative opportunity for Germany to circumvent surging natural gas prices, and satisfy the international green community by producing ammonia from carbon-free sources.
Information for this briefing was found via Twitter, Senate Canada, and the sources mentioned. The author has no securities or affiliations related to this organization. Not a recommendation to buy or sell. Always do additional research and consult a professional before purchasing a security. The author holds no licenses.