Canada's Got Milk – So Much That It's Being Dumped While Retail Prices Increase
As Canadians thrift their milk use amid rising prices, a dairy farm seems to just (forcibly) waste the excess it has produced above its quota. In a trending video, a worker in a Southern Ontario dairy farm regulated by the government is showcasing how the facility had to dump their milk production in excess of their quota.
"What they don't understand… look at this milk running away… I've dumped 30,000 liters of milk, it breaks my heart," said Travis Huigen.
Huigen added that the dairy farm had no option because the regulators make them dump the excess milk. The video stirred wide attention from Canadians at a time when milk retails for as much as $7 per liter.
"How do you guys dare that you put this product in the market for $7 a liter and think that that's okay when there's a lot of mothers with [kids to feed that could benefit instead]… or the sick kids hospital it could go to. It could go anywhere, to the food banks," he added.
He also relayed that the dairy farm gets only cents to the $7 per liter of milk sold in retail, adding that dairy farmers might not be able to "stay in business in this country."
"So Justin Trudeau and Doug Ford, I'd love to take you for dinner… Well, at the end of the month, I have to dump all my milk and I'm supposed to keep it quiet. Take that to the bank," the dairy farm owner said.
The video has been gaining critical awareness from Canadians, some of whom are calling out officials responsible for managing the supply chain.
Got milk (price increases)
The video comes at a time when the Canadian Dairy Commission (CDC) is set to implement a 2.2% increase in the farm gate milk price following their annual review conducted in October 2022. This translates to $0.0174 per liter.
As the agency explained, this increase is the outcome of the National Pricing Formula, an industry-determined pricing structure. It considers dairy farmers' production expenses as well as the consumer price index.
Since the 1970s, Canada has closely controlled supplies of dairy, eggs, and poultry, limiting how much farms can produce and limiting imports through onerous tariffs. Import quotas limit the amount of product that can enter Canada at a low duty rate from other nations.
A WTO panel concluded in 2002 that Canada violated its trade commitments by supporting dairy farmers, siding with the US. As a result of the WTO judgement, Canada is not permitted to export much dairy.
This affects dairy processors in the United States who want to grow their sales to Canada, but hefty tariffs are preventing them from doing so. The US Trade Representative's Office claims that Canada takes an unfair approach to determining quota allocations under the trade agreement between the United States, Mexico, and Canada, effectively prohibiting some market participants, such as Canadian retailers and food service operators, from using the allocations.
Farm dairy sales in Canada total $7.39 billion every year. According to official estimates for 2021, processed dairy shipments are worth $16.2 billion.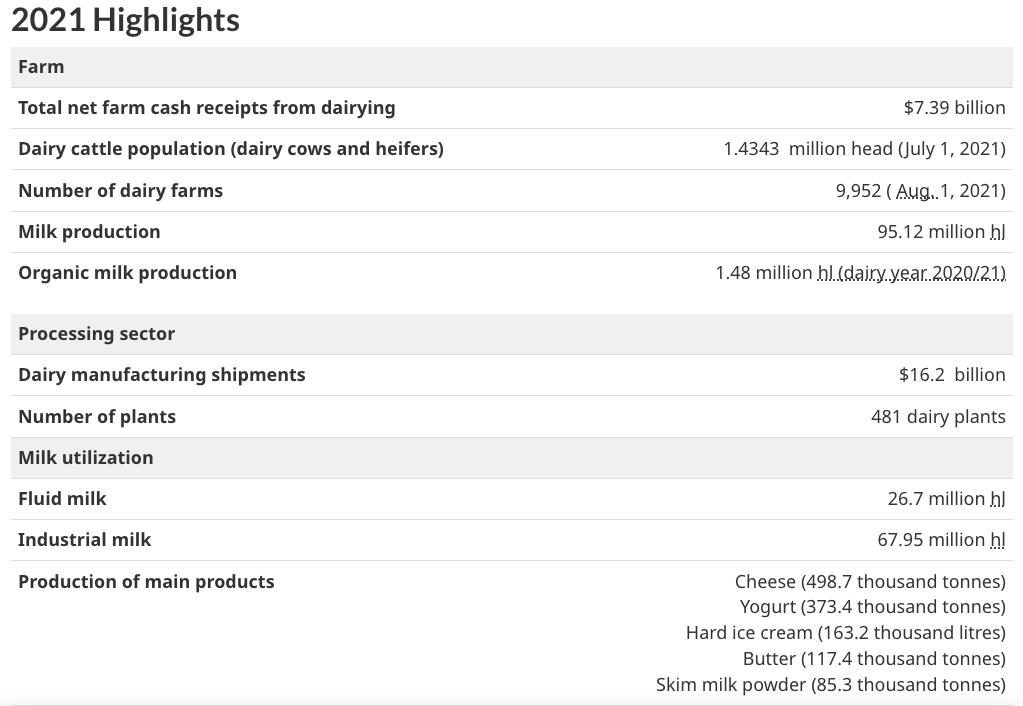 Supply management
Supply management is a unique Canadian institution that ensures stability in five perishable food industries by controlling production, eliminating shortages, and preventing low-cost imports from entering our market. This is meant to avoid seeing large changes in supply and prices, as well as having a system that does not require the enormous government subsidies that other nations employ to sustain farmers' incomes in these areas.
This covers dairy, broiler chickens, laying hens, turkeys and hatching eggs across Canada. One of the pillars of the system is "production discipline," which supposedly ensures farmers produce no more or less than the market "needs" through instilling quotas.
Currently, only 16,000 farmers are permitted to produce and sell a predetermined amount of dairy within Canadian borders, significantly fewer than the 62,000 Canadian cattle producers who are not subject to supply management.
However, as evidenced by Huigen's video, when producers reach beyond their quotas, there's no proper system in place to follow.
For the better part of a half-century, Canada's supply management system has been the subject of passionate political dispute, with the supply management discipline poised to yield higher prices for Canadians.
According to pre-pandemic research, supply management costs the average Canadian household an extra $300 to $444 each year. Low-income Canadians spend 19.9% of their income on food, compared to 7.8% for middle-income earners and 4.1% for upper-income earners.
In one of the arguments against supply management, New Zealand's case is being highlighted. Dairy products are New Zealand's major export, accounting for nearly 20% of overall exports, compared to 0.6% for Canada. In 1984, New Zealand abandoned supply management, resulting in increased output and a more competitive industry on the worldwide market.
However, industrial milk producers seem to have a wide influence in Ottawa. The Canadian dairy lobby reportedly spends between $80 million and $120 million on maintaining relationships on Parliament Hill; a search of "dairy" in the federal lobbyists registry database yields nearly 7,000 results, with dozens of firms making the dairy farmer's presence felt.
"Supply management, however, is not an equitable solution. The deep pockets of the Canadian dairy lobby have entrenched it into the structure of Canada's economy and politics," Thomas Mete wrote in Harvard International Review. "The Canadian Dairy Commission hiked dairy prices twice this year, for the first time in its history, totaling at a whopping 9.9 percent. They cited inflation, but the inflation rate was a mere 7.7 percent when the hike was announced. No Member of Parliament has stood up on behalf of Canadians to question this price gouging or the dairy lobby's obscene power."
---
Information for this briefing was found via CBC, CP24, HIR, NFU, Fraser Institute, Reuters, and the sources mentioned. The author has no securities or affiliations related to this organization. Not a recommendation to buy or sell. Always do additional research and consult a professional before purchasing a security. The author holds no licenses.