Carlyle Commodities: Advancing The Newton Gold Project In Central BC
Carlyle Commodities Corp. (CSE: CCC) is a junior exploration company that is focused on advancing its 24,000 hectare Newton Gold Project, located 100 kilometres west of the town of Williams Lake in central British Columbia. The company made a timely and inexpensive purchase of the property in 2020, during the pandemic-driven lull in the precious metals market.
The key to the Newton Gold project is its proximity to several nearby mines, including the Blackwater Gold project, which was acquired in mid-2020 by Artemis Gold Inc. (TSXV: ARTG) for total consideration of $120 million. Blackwater is currently the largest in-development project in Canada, and has roughly 8 million gold ounces in reserves, and a further estimated 11.9 million gold ounces in the measured and indicated category.
The Newton property is said to have similar geological terrain, geology, and deposit mineralization as that of the Blackwater project, and is found roughly 180 kilometres to the southeast. The property is accessible by road, and is supported by nearby infrastructure, reliable power and experienced skilled labour. As well, exploration operations can be conducted year-round.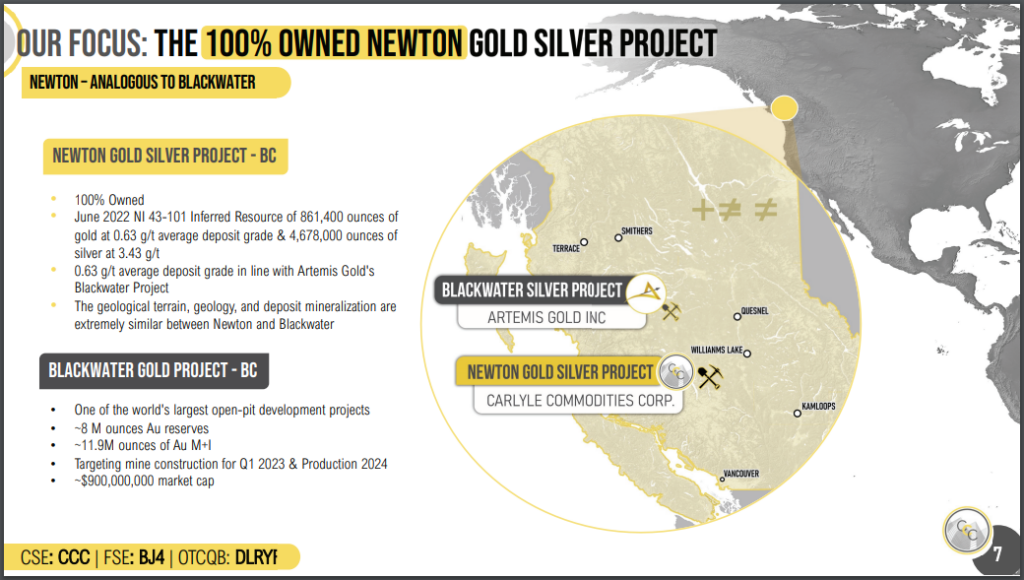 The Geology
The Newton property is a low-sulphide epithermal system that is open in multiple directions and at depth. Mineralization is hosted within Late Cretaceous felsic volcanic and intrusive rocks, but also occurs in mafic volcanic and clastic sedimentary rocks and along fault and fracture zones. Gold and related base metal mineralization occurs in extensive zones of strong quartz-sericite alteration.
The alteration types and metal associations at the property are said to be nearly identical to other epithermal deposits found in British Columbia, with the geology drawing comparisons to major deposits such as the Blackwater, Brucejack and Snowfields deposits. Epithermal deposits are found throughout the world, and while they are often seen as large tonnage, low-grade, open-pit operations, they tend to be massive in size. As such, they are attractive for exploration.
The Development History
The Newton property has a long history. It was originally mined on a small scale from a small shaft and some open cuts in 1916 by its owner, Mr. Newton. The property received some periodic exploration interest between 1972 and 1997 by various companies, such as Cyprus Exploration Ltd., and others that were targeting epithermal mineralization. Then, from 2004 to 2006, High Ridge Resources compiled a database, executed geophysical surveys, and conducted 2,000 metres of drilling on the property. 
From 2009 to 2012, Amarc Resources Ltd. (TSXV: AHR) conducted just under 29,000 metres of drilling and produced a resource calculation. A mineral resource estimate dated July 2012 estimated that the Newton Project contained a historical inferred mineral resource of 1.3 million ounces of gold and 6.5 million ounces of silver, using a cut-off grade of 0.3 g/t gold.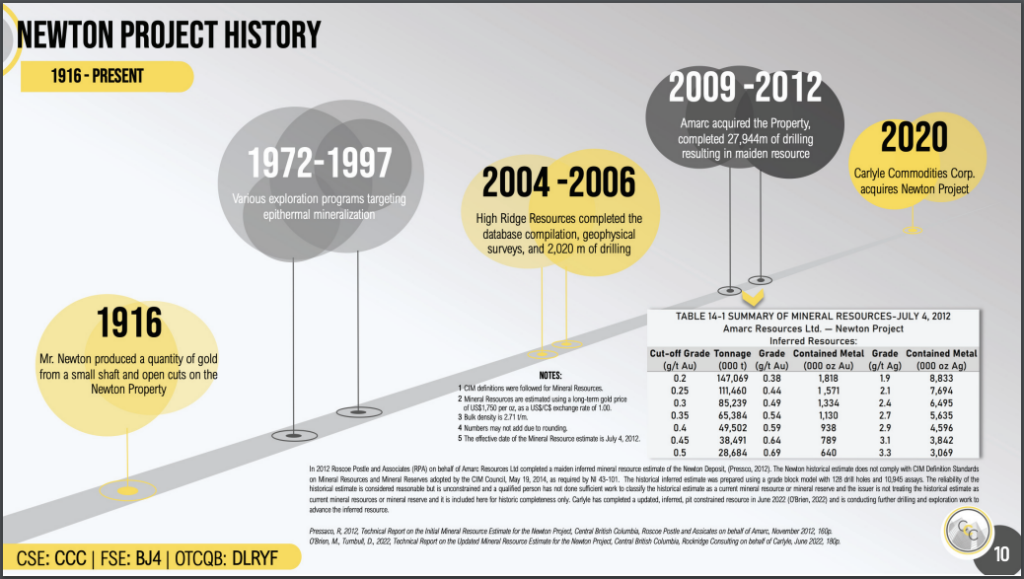 The Newly Completed NI 43-101 Report
After Carlyle purchased Newton from Amarc in 2020, it completed an updated resource estimate in June 2022, which utilized optimized pit shell constraints to fulfill the requirement for "reasonable prospects for eventual economic extraction" – in order to conform to new NI 43-101 resource calculation guidelines.
The updated resource estimate indicates that deposit has 861,400 inferred ounces of gold, with an average grade of 0.63 g/t, and 4,678,000 inferred ounces of silver with an average grade of 3.43 g/t. The revised resource estimate is based on a cut off grade of 0.25 g/t gold.
Most notably, the resource estimate covers an area that is just 0.5 square kilometres in size – while the anomaly the deposit sits within measures out to roughly 4 kilometres by 2 kilometres, or over 7 square kilometres in size. The resource estimate footprint as a result covers roughly 7% of the anomaly.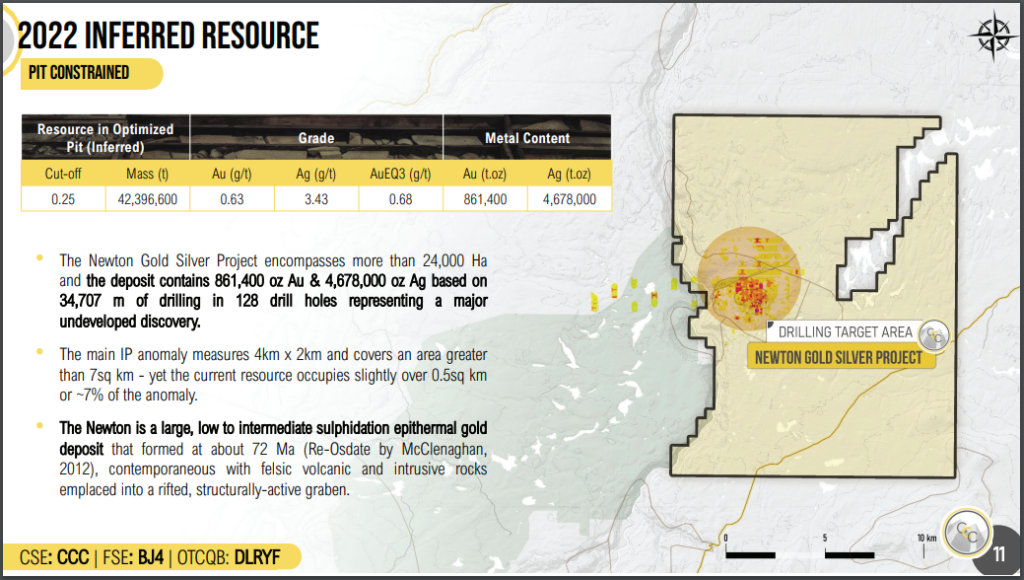 Blackwater Gold Project Comparisons
What makes Carlyle compelling is that the Newton Gold Project shares almost identical geological characteristics with the Blackwater Gold Project that Artemis Gold is expected to commence production at in 2024. This is considered to be one of the world's largest open pit development projects. Both properties are considered to be low-to-intermediate sulphide epithermal gold-silver deposits hosted in felsic volcanics, with silica-sericite alteration.
The Blackwater Gold Project has measured and indicated resources of 11.9 million ounces of gold and 128 million ounces of silver, at a gold equivalent grade of 0.65 g/t. The grades are similar to that of the current resource estimate at the Newton project.
In 2011, New Gold Inc (TSX: NGD) acquired Richfield Ventures Corp., Silver Quest Resources Ltd., and Geo Minerals Ltd., all of which had exploration rights in the Blackwater area. New Gold subsequently developed the Blackwater Project to the point where it was acquired by Artemis Gold Inc. in 2020 for $120 million. Artemis is now preparing the project to commence producing gold in 2024. In terms of development, Newton appears to be at the stage where the Blackwater property was 11 years ago – when New Gold first acquired the Blackwater Project. 
Artemis currently has a market capitalization of $850 million -as comparted to Carlyle's current market capitalization of only $3.3 million. Of course, much exploration work needs to be conducted on the property to add additional resources to the property's resource calculation. To date only a small portion of the Newton Property has been drill tested. Geophysics and ground exploration shows that there are multiple unexplored mineralization zones located in various parts of the property.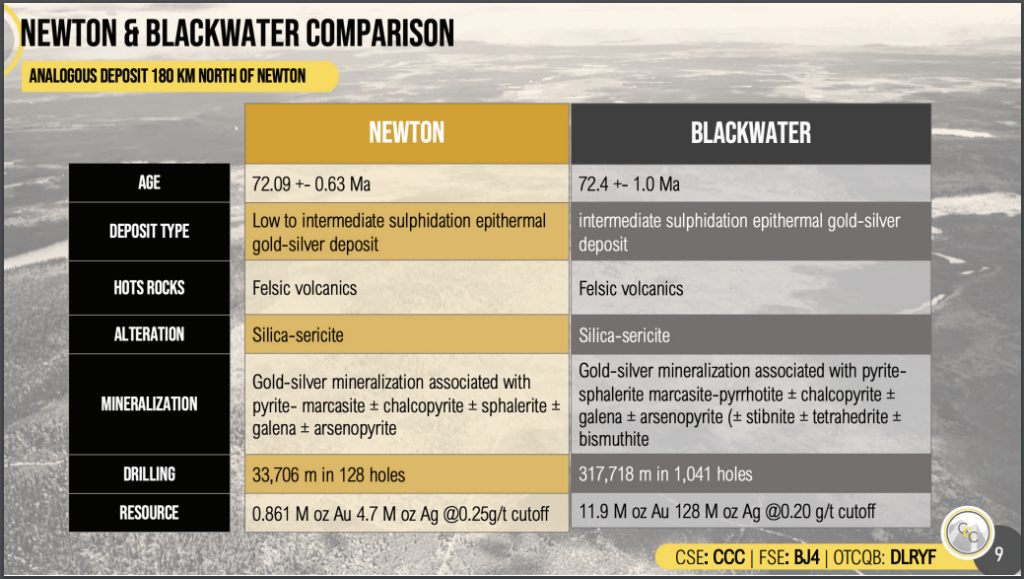 Current Exploration At Newton
On March 1, Carlyle indicated it had completed a 3-hole phase 1 drill program. This program was formulated to increase tonnage and gold ounces for the pit-constrained inferred mineral resource estimate in the company's current NI 43-101 report, targeting high priority targets outside of the current resource area.  
No previous drilling in the main mineralized zone had ever extended below 500 metres. The primary goal of the first hole was to drill to a depth of 1,001 metres into untested sections of the felsic domain at depth, to determine how deep the felsic unit goes. The third hole was drilled to a depth of 764 metres and on an angle to test the dip through the deposit and into the untested felsic domain. Much of the current resource estimate is said to come from the felsic unit.
The second hole meanwhile was drilled to a depth of 251 meters to test the southern boundary of the current inferred resource.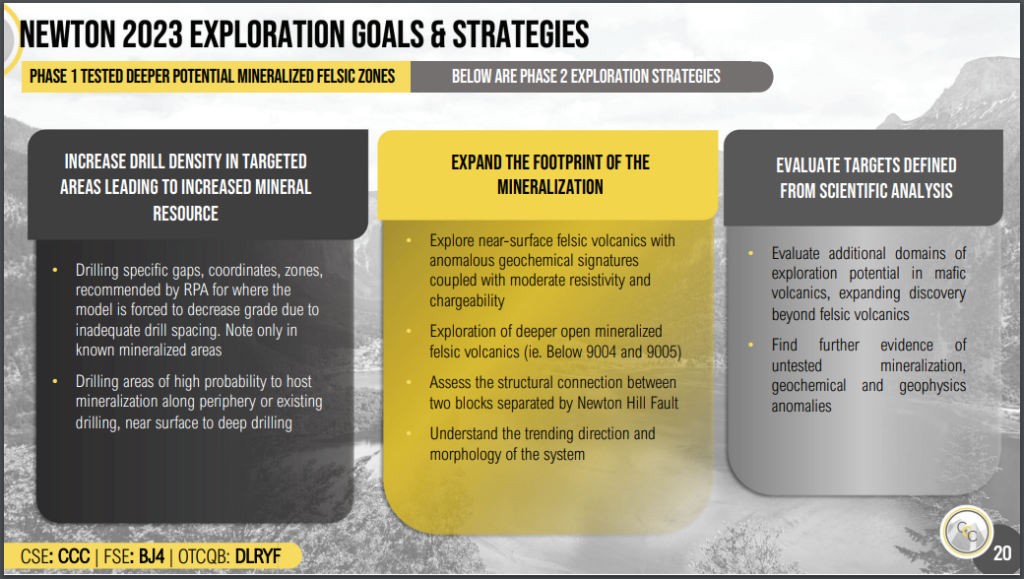 Carlyle expects to receive the first assay results from the phase 1 drill program over the next several weeks. They believe the drill holes will enhance the company's current understanding and modeling of the trend of the mineralized zone at depth, below the current inferred resource. It should also further delineate the overall size and scope of the deposit.
Once the assay results from the Phase 1 drill program are evaluated and added to the Newton Property's database, the technical team will formulate its 2023 exploration strategy. Carlyle plans to drill areas that have a high probability of hosting mineralization along the periphery or near existing drilling. The program is expected to employ a combination of near-surface and deep drilling. 
Carlyle Commodities last traded at $0.195 on the CSE.
---
FULL DISCLOSURE: Carlyle Commodities is a client of Canacom Group, the parent company of The Deep Dive. The author has been compensated to cover Carlyle Commodities on The Deep Dive, with The Deep Dive having full editorial control. Not a recommendation to buy or sell. Always do additional research and consult a professional before purchasing a security.