China Looks To Ban Export On Solar Wafer Tech
China's Ministry of Commerce and Ministry of Science and Technology are seeking public feedback on proposed revisions to the Catalogue of Export Restricted Technologies, which could include a ban on exporting manufacturing methods critical to the production of advanced solar wafers.
Observers perceive the move as the mainland's aim to maintain its significant dominance in solar manufacturing at a time when other countries are attempting to boost their sectors.
"The revised Catalogue has a total of 139 items, of which 24 technologies are prohibited and 115 technologies are restricted," said the Ministry of Commerce's public statement translated to English. "This revision has greatly reduced the Catalogue, refined the control points of some technical articles, and created positive conditions for strengthening international technical cooperation."
Wafers are ultra-thin silicon squares that are assembled into solar panels, and China produces 97% of the world's output.
The move emphasizes the growing strategic importance that countries are placing on solar manufacturing as the technology becomes the world's largest source of fresh energy. Countries ranging from the United States to India are attempting to create domestic supply chains in order to counter China's advantage.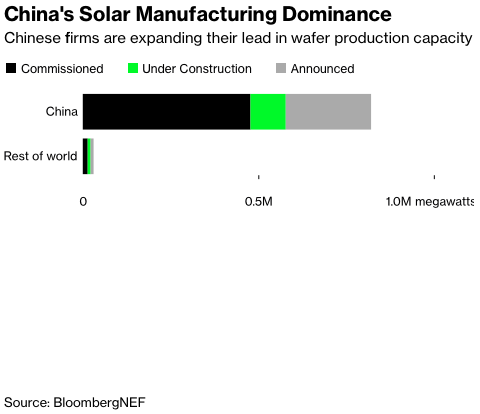 Chinese companies have spent the last decade developing cutting-edge technology to make larger, thinner wafers, which have helped to reduce the cost of solar energy by more than 90%. In comparison, international producers employ older wafers, which reduce the cost competitiveness of their panels.
The move is still undergoing public consultation, and no decisions have been made. The public comment period closes on Saturday.
The curious case of Jigar Shah
China's move comes only months after the United States approved the Inflation Reduction Act, which includes subsidies for clean-tech manufacturing and has prompted a flurry of new factory announcements.
Part of the new law includes instituting a loan program for green companies to spur activity in the industry. In March 2021, Energy Secretary Jennifer Granholm appointed industry veteran Jigar Shah to lead the US Department of Energy's Loan Programs Office.
Shah, however, had deep ties with Chinese energy companies prior to his appointment, with Washington Free Beacon's Collin Anderson relaying in an article that "when China's largest solar companies faced costly US tariffs, they turned to [Shah] to lobby on their behalf."
In late 2011, Shah formed the Coalition for Affordable Solar Energy (CASE) with three Chinese solar companies–Suntech Power, Trina Solar, and Yingli Green Energy. In an effort to fight off tariffs on Chinese solar panels that flooded the US in 2012, Shah as CASE president, said that "we cannot allow one company's anti-China crusade to threaten the U.S. solar industry and tens of thousands of American jobs."
He also said earlier that without inexpensive Chinese goods, American consumers would be unable to buy solar panels, emphasizing the necessity for the two countries to "work together to solve our planet's energy and environmental crisis." It was the group's response to SolarWorld filing a complaint against Chinese panelmakers in 2011 on alleged unfair trade practices.
Shah's appointment in the Loan Programs Office–deciding which energy firms are to benefit from the infrastructure program–is feared to benefit Beijing.
Former Secretary of State Mike Pompeo, for example, mentioned a loan application from Lithium Americas that Shah's office is considering. According to the Washington Free Beacon, the Canadian miner has a Chinese mineral powerhouse with ties to the Chinese Communist Party (CCP) as its major stakeholder.
"It should concern all Americans that a Biden administration political appointee at the Department of Energy once had deep ties to CCP-backed firms," Pompeo told the media outfit. "It's no secret that the CCP wants to control America's domestic rare earth mineral supply, and now the Biden administration might just give it to them along with American tax dollars. This is a serious threat to our national security."
In June 2022, US President Joe Biden was reportedly mulling to invoke the Defense Production Act to boost the manufacturing of solar panels in the US, as well as lift Trump-era tariffs on solar panel parts from Cambodia, Malaysia, Thailand, and Vietnam to allow domestic producers to use foreign-made equipment.
DOE's Loan Programs Office "has more than $40 billion in loans and loan guarantees available to help deploy large-scale energy infrastructure projects in the United States." However, Biden's Inflation Reduction Act provided the office with hundreds of billions of dollars, implying that Shah now has nearly $400 billion at his disposal.
---
Information for this briefing was found from Bloomberg, Washington Free Beacon, and the sources mentioned. The author has no securities or affiliations related to any organization mentioned. Not a recommendation to buy or sell. Always do additional research and consult a professional before purchasing a security. The author holds no licenses.