Coinbase Points To Users, Headwinds As Firm Reports Dismal Declines In Q3 2022 Fundamentals
It seems Coinbase Global (Nasdaq: COIN) is ready to blame everything but itself for the continuing decline in its fundamentals. The firm reported its Q3 2022 financials, toplined by a quarterly net revenue of US$576.4 million.
The topline figure is a decline from Q2 2022's US$802.6 million and Q3 2021's US$1.23 billion, as well as misses the consensus estimate of US$649.2 million.
But the crypto exchange platform played safe with its third quarter outlook that this quarter's results "were largely consistent" with the previously announced metrics.
READ: Coinbase Suggests 3Q 2022 Results Will Be Weak, Investors Shrug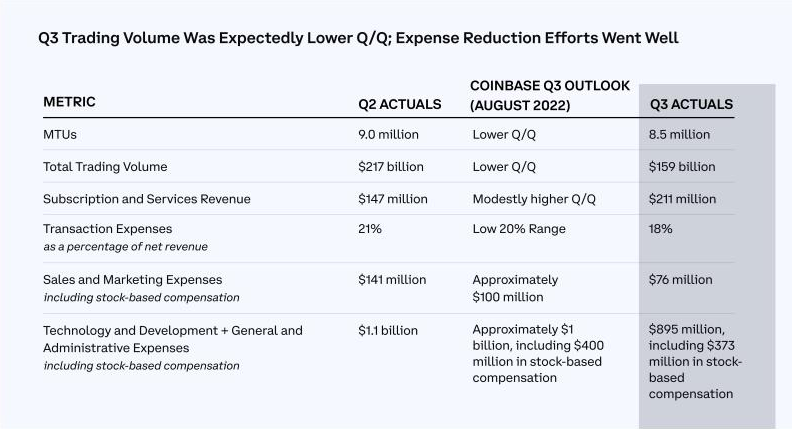 Breaking down the revenue contribution, subscription and services added US$210.5 million–itself an increase from both Q2 2022's US$147.4 million and Q3 2021's US$145.1 million. The 43% quarter-on-quarter growth has been touted by the firm as a "bright spot."
Although looking closely, the increase in revenue for this segment was chiefly driven by the rising interest income as benefitting "from a higher interest rate environment as well as customer inflows."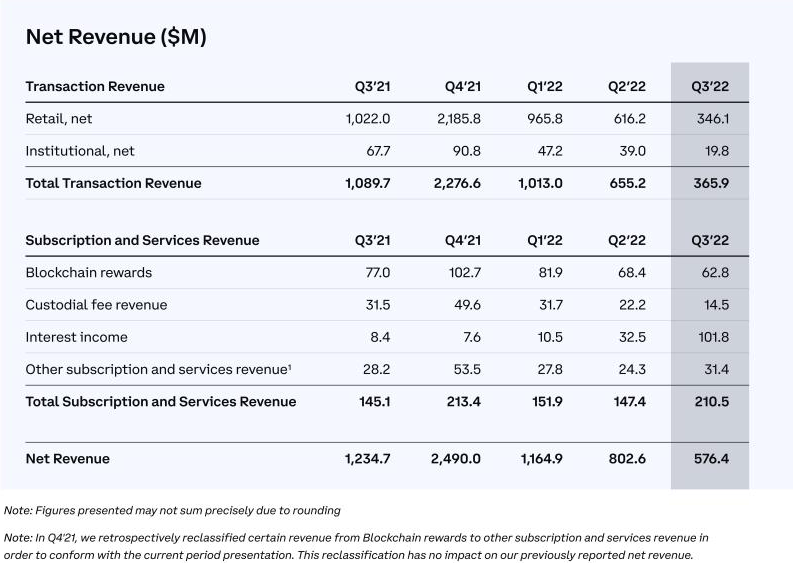 Blown by headwinds; Users not trading
If Coinbase is recognizing the economic environment for the increase in subscription revenue, it is blaming the same for the decline in transaction revenue. The latter's share to the topline figure ended at US$365.9 million–dismally declining from last quarter's US$655.2 million and last year's US$1.09 billion.
"Transaction revenue was significantly impacted by stronger macroeconomic and crypto market headwinds, as well as trading volume moving offshore," the firm's shareholder letter noted.
Headwinds–mentioned 22 times in the firm's Q3 2022 report–were described as a combination of "macroeconomic factors – consumer prices grew at the highest rate in 40 years and the fed funds rate reached its highest level in 14 years – and geopolitical factors – notably the Russia/Ukraine war." These weighed heavily on financial markets and crypto markets throughout 2022, the firm added.
But the firm reiterated that while it is facing "three headwinds on our trading volume and associated transaction revenue, [it is] retaining customers and growing assets through engagement with non-investing products."
The crypto platform pointed to the heavy decline in the digital asset capitalization, as coins like bitcoin and ethereum have not been able to recover yet from so-called "crypto winter."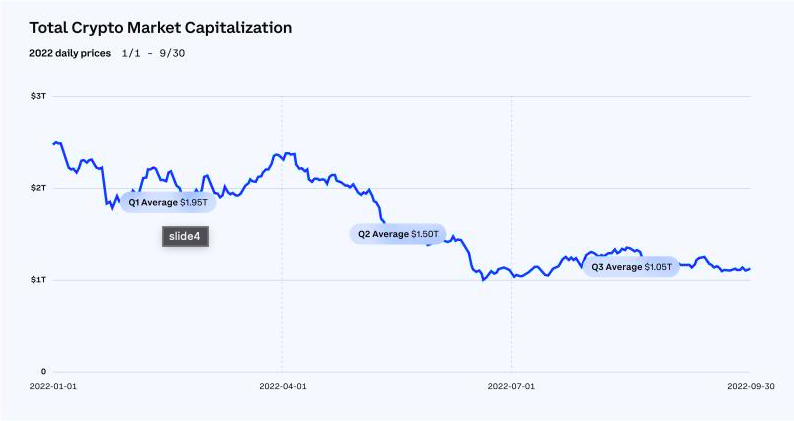 "During historic periods of declining crypto prices and low volatility, our retail customers have historically shifted behavior from trading to "hodl'ing." They have continued to hold crypto on Coinbase, but traded less," the firm explained.
The firm saw its monthly transacting users (MTUs) continue to decline, averaging at 8.5 million per month during Q3 2022 from last quarter's 9.0 million–but still well within the 7.0 – 9.0 million range it has previously stated for the full year. Trading volume has also decreased at its lowest in the past year, down to US$159 billion.
Assets on platform slightly increased to US$101 billion from US$96 billion last quarter but declined from US$255 billion last year. The quarter-on-quarter increase "was primarily driven by net inflows from customers… and increase in end-of-quarter crypto prices."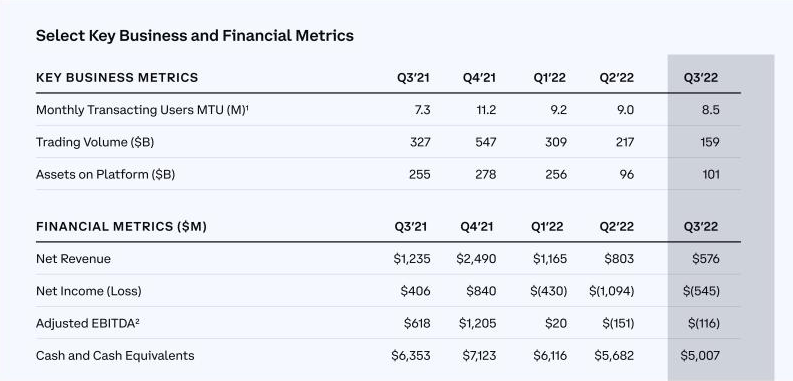 Aside from identifying users' cooled down trading activity as a reason for the revenue decline, the firm also pointed fingers at the US government's crypto policy, which it believes to be "at an inflection point."
"Crypto trading activity has been increasingly moving away from US-enabled exchanges, where we continue to have strong market share. For example, September 2022 global monthly crypto spot market volume declined 18% compared to January 2022, but over 50% when looking at just US-enabled volume," said the firm.
The platform also added that "US policy should incentivize crypto market participants to operate in the US, but a policy of regulation by enforcement has the opposite effect," claiming that the recent regulation practices by authorities like SEC on crypto firms "create an incentive for crypto developers and issuers to leave the US crypto industry." This is the reason, the firm added, for its petition with the SEC to clear the rules on crypto trading.
READ: Coinbase Made History With America's First-Ever Cryptocurrency Insider Trading Scheme
Coinbase also admitted that its "competitors offer a broader product suite" as retail customers hodl and the "market shifts towards market makers and "pro" trader activity."
"This includes perpetual derivatives, high-leverage financing products, and more, which we do not currently offer," the firm noted.
The firm also said its market share of the crypto space declined to 9.6% this quarter from 9.9% last quarter, which is being pointed to decrease in bitcoin prices, as well.
Recently, Mastercard Incorporated (NYSE: MA) announced it was launching a program to allow financial institutions to offer crypto trading to their clients, posing a considerable competitive threat to Coinbase.
Cost optimization
Coinbase also touted the efforts at streamlining its cost structure, which "bear fruit in Q3." Total operating expenses went down to US$1.15 billion from last quarter's US$1.85 billion but an increase from last year's US$1.02 billion–thanks to trimmed costs across the board.
However, this is still larger than the quarterly revenue, yielding to an operating loss of US$556.5 million. This compares to a loss of US$1.24 billion last quarter and an income of US$291.8 million last year.
Part of the cost optimization is "headcount reductions and recalibrating future hiring plans," which resulted to the firm's employee count going down to 4,706–meaning it laid off 271 positions during the quarter.
This follows after the firm has reduced its workforce by 18% in June–or roughly 1,092 jobs.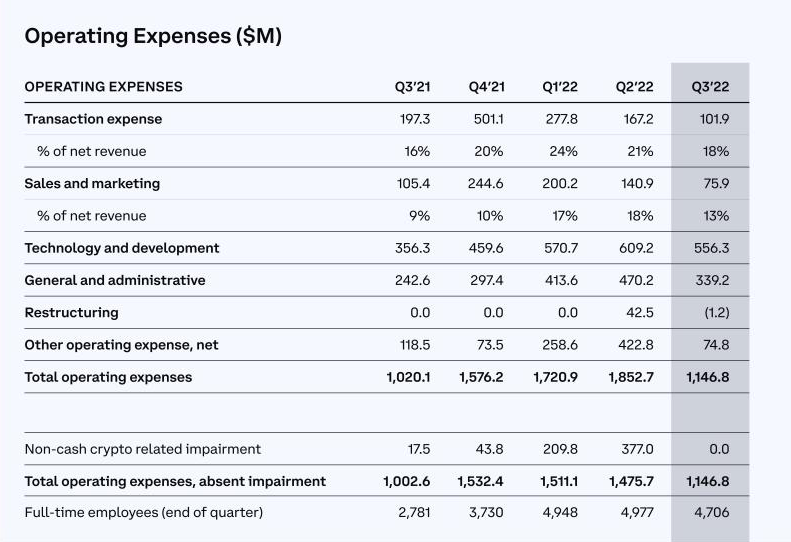 The quarter then ended with a net loss of US$544.6 million, up from the previous quarter's loss of US$1.09 billion and year-ago period's income of US$406.1 million. The bottomline figure translates to US$2.43 loss per diluted share, failing to beat street estimates of US$2.23 loss per share.
Calibrating for financial items–including stock-based compensation amounting to US$391.4 million–adjusted EBITDA for the quarter came in at a loss of US$115.9 million, an improvement from last quarter's loss of US$151.1 million but down from a gain of US$618.2 million last year.
The firm's total assets also jumped to US$107.68 billion from last quarter's ending balance of US$105.47 billion, mainly driven by an increase in "customer crypto assets" ending at US$95.11 billion from last quarter's US$88.45 billion. The platform started recognizing the new balance sheet line item in its financials last quarter to record its "obligation to safeguard customers' crypto assets in digital wallets" on its platform.
Cash balance at the end of the quarter came in at US$5.00 billion from last quarter's ending balance of US$5.68 billion, with the cash burn mainly driven by net operating cash outflow of US$387 million.
Looking at Q4 2022, the firm continues to "expect lower trading volume and a similar number of MTUs" compared to Q3 2022 results. Full-year, the firm expects annual average MTUs be "slightly below 9.0 million," with average transaction revenue per user at US$20–down from Q3's US$24 per user.
The firm seems to be banking on its confidence on the growth of its subscription and services revenue, declaring an outlook of "more than US$700 million" for its contribution to the topline figure for full-year 2022. Year-to-date, the revenue source has contributed US$509.8 million so far for the first nine months.
Coinbase Global last traded at US$60.99 on the Nasdaq.
---
Information for this briefing was found via Edgar and the sources mentioned. The author has no securities or affiliations related to the organizations discussed. Not a recommendation to buy or sell. Always do additional research and consult a professional before purchasing a security. The author holds no licenses.