Companies Widen Profits After Hiking Food Prices Faster Than Inflation
Some food companies are seeing their profit continue on an upward trend, much like the inflation rates that have been mainly blamed for the rising food prices. In a New York Times piece, some companies have been described to be raising their retail prices not just to cover the hiking expenses due to inflation and supply chain disruptions, but to increase profits.
Food companies–who are traditionally stringent in raising prices given the intense competition can easily lose customers for them–are hiking their retail prices in droves, hoping to compensate for increasing wages and the cost of the raw ingredients. The cost is essentially being passed on to consumers.
Rising prices would normally turn a customer away, but food companies were able to increase their prices at record highs because most consumers, while upset that a trip to the grocery store or drive-thru for takeout costs more than it did a year ago, are willing to pay.
Although food firms are obvious instances of how rapid inflation is being transmitted from producers to consumers, the situation is widespread. Customers have money to spend and can withstand increased prices, according to executives from banks, airlines, hotels, consumer goods companies, and other businesses.
This makes it more difficult for the US Federal Reserve to fulfill its goal of lowering inflation by rapidly raising interest rates. Economists believe that the central will proceed with a fourth consecutive 75 basis point interest rate hike on November 2, according to a poll by Reuters. They agree that the Fed should not slow hikes until inflation falls to half of today's 8.2%.
READ: Fed's Interest Rate Hikes Are Causing The Fed To Lose Money
With a sixth interest rate hike en route this week, some economists are sounding the alarm that the Fed will hike the US economy straight into a recession. However, with persistent inflation continuously rearing its ugly head each month, Fed Chair Jerome Powell may have to maintain a hawkish stance to undo the central bank's unprecedented money-printing spree.
Food inflation recorded one of the highest spikes in the basket price for September 2022: an 11.2% increase from a year ago–a 43-year high.
READ: US Food Inflation Spikes To 43-Year High Yet Biden 'Celebrates' Inflation Reduction Act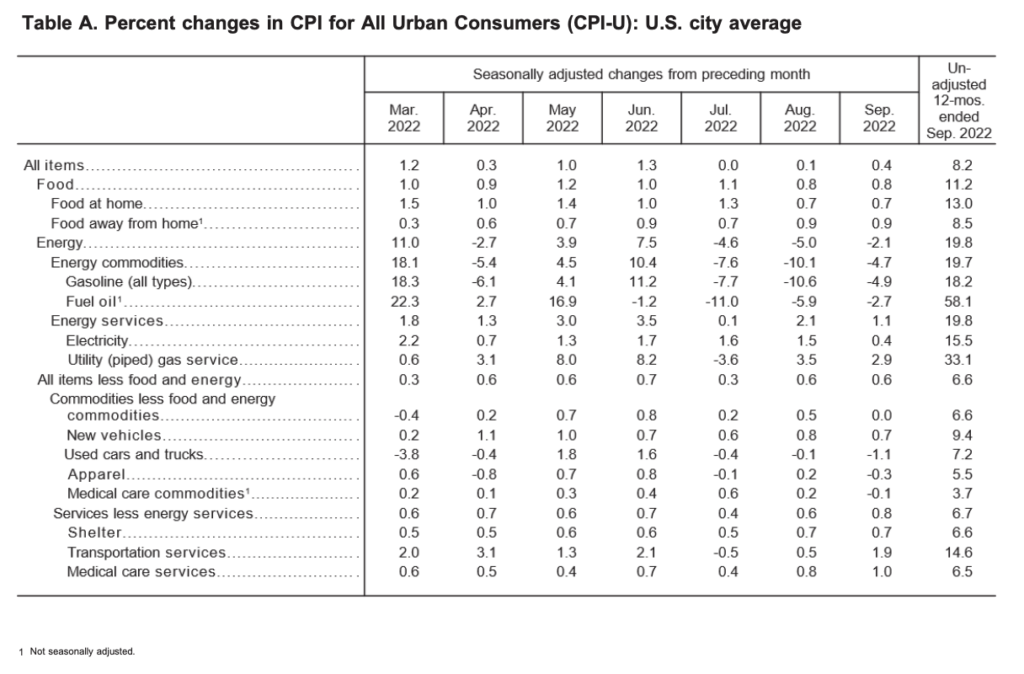 Soaring prices profits
With mounting fears that the economy is heading for a recession, several food companies and restaurants are continuing to boost prices even after covering their own inflation-driven costs. According to critics, the actions are all about raising profits rather than addressing expenses.
"The recent earnings calls have only reinforced the familiar and unwelcome theme that corporations did not need to raise their prices so high on struggling families," said Kyle Herrig, the president of Accountable.US, an advocacy organization. "The calls tell us corporations have used inflation, the pandemic and supply chain challenges as an excuse to exaggerate their own costs and then nickel and dime consumers."
During a conference call with investors, Coca-Cola CEO James Quincey stated that despite economic issues, people continued to purchase the company's products.
"In the face of these pressures, consumers stayed resilient, and we continue to invest behind our loved brands to drive value in the marketplace and growth in our business," Quincey said.
Coca-Cola's profit increased 14% year-on-year, owing largely to price increases.
Likewise, competitor PepsiCo said that its third-quarter profit increased by more than 20%, despite the fact that its drink and chip prices increased by 17% year on year.
Chipotle Mexican Grill, which claimed its pricing would be over 15% higher by the end of the year, posted a $257.1 million profit in the most recent quarter, up nearly 26% from the previous year.
"The average entree was around $8 nationally two years ago, and they've maybe taken $1.50 in price in the past two years," said Sharon Zackfia, group head of consumer research at William Blair & Company. "I am intrigued by what happens when commodities fall again, and how do restaurants offer more value to the consumer without lowering prices? In the long arc of history, most restaurants do not lower prices."
However, not all food companies are created equal. McDonald's profit, for example, plummeted as a result of how the strong US dollar has impacted other worldwide currencies. According to data from research firm Information Resources, high pricing for deli meat, fresh seafood, and frozen dinners have caused some customers to cease purchasing those items.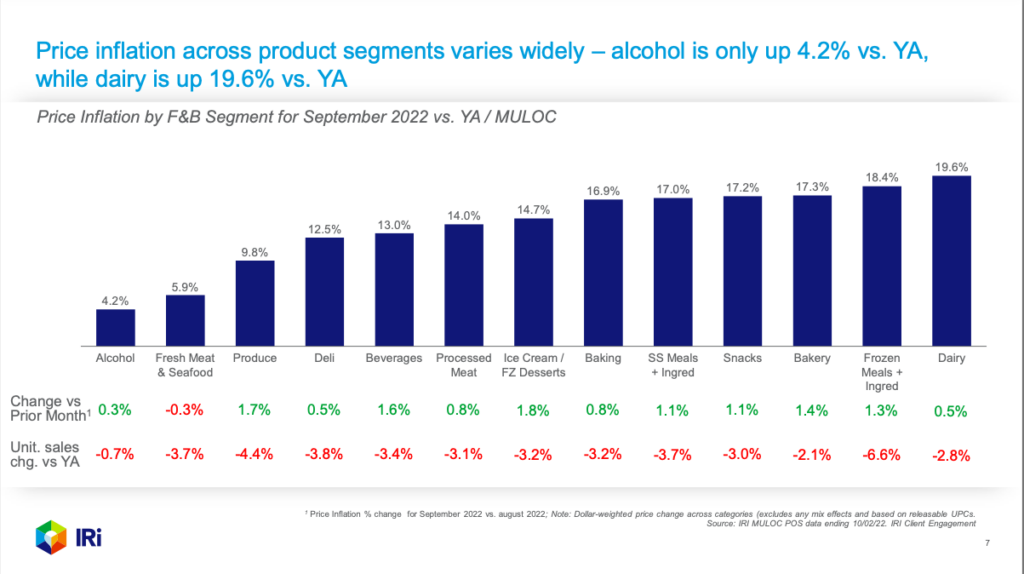 Darden Restaurants executives noted on a conference call with analysts in September that households with less than US$50,000 in yearly income were feeling the affects of inflation and eating less frequently at its Olive Garden and Cheddar's branches.
"We are seeing softness with these consumers while conversely, we are seeing strength with guests in higher income households," said Darden CEO Rick Cardenas.
Consumers began switching to less priced store brands at grocery stores in March, according to officials at TreeHouse Foods, a firm that makes cookies, crackers, pickles, and beverages for retailers, on a call with Wall Street analysts in August.
One of the companies, however, that have been racking profits due to higher selling prices is food giant Conagra Brands. On a discussion with other Wall Street analysts this summer, Goldman Sachs analyst Jason English remarked that the food company had been able to price its products above inflation rates and recoup its profit margins.
Conagra CEO Sean Connolly explained the wider profits, saying manufacturers' earnings were hurt early by inflation, and that sustaining solid profits was critical to developing new products.
"We have to have healthy margins to be able to build out that innovation and get it to our customers in the market," Connolly said on the call.
Twitter user @RiddleofSands–who claims to be a former Wall Street analyst–dug deeper into Conagra Brands, claiming that the management seems to be incentivized to raise product prices because of the function of their pay being tied to sales and operating income.
The Fed is expected to release its interest rate decision later today.
---
Information for this briefing was found via The New York Times and the sources mentioned. The author has no securities or affiliations related to this organization. Not a recommendation to buy or sell. Always do additional research and consult a professional before purchasing a security. The author holds no licenses.