Company Profile: RooGold Inc
RooGold Inc. (CSE: ROO) is a Canadian mineral exploration company focused on the acquisition and development of early-stage mineral projects in New South Wales (NSW), Australia. The company's management and professional teams are based in Toronto, London and NSW and have extensive experience in the region.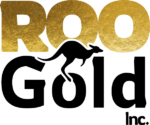 The Company owns a massive, district scale 1,380 km² land package comprising 13 concessions which are host to 137 historic mines and prospects. Despite the size of the asset portfolio and historical mining activity, only 28 historic holes have been drilled across the entire land position.
RooGold Inc. is a relatively new name on the CSE and essentially represents ground-floor Australian exposure for junior gold and silver exploration investors.
The Investment Thesis
We base our investment thesis on the following factors:
Mining giant Newmont is actively exploring 35 kilometres from Roo's property.
The company has an experienced international management and technical team with extensive experience in NSW.
Australia is one of the world's foremost mining-friendly jurisdictions with mining contributing to over 10% of Australia's GDP..
NSW has a very well established infrastructure to support all aspects of large-scale mining operations.
The Deep Dive views RooGold Inc. as an early-stage exploration company with upside potential and relatively low downside risk. Their land package is host to 137 historical mines underlain by geology that is consistent with mineralization found throughout the country. Mining giant Newmont is actively working nearby, which gives credence to this area's exploration potential.
The Projects
RooGold is currently planning its exploration strategy and will initially focus its attention on three of their most prospective targets. The company owns a massive, district scale 1,380 km² land package comprising 13 concessions which are host to 137 historic mines and prospects. The region has prolific mineralization with multiple metallogenic belts similar to other Australian regions, but has been largely unexplored outside of the main camps.
While there has been past exploration and small-scale mining activity, there has been very little modern-day drilling on these properties. The region is highly prospective and its precious mineral endowment is estimated to exceed 100 million ounces of gold and 1 billion ounces of silver.
Several major mining companies operate in New South Wales. The Newcrest-operated Cadia Mine is located in the Cadia Valley of eastern NSW and is Australia's second largest open-pit gold mine. It comprises a collection of large underground and open-pit gold and copper mines located 20 kilometres south of the city of Orange. Evolution Mining meanwhile operates the large Cowal open-pit gold mine, also found in eastern NSW, which has an estimated 9.7 million ounces of gold reserves.
RooGold's property portfolio includes 9 high-grade gold targets and 4 silver targets with 137 historical small mines and confirmed mineralization that offers tremendous exploration potential. The company specifically considered four key criteria to assemble its NSW property portfolio:
Properties with limited historic exploration.
Deposit types controlled by known regional geological structures.
Targets had historic mining activity..
High grade mineralization.
Nine properties, which cover 1091 km² and contain 106 historic small-scale gold mines and prospects, are hosted within the largely underexplored, highly mineralized New England Orogenic Terrane and Lachlan Orogenic Belt structures. These are large-scale structures that offer potential for larger targets hosting mostly orogenic, intrusion-related, or epithermal mineralization.
The prolific Peel-Manning Fault system is a crustal scale structure that has strong gold mineralized along its 350 km strike length, and hosts ocean floor mafic and ultramafic rocks present as listwanite, quartz-carbonate altered serpentinites. Listwanite type gold deposits are considered to be highly desirable exploration targets and often are key to a number of large scale, multi-million ounce gold mines in various parts of the world.
The company's three high value targets on the Peel-Manning Fault system are the Trilby, Lorne and Goldbelt properties. Gold mining giant Newmont Corporation (NYSE: NEM) has also recognized the importance of this structure and has staked a 1200 km² land package covering a 125 km strike length of a parallel structure 30 kms east of the Peel Manning Fault Zone.
RooGold is reviewing the existing database on its properties and preparing its five-stage exploration strategy. The company will initially focus on the high priority Peel-Manning Trilby and Lorne properties and the Castle Rag silver properties.
The five-tier exploration strategy will include the following steps:
Historic data compilation and modernization. RooGold will compile and digitize the historical data and mine records, and where possible, will translate and model the historic mines and deposits into 3D.
Remote data acquisition and target generation. The Company will acquire high-resolution satellite imagery, Digital Terrain Mapping (DTM) and geophysical datasets to assist in geological and structural mapping, to better define and delineate the size and scope of the historic prospective properties and perhaps discover new prospective anomalies.
Field based target delineation and development. RooGold plans to conduct extensive mapping to delineate the areas of interest that are identified during the data evaluation phase. Surface sampling will help to confirm historical assays, test mineralized exposures, deposit extensions and any newly identified targets.
Drilling Strategy and Planning. To optimize its drilling targets, 3D modeling will help to rank drill targets according to the highest priority and best risk/reward determinations to enable the highest probability of success.
Execution of targeted drill programs. RC (Reverse Circulation) drill programs will be completed on the highest priority targets highlighted by previous exploration activities.
Gold Prospects Highlights
Trilby
The 215 km² Trilby Property covers a 35 km strike length of the Peel-Manning Fault zone, which hosts numerous quartz veins with visible gold, ophiolites and alluvial gold deposits that can indicate the potential for listwanite-hosted gold deposits.
Lorne
The 102.5 km² Lorne Property spans 12 strike kms of the significantly gold mineralized regional Peel-Manning Fault system, and hosts 28 historic gold mines and prospects, including the historic Golden Star Mine. There are approximately 500 metres of underground workings at the historical Marquis of Lorne Mine with historical reported grades of up to 15 g/t Gold.
Goldbelt
The 104 km² Goldbelt Property is host to 20 historic gold mines and prospects across the significantly gold endowed Peel-Manning Fault, with two.parallel gold controlling regional fault systems that have been identified on the property. They comprise two significant gold mineralized corridors with a total strike length of over 7 kms and have the potential for listwanite-hosted gold deposits of the Bralorne and Motherlode types.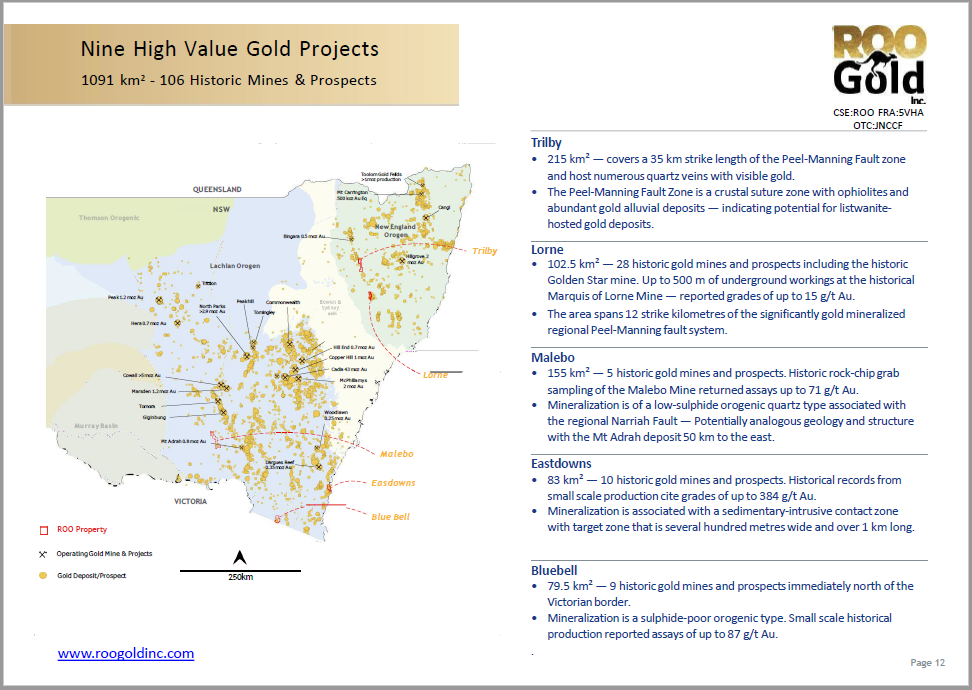 Silver Prospects Highlights
In addition to its highly prospective gold properties, RooGold also has four properties that are highly prospective for silver. The two priority silver targets are the Castle Rag Target and the Eastern Prospect.
Castle Rag Property
The largely unexplored Castle Rag Property is host to the historic polymetallic Castle Rag Mine which from 1888 to 1929 produced an estimated 4,000 tonnes at average grades of 1200 g/t silver and 20% lead from 500 metres of underground adits to a depth of 75 metres. In 1985, 3 holes were drilled for 159 metres.
The geology of the Castle Rag property consists of intrusion-related mineralization with multi-phase quartz tourmaline stockworks and polymetallic gold/silver rich veins.It is believed that the mineralization is likely associated with many low sulphidation epithermal veins related to a regional NE-NW-oriented structure. There are 27 mineral occurrences on the property, 7 of which are silver/base metal intrusion related quartz-calcite ein deposits with associated breccias within the Castle Rag Concession.
The Eastern Target
The Eastern Target is a 5 km long largely untested exploration target highly prospective for gold, silver and molybdenum. Previous surface exploration showed grades of up to 612 g/t silver, 3.35 g/t gold, 5.5% lead, and less than 1.5% molybdenum.
While the above are the company's priority initial focus, the technical team will be busy digitizing and analyzing all the historic records for the other target properties in the portfolio. The Malebo, Solomons, Dingo, Eastdowns, Bluebell, and Goldstar targets all host historical mines and prospects, as do the Silver Creek, Arthurs Seat and Goodwins Reef silver targets. The RooGold team will have many years of exploration work ahead of it.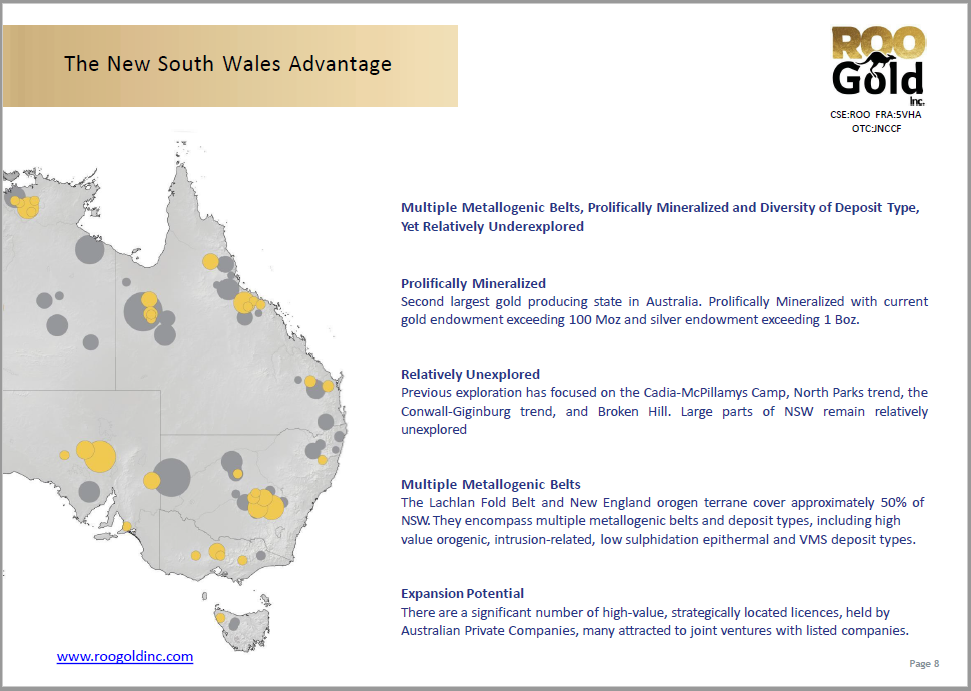 The Management Team
Carlos Espinosa – Chief Executive Officer
Mr. Espinosa holds a MBA from Kellogg School of Management at Northwestern University and a Bachelor of Business Administration from the Universidad Nacional Autónoma de México. He has over 25 years of experience within Canadian capital markets, international business development and commercial banking, and has served in senior executive roles at a number of mining companies in Mexico and Argentina as well as a director and advisor to several South American mining and exploration companies.
Mr. Espinosa was also Head of Business Development, Global Mining at the Toronto Stock Exchange (TSX) and the TSX Venture Exchange (TSXV), where he was responsible for managing long-term business relationships with C-level executives, government officials, and clients globally.
Alexandra Bonner – Chief Operations Manager
Ms. Bonner holds a B.Science (Hons) Geology and a M.Science (Chemistry) from the University of Sydney, Australia. She is a NSW based professional geologist with over 15 years exploration, mining and corporate experience, having worked in remote exploration, surface and underground mines in iron ore, industrial minerals, gold and base metals across Australia, where she established and managed project joint ventures, sought and acquired new projects as well as implemented best practice industry standards.
Bonner has served as Deputy Chair on Exploration Committees of AMEC and NSW Minerals Council where she was instrumental in bringing about regulatory exploration policy changes that have benefitted the minerals exploration industry.
Mart Rampe – Land Manager and Technical Advisor
Mr. Rampe holdsa B.Sc. Applied Geology from the University of NSW and is an exploration geologist with over 45 years of extensive experience in all facets of mineral exploration and project development, from grassroots exploration through to pre-mine development. He has worked on most deposit types for gold, silver, base metals and uranium in Australia, Papua New Guinea, the Solomon Islands, New Zealand, Central Asia, northern Europe, and the USA.
Mr. Rampe has held senior exploration management positions at a number of Australian private and ASX publicly-traded exploration.
Dr. Chris Wilson, PhD – Technical Advisor
Dr. Wilson holds a Bachelor of Applied Science – B.A. Sc. Geological and Earth Sciences/Geosciences from the Queensland University of Technology, and is a Chartered Professional and Fellow of the Australian Institute of Mining and Metallurgy and Fellow of the Society of Economic Geologists (FSEG). He is a world-renowned Geologist with over 30 years of experience in mineral exploration and mining, having worked in over 70 countries on most commodities and deposit styles, and in every aspect of mining, from grass roots through resource definition to feasibility. In recent years his focus has been on resource-to-mine to production reconciliation studies, project valuation and fatal flaw analysis for high net worth private investors. He has served as exploration manager and senior mine geologist for a number of major mining companies, including Ivanhoe Mines, Newcrest Mining and Evolution Mining.
Dr. Quinton Hennigh, PhD – Technical Advisor
Dr Hennigh holds a B. Sc. from the University of Missouri, and M.Sc. and a Ph.D. in geology and geochemistry from the Colorado School of Mines. He is a member (P.Geo.) of the Society of Economic Geologists, the Mining and Metallurgical Society of America. He is an internationally-renowned economic geologist with 25 years of exploration experience with several major gold mining companies, including Newmont Mining, Newcrest Mining and Homestake Mining.
Dr. Hennigh has made a number of significant gold discoveries for a number of Canadian exploration companies. He is currently Chief Geologic and Technical Director for Crescat Capital, a prominent investment fund specializing in precious metals and a significant strategic investor in gold exploration companies such as RooGold. Dr. Hennigh serves as a director for a number of public and private exploration companies.
The Comparables
New South Wales is Australia's second largest mining production state and host to a number of large mines. There are a number of other junior companies exploring in the vicinity of RooGold, mostly Australian companies. There is one other Canadian publicly-traded company that we are aware of that is active near RooGold.
Inflection Resources Ltd. (CSE: AUCU), is a Vancouver-based junior resource company, engaged in the exploration and evaluation of gold and copper mineral properties in New South Wales and Queensland, Australia, with a portfolio of exploration licenses and applications totaling approximately 7,000 km². Its flagship property is the Northern New South Wales Project which comprises 23 non-contiguous exploration licenses and applications located in the Lachlan Fold Belt region of New South Wales. It is actively exploring for large alkalic copper-gold and gold deposits in the northern extension of the Macquarie Arc, Australia's premier porphyry gold-copper province.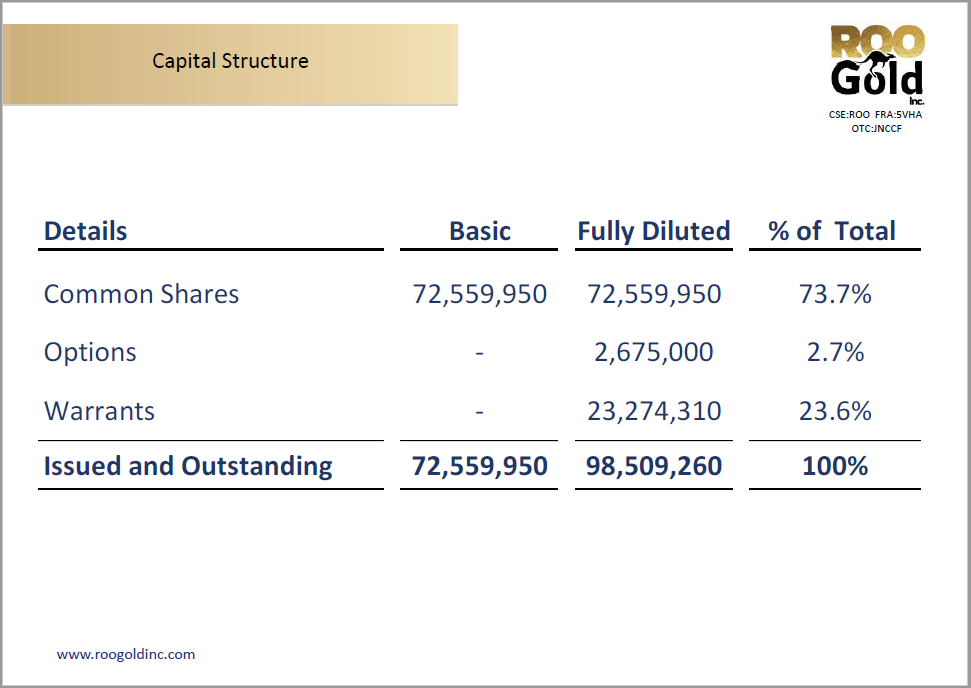 The Risks
From our view the following risks are worth considering.
Price of Gold. Just as the gold price can be a catalyst, a potential decline in price would have a negative impact on gold exploration stocks and other precious metals. We are of the mindset that if gold remains above $1800, there will likely be an influx of capital coming into the juniors. However, if it drops below, explorers could struggle.
Drill Results. Poor drill results could negatively affect price performance of the stock.
Market Sentiment. Markets can fluctuate wildly as investor expectations can change rapidly depending on the two most common drivers; fear and greed.
Potential Catalysts
Some of the potential catalysts we see that could have a large impact on the share price include:
The price of gold. The most obvious variable for any gold explorer, developer, or producer is the price of gold. As the price of gold rises so does the net asset value of projects, which increases shareholder value.
Broad economic indicators. Given the current macroeconomic environment which is plagued by inflation, the theory goes that gold will be viewed as a safe haven for investors as a store of value.
The results of any future drill programs. If ROO makes any meaningful discovery or confirmation of promising gold mineralization, this could enhance the value of Roo shares.
Potential future merger and acquisition activity. Due to RooGold management's extensive experience, expertise, and credibility in the region, it has the ability to attract opportunities to acquire additional quality projects through acquisition or joint venture. Any meaningful development of RooGold's properties could present an opportunity for a take out by a larger entity looking to solidify their position in the area.
In Conclusion
At the Deep Dive, we like the macro prospects for gold and other precious metals such as silver, and the underlying fundamentals that would suggest we are in the early stages of a gold bull market. We especially like projects in safe jurisdictions that are located close to existing producing mines or significant discoveries. When juniors get frothy they often trade up to 10% of the price of gold for what they have in the ground. Silver historically tends to track the price of gold and it has more industrial applications.
With 72.14million shares outstanding, a modest market capitalization of $10.06 million, and over $3 million in the treasury, RooGold Inc. appears to represent a reasonable risk opportunity for junior gold exploration investors. The company has an excellent and very experienced Australia–based management and technical team that have an intimate knowledge of New South Wales. RooGold has two world-renowned exploration geologists as technical advisors, Dr.Chris Wilson and Dr. Hennigh, who also represents strategic investor Crescat Capital.
RooGold's projects are intended to be early-stage and are in a well-known mining region with mining giant Newmont exploring close by. Any meaningful discoveries could have a significant impact on the upside potential for the company's shares. ROO is a relatively newly listed company and as one of very few Canadian public companies exploring in Australia, provides investors with exposure to Australia, one of the world's premier mining jurisdictions.
---
FULL DISCLOSURE: Canacom Group, the parent company of The Deep Dive has been compensated to provide coverage on this company. The company has been compensated to cover this story on The Deep Dive, with The Deep Dive having full editorial control. Not a recommendation to buy or sell. We may buy or sell securities in the company at any time. Always do additional research and consult a professional before purchasing a security.