Company Profile: Spey Resources
Spey Resources Corp. (CSE: SPEY) is a Canadian mineral exploration company which holds option agreements to acquire 100% interest in the Candela II, Pocitos I and II lithium brine projects located in the Incahuasi Salar, Salta Province, Argentina through its wholly owned subsidiary Tech One Lithium Resources Corp. These projects are located in South America's lithium triangle, which is the world's largest brine lithium producing region and shares borders with Chile, Bolivia and Argentina. 
Rising demand for the critical mineral that powers electric vehicles is driving higher prices and expected to cause future short supply, and this supply imbalance may last for many years, providing an incentive for lithium explorers such as Spey Resources to quickly develop their lithium deposits.
The Investment Thesis
We base our investment thesis on the following factors:
Spey Resources is well positioned within the world's most prolific brine producing region

The company's projects have the potential for production in the not too distant future.
Spey has a technical team with over 20 years of involvement in Argentina's lithium industry. 
Demand for lithium is expected to continue to rise as electric vehicles rise in popularity.
The Deep Dive views Spey Resources Corp. as a development-stage battery metals company with assets located within the world's premier brine lithium producing region. The company is well funded and has a very experienced management team that is preparing its flagship Candela II project for lithium production and is currently seeking to establish offtake agreements with lithium battery manufacturers.
The Lithium Overview
The current global macro environment provides a bullish catalyst for the demand for lithium, nickel, cobalt, and other minerals for use in lithium-ion batteries for the electric vehicle industry. According to Bloomberg's 2020 New Energy Finance study, it is expected that electric vehicles will account for 65% of global passenger vehicle sales by 2050.
China has the largest share of the global electric vehicle market and the Chinese government is aggressively promoting the shift to EVs to reduce its dependence on energy imports and lower levels of air pollution. European countries are also actively promoting a move away from gasoline-powered vehicles as the continent continues its shift to renewable energy technologies to meet carbon emission standards and achieve carbon neutrality by 2050.
The Projects
Spey Resources holds two option agreements to acquire 100% interest in the Candela II, Pocitos I and II lithium brine projects located in the Incahuasi Salar of Argentina. These projects are located in South America's lithium triangle, which is the world's largest lithium brine producing region and borders with Chile and Bolivia. 
The company also recently announced the acquisition of Lithium Energy Metal Corp, which holds interests in four projects in the James Bay region of Quebec, in close proximity to the recent hard rock lithium discovery by Patriot Battery Metals Inc. (TSXV: PMET).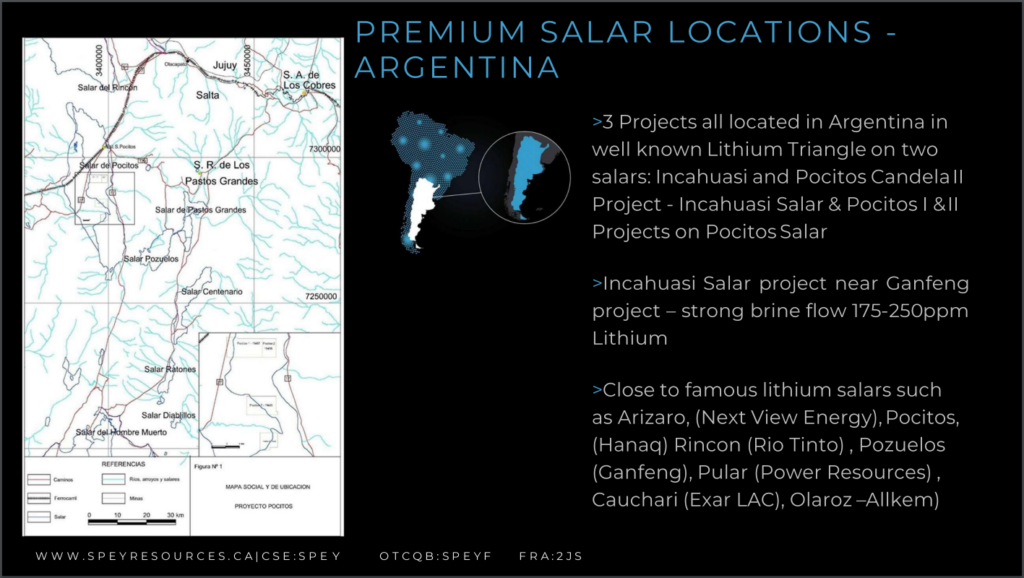 Candela II
On March 23, Spey acquired an 80% interest in the Candela II project from AIS Resources (TSXV: AIS). Spey has the right to option the remaining 20% interest from AIS for USD$6 million by March 23, 2023, if the indicated resource is greater than 45,000 tonnes lithium metal equivalent and AIS will receive USD$250,000 for each additional 5 tonnes.
The Candela II Project covers 9.9 square kilometres of the Incahuasi Salar in the prolific lithium triangle area of Argentina. The project is adjacent to Ganfeng Lithium's project in the region, while also being near to Orocobre Cauchari basin project. 
The nearby Cerro Aracar and Pular volcanoes feed salt to the aquifers in the Incahuasi Salar. Brine sample analysis by previous explorers returned lithium values between 270-300 ppm taken from the Salar's top 50 metres, indicating that the lithium brines are close to the surface and are easily accessible by roads. 
In 2021, AIS completed a successful 5-hole drill program to a depth of 600 metres and hit several lithium brines aquifers at depths of 50 to 200 metres, with sample analysis showing lithium values from 125 to 175 ppm. Spey completed a NI 43-101 report based on the 2021 drilling results, and the company is now mobilizing for a 5-hole drill program that will include 2 production wells and 3 exploration wells for the purpose of updating the NI 43-101 report to include a mineral resources estimate. 
A TEM geophysics report identified three extensive sandy units bound by clay units that have very low resistivity values and appear to host the main aquifers. The aquifer closest to the surface is over 1 km in length and about 75 metres below the surface, with sampling results showing higher lithium concentrations at the surface on the western end of the Candella II concession. As part of the exploration and development plan for the Incahuasi Salar Candela II Project, when the current drilling program is completed the company will make preparations to put the project into production. 
The lithium production will use the Ekosolve™ lithium solvent exchange extraction process.
Pocitos 2
Spey Resources has an option to acquire a 100% interest in the 532 hectare Pocitos 2 Project, which is adjacent to the Pocitos 1 concession. The company has received its permit to drill an exploratory well to a depth of 400 metres, with drilling expected to commence in November 2022. The exploration hole will be pump tested and a determination will then be made to drill a further hole or a production well using the rotary drill machine.
If the results confirm that the Pocitos brines are ready for production, an EkoSolve lithium production plant will be built at a location that is 3 kms from the drill site on Pocitos II and 1.7 kms from Pocitos 1. 
As for Pocitos 1, Spey entered into an option agreement to enable Recharge Resources Corp. (CSE: RR) to acquire a 100% interest in the 800 hectare Pocitos 1 lithium brine Project. Recharge can earn an 80% interest by paying Spey USD$850,000 in cash, USD$900,000 in common shares, as well as USD$250,000 in exploration expenditures over a 12-month period from the effective date of the Agreement. Recharge can earn the remaining 20% interest by paying Spey an additional USD$6.0 million by the fifth anniversary of the option agreement.
Lithium Energy Metal Properties
On October 7, 2022, Spey Resources announced the acquisition of Lithium Energy Metal Corp, providing Spey with a portfolio of four lithium projects in the James Bay region of Quebec, in close proximity to the recent hard rock lithium discovery by Patriot Battery Metals Inc. (TSXV: PMET). Patriot reported it discovered the CV Lithium Trend in 2017, a spodumene pegmatite district which spans over 25 kilometres across its Corvette Property and includes a 2.2 km long spodumene pegmatite and many other secondary spodumene pegmatite lenses . 
Spey's four projects are located between Patriot's Corvette Lithium Project to the northwest, and Winsome Resources' Adina lithium pegmatite project to the southeast.
The project portfolio consists of:
454 Block Project: 10 contiguous claims covering 513 hectares within the Archean Langelier Complex
West Lac Corvette Project: 10 contiguous claims covering 513 hectares that cover the Mesoarchean rocks of the Rouget Formation
Trieste Project: 50 claims covering 2,575 hectares within two contiguous blocks, which sits atop the Mesoarchean Trieste Formation
Salomon Project: 100 claims covering 5,155 hectares within two contiguous blocks, which is atop Mesoarchean mineralization
Just a few weeks later, Spey indicated that it has commenced its initial exploration program, which will include a multi-spectral analysis of satellite imagery from the European Space Agency's Sentinel-2 high-resolution, multi-spectral imaging mission. This will enable Spey's consultants to compare the results from the James Bay Property to spodumene pegmatites identified from nearby properties. This will identify and map any highly prospective spodumene pegmatites for future channel sampling and drilling targets. 
The Ekosolve Lithium Extraction Process
Spey signed a facility fee agreement to utilize the Ekosolve Lithium Solvent Exchange Extraction process in a plant that will initially process 10,000 tonnes of lithium carbonate per year with a grade higher than 99.5% and a recovery of 97%, far exceeding any currently available processes.
Ekosolve has a number of reported advantages: 
Three hour timeline to produce lithium chloride, which is used to produce battery-grade lithium carbonate at more than 99.5% purity
Near zero carbon emissions
No evaporation ponds required
Minimal input chemicals needed to remove unwanted elements such as magnesium
Modular – enables projects to quickly expand with no size restrictions
Low CapEx costs – enables rapid and cost-effective project startup times
Can recover 95% of the solvent for reuse
No water wastage
In late October, Spey announced that the Chemical Engineering Department at the University of Melbourne, Australia successfully produced lithium carbonate from lithium chloride extracted from the Candela II brines using the Ekosolve process. The tests subjected the brines to 10 phases of continuous processing that took approximately 22 seconds for the solvent to extract the lithium in each phase. The 10th phase had a recovery rate of 96.03% with the purity of the lithium carbonate set at 99.5% based on the sodium carbonate used to convert the chloride. 
The forward-looking plan will include upgrading the NI 43-101 report to include a resource estimate, drilling 5 production wells, and begin to build the Ekosolve production plant. The plant construction will only take up to two years due to the modular nature of the process. Once in production, the Company estimates it can generate approximately USD$7 million per year at recent lithium prices.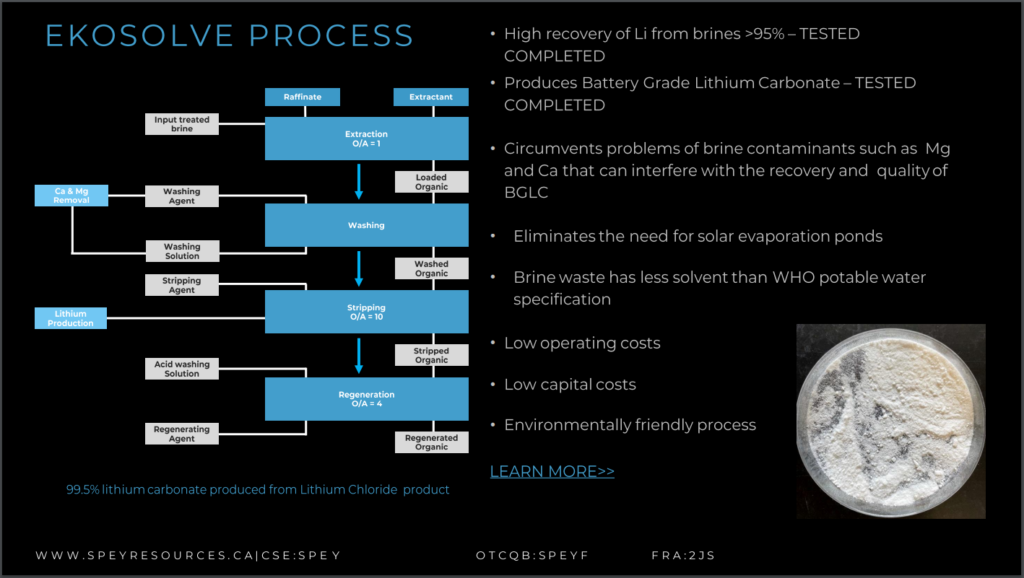 The Management Team
Phillip Thomas, President and CEO, Director
Thomas holds a B. Sc. Geology, Applied Math from the Australian National University and a Masters of Business, Marketing degree from Monash Business School. He is a member of the Australian Institute of Geoscientists and a Fellow of the Australasian Institute of Mining and Metallurgy.
Thomas has over 30 years of experience in capital markets as an investment banker with Macquarie Bank and ABN-Amro, focused on mining. He is an expert in lithium brine geology who specializes in salt lake (salars) exploration, hydrology, estimation and production chemical engineering, and has extensive experience in Argentina, where, in 2002, he and his team developed a lithium carbonate extraction process and plant at the Rincon Salar in Argentina, which was subsequently sold to Rio Tinto for USD 825 million. He then developed the Pozuelos Salar that was recently sold to Ganfeng for US$962 million. Ganfeng holds the concession adjacent to Spey's Candella II, both within the Incahuasi salar.
Abbey Abdiye – Chief Financial Officer
Mr. Abdiye holds a Bachelor Business Administration degree from Simon Fraser University and is a chartered professional accountant (CPA). He has extensive experience in the financial sector in both public and private companies, serving as a CFO for a number of reporting issuers, where he was responsible for all financial, fiscal management, regulatory compliance matters and reporting aspects of company operations. Mr. Abdiye is also involved in providing strategic guidance and direction in capital structuring, and has engaged in innovative financing programs that leveraged sales and development.
Ian Graham – Director
Mr. Graham holds a B.Sc. in Geology and Applied geology from the University of Natal in South Africa. He has over 28 years of experience as a mining professional with expertise in the technical characterization and financing of mineral deposit exploration and development, with emphasis on the modeling of project economics (DCF) and the structuring of project and company financing.
Mr. Graham spent 20 years with the major mining companies Anglo American and Rio Tinto, working on mine and advanced projects which included the Diavik Diamond Mine (Northwest Territories, Canada), Resolution Copper (Arizona, USA), Eagle Nickel Mine (Michigan, USA), Lakeview Nickel (Minnesota, USA), Bunder Diamonds (India) and the Milestone Potash Project in SK, Canada.  
Lawrence Hay – Director
Mr. Hay has extensive experience providing corporate development services and consultation to both private and public-sector clients, particularly those within the lithium industry. He has been working within the automotive industry for the past 10 years before he proceeded with the incorporation and operation of Tech One Lithium Resources Corp.
The Comparables
South America's Lithium Triangle is the world's leading lithium brine producing region and it has attracted a number of publicly-traded lithium exploration companies that are advancing their projects in the vicinity of Spey's projects.
Among other juniors exploring in the region are: 
Argentina Lithium & Energy (TSXV: LIT) is in the process of acquiring a portfolio of lithium brine projects covering approximately 700 sq. kms in Argentina's Salta and Catamarca provinces. These include Rincon West, Pocitos, Antofalla North, and Incahuasi.
International Lithium Corp (TSXV: ILC) is developing its The Mariana Lake Project which consists of the Salar de Llullaillaco lithium brine deposit and is located in Salta, Argentina. It is situated less than 140 kms South of the Atacama Salar in Chile, which is the largest producing lithium brine deposit in the world. The Mariana project has a measured and indicated resource of 4,410,000 tonnes of LCE and an inferred resource of 786,000 tonnes of LCE.
Lithium South Development (TSXV: LIS) is focused on developing its Hombre Muerto North lithium project in the Salta province of Argentina. The property is currently 5,687 hectares in size and contains a resource estimate of 509,000 tonnes of measured LCE and 62,000 tonnes of indicated LCE. The project is currently moving forward on a feasibility study.
Wealth Minerals (TSXV: WML) has its flagship property in the Atacama Salar of Chile, which appears to be early in its development. The project consists of 46,200 hectares in a region known to host more than 15% of the worlds lithium reserves. The firm is currently in the geophysical stage of exploration.
| Company | Ticker | Stage | Market Cap |
| --- | --- | --- | --- |
| Argentina Lithium & Energy | LIT.v | Explorer | $31.8 million |
| International Lithium Corp | ILC.v | Explorer | $16.5 million |
| Lithium South Development | LIS.v | Explorer | $49.2 million |
| Recharge Resources Ltd. | RR.c | Explorer | $11.8 million |
| Spey Resources | SPEY.c | Explorer | $15.4 million |
| Wealth Minerals | WML.v | Explorer | $86.9 million |
The Risks
From our view the following risks are worth considering.
Price of Lithium and other battery metals. Just as lithium, nickel and cobalt prices can be a catalyst, a potential decline in price would have a negative impact on exploration and producer stocks.
Exploration and Production Results. If there are poor drilling or production results reported from the Company's lithium projects, this could adversely affect price performance of the stock.
Jurisdictional Risk. While Argentina is a highly regarded mining-friendly jurisdiction, they are environmentally sensitive and the government has the potential to block mining projects due to environmental concerns.
Market Sentiment. Markets can fluctuate wildly as investor expectations can change rapidly depending on the two most common drivers; fear and greed.
For further potential risks, please see the most recent MD&A filed by the company.
The Potential Catalysts
Some of the potential catalysts we see that could have a large impact on the share price include:
The price of Lithium. The most obvious variable for any metals explorer, developer, or producer is the price of the underlying commodity. As the prices of lithium, nickel, cobalt and other battery metals rise so does the net asset value of projects rise, which increases shareholder value. We expect lithium, nickel and cobalt prices to rise as demand from the electric vehicle industry overtakes the general global industrial demand over the next decade.
Continued project development. The company is currently in the process of conducting a drill program as it works towards potential production on the property.
Growth of the Electric Vehicle Market. The electric vehicle (EV) market will expand exponentially over the coming decades as global governments mandate their use as a means of replacing gasoline-based vehicles to reduce emissions and meet carbon targets.
Potential future Merger and Acquisition activity. The Deep Dive believes we are in the early stages of a secular bull market for battery metals due to rising global demand for electric vehicles and the lithium necessary to supply battery manufacturers. M&A activity is currently robust as demand continues to rise for lithium.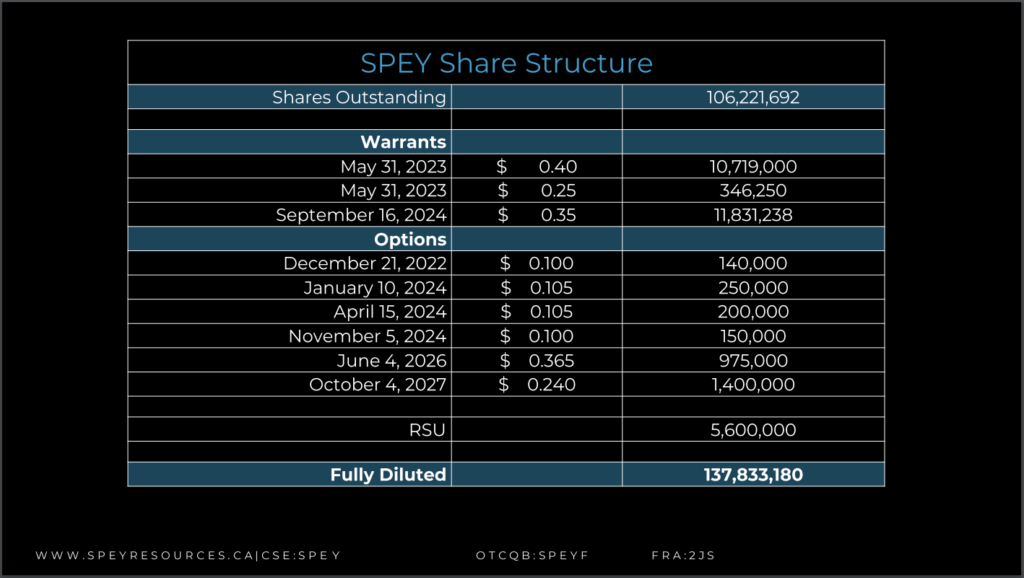 In Conclusion
At the Deep Dive, we like the macro prospects for lithium and other battery metals, and the underlying fundamentals would suggest we are in the early stages of a battery metals bull market. Lithium and other battery metals are benefiting from the recovering post-Covid economy as well as extraordinary demand from the EV industry that is expected to consume most available supply by 2030.  
The rapid growth of the EV market has essentially ensured that the lithium market will remain strong over the next decade as exploration companies race to find, develop and mine new lithium deposits to meet the rising demand.
Spey is well financed and has an experienced management and professional team who understand all aspects of the lithium industry, and have acquired a portfolio of strategically located lithium assets. The ability to potentially produce high-purity lithium through the Ekosolve extraction process gives the company a competitive advantage, and ticks the environmental protection and social responsibility boxes.
With 106.22 million shares outstanding and a market capitalization of $15.4 million, we believe Spey Resources represents a pre-production lithium exploration play within the world's premier lithium brine production region.
---
FULL DISCLOSURE: Spey Resources is a client of Canacom Group, the parent company of The Deep Dive. The author has been compensated to cover Spey Resources on The Deep Dive, with The Deep Dive having full editorial control. Not a recommendation to buy or sell. We may buy or sell securities in the company at any time. Always do additional research and consult a professional before purchasing a security.