The Investment Thesis
The Investment thesis for WeedMD Inc (TSXV: WMD) can be broken down into the following key points:
In the early innings of full recreational cannabis, WeedMD has demonstrated operational excellence.
Currently, WeedMD is growing in their 110,000 square foot hybrid greenhouses with an additional 418,000 square feet (greenhouse and hybrid greenhouse) coming online in the next two quarters.
In addition to the indoor grow, WeedMD is expecting to grow over 27,000 kg on 1.1M sqft of outdoor cannabis in the summer of 2019, already licensed and growing.
They are fully funded in a capital market where many of their competitors are starving for cash, thus WeedMD has far less dilution risk than a typical cannabis investment.
The consensus reviews for WeedMD product have been very strong with WeedMD looking like a favorite producer in the legal market amongst consumers.
Overall, WeedMD is a fully funded group, starting to rollout large scale production with highly positive consumer reviews.
About WeedMD Inc
When it comes to Canadian licensed producers, fundamentals are quickly becoming king. The recent firing of Bruce Linton by Canopy Growth signalled a change in market sentiment, wherein market hype is no longer sufficient for investors. Instead, the industry has now begun the turn to fundamentals when it comes to evaluating the value of a Canadian cannabis operation.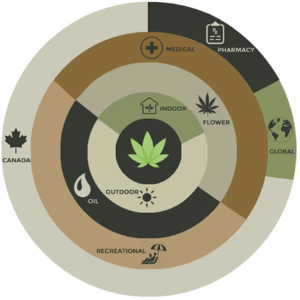 Enter, WeedMD Inc. While many industry players were focused on overpriced mergers and acquisitions in an overbought sector, the Aylmer, Ontario based operation instead elected to do something that few others were focused on: executing. As a result of this dedication to solid execution, it appears that the company has been slightly left behind when it comes to market valuation on a comparable basis due to the lack of hype placed upon it.
WeedMD currently operates out of two licensed facilities in Southern Ontario. It's first facility, a 26,000 square foot building in Aylmer, Ontario, was first licensed for cultivation by Health Canada in April 2016. In the time since, it has received the appropriate processing and sales licenses to allow for both dried flower as well as that of cannabis oils to be produced and sold at this location. Recently, WeedMD also announced that it intends to convert the facility to dedicated oils extraction and final packaging for its entire operation. Secondly, is WeedMD's Strathroy, Ontario, operation measuring in at a currently licensed 110,000 square feet of production space, with an additional 27 acres licensed for outdoor grow.
Collectively, WeedMD is licensed for approximately 75,000 kilograms of dried cannabis production on an annual basis, with construction underway to double this figure for 2020. This product is then distributed through six provincial supply agreements, as well as through an agreement with Shoppers Drug Mart.
WeedMD's Cannabis Production and Processing Centres
Aylmer, Ontario Facility
WeedMD's Aylmer, Ontario facility is situated on a four acre parcel of land, and consists of 26,000 square feet of cannabis processing and extraction. Currently in the process of being converted from a dual purpose facility to that of dedicated extraction and processing, the facility was the first location in WeedMD's repertoire to achieve licensing from Health Canada. It was also recently announced that the Aylmer facility will be moving to a new subsidiary, known as CX Industries, for the purpose of dedicated extraction services.

With the recent strategy change for WeedMD's Aylmer facility, the company is in the process of installing multiple supercritical CO2 extractors on site, with full operation of the units expected to commence in the second half of 2019. Upon completion, the facility will have the capacity to extract over 200,000 KG of biomass annually, putting it on par with several dedication extraction plays within the cannabis sector.
"WeedMD is optimizing its two licensed facilities to allow each to focus on a core vertical and to streamline our operations. We are transitioning the Aylmer site to produce a wide range of extracts and concentrates. All cultivation has been consolidated to our greenhouse and outdoor Strathroy facility, which is delivering consistently improving yields at increasingly competitive costs."

Keith Merker, CEO of WeedMD
The large capacity extraction is expected to serve the companies planned outdoor expansion at its Strathroy Facility to over 100 acres, as well as the oncoming indoor greenhouse production. Finally, WeedMD has plans in place to also offer third party extraction, product development, manufacturing, R&D, distribution and warehousing onsite due to the large capacity of the facility. Furthermore, there is additional room to build out on the four acre plot should demand continue to ramp for its third party services.
Acting as the facility in the portfolio that has a sales license, all WeedMD product is shipped to the Aylmer site before being sent off to distributors. As a result, all final packaging occurs on site, with the company recently implementing new semi-automated machinery to perform packaging on a larger scale.
WeedMD's Strathroy, Ontario Facility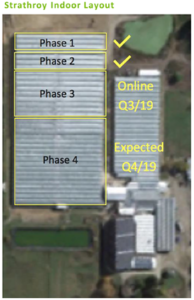 Referred to by WeedMD as the "cultivation hub", the Strathroy, Ontario facility is situated on a 158 acre property just outside of town. The facility encompasses both the indoor as well as the outdoor cultivation operations of the company. With respect to indoor, this comes in the form of both a hybrid greenhouse as well as a "true" greenhouse.
Currently licensed to the tune of 110,000 square feet indoors, the facility boasts eight rooms in which it is currently cultivating high-quality cannabis, plus an additional two rooms in which it performs nursery functions. Each grow room measures in at 10,000 square feet, while each nursey is 5,000 square feet in size. The multiple nurseries allow WeedMD to embrace multiple unique cultivars, while enabling the company to eliminate genetic drift thanks to a two stage mothering process.
These currently licensed spaces consists of phase one and two for the facility, with phase three and four expected to come online by the end of the year.
With respect to phase 3, the expanded space is expected to come online in short order. Consisting of a further 110,000 square feet of the facility, it is believed that WeedMD applied for the license amendment following the granting of its outdoor license. The third phase of expansion will consist of ten additional grow rooms, with each being 10,000 square feet in size.
The final phase of WeedMD's Strathroy facility, known as phase 4, consists of two large greenhouse rooms that are intended to cultivate cannabis destined for extraction. Totaling out at 308,000 square feet, the traditional greenhouses are expected to add significant capacity to the facility.
Upon completion, it is anticipated that the entirety of WeedMD's indoor operations will yield approximately 50,000 kilograms of high-quality, premium cannabis on an annual basis.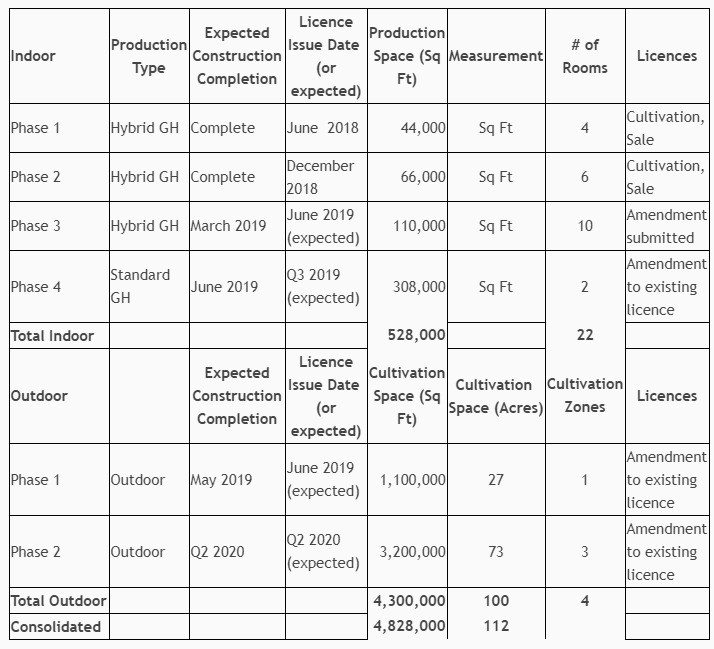 WeedMD's Outdoor Grow Operation
Also located at WeedMD's Strathroy, Ontario facility is one of the first legal outdoor grows by a licensed producer within Canada. While other producers have attempted to prevent Health Canada from allowing outdoor grow operations, WeedMD has embraced the prospect of growing outdoors from the start. Acquiring a license to grow cannabis on a 27 acre site on May 31, the outdoor operations is one of the focal points of WeedMD's strategy.
Embraced in part due to Master Grower Derek Pedro's past success with growing cannabis outdoors under the MMAR program previously in place, there is little wonder as to why the company has eagerly embraced the opportunity. This experience has allowed the company to anticipate yields of approximately 1,000 KG per acre, whereas competitors such as 48North are only expecting to yield roughly 400 kilograms of dried cannabis flower per acre.
"The vast outdoor property has full sunlight, an abundance of air flow, a protective buffer zone of trees and proximity to our infrastructure and propagation operations at the greenhouse. We have now capitalized on the opportunity to expand across perfectly-maintained adjacent lands already primed for outdoor cultivation – all of which can now be easily folded into our licensed property."

Derek Pedro, Chief Cannabis Officer of WeedMD
The current outdoor crop was fully planted in June 2019, with over 20,000 clones being planted in the fully irrigated fields adjacent to the Strathroy indoor facility. The 27,000 kilograms of anticipated dried flower is currently planned to be used for extraction purposes, which will be taken care of by the Aylmer facility upon harvest. This extracted cannabis will then be utilized for legalization 2.0 products such as concentrates and beverage products.
Looking to 2020, WeedMD recently acquired additional land adjacent to its current Strathroy property. This will allow for a total of over 100 acres of outdoor cannabis to be grown upon further licensing by Health Canada, making WeedMD one of the largest outdoor producers on the market. Cumulatively, the outdoor grow is expected to yield up to 100,000 kilograms of dried cannabis in FY2020.
WeedMD's Distribution Strategy
One of the distinctive characteristics of WeedMD is that of its distribution model. The company has made efforts to set itself apart from competitors by acquiring multiple streams of distribution for its products, in both the recreational as well as the medical markets.
With respect to the recreational markets, WeedMD now operates under the recently launched Color brand with eight different product lines. The firm has secured supply agreements with six different provincial distributors, consisting of British Columbia, Alberta, Saskatchewan, Manitoba, Ontario, and Nova Scotia. The extremely high degree of demand for its top quality products results in frequent sell-outs, with the Ontario Cannabis Store frequently selling out of WeedMD product within an hour of it being listed online. While other producers have product sit on store shelves for weeks on end, WeedMD's product can be hard for consumers to acquire due to this demand level.
In addition to the provincial supply agreements, the firm has entered into a joint venture known as Pioneer Cannabis. With current ownership amounting to 9.9% of Pioneer, WeedMD has the option to increase ownership to 50.1% of certain stores based on specific criteria. It is believed that the relationship with Pioneer Cannabis will be used to leverage WeedMD's own recreational products to further drive sales, with the first store set to open in Burlington, Ontario in the near term.
"In addition to premium dried flower, Color will launch new product formats in the coming months including pre-rolls, oils and gel capsules with further consumption formats in development. Color will offer up to 10 unique strains from WeedMD's proprietary genetics collection that includes several signature strains – Pedro's Sweet Sativa, Ghost Train Haze, White Shark, ACDC, Ultra Sour and Mango Haze."
In terms of medical markets, the firm has established three different distribution lines. First and foremost, is the direct to consumer model which has seen a significant increase as of late thanks to Canntrust's failure as a licensed producer. While hard figures haven't been given, a spokesperson for WeedMD recently stated to the Financial Post that they are seeing record week-over-week increases in new patient registrations since July 8. Secondly, WeedMD has signed an agreement with Shoppers Drug Mart to supply their product to the Canadian pharmacy chain for sales across Canada.
Lastly, is WeedMD's exclusive relationship with multiple long term care providers and specialty pharmacies. Unmatched by any other licensed producers within Canada, WeedMD has focused its efforts on securing these relationships due in part to the aging population within the country. In 2014, the proportion of Canadians aged 65 years of age or older was approximately 15.6% of the total population – a number which is expected to balloon to 23% by 2030. These exclusive relationships will be leveraged by WeedMD as a means of cornering the seniors market when it comes to medical cannabis use, which is enroute to becoming a significant proportion of the total medical market.
WeedMD Market Comparables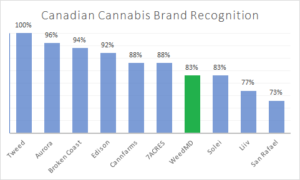 As we previously alluded to, one of the strongest indications that WeedMD might be undervalued is the industry comparables relative to WeedMD's current valuation and performance.
The company highlights this itself within its investor deck, wherein it identifies that it is both the 7th most known brand in the cannabis space, as well as the 6th largest firm in terms of funded capacity. The latter of which may change as a result of Canntrust likely giving up its assets with its latest blunder.
What's more significant however, is the comparison on an enterprise value to estimated sales (EV/Sales) basis for calendar years 2019 and 2020. In both instances, WeedMD is severely undervalued relative to that of peers. For the 2019 calendar year, based on a consensus estimate of $42.2 million in revenues by analysts, WeedMD is trading at a rate of 4.1x, while the average among peers currently sits at 16.9x.
The situation is just as bullish for C2020, wherein WeedMD currently trades at 1.3x vs that of the average of 6.3x based on estimates sales of $130.3 million. This multiple is below not only the Canadian LP average, but also below averages for similar industries, such as tobacco (3.7x), wine and spirits (6.7x), as well as large cap healthcare (4.3x).
Data Source: Echelon's Cannabis Sector Weekly


Data Source: Echelon's Cannabis Sector Weekly
---
FULL DISCLOSURE: WeedMD is a client of Canacom Group, the parent company of The Deep Dive. The author has been compensated to cover WeedMD on The Deep Dive, with The Deep Dive having full editorial control. Not a recommendation to buy or sell. Always do additional research and consult a professional before purchasing a security.