Corporate Overview: Willow Biosciences Inc.
Willow Biosciences Inc. (TSX: WLLW) is a small-cap biotechnology company that produces high-purity, pharmaceutical-grade, plant-derived compounds that are the building blocks for a variety of drugs, which runs the gamut from health and wellness drugs, to potentially life-changing pharmaceuticals.
The company's current priority is the production of cannabinoid compounds via the process of biosynthesis. Many people believe that cannabinoids relieve stress and anxiety, pain and inflammation, and obesity. Cannabinoids are proven therapeutics for psychiatric and epileptic disorders.
The Investment Thesis
The investment thesis for Willow Biosciences is based on the following:
Willow has developed a unique method to produce pure cannabinoids efficiently on a large scale.
Willow's production process is extremely timely relative to the natural process of growing cannabinoids.
CPG firms are after compounds that are consistent in terms of quality and composition.
The ability scale production based on demand takes days, not weeks.
Willow has developed a unique method to produce pure cannabinoids efficiently on a large scale. The end product is a unique, 99+% pure cannabinoid such as Cannabigerol (CBG), which is identical to CBG produced in plants, but free of pesticides, waxes and heavy metals found in plants.
The Business Model
Willow's business model consists of the following:
Initial production and sale of synthetic CBG
Production and sales of the Varin cannabinoids (CBGV, CBDV and THCV)
PRODUCTION AND SALE OF SYNTHETIC CBG
The most common method of singular cannabinoid production continues to be solvent chemical extraction from cannabis plants, which includes post-extraction processing and distillation. The drawbacks of this methodology are numerous. Generally, cannabinoids represent a small fraction of the plant's material; as a result, much of the plant is wasted.
Moreover, the traditional extraction process is both time- and energy-consuming and has a decidedly negative impact on the environment. Indeed, fully 1% of all U.S. energy, and 3% of California's energy, was utilized in 2016 on the cultivation of indoor cannabis (according to merryjane.com).
Willow's fermentation-based production, on the other hand, is much more environmentally friendly than plant-based production on a variety of measures.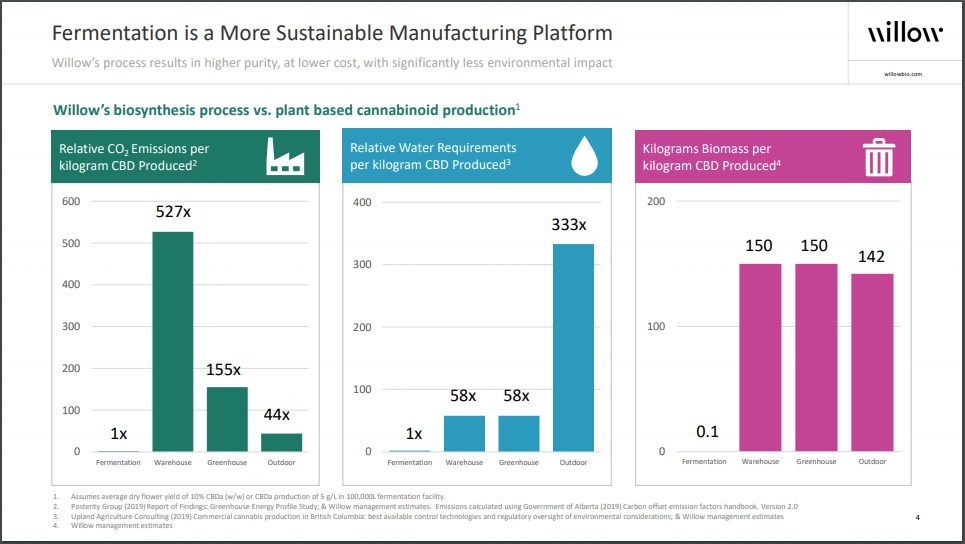 PRODUCTION AND SALE OF VARIN CANNABINOIDS
Varin cannabinoids have two fewer carbon atoms than their parent materials and are believed to possess somewhat different medicinal and wellness properties. Willow's CBG production process can be readily modified to produce these cannabinoids, particularly given the natural progression from CBG to CBD and THC (see discussion above).
Willow has developed initial lab strains of the Varin cannabinoids CBGV, CBDV and THCV. The company hopes to develop and verify the fermentation process for these compounds such that initial production of research samples take place in 2H 2021. Commercial sales could begin in 1H 2022.
Willow Biosciences' Production Process
First, the company has identified the genes responsible for cannabinoid production in a cannabis plant. That information is transferred into a yeast, creating what the company terms a miniature cannabinoid factory. The company than combines the optimized yeast strain with low-cost materials in a fermentation vessel. This combination takes just a few days to accomplish, unlike plant-based processes which can take months.
The end product is a unique, 99+% pure cannabinoid such as Cannabigerol (CBG), which is identical to CBG produced in plants, but free of pesticides, waxes and heavy metals found in plants. CBG is believed to have therapeutic effects through interaction with the CB1 and CB2 cannabinoid interceptors in the brain. Equally important, the synthetic CBG has no detectable Tetrahydrocannabinol (THC), which is associated with psychiatric symptoms.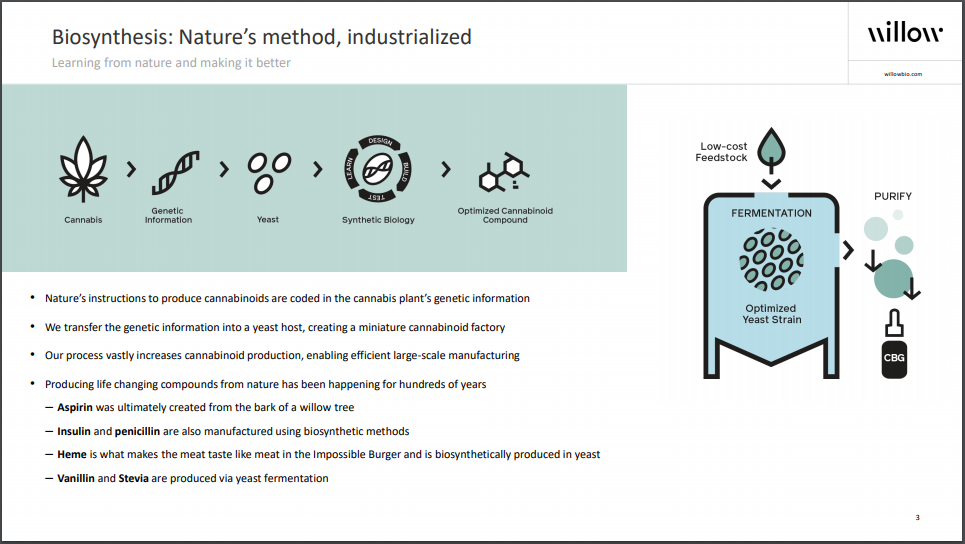 CBG, a non-intoxication compound, is also known as a building block of the well-known cannabis compounds Cannabidiol (CBD) and THC. Indeed, CBGA, the acidic precursor to CBG, frequently acts itself as a precursor to other cannabinoids like CBDA and THCA, which eventually transform into CBD and THC, respectively.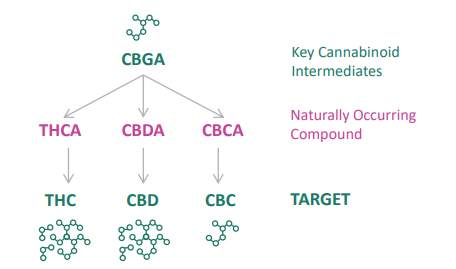 In terms of market size, the size of Willow's addressable market could be enormous. The brokerage firm Raymond James estimates that global synthetic cannabinoid market may reach $30 billion in 2030, up exponentially from $200 million in 2020. Phrased another way, the present value of the market, after factoring in projected aggregate free cash flows of market participants, could be $40 billion.
In December 2020, Willow announced it had reached an agreement with a highly regarded contract manufacturer to produce its first cannabinoid, CBG, on a commercial scale in the first quarter of 2021. Multiple kilograms of CBG are expected to be produced in this first run. In turn, Willow expects to record its first sales of CBG in the second quarter of 2021, fully six months ahead of management's prior expectations. (In 2020, Willow built and operated a successful CBG fermentation pilot program, which produced virtually pure CBG with no trace of THC.)
The Financial Position
Willow appears to have sufficient cash and liquidity to finance its near-term growth plans. As of September 30, 2020, the company had $9.1 million of cash, offset by lease debt of less than $600,000. Furthermore, the company raised $10 million of equity in October 2020 through a well-received public offering of cash and warrants.
Furthermore, the company recently closed a $28.8 million bought deal financing, which will see proceeds to be used to help access new markets for the Company's cannabinoid portfolio, expedite the commercialization of new cannabinoids, access additional manufacturing capacity, working capital and general corporate purposes. The company is also in the process of accelerating the expiry of certain outstanding warrants, which will put further funds in the bank.
Willow has controlled its costs reasonably well as it worked to ready CBG production in 2021. Operating cash flow deficits have averaged just below $3 million per quarter in the first nine months of 2020.
| | | | | | |
| --- | --- | --- | --- | --- | --- |
| (in thousands of Canadian $, except for shares outstanding) | 3Q 2020 | 2Q 2020 | 1Q 2020 | 4Q 2019 | 3Q 2019 |
| Operating Income | ($7,595) | ($10,069) | ($1,418) | ($3,097) | ($1,099) |
| Operating Cash Flow | (2,813) | (2,915) | (2,809) | (4,366) | (1,475) |
| Cash – Period End | 9,092 | 12,244 | 15,962 | 19,644 | 24,042 |
| Debt – Period End | 582 | 500 | 1,088 | 1,199 | 1,097 |
| Shares Outstanding (Millions) | 78.9 | 78.9 | 78.9 | 78.9 | 78.9 |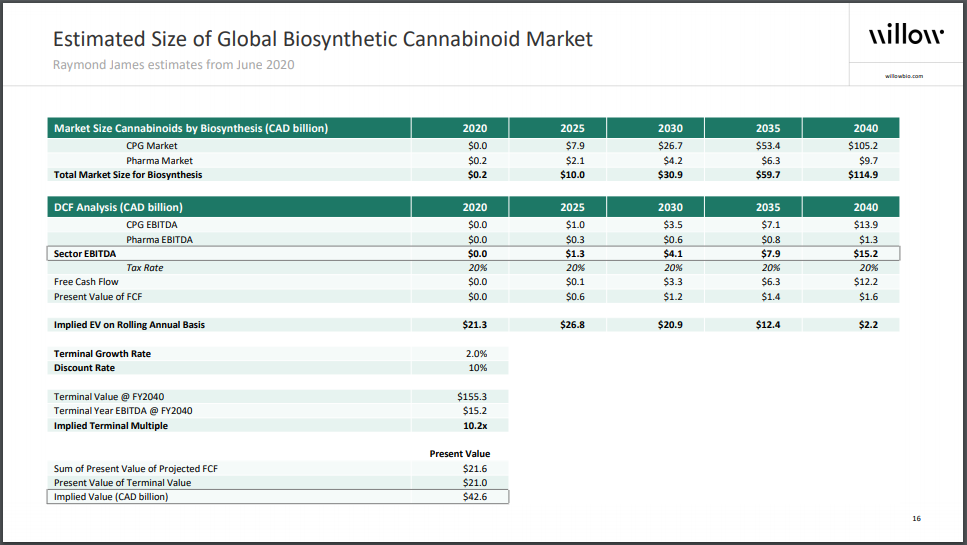 Willow's Management Team
Trevor Peters, President and Chief Executive Officer and Director
Mr. Peters is an experienced executive having co-founded four start-up companies in the past 15 years. Mr. Peters has raised over $1.0 billion in equity and debt financings at various stages of corporate development and has been integral to successful transactions totaling over $4.0 billion. Mr. Peters previously was Chief Financial Officer at Caracal Energy, which was sold to Glencore plc in 2014 for $1.8 billion.
Travis Doupe, Chief Financial Officer
Mr. Doupe has over 18 years of experience in financial leadership roles, principally in the international oil and gas industry, during which time he provided corporate strategic direction while overseeing all aspects of financial operations, including budgeting and planning, treasury, accounting, tax, reporting, and investor relation functions. Over half of Mr. Doupe's 18 years of financial experience has been in various Chief Financial Officer roles, principally in publicly listed companies and he holds a CA-CPA designation and a Bachelor of Management degree from the University of Calgary.
Dr. Chris Savile, Chief Operations Officer
Dr. Savile has 13 years of experience in science, business development and commercial operations roles in biotech. He is a highly experienced chemist, high throughput (HTP) assay scientist and protein engineer focused on the scale up and commercialization of industrial processes for pharma and biotech. Dr. Savile has acted as a technical leader and commercial program manage on several programs that led to commercial manufacturing processes. He received his PhD from McGill University in 2005.
Comparables For Willow
There are notably a few comparable operators in the space that are looking to produce synthetic cannabinoid compounds. While the peers are at various stages in the process of developing such compounds, they offer insight to the potential valuation of the company.
| | | |
| --- | --- | --- |
| Company | Ticker | Valuation ($ millions) |
| Cardiol Therapeutics | TSX: CRDL | $157.29 |
| Cronos Group | NASDAQ: CRON | $5,590 |
| OrganiGram Holdings | NASDAQ: OGI | $475.6 |
| Willow Biosciences | TSX: WLLW | $192.19 |
The Risks
We would advise investors to consider the following risks:
Scaling of manufacturing. While the company has produced high-purity synthetic CBG on a pilot basis, it is possible that such quality cannot be achieved on a much larger scale.
Willow may need to raise further funds. If the company's manufacturing plans for CBG are successful – particularly as it plans to move forward with Varin cannabinoid production – Willow may have to raise equity to fund further expansion. If so, the company would likely be selling new equity at prices much higher than its current valuation (a high-class problem).
Demand for products. Certain producers may be in search of natural cannabinoids rather than that of synthetic variants, which could potentially limit the sale of Willow's products.
The Catalysts
Some potential catalysts that could have a significant impact on Willow's share price include:
Beginning Commercial Production of CBG. The commencement of synthetic CBG production in 1Q 2021 and the attendant revenue and cash flow that should begin to flow in 2Q 2021 could be viewed as an important milestone event by investors.
Commercial Production of THC. While CBG is a compound in heavy demand, THC provides a further opportunity for the company. The production of THC in a consistent fashion presents significant opportunity for the recreational cannabis market in terms of edibles, vape products, and more.
Consolidation Activity. If Willow successfully begins CBG production and its product is well received by consumers, it could be perceived as a very attractive, fast-growing cannabis technology company by larger cannabis companies which are struggling to grow. As such, it may become an attractive acquisition candidate. In March 2019, Canopy Growth acquired a similar company, Germany's C3 Cannabinoid Compound Company, a synthetic manufacturer of THC, for C$343 million.
Willow's management has co-founded five companies. Each was sold for aggregate proceeds of more than $4 billion.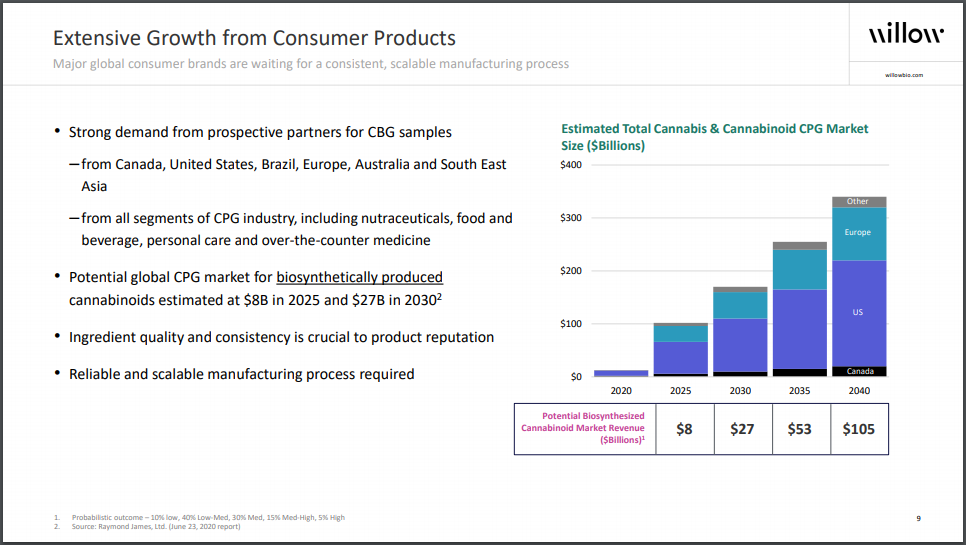 Conclusion
Willow is a well-positioned biotechnology company which may be on the doorstep of revenue generation. Its synthetic high-purity CBG product may begin to be sold to consumers in 2Q 2021. Perhaps even more important, market demand for all synthetic cannabinoids is projected to soar over the next 5-10 years. If these estimates prove correct, and if Willow can establish itself as a market leader, its enterprise value could increase dramatically.
---
FULL DISCLOSURE: Willow Biosciences Inc is a client of Canacom Group, the parent company of The Deep Dive. The author has been compensated to cover Willow Biosciences Inc on The Deep Dive, with The Deep Dive having full editorial control. Not a recommendation to buy or sell. Always do additional research and consult a professional before purchasing a security.