Corporate Welfare: New Fed Measures Will Make Taxpayers the Bagholder!
I spoke with a banker last week who said to me "from my view, the Fed's balance sheet is like a fire hose trying to put out as many fires as it can." Which certainly rings true, but given the big changes over the last couple weeks I think we can tweak the analogy; the Fed's balance sheet WAS like a fire hose limited to the water in the truck, NOW they are connected to an actual hydrant.
So how does all this work? In simple terms: The Fed is providing the money. The Treasury will be absorbing the risk and BlackRock will be doing the trading. Thus, giving President Trump carte blanche to utilize the Fed's balance sheet.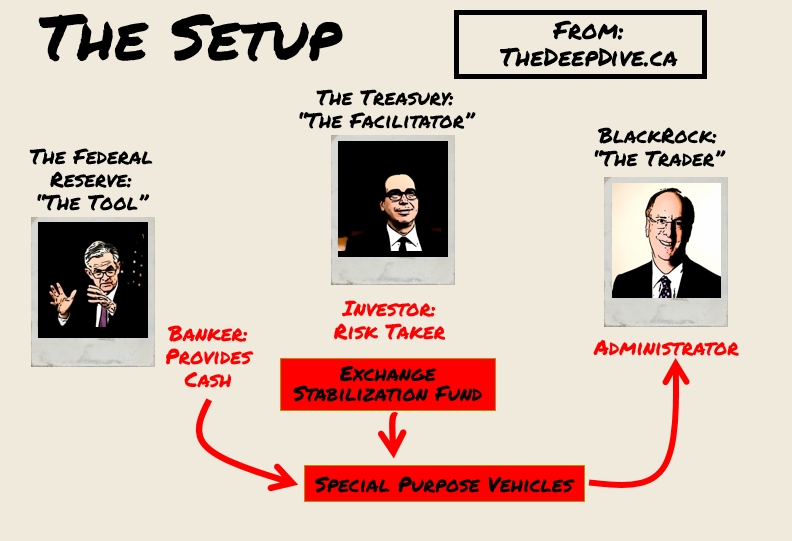 Let me explain, previously the Fed was limited to what they could buy; mostly just treasuries. Then at some point they started buying agency corporate debt (government backed debt) and then came this week; new mechanisms to buy pretty much whatever they want and however much they want of it.
The Treasury uses the Exchange Stabilization Fund, which then will make an equity investment into each SPV and be in a "first loss" position. They will then act as a banker, providing financing to the Treasury to leverage these SPVs to increase buying power. The actual trading will be done through BlackRock who will purchase the securities for the SPVs and act as the administrator.
So We Added a Third Way to Get Cash into the Economy:
Let's examine how they can actually make purchases under the new program: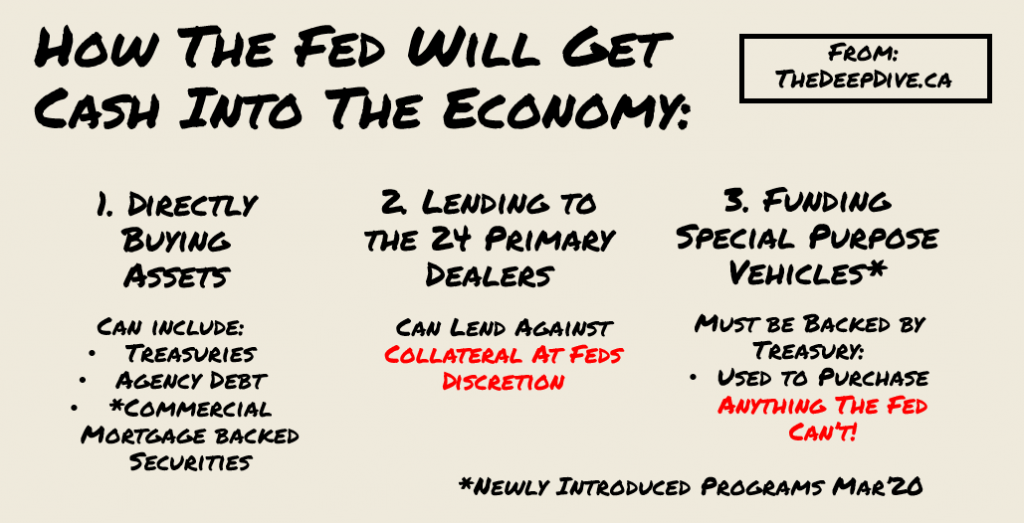 1. Fed Directly Buys Assets. Under this program the Fed can buy pretty much any securities that are backed by the US government. From treasuries, to agency residential mortgage backed securities (MBS) to now adding agency commercial mortgage backed securities (CMBS).
2. Fed Can Lend to Primary Dealers Against Collateral. The Fed can lend to any of the 24 Primary Dealers for any assets at the Fed's discretion including equities (stocks).
3. Fed Can Lend to Special Purpose Vehicles (SPV) to Buy Assets or Lend. The SPVs will require taxpayer backing from the Treasury Department to protect against losses; the Fed is not on the hook. The SPVs can then buy assets or lend to other parties of which the Fed was previously permitted from doing.
What are the Special Purpose Vehicles?

Just take a look at the measures created last week:
a Commercial Paper Funding Facility (CPFF) – buying commercial paper from the issuer.
a Primary Market Corporate Credit Facility (PMCCF ) – buying corporate bonds directly from issuers.
a Secondary Market Corporate Credit Facility (SMCCF) – buying corporate bonds and bond ETFs in the secondary market.
a Main Street Business Lending Program (MSBLP) – lending to eligible small and medium-size businesses.
a Term Asset-Backed Securities Loan Facility (TALF ) – providing a backstop for asset-backed securities. This is a very controversial one from the past that we will revisit with it's own article.
So How does This Whole Thing Work
In essence the Treasury sets up SPVs and takes the risk, the Fed jacks up the accounts with leverage, and then BlackRock comes in and trades the SPVs for their given mandates. They could end up buying all sorts of assets, and of course, the Treasury losses will end up placing the burden on the taxpayer.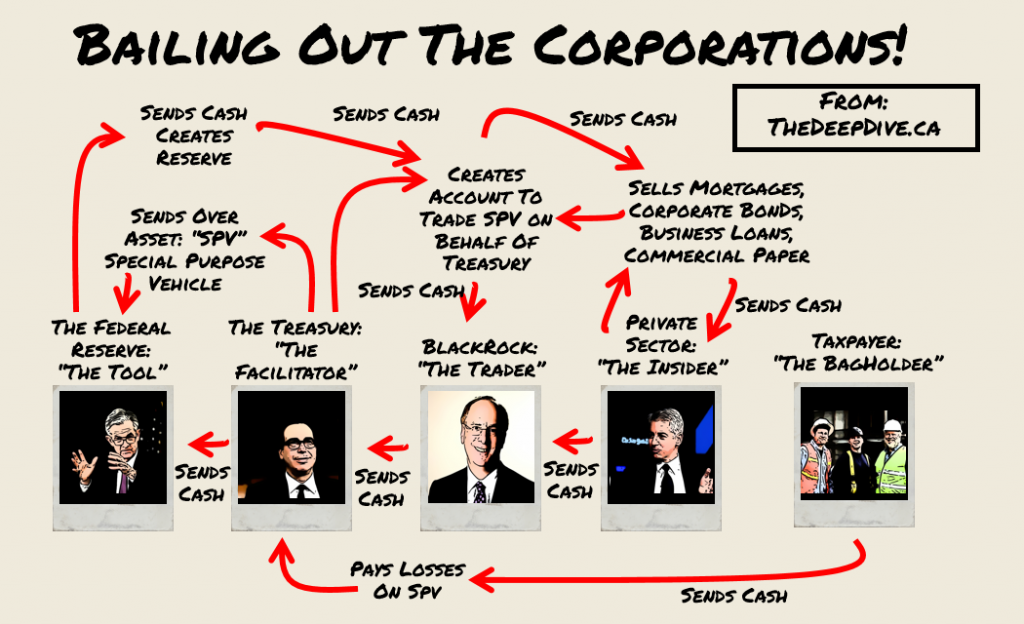 The Fed is Also Providing Liquidity
In the last two weeks the Fed has announced an increase in repurchase agreements to the tune of $1 trillion dollars a day. Repos are overnight rates and should not have a long term impact on the balance sheet. They have also introduced swap lines for major central banks to reduce stress in the overseas US dollar funding market. And they announced a series of $30B-$60B temporary U.S. dollar liquidity arrangements with "other" central banks; the smaller guys.
So Who is Getting a Bail Out?
The Central Bank doesn't really get into specifics in this regard, to put it broadly it will directly benefit large corporations, funds, state governments, and small businesses. There was a separately introduced $2T fiscal stimulus bill of which we know $70B is earmarked for airlines including Boeing, Delta, United and General Electric. We also know how the TALF worked out last time, giving massive loans to billionaires to fund cheap asset purchases. So in short, we will see who gets bailed out.
We're not here to create a slush fund for Donald Trump and his family, or a slush fund for the Treasury Department to be able to hand out to their friends.. We're here to help workers, we're here to help hospitals."

Sen. Elizabeth Warren (D-Mass.)
Elizabeth Warren's heart is in the right place. But we have seen this movie before. When there are trillions of dollars trying to find a home with decisions being made by individuals, don't be too hopeful towards the morality of it all.
Overall Thoughts
The decisions made over the coming days and weeks will have a drastic impact on capital markets. We will see some parties bailed out while others are left to drown. The effects of shutting down a 22 trillion dollar economy for months will be massive. This is a real time economic experiment that is impossible to predict. One of the lessons of the last financial crisis is that not everyone will get bailed out and the system seemingly leaves us to expect the everyday taxpayer to be left holding the bag.
---
Information for this briefing was found via the Federal Reserve Bank. The author has no securities or affiliations with any of the mentioned securities. Not a recommendation to buy or sell. Always do additional research and consult a professional before purchasing a security. The author holds no licenses.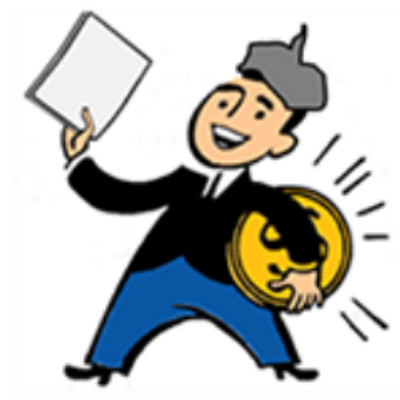 SmallCapSteve started blogging in the Winter of 2009. During that time, he was able to spot many take over candidates and pick a variety of stocks that generated returns in excess of 200%. Today he consults with microcap companies helping them with capital markets strategy and focuses on industries including cannabis, tech, and junior mining.