Coronaviral! Market Movers Takes On The Low-Float Pandemic Pops
There's no panic like a pandemic.
Equities markets of all kinds took another tumble Friday as traders tried to figure out just how quickly the world would be ending, and how they could go about making a buck off of it. Because, insomuch as equities markets are reflections of real businesses, and the indexes' violent dives are a forecast that those real businesses will be slowing down as the people who work and shop at them get sick and die, there have to be exceptions, and it turns out there are.
As obvious as ideas like investing in tattoo removal at the beginning of a heavy metal boom seem, they tend to work out about as well as the companies being floated as investments are built in the short term, and as well as they're run in the long term. The commonality among the businesses that have made monster price moves as investors chased topical stories is that they all have drum-tight floats. Special thanks to twitter's @modern_rock, who floated a curated list of these movers yesterday.
Allied Healthcare Products (NASDAQ: AHPI) is a forgettable health equipment manufacturer out of Saint Louis, MO. They make medical equipment that has to do with moving gasses. Generally, it's used for oxygen therapy or respiration. They have a special line of ventilators for use with mass casualties.
Allied is the sort of company that plods along, minding their own business, making industrial and consumer breathing machines and servicing the ones they've already sold. The business loses an average of -$0.72 / share per quarter on $17 million in revenue and a 7% margin. They finance it through a revolving credit facility and haven't shown any growth at all since 2015.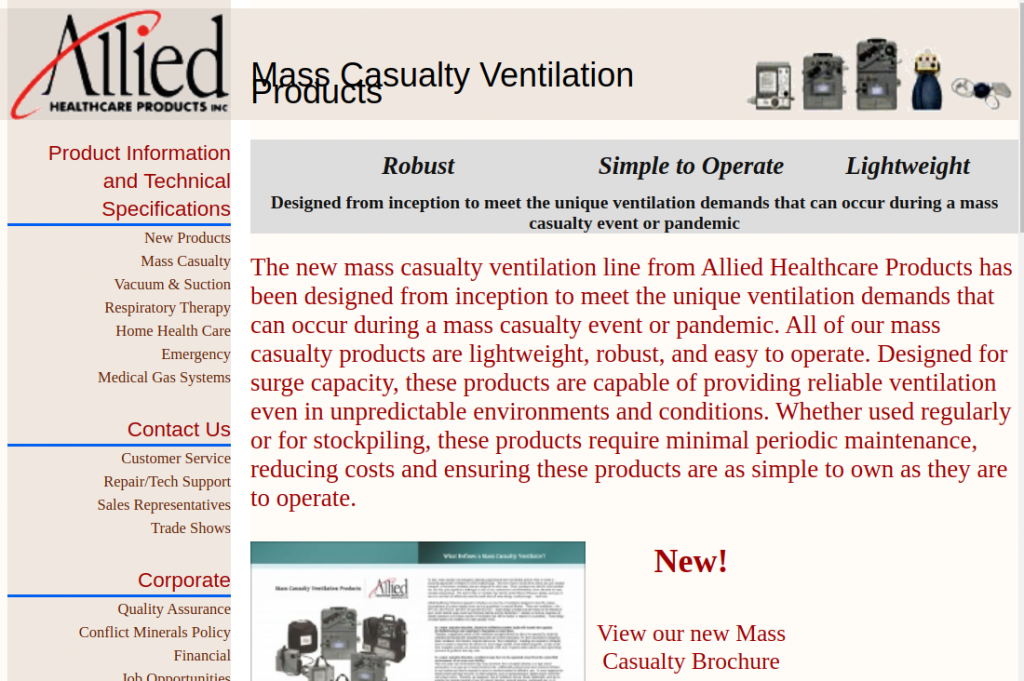 One doesn't get the get the sense that Allied Healthcare Products has much use for the stock market. This company hasn't put out a news release in at least 12 months. Their website almost certainly hasn't changed since the early 2000s, and one gets the sense that that's fine with them. Clients get a hold of them… the brochures for the mass casualty ventilators are all in order… They'd like it if we'd quit asking about the stock market so that they can enjoy the Cardinals game in peace.
In January, the stock market suddenly had a great deal of interest in Allied, which seems like it's in a handy business in the context of a brewing global pandemic featuring an airborne disease. Allied's market cap went from $6 million to $11 million overnight on January 24th, and went from $14 million to $62 million overnight yesterday. They STILL haven't put out a news release.
There are only 4 million shares outstanding in Allied, and 1.4 million of them are controlled by a family. This company sure didn't ask to be a story stock, and frankly seems like it ought to be worth more than $62 million. The reason it isn't is the same reason it was ignored in the first place: institutional traders don't have a lot of use for stocks that it's hard to get a position in. The 875% move AHPI made over the past 5 trading sessions came on 17 million shares – that's four times the total shares outstanding. The average daily volume for APHI prior to January 23 was 6,900 shares.

Lakeland Industries (NASDAQ: LAKE) does a brisk business in protective gear, including protective gear of medical grade. This is another business that just keeps its head down and ships product, though Lakeland's website was made this century and it appears to have an actively managed IR desk. Lakeland did $104 million in revenue in the trailing 12 months at a 32% gross margin, to make $2.6 million on the bottom line.
Lakeland caught a pulse January 21 when it traded 1.6 million shares, about ten times its average daily volume, and started a 48% price move from $10.97 to $21.11. Clearly, this market is forecasting that a global pandemic might need more hazmat suits before it's over. Lakeland's geographical sector breakdown had 51% of their sales going to the US last quarter (by revenue). Asia was 2nd at 17%. Lakeland's tight cap table doesn't give traders much of an opportunity to make it a commodity, either. The company has eight million shares outstanding.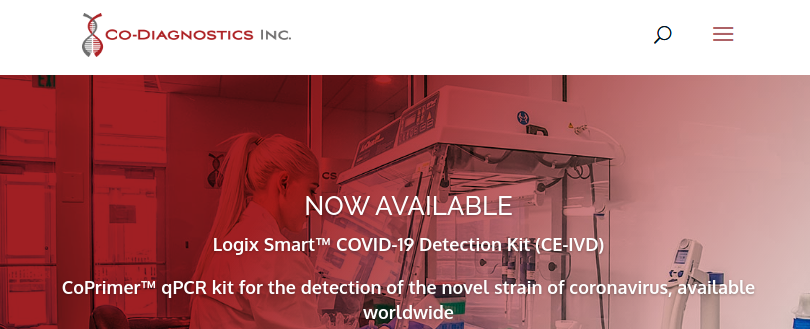 Utah-based CoDiagnostics (NASDAQ: CODX) is an R&D-focused company who has spent the past few years developing rapid-diagnostics technology and keeping the IP that protects that diagnostics technology. The development company has never done significant revenue or tried to. We like to imagine some long-suffering manager breaking through a set of Salt Lake City lab doors in late January all: "This is not a drill!!"
CoDiagnostics has seen its volume explode, and the company that started the year as a $22 million market cap company company is now a $397 million market cap company. CODX is proud to now be shipping coronavirus field test kits approved by the CE mark. They've shown a commitment to keeping their 24 million share cap table tight by keeping an at-the-market offering announced Thursday to a lean $4.2M, which is about as much cash as CoDiagnostics' operations burned in the past 12 months, telegraphing an expectation that the field-testing kits will sell well.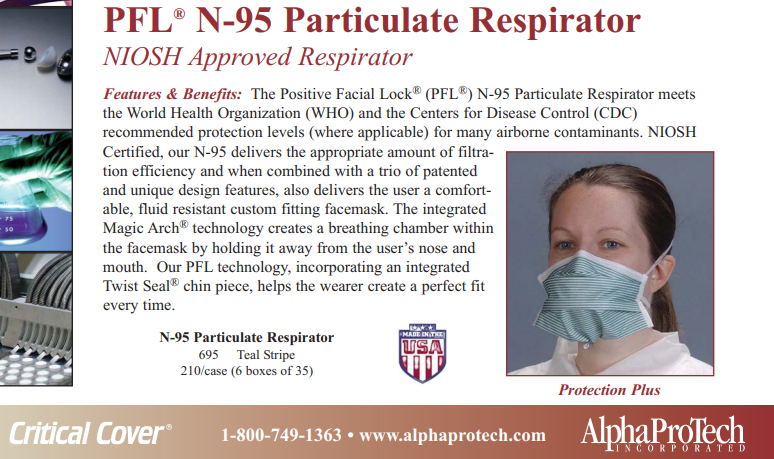 Alpha Pro Tech (NYSEAMERICAN: APT) made their business in advanced surgical masks and respirators. They averaged $11 million per quarter in revenue at a 36% margin to earn $0.80 share for the trailing 12 months, which made it a decent value when it was trading in the $3 range. Alpha Pro rarely traded more than a hundred thousand shares on any day before January 21, and has averaged 7.9 million shares a day since. Alpha Pro Tech has 13 million shares outstanding.
This second wave of coronavirus mania has taken API to $21.00 from $10.00 over the past three trading sessions, as their proprietary N95 face mask has drawn $14.1 million in orders since January 27.
While these companies can surely be called story stocks, the story driving them isn't likely to leave the headlines any time soon, and they're hardly something that got cooked up to take advantage of an unfolding narrative. With the possible exception of CoDiagnostics, they've all got a lot of business history for us to draw on. We know what these companies are.
Much as the tip of a shorter needle moves more quickly across a gauge face, so too does the price of a stock with a shorter float. Market makers can't do much without stock to work with, so larger trades pound through bid floors and shoot through ask ceilings. Simply put, with fewer parties involved, the swings created by their fear and greed are amplified, and the price action gets messy.
Don't forget to wash your hands.
---
The author has no securities or affiliations related to any organization mentioned. Not a recommendation to buy or sell. Always do additional research and consult a professional before purchasing a security. The author holds no licenses.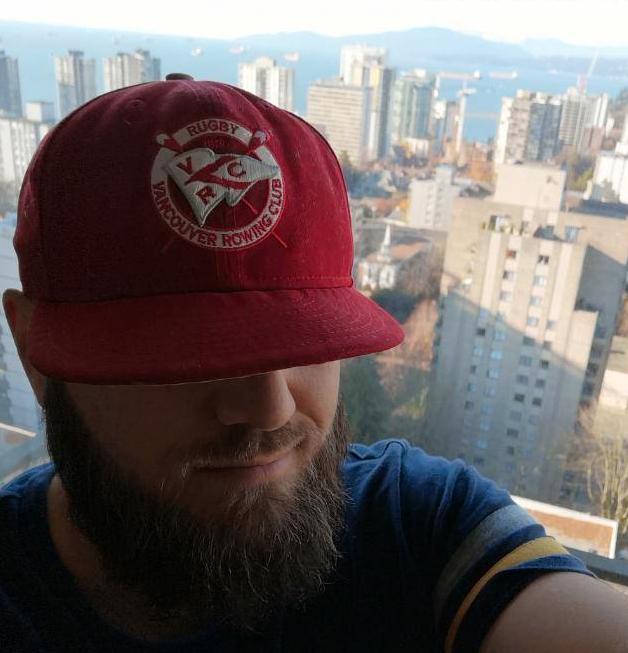 Braden Maccke is a freelance writer from Vancouver, B.C.
You can read all of his Deep Dive articles here.
He can be reached at braden@fundamentalhype.com.