Curaleaf, Founders Funded By Russian Oligarch Roman Abramovich – Leaked Documents
According to leaked documents, an offshore corporation run by Russian oligarch Roman Abramovich invested hundreds of millions of dollars in the US marijuana market and secretly funded top shareholders of Curaleaf Holdings, Inc. (CSE: CURA).
Recently leaked information from Cyprus show that Abramovich's company–a British Virgin Islands-registered firm, Cetus Investments–invested in a slew of American cannabis companies, as well as helped fund the two largest owners of Curaleaf, the world's largest cannabis company with a market capitalization of about $3 billion.
The United Kingdom and the European Union have both sanctioned Abramovich, whose net fortune is estimated to be $9 billion, in the aftermath of Russia's invasion of Ukraine. Although he has not been sanctioned by the United States, the Department of Justice secured a warrant in June to seize two of his planes.
The Canadian government also followed suit, announcing its plans to seize US$26 million in sanctioned assets.
Tens of millions of dollars in loans were reportedly made to Curaleaf Executive Chairman Boris Jordan and his firms, which neither Jordan nor Curaleaf appear to have disclosed. Some of the loans stipulated that the funds may only be used to buy shares in Curaleaf, formerly known as PalliaTech Inc.
In November 2016, Jordan's Delaware-based company, Lafayette LLC, got $14 million from Cetus Investments. According to the promissory note, Lafayette must utilize the funds to purchase 878,569 shares of PalliaTech stock.
The note was revised in October of the following year to incorporate a second loan of $10 million to be used to purchase an additional 418,253 shares of PalliaTech.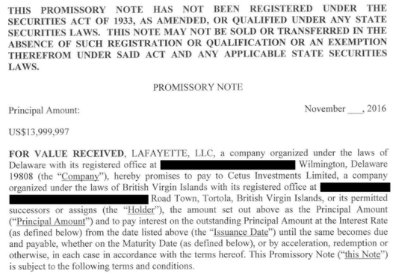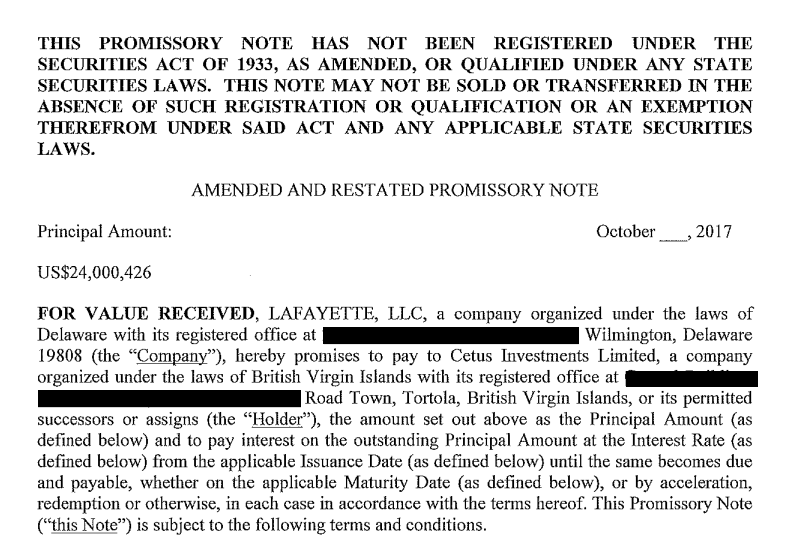 Documents also show that Abramovich financed $45 million to Sputnik Technology Ventures, a firm registered in The Bahamas linked to Jordan, still through Cetus Investments. Jordan and other companies under his control personally guaranteed the loan and pledged Curaleaf shares to secure the funding in this case.
Abramovich appears to have loaned Jordan's enterprises a total of $69 million between 2017 and 2018.
According to the leaked documents, Abramovich also financed Curaleaf's second-largest stakeholder, Andrey Blokh. The pattern of Abramovich's loans to Blokh was similar to Jordan's: Cetus Investments lent Blokh slightly over $50 million in late 2016, again for the express purpose of purchasing PalliaTech shares.
In October 2017, the sum lent to Blokh also climbed to more than $60 million, with PalliaTech shares pledged as collateral.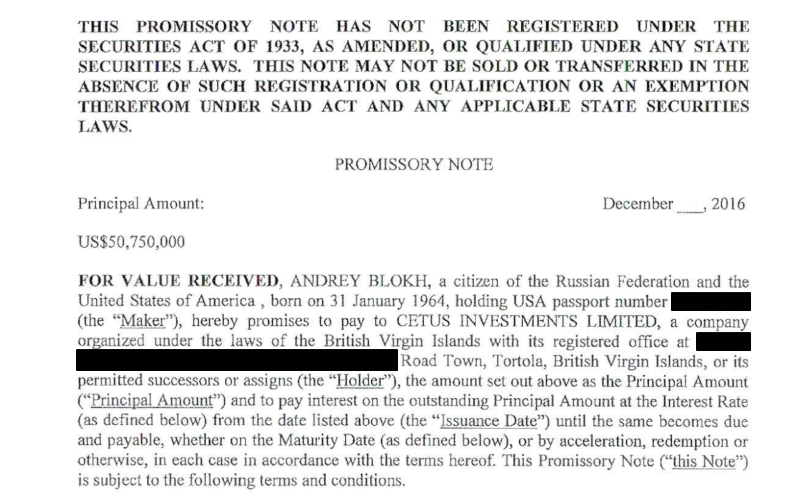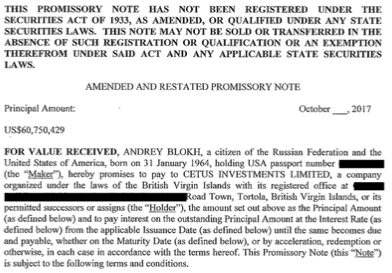 Unlike Jordan, Blokh secured an additional $12 million in credit from Cetus Investments to fund other marijuana enterprises in the United States, including cannabis outlets in Los Angeles and Las Vegas.
On top of this, SEC filings show that Cetus Investments lent money directly to the cannabis company, totaling $85 million. Together with the running total of money lent to the Curaleaf founders at $140 million, this brings the Russian oligarch's overall funding channeled to the cannabis firm and its top executives to $225 million. All this happened before the company went public in the biggest marijuana IPO in history.
In a statement to Forensic News–which reported the leaked documents–Curaleaf confirmed that Jordan and Blokh received funding from Abramovich's Cetus.
"As with any young company in its early days of securing capital, shareholders Boris Jordan and Andrei Blokh were raising funds through multiple sources and family offices to grow PalliaTech, which later became Curaleaf," the firm's statement read.
The company also clarified that all loans taken from Abramovich "were repaid long before Curaleaf was formed or went public," but added that they "cannot speak on behalf of shareholders."
Curaleaf also released a statement to the same effect, maintaining that the Russian oligarch is "one of many worldwide sources of capital" the company sourced its funds to build its predecessor Palliatech.
"At the time he was a much sought-after investor and a well-recognized businessman around the world," the firm said. "While the narrative has changed due to the current media environment, he remains unsanctioned in the United States."
Russian ties
These developments add fuel to the growing fire of Jordan's ties to Russia, with claims that Curaleaf is essentially a "Russian-owned" cannabis firm. This stems from Jordan being of Russian descent and having spent a huge part of his career in the country.
READ: Is Curaleaf Caught in the Russian Blast Crater?
To give it context, Jordan was born in New York to Russian immigrant parents. He earned his bachelor's degree in Russian–American economic relations from New York University.
He then worked in the early 1990s as an instrumental figure in Russia's transition to capitalism, including the privatization of state assets, following the fall of the Soviet Union. He headed Credit Suisse First Boston in Russia and was briefly a former chairman of Russian oil firm Sidanko. He was also the former CEO of Russian media holdings Gazprom Media and Russian TV network NTV.
He's the co-founder of both the Russian investment bank Renaissance Capital and investment firm Sputnik Group, in which he serves executive positions. He personally led Renaissance Capital's insurance arm and still holds its board chairmanship alongside Curaleaf's.
Curaleaf and Jordan have long disputed this, asserting in a statement that the executive chairman "is an American citizen." Related to it, the cannabis firm also said that Blokh, who holds a Russian passport, is "not active in the company."
Jordan now owns approximately 18.2% of Curaleaf and is valued at $1.6 billion.
The leaked documents couldn't have come at a worse time for the cannabis industry, which is currently struggling on many fronts. The Secure and Fair Enforcement (SAFE) Banking Act failed to get attached to a year-end funding package in congress this week, following objections from Republicans, and wouldn't likely get a chance once the GOP take back control of the House in 2023.
The SAFE Banking Act aims to reform banking in the cannabis industry, which currently still operates largely on a cash basis, putting businesses and their employees at risk for robberies and the resulting economic harm. Even in states with legal marijuana, businesses get refused by banks because marijuana, under federal law, is still illegal.
One of its staunch supporters: Jordan.
A popular ETF in the cannabis investment space, AdvisorShare's MSOS ETF, also recently saw a total of $17 million in redemptions in just the past three days.
Curaleaf last traded at $5.34 on the CSE.
---
Information for this story was found via Forensic News and the sources mentioned. The author has no securities or affiliations related to this organization. Views expressed within are solely that of the author. Not a recommendation to buy or sell. Always do additional research and consult a professional before purchasing a security. The author holds no licenses.