David Sacks vs. Marc Cohodes, Explained
Amid all the chaos of leading banks capsizing into regulators hands, leaving depositors wary of recovering their investments, an online feud heats up between Craft Ventures General Partner David Sacks and famed short seller Marc Cohodes.
Major banks like Silicon Valley Bank, Silvergate Bank, Signature Bank, First Republic Bank, and Credit Suisse have fallen one by one as they facing bank runs that ran them illiquid. Regulators and Wall Street firms were quick to rescue the collapsing banks by hoping to infuse capital through acquisitions or auctions.
However, the discussion has turned a different direction, with the focus now on who made the most out of the bank collapses. A prevailing theory is venture capitalist's like Sacks' "incited" the panic on bank runs after they "pulled out" before the collapse.
Sacks defends himself by highlighting that it was necessary to sound the alarm for other depositors to pull their money and save their investment, in addition to highlighting that the banks' liquidity problems were already reported before he (and others in his circle) talked about the bank runs.
Enter Cohodes
It is quite unclear on how deep the animosity between Sacks and Cohodes has run but it is apparent that there's no love lost between the two.
In an interview, Sacks described the recent legislation passed under the Biden administration to have caused inflation; hence, the Federal Reserve's response to hike interest which caused the banks to collapse due to high borrowing costs.
Cohodes hit Sacks in his efforts to explain the bank collapses and how the government seems to be the one that failed in this scenario.
For Cohodes, the behind-the-scenes timeline needs to be looked at in terms of how Sacks was allegedly tipped off so he could pull out his VC's money in Silicon Valley Bank before the eventual collapse.
The clash
Sacks shot back at Cohodes' tweet that said it is "not the end of the world if 200-500 banks go under" by replying that the short seller is the "leading proponent for the 'let it burn' camp," before referring to Cohodes as an "angry psycho."
Cohodes retorted and doubled down on his point of query regarding how — and how much — Sacks pulled out before Silicon Valley Bank fell.
Later on, Cohodes zeroed in on Sacks and said to be looking into him and his companies in their role with the bank's collapse.
In particular, Cohodes revived a clip of a 2021 podcast guesting by Sacks in which the venture capitalist discussed the firm's investment in Solana.
Sacks even tried to answer Cohodes' question on being tipped, saying he found out about the bank's unideal liquidity situation on The Wall Street Journal, giving him enough push to "pull out."
After admitting his short positions in the fallen banks, Cohodes then said he would turn his attention on Sacks.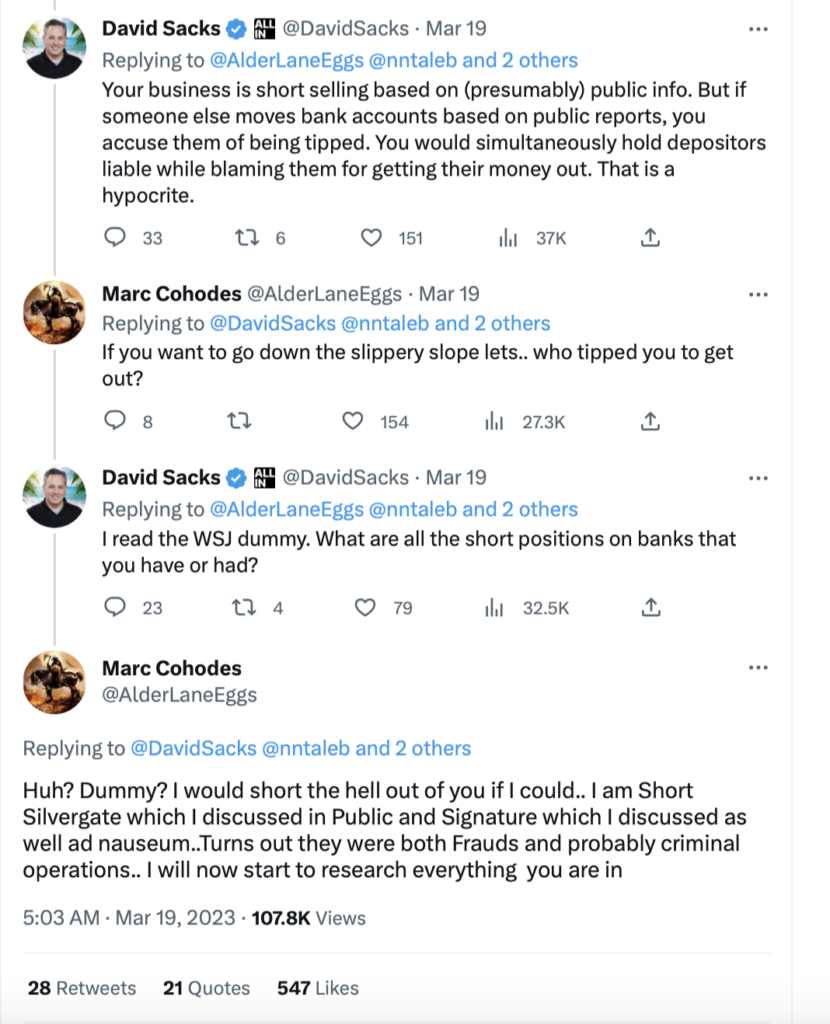 The public spat
What followed is a bizarre series of back-and-forth tweets–sometimes, ad hominem arguments–between the two online pundits.
But Cohodes is not letting up. The short seller is continuing to press Sacks on how he was probably tipped off on the banks' collapse so he could pull out his money.
This column doesn't have any idea what will happen next but we're surely hanging on to our popcorn.
---
Information for this briefing was found via the sources mentioned. The author has no securities or affiliations related to this organization. Not a recommendation to buy or sell. Always do additional research and consult a professional before purchasing a security. The author holds no licenses.