DWAC Briefly Rallies Amid Trump 2024 Possibility
Never mind the failure to solidify a Republican base with some of his endorsed bets losing and former allies turning about, but former US President Donald Trump is slated to announce his intention to run again in 2024.
Trump is set to make a "very important statement" Tuesday at 9 p.m. (New York time), after teasing his entry into the 2024 presidential race for weeks. That would make him the first major contender from either party to formally declare a White House bid–same as in the last national elections when he was the first to announce a 2020 presidential bid on the day of his inauguration after winning in 2016.

Blank check firm Digital World Acquisition Corp (Nasdaq: DWAC), who is trying to close a merger deal with Trump Media and Technology Group (TMTG) to take it public and seems to be more tied to Trump than its own performance, has been on the rise following the "announcement of the announcement." The SPAC's share price rose 11% on the day of Trump's teaser, then a further 4% in pre-market trading.
READ: Bye, DWAC? Donald Trump's TMTG Reportedly Looking To Merge With Parler, Rumble
The elections pretty much shook the firm's valuation; compared to a month ago, the share price jumped as much as 80% after Trump first teased his 2024 presidential run, followed by a 26% decline after the midterms results came rolling in. Since then, the firm has recouped the slump as Trump also tries to gain momentum for his White House bid.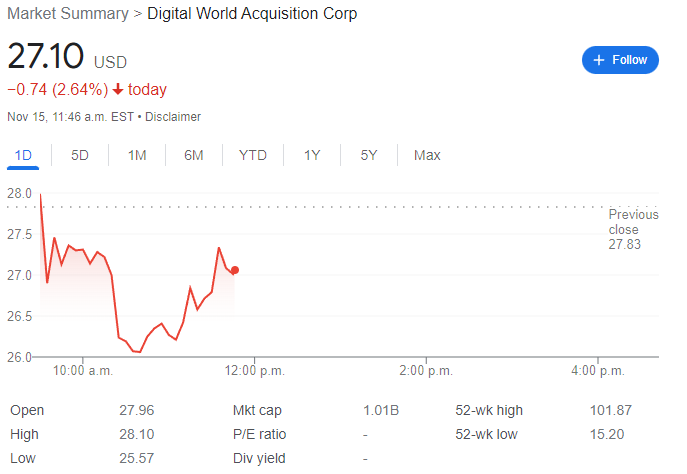 Like his loss in 2020, US President Donald Trump isn't accepting that the predicted "red wave" in the recent midterm elections that would supposedly set up his comeback in 2024 did not materialize. He reportedly lashed out and blamed everyone but himself in this downfall, including either the Republican candidates he backed or the public voters who did not vote for them.
According to a Bloomberg News compilation, the record of Trump's favored candidates on the ballot last Tuesday was 233-36, with 13 races still undecided. However, the former president's hand-picked candidates lost at least six US Senate contests, 12 House races, and 11 governorships, many of which were thought winnable with less extremist candidates by Republican strategists.
Following the results, Trump lashed out on his social media platform Truth Social, castigating mainly a supposed frontrunner as the Republican presidential nominee in 2024, Florida Gov. Ron DeSantis. The reelectionist recently won the gubernatorial race, which many predict to be a launchpad for a White House run in two years.
The former president claimed that "Ron DeSanctimonious is playing games," now that he has a shot at a presidency, as Trump narrated how the Florida governor came to him "in desperate shape" needing help in his then first gubernatorial run.
"The Fake News asks him if he's going to run if President Trump runs, and he says, 'I'm only focused on the Governor's race, I'm not looking into the future.' Well, in terms of loyalty and class, that's really not the right answer…" Trump posted on Truth Social.
"The party's just tired of losing," former New Jersey Governor Chris Christie said in a Bloomberg interview. "I remember Donald Trump was the guy who said we were going to do so much winning that we would ask him to stop winning because we were tired of winning. Well, that's hardly been the case."
But like what Trump said, if these endorsed candidates win, he "should get all the credit" but he shouldn't be blamed when they lose.
After the election results started showing clear winners, many prominent Trump supporters–both elected officials and media personalities–are seeing that a 2024 comeback for the ex-president should be shelved. Many advisers within his circle are reportedly telling him to delay his supposed announcement of his presidential run.
Former allies and supporters are slowly getting off the Trump train, realizing that the ex-president might be further dividing the Republican base rather than solidifying it–with the midterm election results clearly depicting the losing grip of the businessman-turned-politician.
Amid rumors of a third presidential run for Trump, former Vice President Mike Pence indicated in an interview aired Monday that there are "better choices."
"I think that's up to the American people," Pence responded when asked if Trump should be president again. "But I think we'll have better choices in the future."
Subtly, mogul Rupert Murdoch seems to be distancing from his once pal Trump, with his publications packaging DeSantis as the future of the Republican party.
Conservative commentator Michele Tafoya relayed on Fox News' Outnumbered that she wrote Trump a letter asking him not to run again in 2024.
"Some of the Trump backed candidates struggled and some of it had to do with the election denialism. I wrote an open letter to Donald Trump. It says, please Mr. President, don't run again," Tafoya said.
Among politicians, Virginia Lt. Gov. Winsome Sears is one of the few who publicly announced she wouldn't support Trump should he decide to run, saying "a true leader understands when they have become a liability," referencing the losses of Trump-backed candidates in the midterms.
"A true leader understands that it's time to step off the stage, and the voters have given us that very clear message… I could not support him," Sears said.
But so far, the biggest turnaround might be coming from Trump's former Secretary of State Mike Pompeo. The latter tweeted a cryptic insinuation that the ex-president's rant on Truth Social might not be the path to gaining a solid conservative base.
President Joe Biden has stated that he intends to run for re-election in 2024, but he has yet to make an official declaration. On the day after Election Day, he stated that he will announce his decision early next year, after consulting with his family and considering his health.
READ: Look, 'Biden 2024' Might Not Be Happening
As for the merger deal, the blank check firm has failed to secure shareholders' approval on the firm's proposed 12-month deadline extension to complete a business combination, despite many attempts.
The deal, first announced in October 2021, is facing regulatory hurdles: the SEC is scrutinizing the merger, particularly the SPAC sponsor ARC Capital and the possible dealings between DWAC and TMTG before the merger. FINRA also sent the blank check firm "preliminary fact-find inquiries" related to trading in the company that occurred prior to the transaction with TMTG being announced.
Trump already said he could keep TMTG and Truth Social private since he's "really rich" and "doesn't need financing." Imagine what would happen if he becomes engrossed in a run for the White House once again.
---
Information for this briefing was found via Bloomberg, The Wall Street Journal, The Hill, Raw Story, Vanity Fair, and the sources mentioned. The author has no securities or affiliations related to this organization. Not a recommendation to buy or sell. Always do additional research and consult a professional before purchasing a security. The author holds no licenses.