Fandom Sports Media: Three Items to Consider
Fandom Sports Media Corp (CSE: FDM) has seen quite the transformation over the last year. Within that time frame, many things have changed. It went from being a company with the intention of launching a mobile app, to a company with a full fledged application available on Apple's App Store. In the mean time, it's had an almost complete overhaul of the management team, and a flood of new investors backing it.
This transformation is not without criticism however. For each move the company has made, there are some remaining questions that need to be answered. This includes the future viability of the mobile app itself, which hasn't really appeared to gain much traction. Currently, it seems as if investors are more excited about the company, than users are of Fandom Sports' mobile application.
Fandom Sports Media: Three Items to Consider
Fandom Sports' Current Revenues
Simply put, the focus behind any enterprise is to generate revenues. In that regard, Fandom Sports currently has a large goose egg. To be fair, the commercial version of the mobile application was launched on October 23, 2017. The most recent financials for the company are as of eight days later, so there was little time to generate any income. That much is understood.
What is not understood at this point in time, is how the company intends to generate revenues. The application itself has been in beta testing since July 20, so we expected a few dollars in revenue as the company determined the best method to display advertisements within the application. This however did not happen. Based on what we have seen, it still isn't happening either.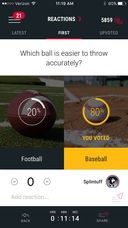 As a measure of how the company may now be generating revenues, we elected to actually download the application. There had been sporadic mention of advertising within the application through company documents, as well as in-app purchases. We wanted to try and determine the average purchase price of these items to see if we could determine even some form of future revenues.
As tech savvy as we are, we couldn't figure out how to give the company our money. There was no location to perform in-app purchases, and no sign of paid advertisements actually existing within the application from what we could see. Upon signing up, there is terms and conditions that we were required to agree to. Within, it identified that it would be using Google Adsense and similar serves as advertisement vehicles, as well as offering in-app purchases. If these items were actually there, that'd be news to us.
In this regard, the application itself isn't very conducive to advertisements either. Rather than swiping right or left to the next "argument", its an endless downward scroll that will likely limit the ease of adding in advertisements for revenue accumulation. It's also unclear what exactly it is that users will actually want to purchase within the app.
Overall, its unclear what Fandom Sports will actually be doing as a means of generating revenue. Typically, these mechanisms are already built-in at the time of the initial release. Its questionable why such items were not already in place, especially given the fact that the company is public and has shareholders to satisfy.
Executive Compensation at Fandom
As previously mentioned, in the past year there have been some changes at Fandom Sports Media in regards to their management. Over the last year, almost all members of management that have been with the company for a period of time have exited, with two resignations occurring just last week. Whether this is a positive or negative indicator is up to interpretation.
What is interesting however, is the salary being paid to the new members of management. This trend began back in July, with the signing of Henri Holm as Fandom Sports' new chief executive officer. Under the terms of his contract, he is paid an astounding $12,000 per month. This is in addition to the 2,000,000 common shares and 1,900,000 options that Mr Holm was granted as a signing bonus.

Also of note is the pay rate that was signed for the companies new chief operations officer, Mr Allen Ezer, as can be seen above. At a rate of $10,000 per month plus taxes to be paid to Ezer's own private company, his wage isn't that far off of the CEO's.  This agreement was also signed barely two months in on a six month contract wherein Allan Ezer was to provide consulting services for investor relations through Lumina Capital Partners.
These monthly rates of pay may not seem excessive for executive positions, but lets consider the following. First, is this chart indicating what executives have been compensated for the nine month period ending October 31, 2017.

You'll notice above that the two newest members of the management team are also the highest paid. By this point in time, both of these individuals would have been compensated for a partial term. In the case of Mr Holm, it is a four month period, and for Mr Ezer it's a three month period. This compares to the $24,300 the companies CFO has earned over nine months.
Finally, there is the issue of where this executive pay is coming from. As we just established, the company has no current revenue streams as of yet. Even with the mobile app being live, it is believed that zero revenues are being generated. This inherently means that $22,000 of privately raised funds are being allocated to pay these two members of management each month. And if it is not paid through cash collected from these private placements, it would be through the issuance of options which furthers dilution.
Fandom Sports' Share Structure
For investors, the major benefit of investing in companies listed on the Canadian Securities Exchange is the level of transparency that the exchange demands. For instance, Form 9 documents indicating who bought in to private placements, and Form 11 documents indicating who options were issued to are invaluable. This enables us to closely track corporations that are regularly taking part in these transactions. There's also the Form 7, which is a monthly progress report. Within, it includes the current count of outstanding shares a company has in addition to any other material change.
We have a particular fondness for the monthly progress reports, as it makes it easy to track a companies share structure. For instance, if you calculate the share structure at the time of the last financial statements, you can then determine how many warrants or options have since been exercised. In the case of Fandom Sports, this figure is a few million. This is evident from our chart below, which is actually short on its current share count. This is due to undisclosed warrants that have been exercised by private investors. We may not know which warrants in particular they are, but it gives us a sense of what is remaining.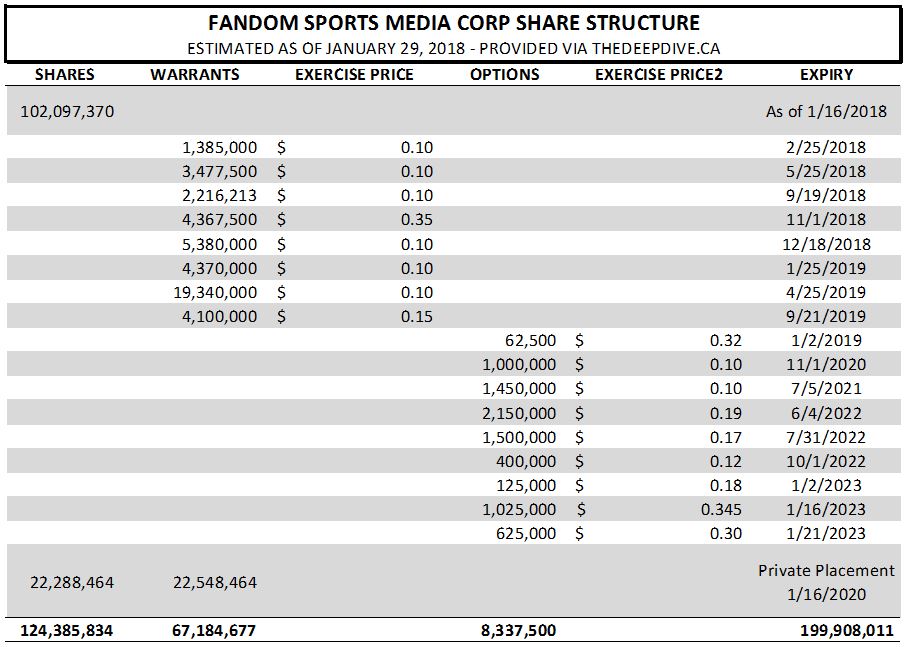 Based on the most recent filing at The CSE, we know that the current outstanding share count on Fandom Sports is actually 126,000,836 as a result of warrants being exercised. They were not marked on our chart due to the uncertainty on which warrants they actually were. Based on this figure and the closing price of $0.24 on January 26, the current market valuation of Fandom Sports is $30.24 million. On a fully diluted basis, this figure jumps to $47.98 million.
One last thing to note on the share structure of Fandom Sports Media, is this curious snippet from the company's July 12, 2017 Management Information Circular.

Yes, you read that correctly. Apparently there is an investor out there who had owned roughly 57.16% of the company at the time of filing. Yet, the company didn't know who specifically it was that was in control of these shares. A quick web search indicates it may be the Canadian Depository for Securities, however its questionable whether or not this is the exact company we were after. Regardless, its interesting that the company has no idea who its largest shareholder is. There was also no related filing on SEDI for this ownership.
Closing Remarks
When it comes down to it, we view Fandom Sports Media in a bearish light. We just can't justify the current market valuation based on what we have seen from the company thus far. There are some blockchain assets that the company is working towards developing, in addition to its Android app to compliment its iOS mobile app. However, its questionable that this provides roughly $48 million in value.
In the short term however, there has been some hype built up around the stock. We won't go nearly as far as to call it a pump and dump, however the excitement surrounding the stock is curious. At the very least, it's likely that several investors are here on a short term basis.
In addition to the previous points, we weren't all that impressed by the mobile app either. Maybe that's just due to not being sports enthusiasts. Regardless, the app was shortly removed from our device after using it for a total of ten minutes. It's suspected that there will be much more developmental costs for the application as it works to retain the few users it currently has.
Don't be afraid to try a company's product before investing. Its part of the analysis. Dive Deep.
---
Information for this analysis was found via Sedar, The CSE, SEDI, Bloomberg, BNN, Apple's App Gallery, the Fandom Sports App, and Fandom Sports Media Corp. The author has no securities or affiliations related to this organization. Not a recommendation to buy or sell. Always do additional research and consult a professional before purchasing a security.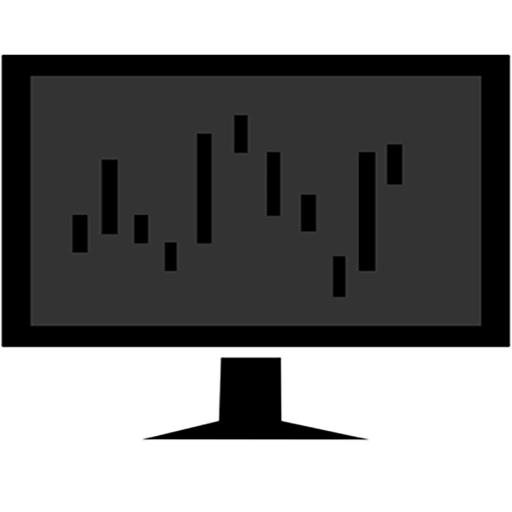 As the founder of The Deep Dive, Jay is focused on all aspects of the firm. This includes operations, as well as acting as the primary writer for The Deep Dive's stock analysis. In addition to The Deep Dive, Jay performs freelance writing for a number of firms and has been published on Stockhouse.com and CannaInvestor Magazine among others.