Food Shortages May Become Reality Amid Coronavirus Pandemic
The global coronavirus pandemic has wreaked havoc across economies, closing down businesses, putting millions out of employment, and racking up trillions in government debt. However, an even more grim implication of the pandemic is a potential global food shortage, which would put millions of people at risk – especially the most vulnerable.
Lately, the global food supply chain has been put under a tremendous amount of strain from all corners of the world. Many developed countries have imposed lockdowns and social distancing guidelines as a means of mitigating the spread of the virus, as well as urged employees to work from home and avoid outings unless for necessities. Such measures have created a slew of panic buyers, who have been stocking up on excessive amounts of goods such as flour, yeast, meat, and sadly- toilet paper. Now, it's not so much the lack of production of food and necessities that are creating these alarming scenarios, but rather the disruptions in the transportation of the supplies.
The various transportation links that deliver food and necessities to developed countries have been under tremendous strain with the grounding of flights, as well as travel restrictions for essential employees. The grocery stores are thus not only faced with an increased demand for staple goods, but are also dealing with the additional strain of delayed deliveries. However, given the rapid spread of the deadly virus across the world, soon even the food production itself may become compromised.
Recently, several meat processing plants had employees test positive for the coronavirus, thus putting the entire facility in jeopardy. At the Cargill facility just south of Calgary, an employee has died as a result of the virus, with an additional 484 employees testing positive. The plant has been forced to temporarily shut its doors while workers are sent home for self-isolation.
However, the problem just seems to be getting bigger. Now, a second meat processing facility, also in Alberta, is having to deal with employees not showing up for their shifts because they are afraid of contracting the virus. The JBS plant which is located in Brooks has thus far 67 confirmed cases of the virus, but nonetheless is planning on keeping its doors open and continuing on with production despite employee's concerns.
Although currently there are no significant food shortages in developed countries, that may soon not be the case if the virus continues to ravage developing countries, where the majority of our food supplies come from. If workers on plantations succumb to the virus, then there will be no one to harvest the food – let alone plant it in the first place. Labor shortages in several countries, including India, has caused the country to decline international contracts for the export of its rice in order to ensure that supply meets its domestic demand first.
But the problem does not stop there. If panic buying and food hoarding is not mitigated, then not only will there be a shortage of staple foods, but also a significant onset of food inflation. Mix that with high unemployment rates and slow economic growth- and the country is in stagflation. But enough about the potential implications food shortages will have on developed countries. Lets put a brief focus on an even more alarming problem: food shortages in third world countries.
According to a report released by the UN's World Food Programme, up to 265 million people could face food shortages as a result of the global pandemic, compared to previous 2019 projections of 135 million. This means that 130 million more people are on the brink of starvation, which is a much more pressing issue than Karen's frustration at the grocery store's lack of avocados for her sugar-free, gluten-free smoothie.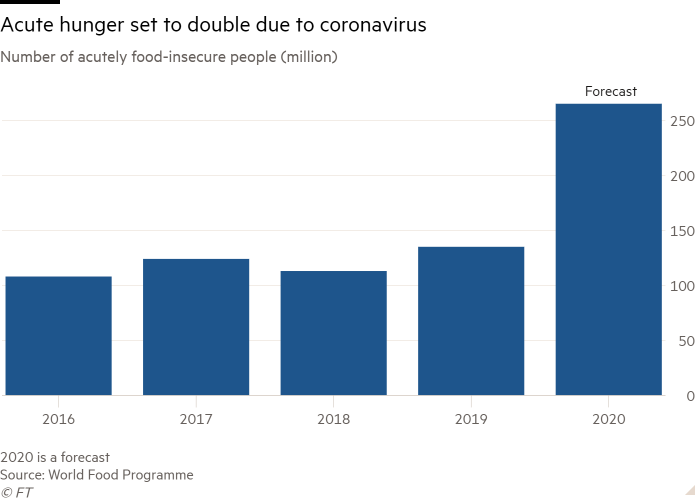 Currently, the UN's World Food Programme provides basic food assistance to nearly 100 million people, but those life-saving supplies may soon become compromised. The rapid spread of the coronavirus has had significant implications on economies, including supply route disruptions, labor shortages, and food hoarding – which means that if vital aid cannot reach the poorest corners of the world, then approximately 300,000 people could starve to death each day. A much more startling statistic than a shortage of rib-eye steaks at Calgary grocery stores.
Information for this briefing was found via Reuters, CNBC, CBC News, Global News, Yahoo Finance, World Food Programme, and CNN. The author has no securities or affiliations related to this organization. Not a recommendation to buy or sell. Always do additional research and consult a professional before purchasing a security. The author holds no licenses.