Galaxy Brain: Aurora Charting a Course through the Cannabis Supply Glut
For this weekend's special piece, Deep Dive author Matthew Cox breaks down the Health Canada numbers, compares them to matures markets, and ties it all to operator Aurora Cannabis (TSE: ACB).
---
Columns about the cannabis market being crushed under a ton of supply write themselves these days, and as the equities markets come around to reflect the product markets, it's all just starting to seem a little bit too easy. Conversely, in the Hot Take Economy, there's always demand for contrarian thinking that finds the bullish undercurrent, and The Spice Must Flow.
To the charts!

The budding Homer Simpson on a Howe St. bar stool up there in the X-Ray started with the obvious and got nowhere. The inventories climbing are certainly a supply-side problem, but those flat sales are the real problem because, if 155,000 kg / year is all this country will smoke, then everyone's estimates were WAY off.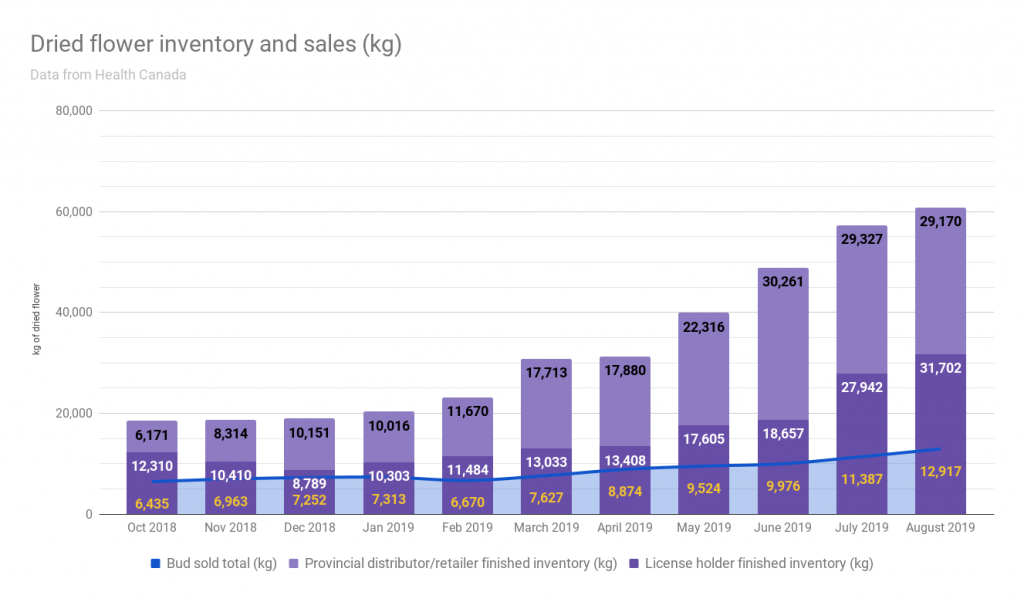 And, while one expects sell-side shills to round up, this rate of consumption isn't what we're seeing in the more mature markets.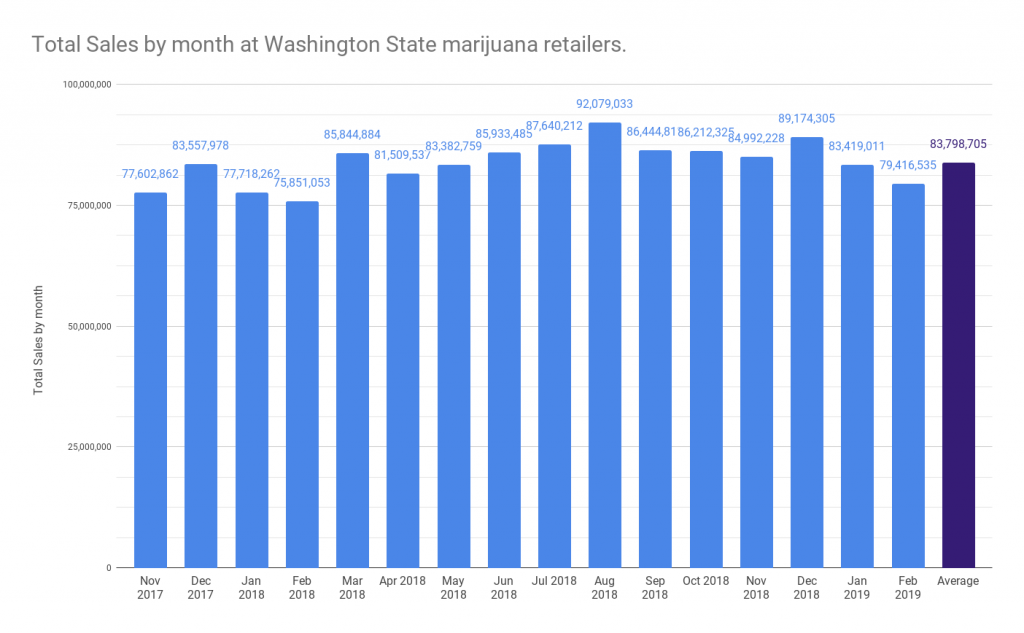 This graph of the total retail sales in Washington State, where cannabis has been legal since 2014, paints a picture of a market that has plateaued. We don't have the sales weight from Washington, just the sales gross. But a May, 2019 report in the Seattle Stranger cites data firm Headspace pegging the average price per gram in Washington at US$4.90. We can use that rate to calculate that Washington's 7.54 million people consume around 2.27g / month each, on average.
If we convert the oil totals from August to equivalents, then add them to the dried flower, the Canadian retail sales total only adds up to .86 dried gram equivalents per Canadian in August, so this market has a ways to go before it peaks.

This isn't entirely wrong, because there is certainly a stockpile. Of course, there has been for quite some time. And the unfinished inventory has grown at a much faster rate than the finished inventory, and continues to. We haven't yet seen a commercial test of edibles products yet, so it's reasonable to assume that the stockpile is going to be hanging around a while longer.
We've spilled enough ink over Canopy Growth Corp. (TSX:WEED)(NYSE:CGC)'s unprecedented stockpile, and it isn't very interesting anyhow, so we'll pick on Aurora Cannabis Inc. (TSX:ACB) (NASDAQ:ACB), who reported last week (check out Jay's excellent summary).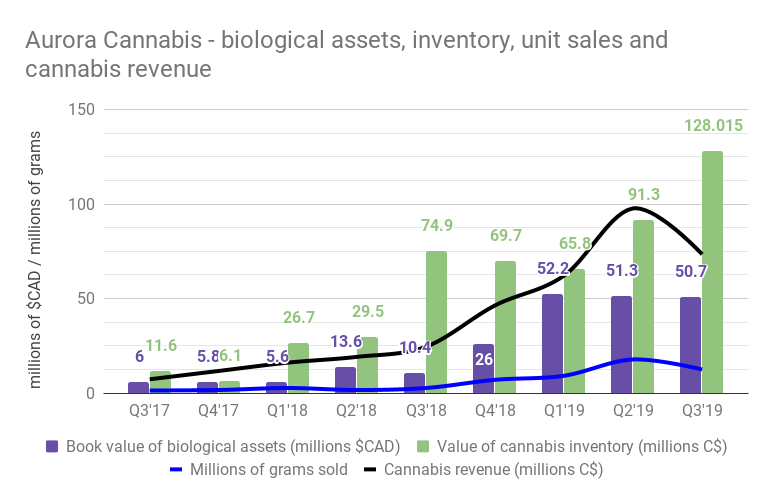 A 30% jump in inventory looks small compared to Canopy's effective doubling last quarter, but it's still a big jump, and their second in a row of that magnitude. Let's see how it breaks down.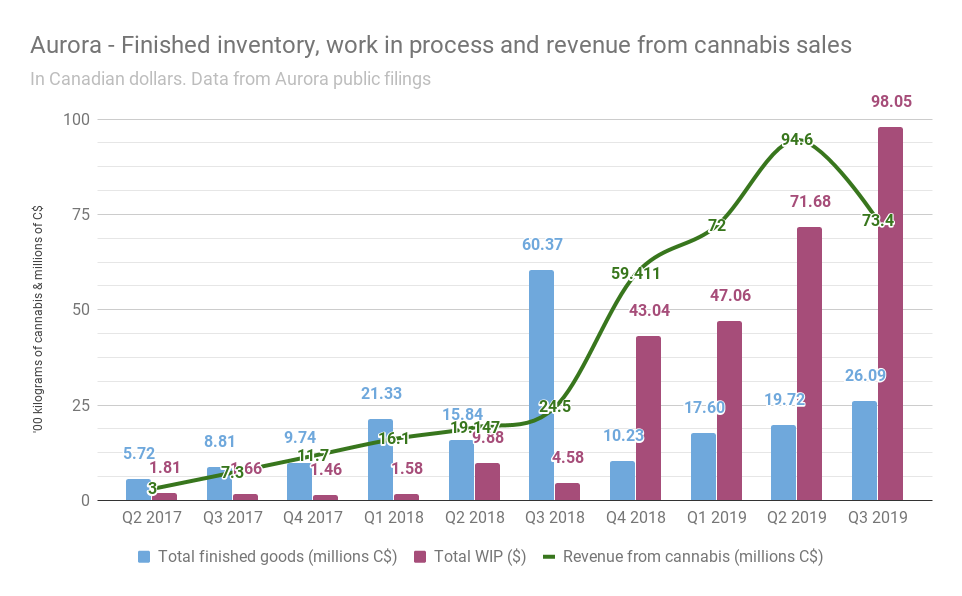 The stockpile is 75% work-in-process inventory (by book value), meaning that it's some stage between live plant and packaged for a customer. This is what Health Canada calls "unfinished goods." Aurora is showing growth rates in WIP cannabis, FG cannabis, and the gap between them that reflect what we're seeing in the Health Canada numbers.
That kind of stockpile will make a LOT of extracts. ACB tends to say a lot more about their extraction capacity (they claim 45,000 kg/yr) than they do about consumer-facing products, so it's likely that they intend to sell the extract to whoever comes up with a medium for it. Canopy's chocolate and beverage initiatives are surely already supplied.
Aurora also showed us a doubling of their production surplus, a quick and dirty metric that shows how much more cannabis they harvested than sold.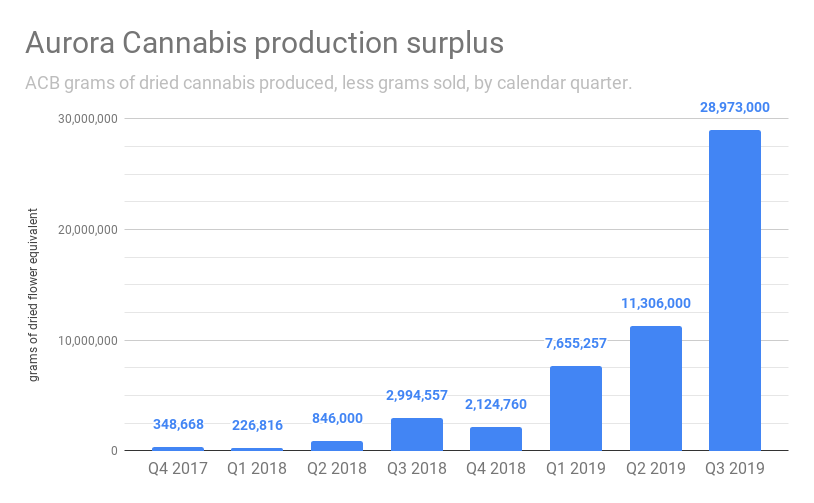 Aurora's capacity promises are coming true at the exact wrong time. Last quarter Aurora looked like a serious operator with control of the supply, selling 5,577 kg of bulk cannabis for $20.1 million ($3,604/kg) on the wholesale market. This past quarter's take is half that, mostly becauses they sold half the weight (2,598 kg), but they also got less per kilo ($3,460).
What's worse is that Aurora is calling the bulk weight that they sold this quarter "extraction-grade biomass." There's no telling if the bulk sales were mostly schwag because of a sudden lust for extracts feed, and they're keeping the good stuff on ice, or if it's just all they've got. That makes the rest of this meme more complicated.
The cured terpenes that make good-tasting bud taste good are the same ones that make good-tasting oil taste good. Those terepenes show up only when a well-tended plant that comes from good stock is harvested at its peak, then dried and finished correctly. Bud that failed to make the cut as consumer-grade flower can't be made into high-test concentrate. Some of the high-test trim that came from a high end crop can, but the trash that won't sell is destined for edibles, balms and vape pens to which the government won't yet allow companies to add artificial flavor.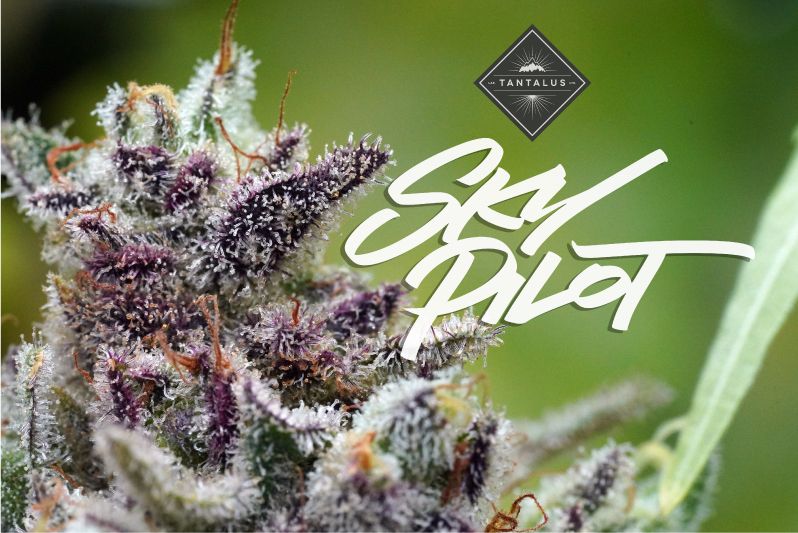 Something other than dried flower might start to move eventually but, until it does, only the companies who produce high-test at a low cost are going to be able to compete in this market, because it's just like any other market; better bud commands a premium. It doesn't have to get marked down for sale, because it sells.

When you take all of the Washington State licenses and stack them beside each other, it becomes apparent that cannabis operations have a VERY sharp talent curve.
This chart shows the total sales of the top 100 WA cannabis licenses over the 14 months in the period we used in our population consumption math. Washington State had 1,117 licensed producers and processors in that period. Fewer than 200 of them grossed more than US$1 million in the period. They presently license more than 1,200 processors and cultivators.
As of November 8th, 2019, Health Canada had licensed a total of 253 producers and processors. Only 86 of them were authorized to sell dried flower to the provincial distributors who are the gatekeepers of the legal retail cannabis market.
Investors who backed corporate cannabis operations at the beginning (and middle) of the cycle were betting that value would come from the scarcity of the licenses. And, for a time, it did. But that scarcity isn't worth much to licenses that can't demonstrate any utility.
The operating licenses consistently selling and producing high-test are the most valuable actual pieces in this mess. Whether their value is buried under a bloated balance sheet and cap table produced by an epic stock promotion, being sucked dry by management and their banking partners or not, remains to be seen.
---
Information for this briefing was sourced from Aurora Cannabis public filings (via SEDAR), Health Canada and the Washington State Liquor and Cannabis Board (special thanks to the good people down in Olympia for being so helpful with our data requests). The author has no securities or affiliations related to this organization. Not a recommendation to buy or sell. Always do additional research and consult a professional before purchasing a security. The author holds no licenses.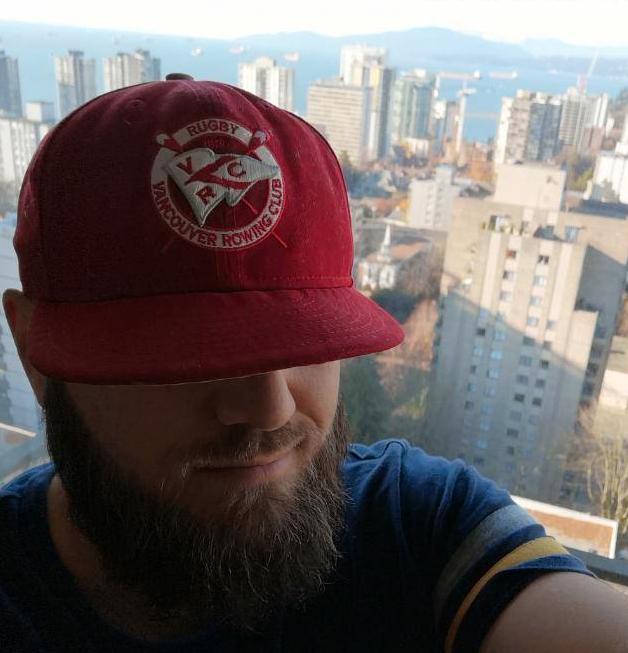 Braden Maccke is a freelance writer from Vancouver, B.C.
You can read all of his Deep Dive articles here.
He can be reached at braden@fundamentalhype.com.