Canopy's Quarter in Charts
Whenever there's a negative margin, those of us in the financial content biz like to divide the expense line items by the revenue to create headlines, so let's just all get it out of our system:
Canopy spent $60.4 million on sales and marketing last quarter, 78.8% of their revenue
Canopy's General and Administrative expense in the September quarter was 114.6% of their total sales.
Canopy's share based compensation last quarter was $83.7 million; 109% of their revenue.
(Shout out to #fintiwt OG @oddstats, who didn't invent that sort of thing, but might as well have.)
Canopy Growth Corp (TSX:WEED,NYSE:CGC), the largest cannabis company by market cap, mailed in a real egg in Q3 and The Dive is here to draw you the picture.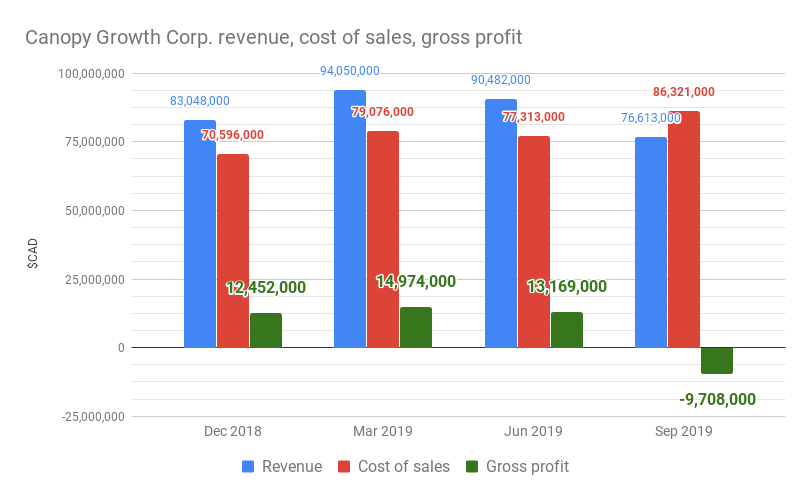 A declining revenue trend and a sharp jump in costs are bad things on their own, and they've converged for Canopy in the September quarter. The company lost money on the top line, and venture-stage businesses aren't supposed to do that at any size. The whole idea of losing money on the bottom line is that the basic income and expense from products and services creates a margin that's worth scaling up beyond regular corporate expenses that don't change, eventually overtaking those expenses so that the company breaks even. If the margin a company is scaling is negative then, mathematically speaking, it will never break even. Anybody want to see a graph of that margin?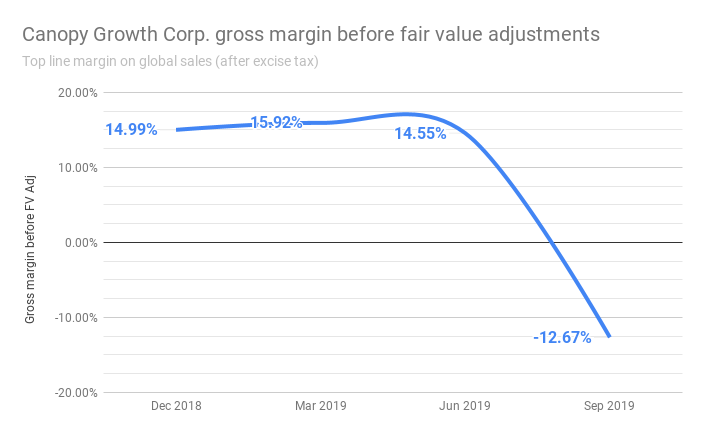 The 15% margin they were averaging was bad enough. A 35% top-line is respectable for a cannabis business. Rival mega-grower Aurora Cannabis (TSX:ACB,NASDAQ:ACB)manages to print margins in the 50% range consistently, so this figure is bad enough that it's downright curious.
Canopy is a sprawling company with significant revenue and expenses from businesses other than cannabis (mostly cannabis accessory company Storz and Bickel Co.), so the inclination is to break out the cannabis part for a look at how the core is doing. Canopy makes that look like it's possible, providing separate accounting for rec and medical cannabis divisions, and non-cannabis income, but they don't break out the non-cannabis costs. WEED went back to giving investors a figure for the costs of the cannabis facilities that are dark or under-capacity, and detailed the various provisions for potential returns that are baked into the costs; an apparent attempt to give analysts enough blocks to get to a best-case-scenario that's barely in the black. But by the winding path there is hard to follow, and it's tough to shake the feeling that it's deliberate.
We speculated at the end of last quarter that majority shareholder Constellation Brands (NYSE:STZ) had very little interest in defending the share price and this warning siren blaring from their top-line might as well be the global liquor brand telling us as much. Canopy shows a cash balance of $2.7 billion and, on a cash basis, the company burned through $714 million this quarter and $664 million last quarter. Clearly, they're going to need a top up and Constellation, first in line for a financing by virtue of their control of the board of directors, doesn't see any reason that it should be their $76 warrants that re-capitalize their $54 / share investment trading at $20. If averaging down is a foregone conclusion, why go to all the trouble of dressing up the top-line?
Sales and inventory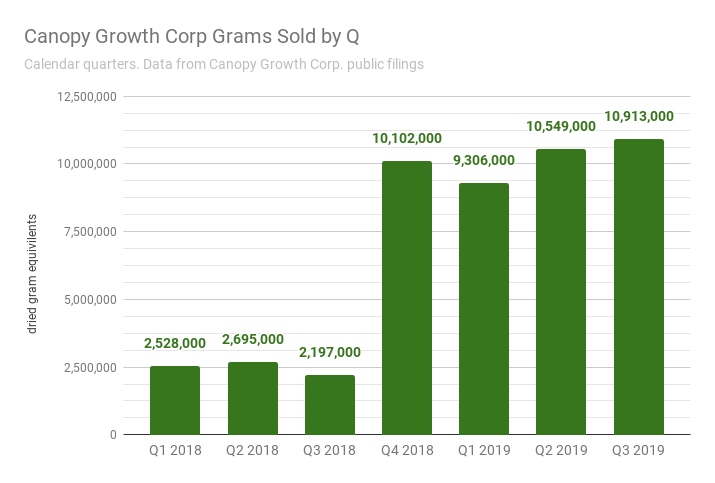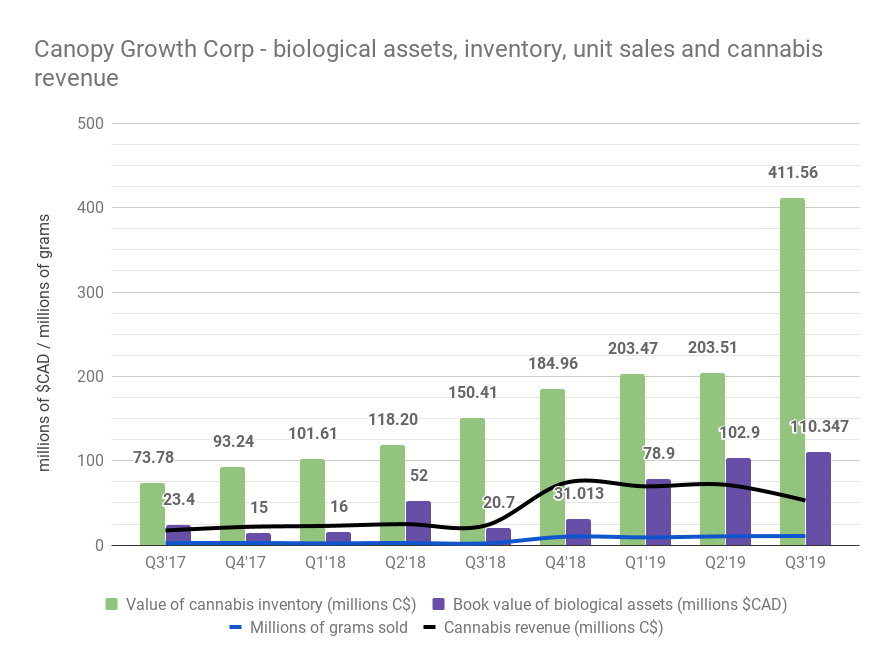 Canopy's industry-leading inventory stockpile effectively doubled in three months, while sales were effectively flat and biological assets showed only modest growth. This jump is bound to renew questions about the quality of Canopy's inventory, or possibly the value at which it's being carried. $280M worth of that inventory (68%) is classified as work-in-process product, which means it hasn't yet been packaged. That type of split is consistent with a volume of product being staged for the edibles and extracts market which, to be fair, hasn't generated any sales yet, so we can't technically accuse the company of over-valuing it.
These quarterlies are adamant about the company's readiness for the edibles and extract market. They feature illustrations of the company's new drink brands, and "bean to bar" chocolate product. Canopy tips that they expect their bottling line to be licensed this month, and their vape pen manufacturing equipment, which is already licensed, to be put into service this month. The chocolate-making equipment is on-site, tested and licensed.

Saskatchewan-based extraction facility KeyLeaf, recently licensed by Health Canada, is described as the future processor of the hemp that grows at Canopy's nearby operation, and of "biomass from indoor cannabis facilities."
Technically, there isn't all that much you can't put cannabis in, and we expect Canopy to try everything they can, until they find something that works, and go with that. It looks like they've got the better part of $411 million in inventory to work with.
---
Information for this briefing was found via Sedar and Canopy Growth Corporation. The author has no affiliations related to this organization. Not a recommendation to buy or sell. Always do additional research and consult a professional before purchasing a security. The author holds no licenses.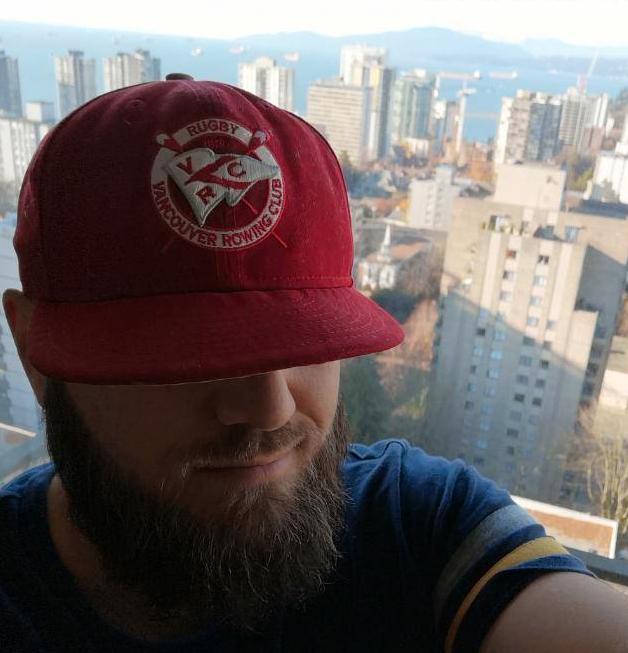 Braden Maccke is a freelance writer from Vancouver, B.C.
You can read all of his Deep Dive articles here.
He can be reached at braden@fundamentalhype.com.