Gun Stocks: Smith and Wesson
Firearms manufacturer Smith and Wesson Brands (NASDAQ: SWBI) closed at $15.20 this past Friday. That puts it up +9.04% since a high profile and very disturbing school shooting May 24 in Uvalde, Texas (21 dead), and up +7.5% since a racially charged May 17th shooting in a Buffalo, NY grocery store (10 dead, 3 wounded).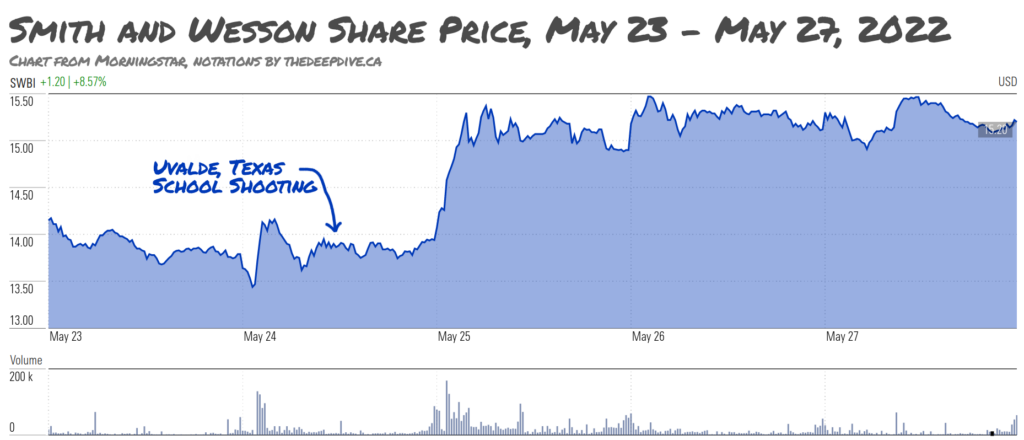 Smith and Wesson and a handful of its peer gun stocks, including Sturm, Ruger & Co (NYSE: RGR), Daniel Defense (private) and Sig Sauer (private) have been asked for information about "their manufacture, marketing and sales of firearms used in mass shootings," by the US Congress' House Committee on Oversight and Reform, who apparently didn't think to just look for that information in the 10-K.
But the information itself isn't the point. Asking for it in a public press release is the point. This Democratic Congress is here to look at these companies and the roles their ongoing arms proliferation plays in the violent and ever more frequent mass shootings in American public spaces. The look will be a loud one.
It might include a public scolding of some executives, and will give all indication that Congress has had enough of these death merchants, and is seriously considering long lasting, binding legislation that makes their products much more difficult to buy and sell. Done correctly, it will provide days of content for both warring factions of the cable news landscape, and cause a near-term bump in these companies' receipts.
We're having a look at Smith and Wesson because it's a nearly pure-play gun company whose recent history is a prime example of how the amount of fear in the zeitgeist affects the retail arms trade.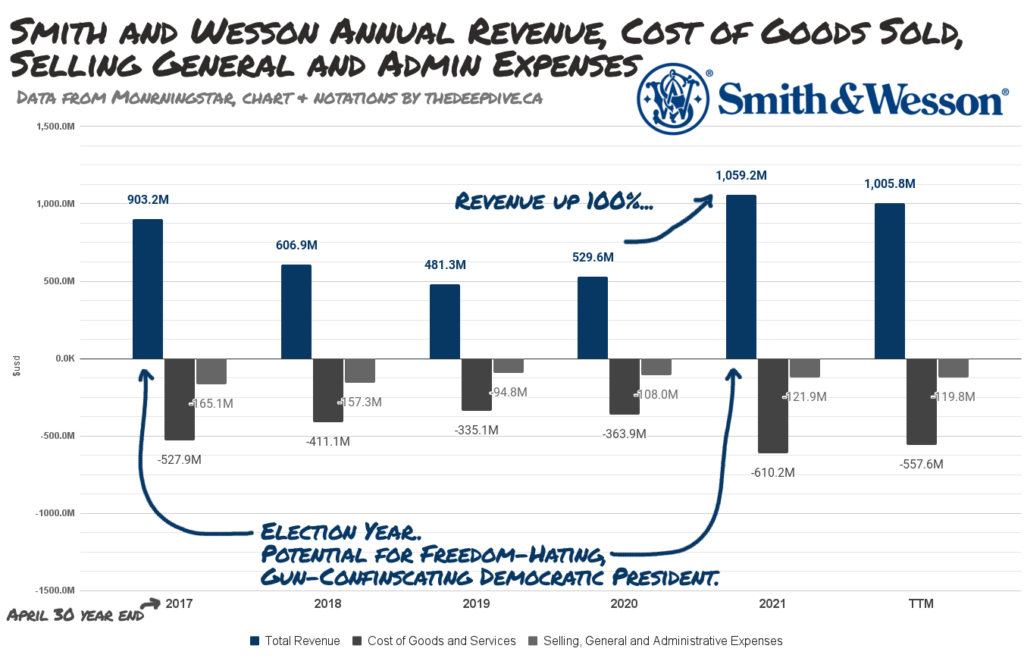 In the Smith and Wesson fiscal year ending April 30, 2021, the company's net sales (total revenue less rebates and returns) was up 100% over the year prior. It took in $1.1 billion on the top line, as Americans navigating a confusing and scary environment of social isolation were suddenly in the market for something familiar, empowering and comforting.
As 2020 slogged on, the country was gripped by nationwide anti-police action, further developing the market for personal protection firearms.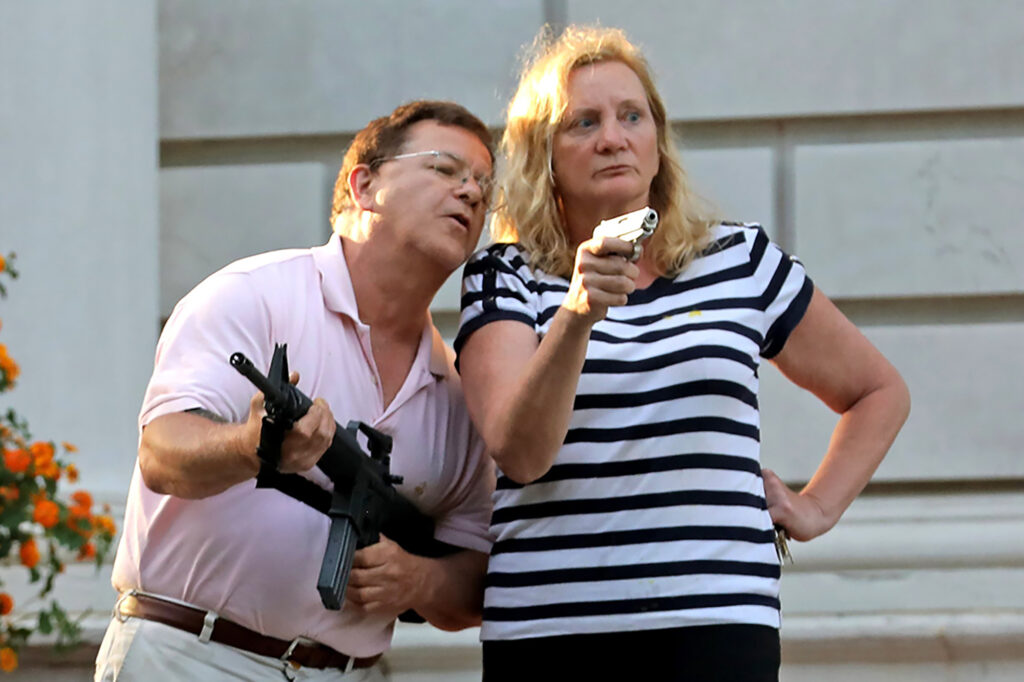 Quick on the Draw
In its 168th year in the small arms business, Smith and Wesson had no trouble adjusting to the sudden demand. Its literature speaks with pride of a flexibility in its operations that allowed it to scale up its unit output by 61%. It also eliminated virtually all promotional activities, greasing the skids for all of that revenue to make its way down to the bottom line.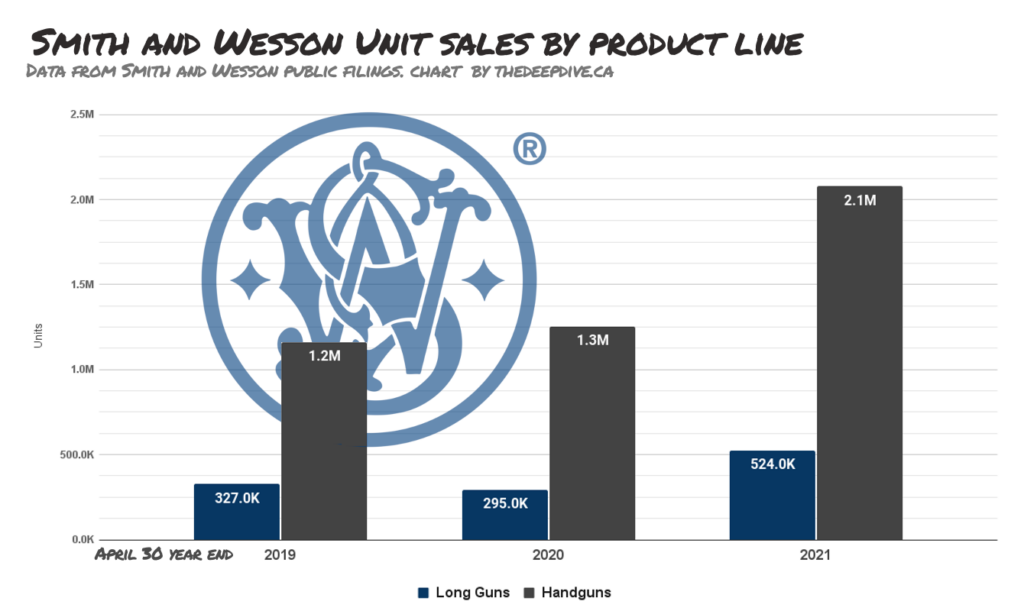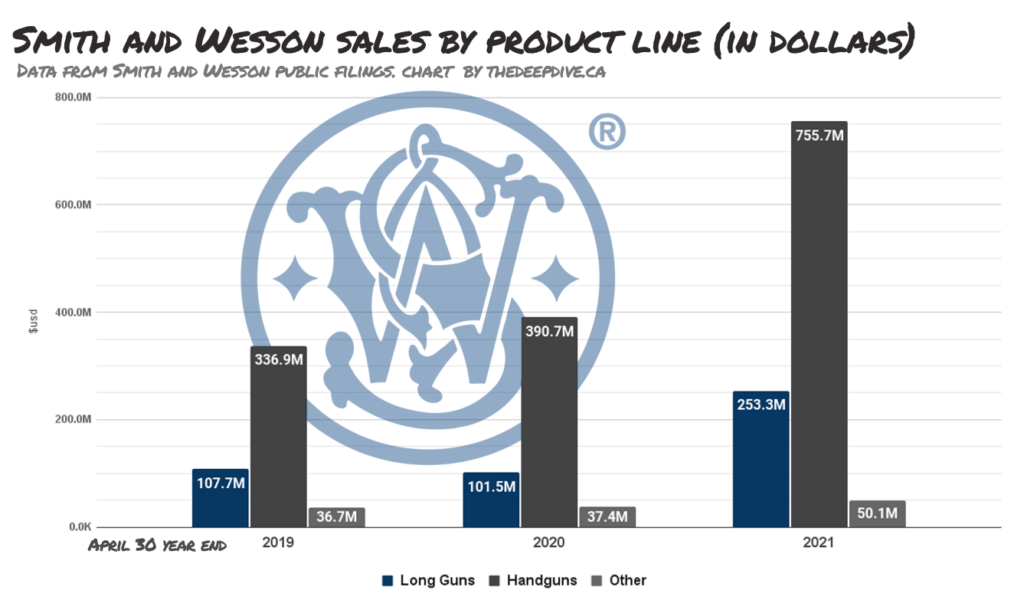 The trend in the hyper-growth environment of 2020 and 2021 was for companies to invest windfalls in expansion and innovation, leveraging the optimism of the low rate environment to catch a lift on the equity. But Smith and Wesson is a throwback. It sells revolvers of the same basic design that made it a household name. It's simple, obvious, durable, reliable, and built not to jam. The company used some of its boom money to pay down all of its outstanding debt ($159 million), paid the company's first ever dividend, and did $110 million in share buybacks.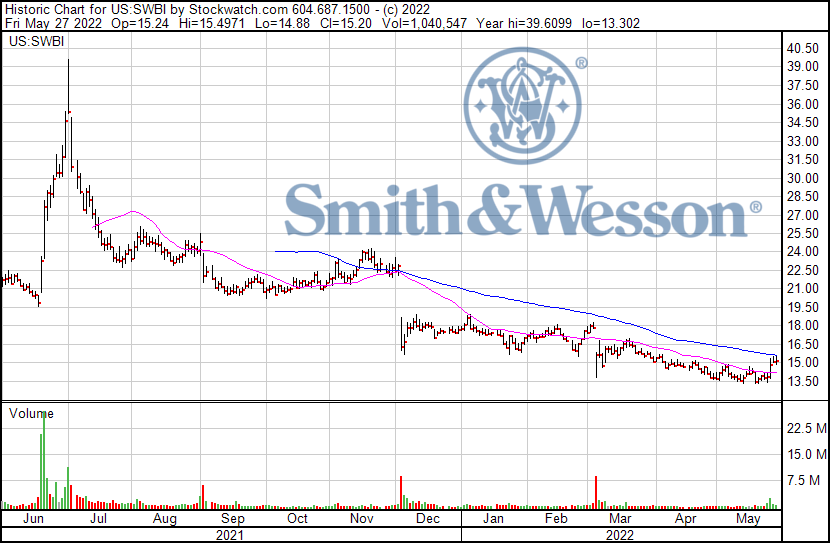 The thinly traded issue responded well as the income investors with portfolio mandates that allow for companies this small got in line for that payout. The S&W share price levelled out into a sideways drift on relatively low (but steady) volume as the street concerned itself with the growth stories du jour. It missed its number in December, gave up $8/share in value and continued along its declining glide. Smith still pays a $0.08/ quarter divvy, and earns enough that it doesn't have to borrow to keep it up.
The market of (calendar) 2022 may be coming to appreciate the type of traditionalism that Smith and Wesson expresses fiscally. Former perma-growth zombie co's like Uber (NYSE: UBER), who rode the growth train to become about 100x the size of Smith and Wesson, are now scrambling to generate cash flow, because investors told them to. Smith's income paradigm is exactly the sort of thing that could make it a competitive equities story, if and when rates climb. At Friday's close, the divvy represents a 2.24% yield. With $108 million in cash as of January, the company could do another buyback if it wanted to juice the share price, but it looks like Congress might do that for them.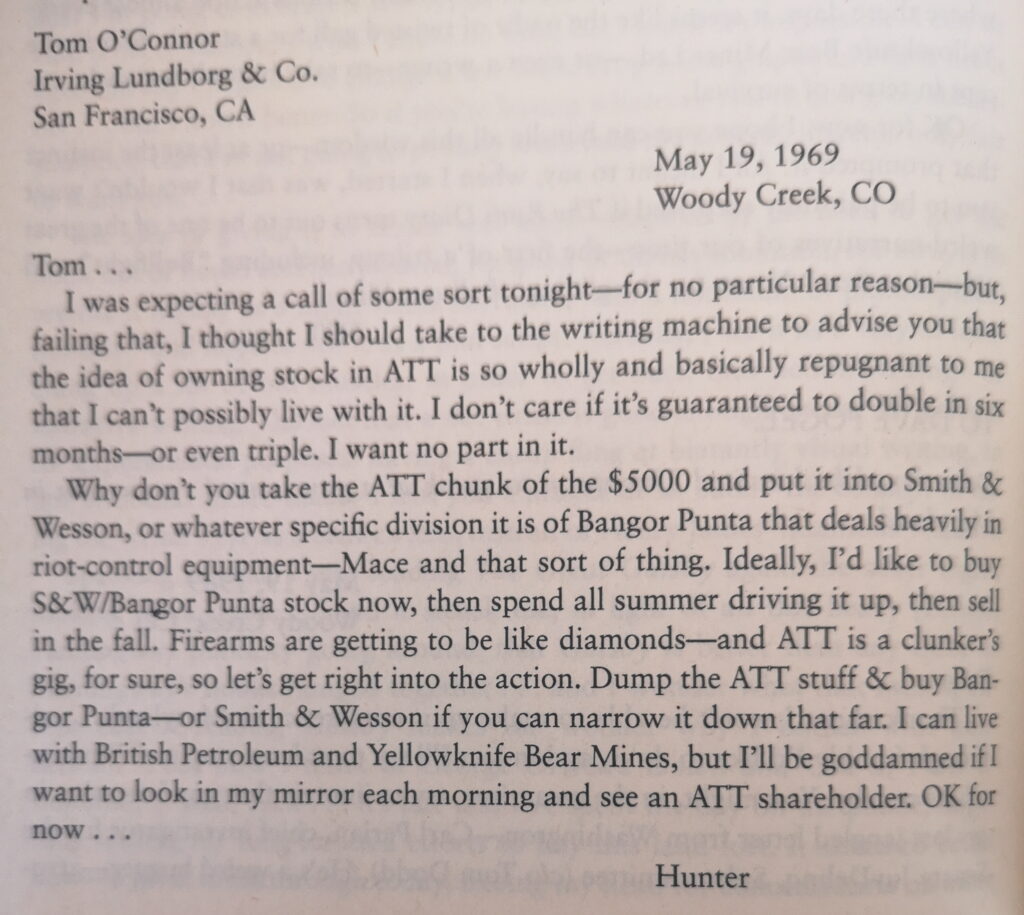 The COVID pandemic wasn't the only thing terrifying Americans in 2020. It was also an election year, in which Joe Biden, a geriatric Democrat straight out of central casting, ran a campaign around his base's well-founded fear and loathing of incumbent President Donald Trump. The fear Trump stoked in his own base was a classic native fear buried deep in the Republican lizard brain: as soon as they get a chance, the Democrats are going to take your guns.
They aren't, of course. They don't have the aptitude or the inclination to do anything about gun violence beyond make committees about it, and that suits Smith and Wesson just fine. The more it's in the news, the more the notion that they might actually do it this time will drive sales. Guns sold well ahead of Obama's election too, and there are a lot more weapons floating around now than there were before he served two whole terms – one with a super majority.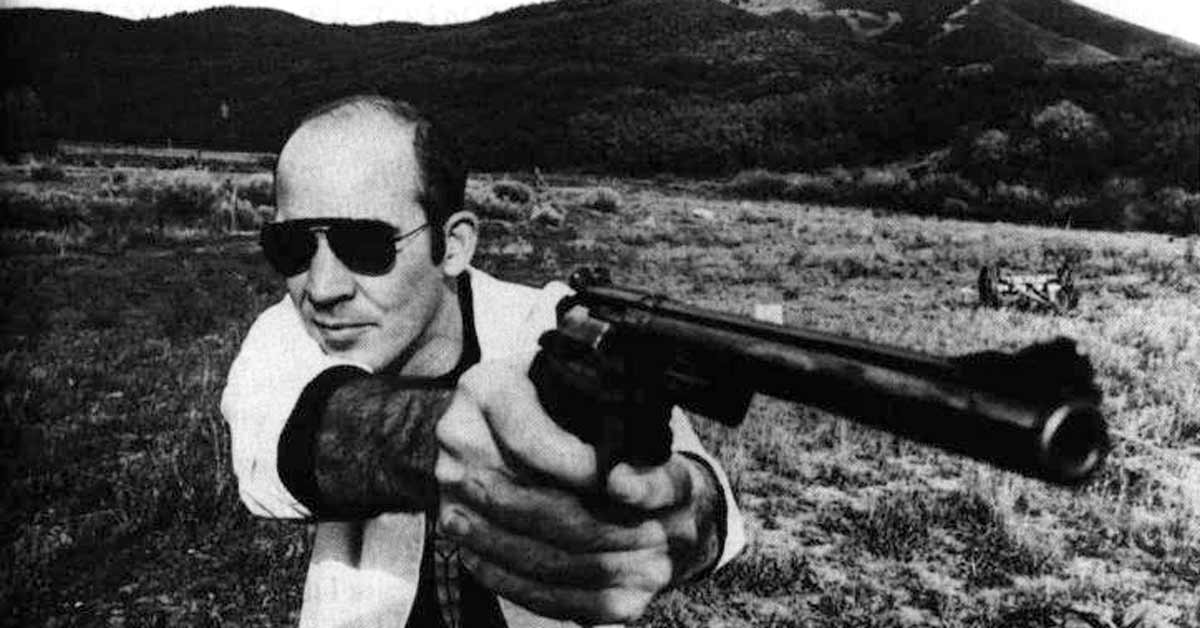 Going into its 171st year in the same business, Smith and Wesson very much knows what it is, and learned it the hard way. A year 2000 venture into "smart guns," that used chips and fingerprint readers to only fire when held by their registered owner brought on a boycott by the powerful National Rifle Association that nearly drove the company out of business.
It was acquired in a beat up state, built back up, taken public as part of American Outdoor Brands Corp (NASDAQ: AOUT), and spun off again to become the $691 million market cap issue that it is today; a small-calibre, dependable wheel gun that's about as deadly and safe as the judgement of its operators. Smith shareholders are making a bet that it can remain crafty enough to duck victims' lawsuits, and to adjust to any gun laws that do evolve, while using the high-profile fear that surrounds both sides of them to move units.
---
Information for this briefing was found via Edgar and the sources mentioned. The author has no securities or affiliations related to this organization. Not a recommendation to buy or sell. Always do additional research and consult a professional before purchasing a security. The author holds no licenses.