Heritage CANN't Get Out Of The Gate Cleanly. Does It Matter?
Will the financially-literate elites ever stop persecuting our favourite extractor!?
Heritage Cannabis (CSE:CANN) was off -$0.025 Friday (-10.9%) to close at $0.205 on 2.7 million shares of volume, following the release of its audited year-end financials.
Heritage's fiscal fourth quarter ending October 31st, 2019 was the first in which the company operated any of the commercial extraction businesses that they have spent many months building, loudly enough to make sure the whole smallcap world knew their every move. The street was firmly disappointed with $3.5 million in quarterly revenue that came at a $4 million dollar cost, creating a negative gross profit of -$509,003 for the quarter, on the way to a pre-tax loss of $3.8 million.
That isn't a business that will scale, and a bunch of know-it-alls on twitter made sure to let a uniquely vile and mean contingent of CANN supporters know about it.
The Dive receives its share of hate mail from the aforementioned CANN Army, and we don't expect that it will slow down just because we point out that this particular stumble out of the blocks wasn't entirely CANN's fault.
Never give up the money 'til you get the goods
Buried deep in note 24 of the Heritage Cannabis audited year-end financial statements is an explanation about a $147,415 impairment charge for 40% of the deposits that Heritage had put down on "bulk trade purchases of industrial hemp grain and biomass," that don't appear to be coming back.
It sounds like a CBD-extraction plan that a supplier let them down on. The other 60% ($358,250) hasn't been written off yet, indicating the vendors might yet come though, and this is hardly news (first reported in the July quarterlies), but we're bringing it up to illustrate just what this new type of cannabis midstream business is up against on the supply side.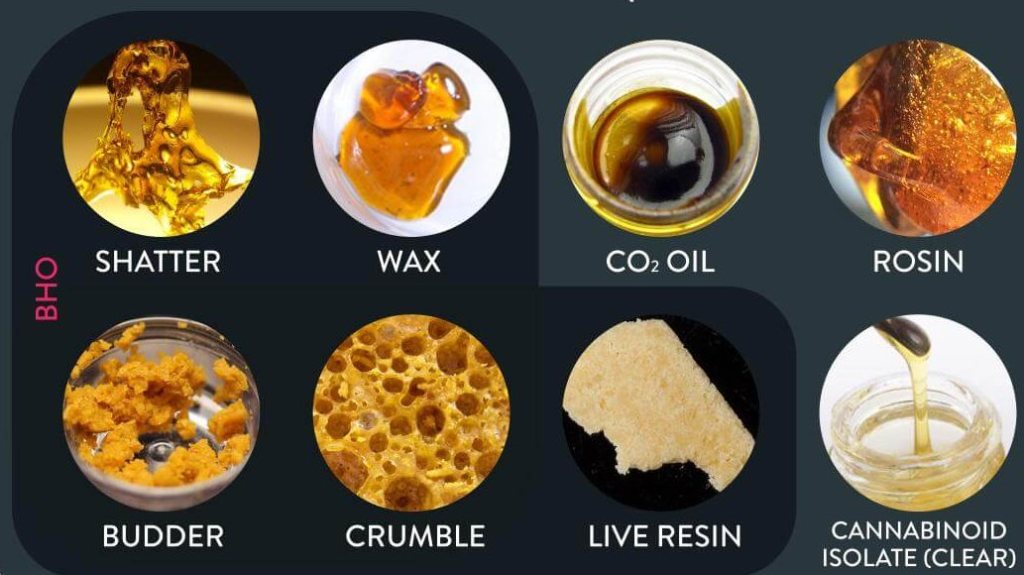 At Heritage Cannabis' core are three extraction licenses with the facilities and staff to turn cannabis matter into various types of crude and finished cannabis extracts. Presently, Heritage can only do so on behalf of other licensed producers; none of their licenses yet allow for the sale of cannabis products to the provincial distributors, and Heritage hasn't developed a medical sales chain. Heritage has contracts with Cronos Inc. (TSX: CRON) (NASDAQ: CRON), and Zenabis (TSX: ZENA) that have Heritage receiving biomass from the companies, processing it into an extract or concentrate then, at the client's option, further packaging it into finished product. The company inked what appear to be similar contracts prior to the end of the period with the James E. Wagner Company (TSXV: JWCA) and WeedME (private).
According to CANN's revenue recognition protocol, the production of raw concentrates or extracts from the plant matter provided constitutes a sale to whichever company showed up with the goods. The bottling of those extracts into a sellable packaged good of some type constitutes a service, and CANN books the revenue as such.

Heritage sold $3 million worth of white label concentrates (sale of goods), and further charged $465,972 to package those concentrates into some description of finished goods (provision of services). The process having cost Heritage $4 million is the sort of thing that one can expect when the partners / clients are Canadian cannabis companies.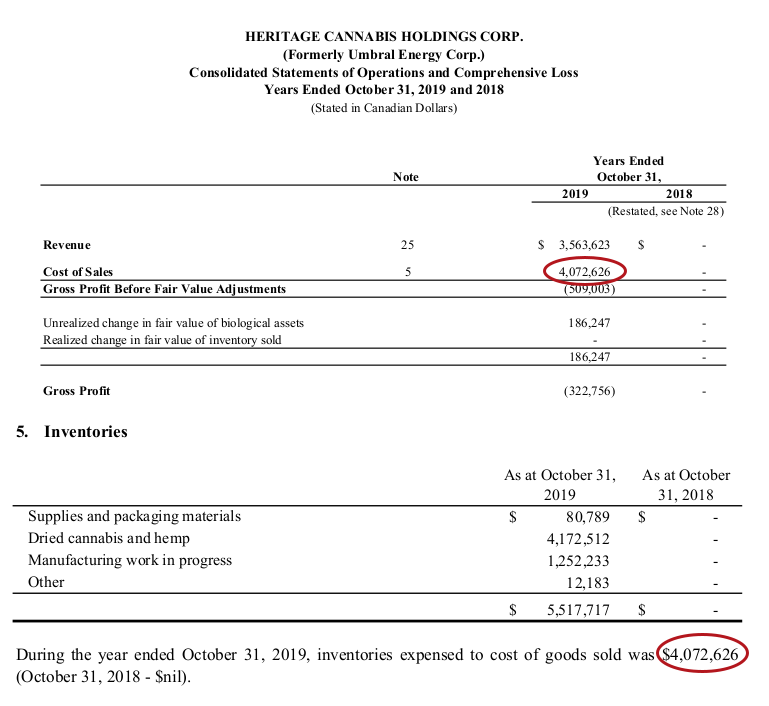 The entirety of the period's cost of sales having been charged from inventory, we gather that Heritage expected to sell a great deal more of the concentrate they're making on forward, and book a toll fee on the package job but, at least through the end of October, they didn't have many takers.
We don't know much about how these contracts are structured, but if an LP client of Heritage's can book a receivable as soon as their shake lands on Heritage's dock, and don't have to book a payable until they tell Heritage to go ahead and put it in vape cartridges, they're liable to make the biomass a hot potato for as long as they're able… or at least until it becomes apparent there's demand for it. And they're still working on that.
In October, CANN was sitting on $1.2 million of work in process inventory with a market effectively limited to LPs who can sell to the provincial distributors. Those distributors are only buying it as quickly as they can sell it forward to the public, who haven't decided yet how quickly they want to buy it. If one of CANN's licenses gets its own green light to sell to the provinces, the company might develop its own brands, put some of them in the mix, and see how they do. So far, though, according to Health Canada's new "packaged units" metric, extracts weren't selling all that well between October and November, but that was before all these companies rolled out $55 vapes (plus tax)… so who knows.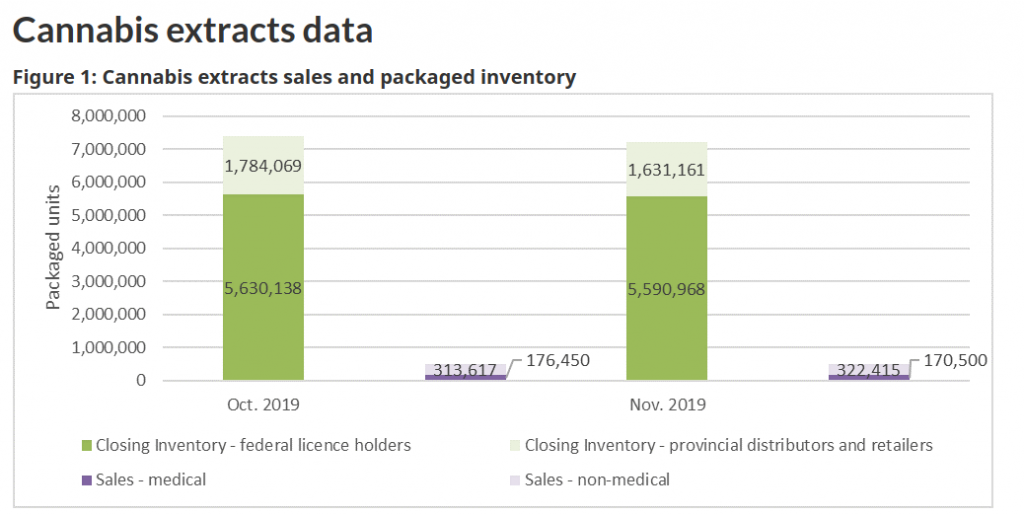 If Heritage had partners that couldn't wait for them to juice their gear and jam it in vape pods, even ones that paid a premium to get to the front of the line, they may well be printing a top-line they could be proud of, and the very aggressive revenue paths they've got all these shareholders dreaming on wouldn't technically be a money losing proposition (there's no sense scaling a loss).
Simply put, the quality and number of Heritage's partners going forward figure to be, ultimately, as good as the retail market for extracts.
We're due to find out soon how Heritage's best client, Cronos, did in the quarter ending December. Cronos is one of the better-backed operators in the space. If their various vape brands flew off the shelves, one might expect the company to continue investing in that vertical. If not, the industry will continue trying things until they find a type of sugar that gets this medicine down.
CANN is due to report for the quarter ending January 31, 2020 by March 31st.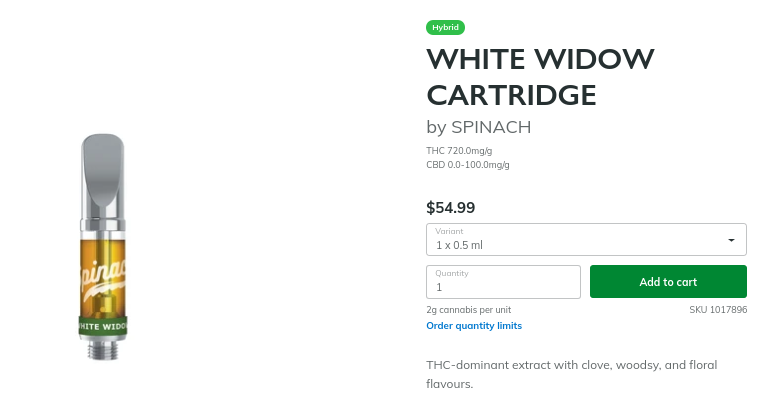 ---
The author has no securities or affiliations related to any organization mentioned. Not a recommendation to buy or sell. Always do additional research and consult a professional before purchasing a security. The author holds no licenses.