Vendors Victors as Heritage Cannabis Posts Profitable Period
Heritage Cannabis (CSE: CANN) managed more revenue in its first fiscal quarter of 2020 than it did in its last fiscal quarter of 2019 and, in the first quarter that the upstart extractor operated at full capacity, it also managed to book its first top-line profit.
Heritage makes the $1.5 million gross profit for a 37% gross margin, when accounting for excise tax, and a 41% gross margin if the excise tax is just lumped in with general revenue, causing us to question why $376,813 in excise tax appears on this income statement at all.
Excess Excise?
None of the Heritage licenses were licensed to sell cannabis products to provincial wholesalers in the quarter (or in the present), and there is still no evidence of active sales to the medical market. 89% of CANN's total revenue in the period came from two customers and, since neither of them could have been provincial wholesalers, it's curious that CANN managed to make 9.4% of their total revenue excise tax.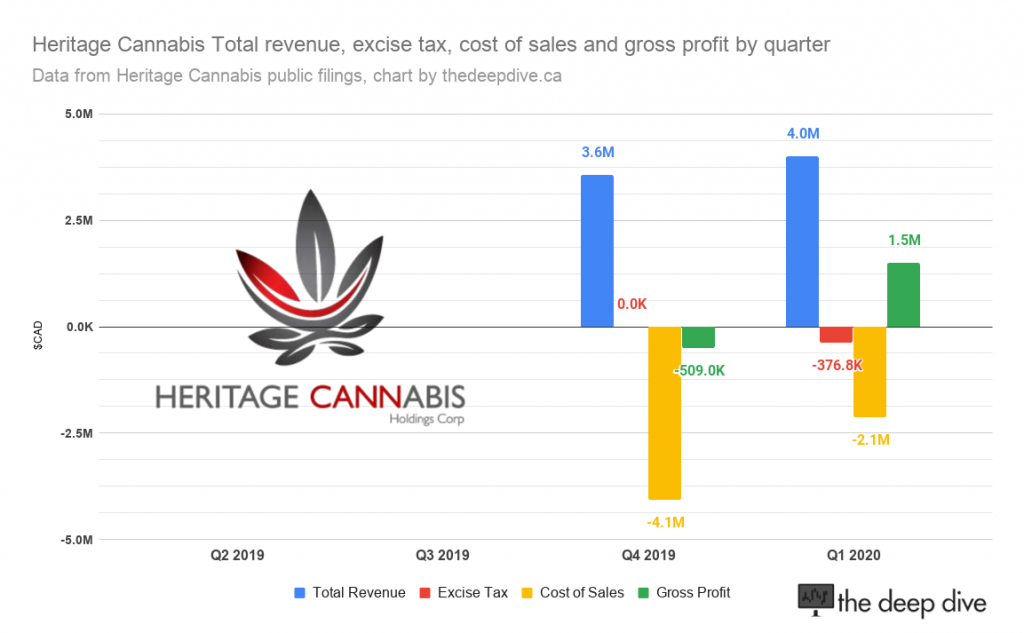 Cannabis sales to other Canadian LPs aren't subject to excise tax. Canada's largest public extraction co, Medipharm Labs (TSX: LABS), who shares at least one client with Heritage in Cronos Group (TSX: CRON)(NASDAQ: CRON), didn't account for a dime of excise tax in its fiscal 2019 (ending December). Rival extractor Valens Groworks (TSXV: VLNS) doesn't list any excise tax either on $58 million in revenue booked in fiscal 2019 (ending December).
Back Tax Brought Back
It's possible that Heritage is booking the revenue that way out of an abundance of caution, the young company still feeling its way through the dark with respect to taxation liability. Heritage's audited year end financials, prepared for a year in which the company only had one quarter of revenue, shows no excise tax. Those financials, filed February 28, were quietly amended four days later on March 3rd to account for the omission of $7 million worth of tax liabilities due by Heritage subsidiaries Purefarma, Cannacure and Voyage Cannabis, whose vendors are looking more all the time like the smartest ones in the room.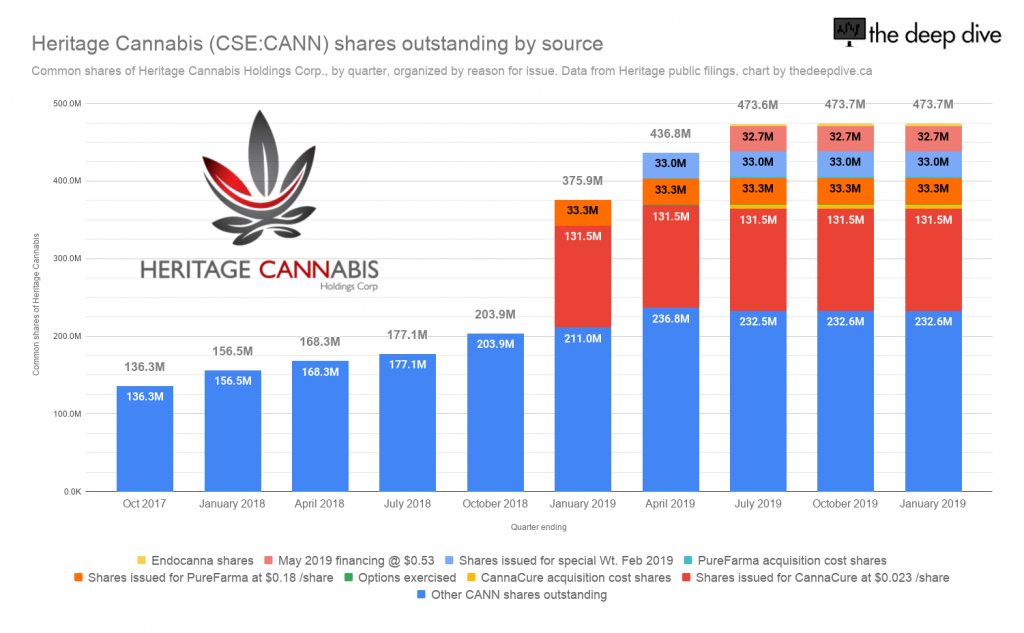 Probability of balloon payments inflated…
The shares issued to acquire those operations represent substantially half of the Heritage cap table. That might be expected for assets that make up the core of a business, but seems less reasonable considering a) the build-out wasn't yet complete when Heritage did the deals for these companies, one of which is still going through the licensing process at Heritage's expense and b) Heritage is still on the hook for more payments.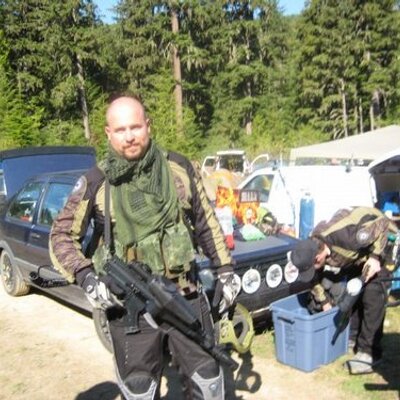 The Purefarma vendors, who include Heritage Director Graeme Staley, and a George and Shirley Staley, all of Kelowna, BC, are presently the benefactors of "the company's largest financial commitment," as per the MD&A, in the form of the equity and cash-settled earn-out payments that remain outstanding. The equity payments seem far fetched at this point; payable if Purefarma – yet to receive any type of cannabis license from Health Canada – generates $50 million, $75 million, and $100 million in the next three fiscal years, respectively.
…but gross royalties are good to go, GI Joe.
Cash payments of 9%, 6% and 3% of Purefarma's gross profit are due to the vendors in 2020, 2021, and 2022, with no apparent minimum threshold. Staley and the other vendors are also due 12% of the 2019 gross profits from Purefarma, but the company hasn't broken the individual extraction subsidiaries out as CGUs, so there's still no way of knowing what is due to the vendors under the 12% 2019 royalty. Heritage as a whole posted a negative gross margin in fiscal 2019, and Purefarma's share would depend on how costs were allocated. Presumably, Purefarma generated no revenue in 2019, since it is not licensed to make cannabis products or sell them to anyone.
The release of the quarterly financial statements in which the company earned its first gross profit were good for 2.1 million shares worth of CANN volume Tuesday. The company lost half a cent (-3.1%) to close at $0.155.
Bonus notes:
We were excited to learn from the company's MD&A that Heritage had spent some money in Q1 to develop a medical market, including on consulting fees to a physician, who we very much hope was Vernon, B.C. Naturopath "Dr." Chris Spooner, a criminally under-used character in the CANN extended universe.
---
The author has no securities or affiliations related to any organization mentioned. Not a recommendation to buy or sell. Always do additional research and consult a professional before purchasing a security. The author holds no licenses.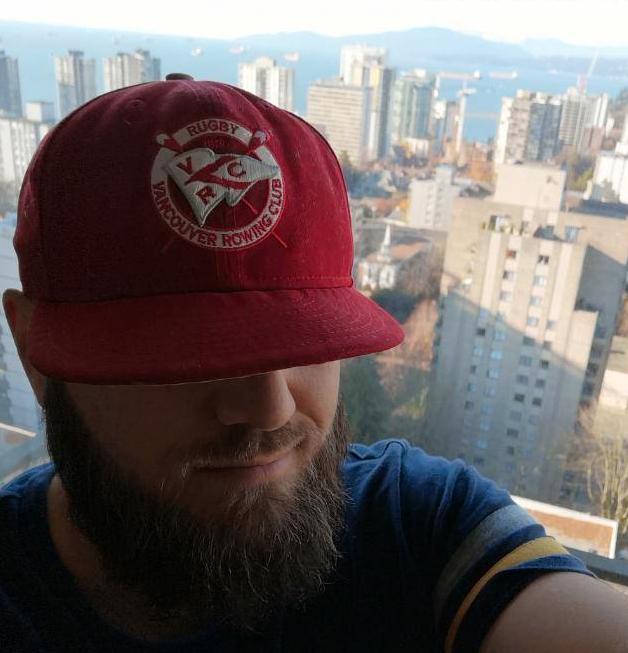 Braden Maccke is a freelance writer from Vancouver, B.C.
You can read all of his Deep Dive articles here.
He can be reached at braden@fundamentalhype.com.