iAnthus iLlustrated: The Downfall & Shareholder Attempt To Fight Secured Lenders
By 2020, there have been quite a few space epics that are better than Star Wars. But the popularity of the Star Wars franchise endures, because it was original and it was the first of its kind, and it was very well marketed. No matter how many forgettable or just downright terrible sequels and prequels drag the name through the mud and upset fans, the fans always come back, because the first impression stuck. It was unique and relevant and they loved it.
iAnthus Capital Holdings (CSE: IAN) left a similar indelible impression on retail cannabis investors in 2017 and 2018. It was the first anyone had ever heard of a multi-state cannabis operator, the first time anyone had jumped through the hoops to list US cannabis assets on a public stock exchange, and retail investors bought shares like they were tickets to a blockbuster premier. iAnthus, like Star Wars, showed everyone how it was done. It structured non-voting shares such that it could maintain a foreign private issuer status in the US to attract capital from niche, risk-on investment banking outfits who were eager to coast on the bottomless retail appetite for cannabis issues, and gave the people what they wanted: exposure to US cannabis.
The structure was imitated almost immediately and, before long, iAnthus and other CSE listed cannabis stocks like Green Thumb Industries (CSE: GTII), Curaleaf (CSE: CURA), and Acreage Holdings (CSE: ACRG.U) were suddenly being given showcase billing on CNBC. US institutions couldn't get involved and that served to drive the trade, because they were keen to, and there was a sense that someone would find a way to gather enough political capital to open that floodgate.
Retail speculators piled in to names of varying quality in a newly formed sector that has still yet to produce any consistently profitable businesses (aside Trulieve (CSE: TRUL)). With the feeding frenzy long over, a few of the larger MSOs are still intact, still waiting for that legalization event, and suffering through the cash-generation and capitalization problems that are typical of venture-stage equities. iAnthus – whom just resumed trading today after being halted for having not met filing deadlines, and in default to two lending groups who are trying to orchestrate a clean takeover via plan-of-arrangement, is arguably experiencing the worst outcome among their peer group. Through it all, the franchise just can't shake its hardcore fans.
The foresight that earned iAnthus all the followers and imitators doesn't count for much in the crowded cannabis space.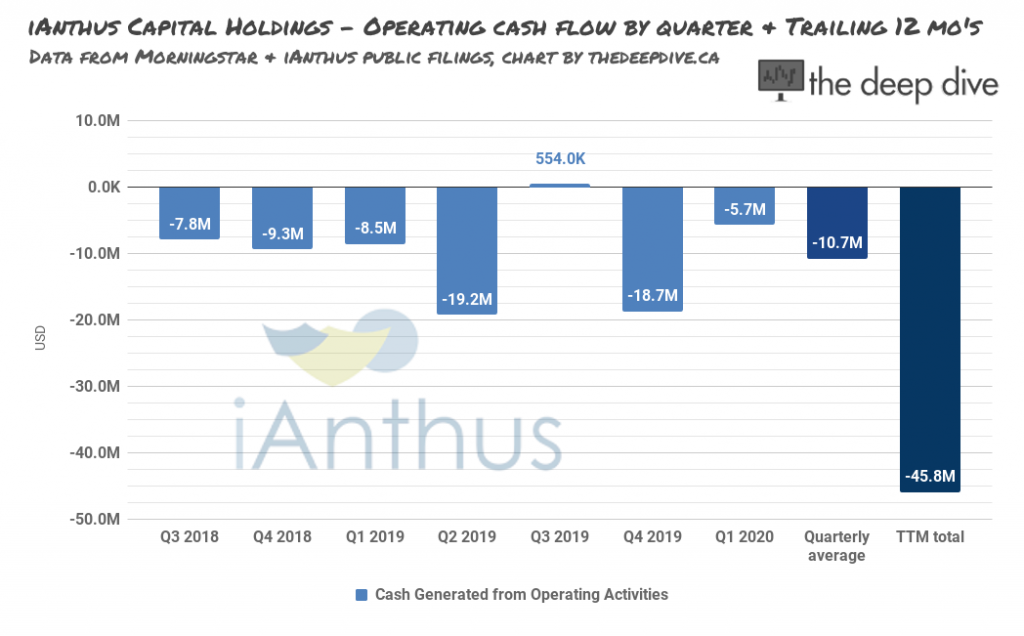 Building and maintaining state-level cannabis businesses that can't take advantage of economies of scale with the intention of catching a value lift when the law allows for their expansion and scaling is a capital intensive business, and the capital has to come from somewhere. iAnthus' operations burn almost $11 million per quarter on a cash basis, and management may have had a better sense of the gravity of that situation than the shareholders did at the time.
Former Goldman Sachs banker and former iAnthus CEO Hadley Ford, the architect of the iAnthus experience, who is surely familiar with the concept that money costs money, went about securing the financing to feed this securitized drug venture from wherever it was available. At first, that meant equity financing, but as the Canadian sell-side institutions ran out of appetite, he ventured further into the corporate debt market, giving up high-yield convertible debt at first, then secured convertible debt as the market got thinner. The hole being dug was in a position to either be filled in by the market value of the company's equity and become part of the cap table, or swallow that equity.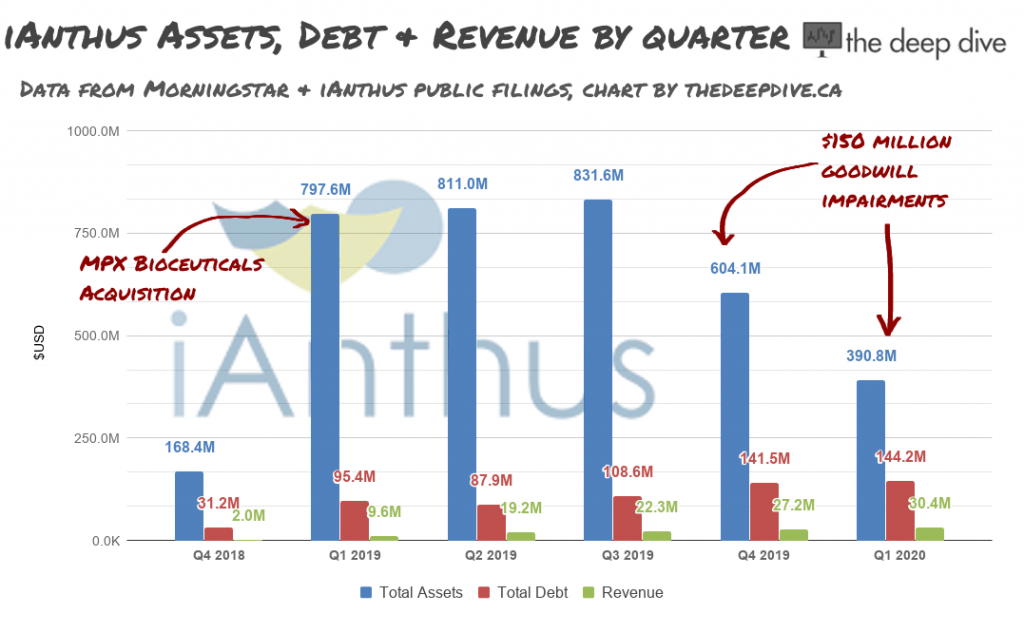 There wasn't a whole lot of equity available to work with at the time, because the iAnthus cap table had been thinned out to buy MPX.
The February 2019 all-stock acquisition of MPX Bioceuticals added $500M in goodwill to the iAnthus balance sheet and bought the company a basket of goods that included operating Arizona dispensaries, works in progress in various other states, the services of much of the MPX board of directors, including MPX founder Beth Stavola, and about $10 million in debt owed to her by MPX. The debt bore 8% interest, and was due to mature in January of 2020.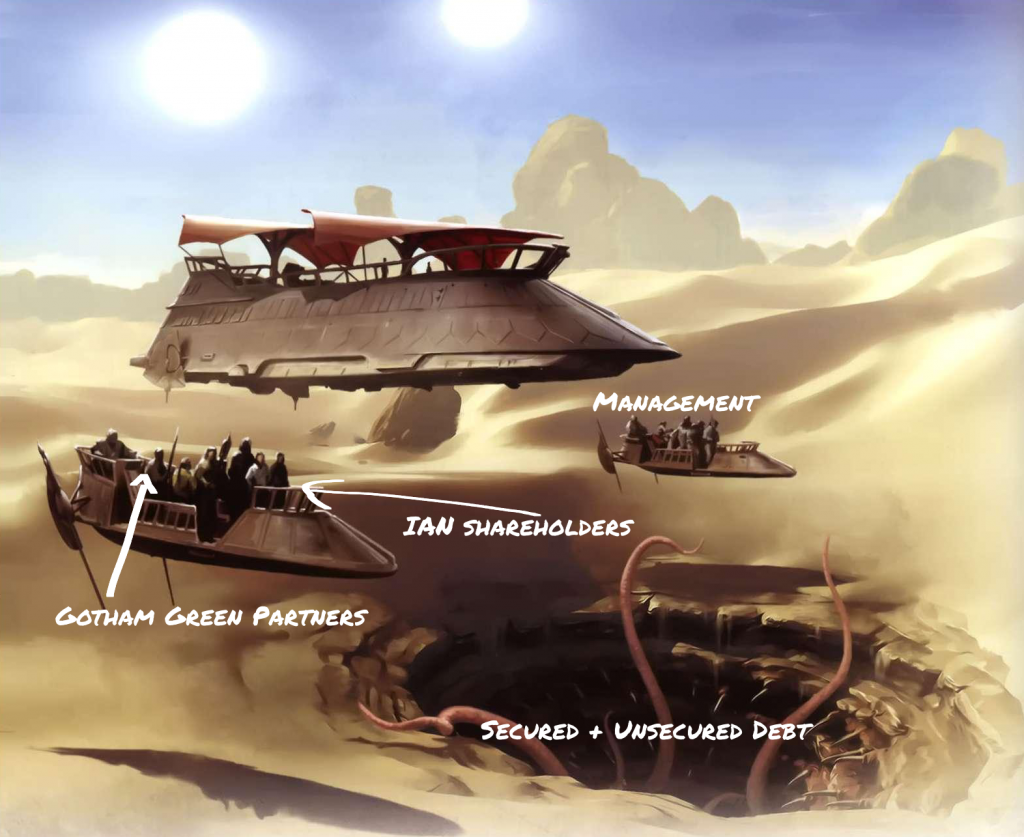 The transaction doubled iAnthus' share count to buy what would become, in terms of material cash generation, iAnthus' Western Region CGU. In the last MPX quarter before the January merger (quarter ending September 2018), MPX reported having sold $14.6 million to generate a $4.4 million gross profit. It isn't clear how the assets did in the final quarter of 2018, because MPX did not file year end audited financials, and IAN didn't bring the assets into its reporting until the March, 2019 quarter, when iAnthus Western Region sold just $5.4 million for a gross loss of $339,000.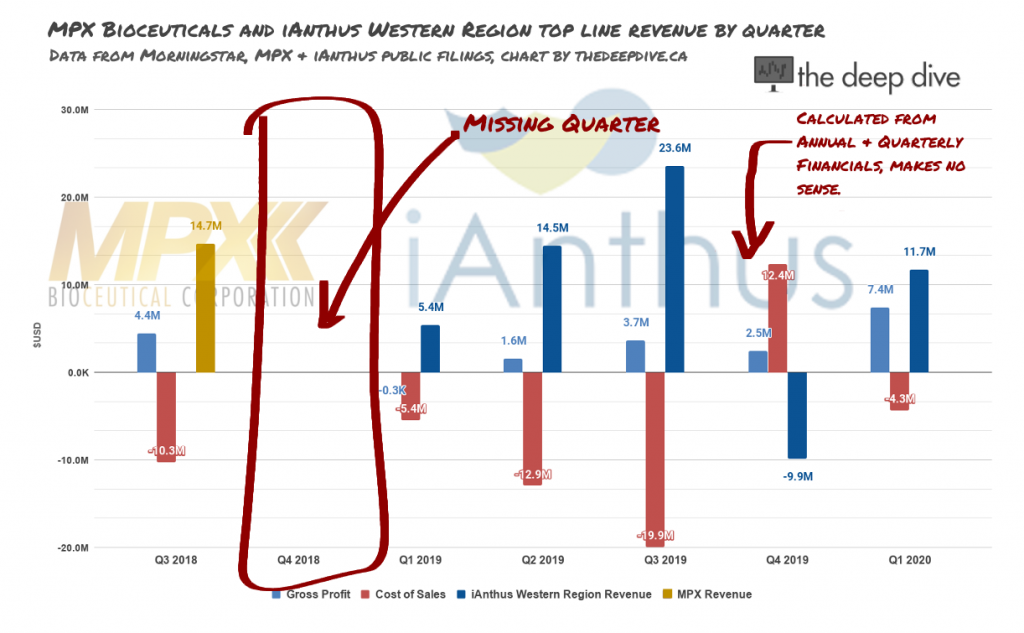 The Western Division showed good growth and decent margin until Q4, 2019 which, for the purposes of this chart, we've extrapolated from iAnthus' audited annual financial statements with arithmetic.
Stavola added to the iAnthus position she built by way of trading her MPX stock in June of 2019 when the company bought her CBD company CBD4life. SEDI shows Stavola as the beneficial owner of 4,179,279 shares of iAnthus in July of 2019, right around the time MSOs lost their market appeal.
With iAnthus' shares trading in the $1.50 – $2.25 range through the summer and fall of 2019, the conversion of the secured and unsecured debentures at much higher strike prices didn't seem likely, and the lenders were starting to get antsy about missed payments. The $10 million debt to Stavola that the company had inherited in the MPX transaction was coming due at the end of the year. It had became a $10.8 million debt as it became subordinate to iAnthus' other notes, so it came as a surprise to many when the belated annual financials, filed after the secured lenders gave notice of default, showed that the Stavola note had been paid in full.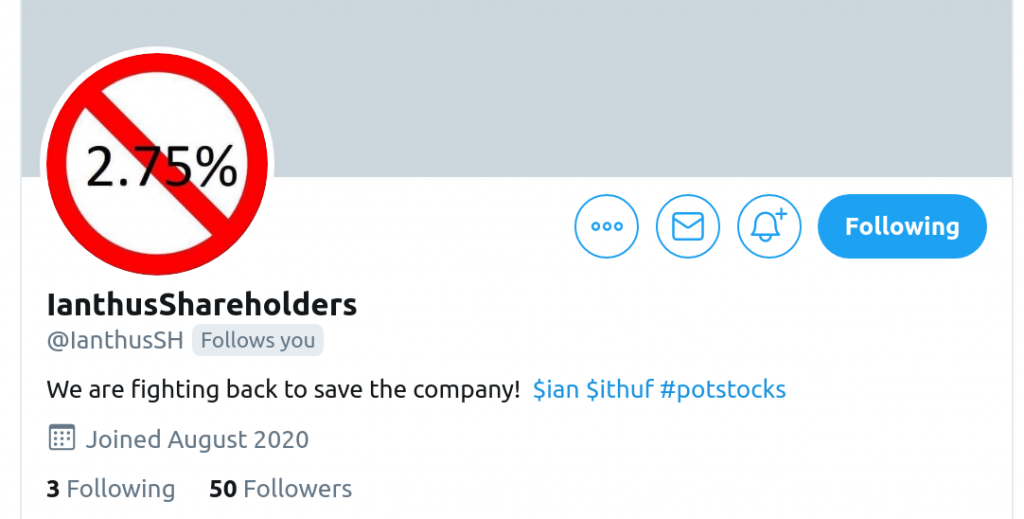 Presently, the iAnthus faithful feel deeply aggrieved, and that's understandable. The latest proposal from secured debenture holders has the existing shareholders being diluted to a 2.75% interest in the surviving entity, and has been met with resistance by the equity holders, who feel a cosmic injustice at a $144 million debt being able to make a call on something that had sucked up more than $600 million in equity investment, and was once valued in the billions. It doesn't seem fair and, objectively, it isn't. It's capitalism.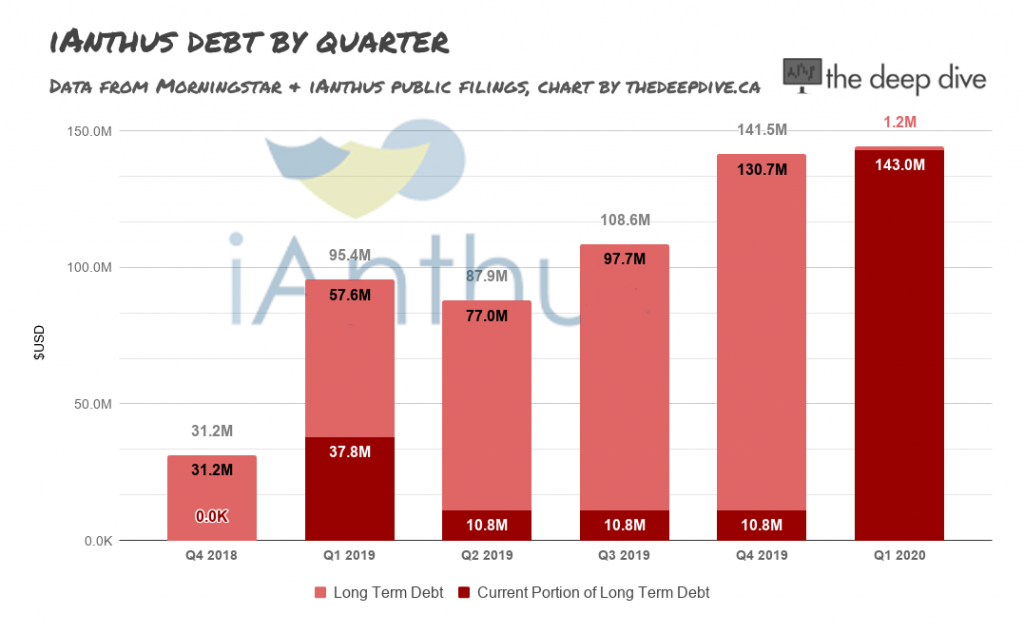 As time moves forward, there is less and less to fight over. The secured debtholders are making a call on a note that's secured against assets, bringing the unsecured debtholders along as partners in the new equity, and tossing a token interest at the current equity holders to keep them from being a problem.
Successive write downs of goodwill from the MPX deal makes the largest single asset line on the iAnthus balance sheet $177.6 million worth of intangibles. Materially, that's the value being ascribed to the cannabis licenses at the core of this investment thesis, and the aggrieved shareholders feel railroaded into giving up their interest in that $177 million to clear $143 million in debt. There's a sense that the payment priorities were backwards, and the fix was in.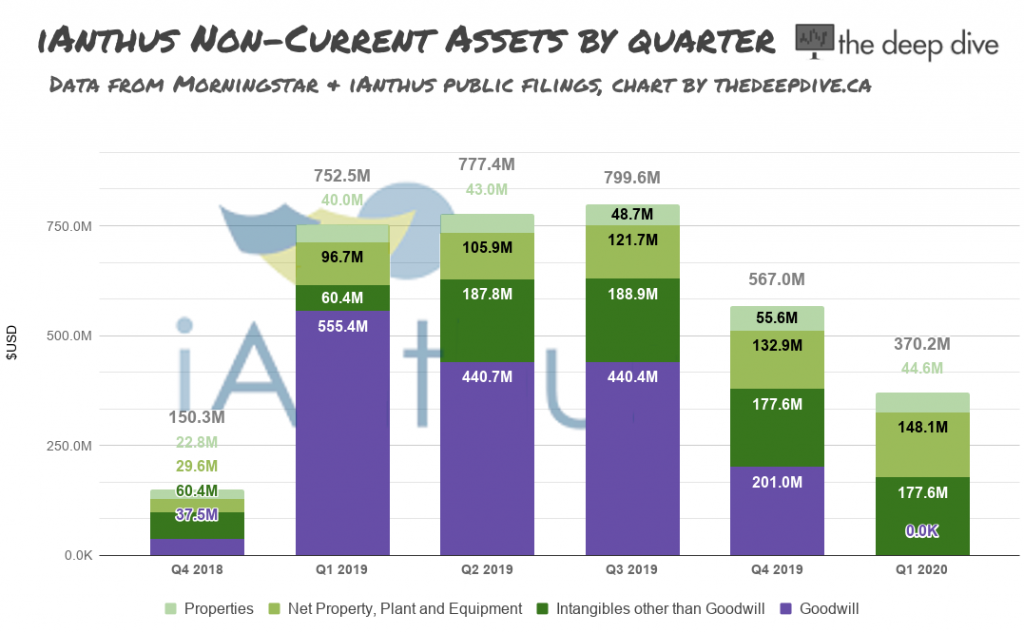 The iAnthus dissident shareholders group refused to talk to us on the phone, but told us via twitter DM that it represents 10-15% of the outstanding voting shares, and hope to also count on a few larger positions that bring its total up to 25% of the voting shares.
The group's mission at this time is to have the plan of arrangement rejected, and force the lenders into a restructuring through the Company Creditors Arrangement Act. It hasn't filed any legal action against the company, management, or anyone else, but claims to be sourcing a "top law firm to appoint as lead counsel," to be funded through crowd-sourcing. The sympathetic can donate to the Go Fund Me.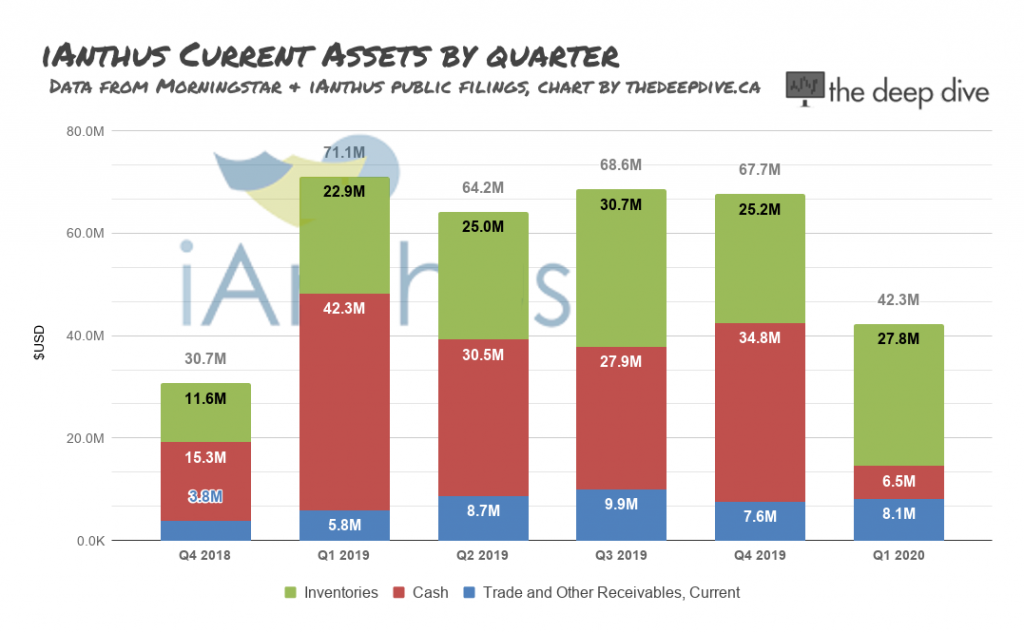 But money talks. The beneficiaries of the eventual legalization value lift will be the ones who tended the cash fires as they waited for it to happen. The un-named aggrieved shareholder on the other end of the twitter DMs said that the group is actively looking for buyers, but it doesn't sound like serious interest, and that adds up. If this group had a recapitalization plan or a backer, they wouldn't be running a public campaign, they'd be negotiating with GGP, who doesn't have much time for anyone who doesn't have any money.
There's no good reason for iAnthus to be relevant at the moment other than the die-hards just not being willing to let it go. They were in early on a trade they think still might work out. Through a cloud of messy details, they can see only the functional cannabis assets, and those assets' value to US-based institutional capital as soon as cannabis sales get the full federal green light. Their interest being yanked away from them is something they don't feel like they deserve.
As the saying goes, "the money is made in the buying." Gotham Green Partners secured its discount by making money available to iAnthus when they needed it at terms that guaranteed their investment. Now, whether through plan of arrangement or a court process, the assets and the associated risks and expenses are set to be theirs.
Deserve has got nothing to do with it.
---
Information for this briefing was found via Sedar and iAnthus Capital Holdings Inc. The author has no securities or affiliations related to this organization. Not a recommendation to buy or sell. Always do additional research and consult a professional before purchasing a security. The author holds no licenses.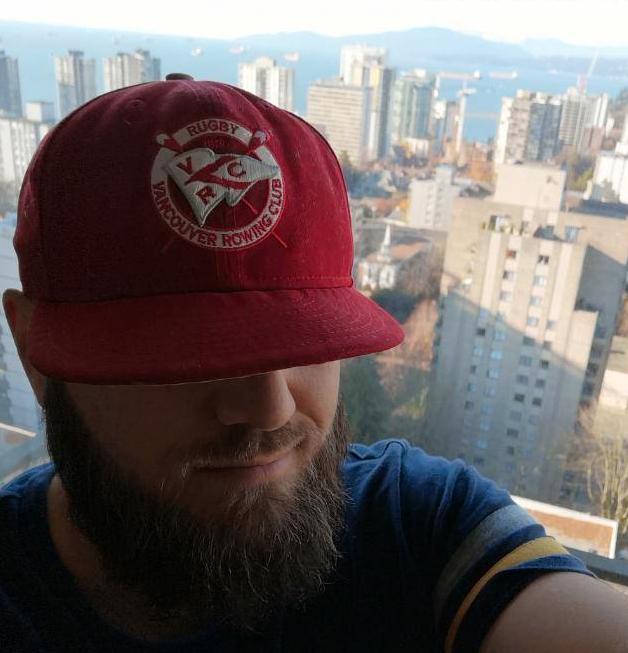 Braden Maccke is a freelance writer from Vancouver, B.C.
You can read all of his Deep Dive articles here.
He can be reached at braden@fundamentalhype.com.