Inflation and Interest Rates Widen Canada's Wealth Gap, Younger Households Most Affected
Canada is grappling with growing wealth disparity, fueled by rising inflation, soaring interest rates, and a drop in real estate values— a burden disproportionately borne by the country's younger households. This widening wealth gap presents a substantial challenge for Prime Minister Justin Trudeau's government, which has vowed to alleviate income inequality, but instead has witnessed a stark increase due to the rapid escalation of house prices amid the pandemic.
The majority of Canada's wealth belonged to only a few families, as the gap between the richest and poorest widened by the most on record. According to Statistics Canada, income inequality was on the rise again in the first quarter 2023, with the gap between the two highest and two lowest income quintiles increasing 0.2 percentage points year-over-year to 44.7%. The first three months of the year saw the wealthiest 20% of households hold 67.8% of the nation's net worth; by contrast, the poorest groups had a mere 2.7%.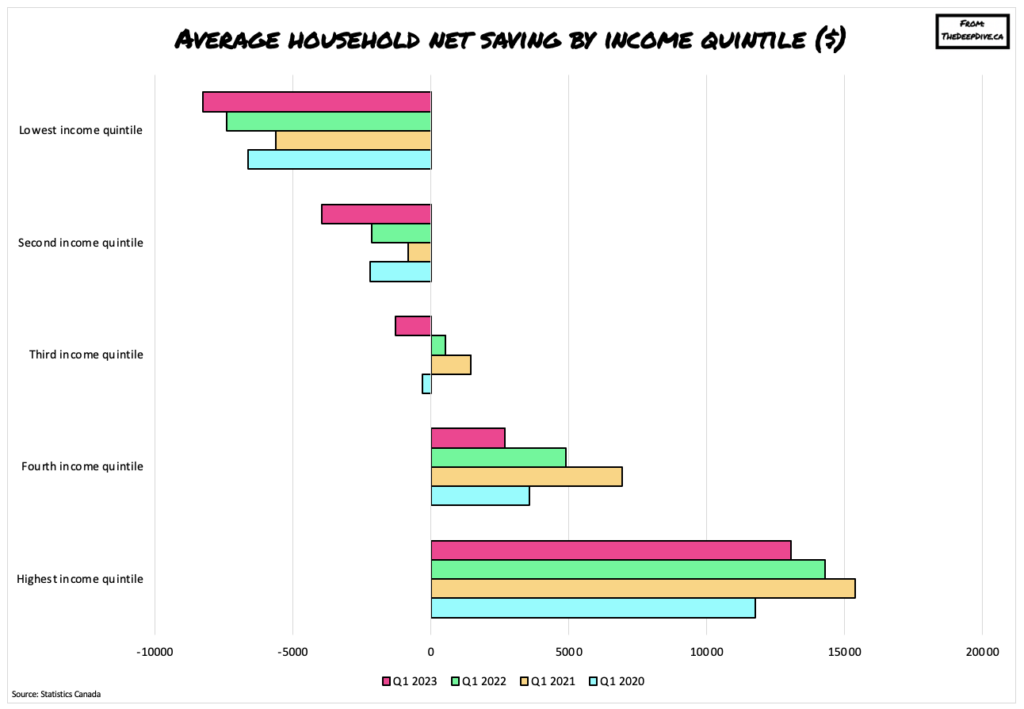 Thanks to high interest rates, Canada's youngest age groups and the least wealthy saw their net worth erode even further by real estate. Statistics Canada reported that the average value of real estate owned by households fell 8.6% from the first quarter 2022. The decline was attributed to an increase in mortgage debt in order to finance the real estate holdings, which surpassed the average value of those assets. Moreover, households below the age of 35 saw their average net worth plummet 8.7% year-over-year, compared to the 1.8% decline for households aged 55 to 64 years.
Making matters worse for Canada's economy are surging to record-breaking debt-to-income levels, primarily across younger and core-aged working households. The statistics agency reported that for those aged 35 to 44 years, debt-to-income ratios skyrocketed 16.6 percentage points to an eye-watering 275.8%, and jumped 13.4 percentage points to 207.5% for Canada's youngest households in the first quarter.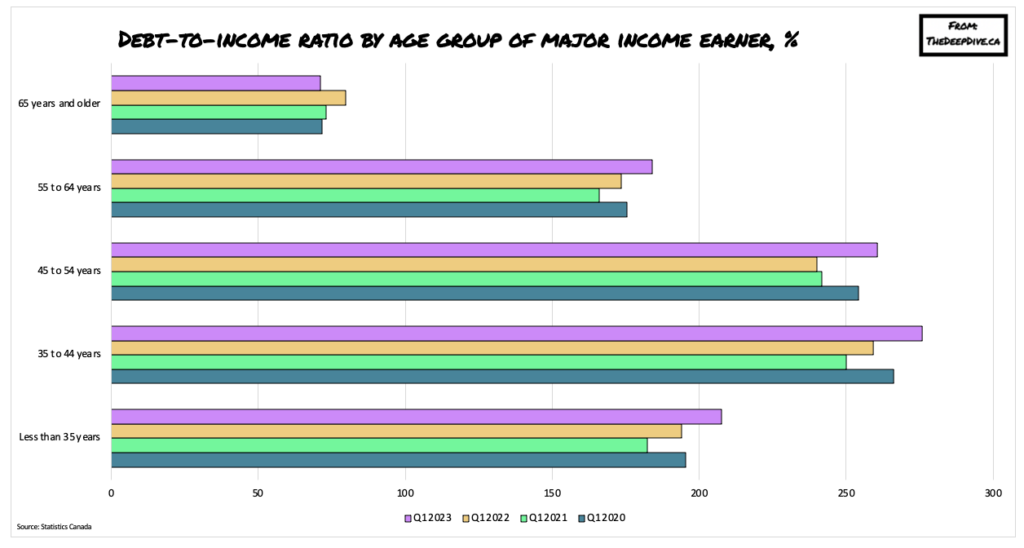 "Persistently high interest rates and inflation are likely to continue to strain households' ability to make ends meet without going further into debt, especially vulnerable groups, such as those with the lowest income, the least wealth and those of younger age groups," Statistics Canada said.
---
Information for this briefing was found via Statistics Canada. The author has no securities or affiliations related to these organizations. Not a recommendation to buy or sell. Always do additional research and consult a professional before purchasing a security. The author holds no licenses.